Every day, The Diamondback's photo desk does its best to visually document our community. This means covering all the news — the spine-chilling, inspiring and, sometimes, ridiculous.
Throughout the spring semester, students continued to grapple with remote learning. On Feb. 20, the University of Maryland announced all classes would shift online for a week to mitigate the spread of COVID-19. Students were asked to sequester in place.
April saw the national rollout of the vaccine, when all Marylanders over the age of 16 became eligible and the University Health Center offered vaccine appointments to members of the university community. Spring commencement brought a glimmer of hope as graduates, with two guests each, spread out on the turf of Maryland Stadium. 
But winter commencement wasn't so lucky. Even after a semester of in-person classes and a bustling campus, the omicron variant surged.
2021 had its share of protests. After eight people were gunned down at three spas in Atlanta, students and community members turned out on McKeldin Mall to remember and honor those killed. In front of the new city hall, local leaders and residents protested the county council's last-minute changes to a redistricting map that would dramatically change how College Park is represented.
At the Slut Walk, hundreds of students blasted the university's handling of sexual assault on campus. The question of Guilford Woods sparked heat that led to a pause on its development, and the University System of Maryland Board of Regents recommended a $15 minimum wage for union-represented workers across the system after a campaign by workers' rights organizations of this university.
A year in College Park would not be complete without construction. The College Park Metro station closed temporarily, the Jones-Hill House was unveiled after years of construction, renovations began on the Commons Shop and the College Park City Hall celebrated its grand opening.
The year witnessed great transformations within University of Maryland athletics. Maryland volleyball beat No. 2 Wisconsin, the biggest win in program history. The Terps went on to have their best season since 2010.
On Feb. 14, Maryland women's basketball head coach Brenda Frese secured her 500th win, making her the program's all-time wins leader. Frese, who would become the Associated Press' National Coach of the Year and the first woman inducted into the Washington Metro Basketball Hall of Fame, also led the Terps to their fifth Big Ten Tournament title.
Field hockey head coach Missy Meharg also broke records, notching her 600th win on Oct. 17. On Nov. 23, Maryland field hockey reached the Final Four after missing the NCAA tournament last year.
In April, a few fans filed back into the stands over a year after sports were put on hold due to the coronavirus pandemic. By the fall, venues were at full capacity. 
Shortly after, Maryland men's basketball head coach Mark Turgeon signed a three-year contract extension. But the agreement only lasted eight months, when Turgeon suddenly stepped down from coaching on the heels of back-to-back losses, leaving assistant coach Danny Manning to take the reins.
We also saw a record-breaking football program this season. Quarterback Taulia Tagovailoa set the record for single-season passing yards and sent the Terps to a bowl game for the first time since 2016.
This year, I went through over 14,000 photos taken by our staff photographers. Below are my top picks for each month of the year. These photos not only represent the top news events that affected the greater College Park community but also the best of our visual work.
I am proud to present my third, last and hopefully best edition yet of The Diamondback's Year in Pictures.
—  Julia Nikhinson, photo editor
January
The year started with two decisions that felt personal to many on campus: former University of Maryland student Sean Urbanski was sentenced to life in prison for the 2017 murder of 1st Lt. Richard Collins III, and Maryland's Board of Public Works approved the payment of a $3.5 million settlement from the university to the family of Jordan McNair, a Maryland football player that died of heatstroke after a team workout in 2018. 
Construction continued on new North Campus dorms, one of which would be later dedicated as Pyon-Chen Hall, the first dorm at this university named after people since 1914. 
On Jan. 6, the Capitol riot not only shocked the nation and world, but also the local community. The day after, Maryland and Iowa men's basketball knelt in protest before tipoff.
February
On Feb. 1, fresh snow blanketed the campus, inviting students with the promise of snowball fights, snowmen and sledding. 
February also saw its fair share of fires, with one HVAC fire destroying the beloved campus staple Today's Hair and another fire igniting a pile of trash by Fraternity Row.
But, as more students returned to campus in the spring semester, COVID-19 once again reared its ugly head, prompting a sequester in place and the closing of Eppley Recreation Center for a week. Other parts of campus were also impacted by pandemic restrictions, with the 251 North dining hall implementing limited hours.
In the midst of the white snow and a gloomy pandemic, we also saw some color. The Stu, a Greenbelt photo studio, opened its doors Feb. 6, offering five color-coordinated rooms for both selfie-connoisseurs and professional photographers.
March
A year after the start of the coronavirus pandemic, University of Maryland community members were slowly starting to get vaccinated, with mass vaccination sites opening across the state.
On March 8, Colin Byrd, the mayor of Greenbelt and a former University of Maryland student, announced that he will be challenging Sen. Chris Van Hollen for one of Maryland's seats in the U.S. Senate in 2022.
March also brought the first home track and field meet in two years, with the Terps hosting the Maryland Invitational. 
Of course, March would not be complete without basketball. 
Mid-month, we journeyed to Indianapolis to cover Maryland men's and women's basketball competing in the Big Ten tournaments. 
In Indy, former sports editor David Suggs and assistant photo editor Joe Ryan took a deep dive into how Indianapolis' Black music scene was ramping up for the NCAA men's basketball tournament. 
As the NCAA women's basketball tournament got underway in San Antonio, Texas, Maryland women's basketball players took to social media to call out organizers. 
Just a few days prior, photos of less-than-mediocre facilities flooded social media. While the men's facilities in Indianapolis had full weight rooms, the women got a single rack of dumbbells and some yoga mats. The disparities continued through food, goodie bags and covid testing.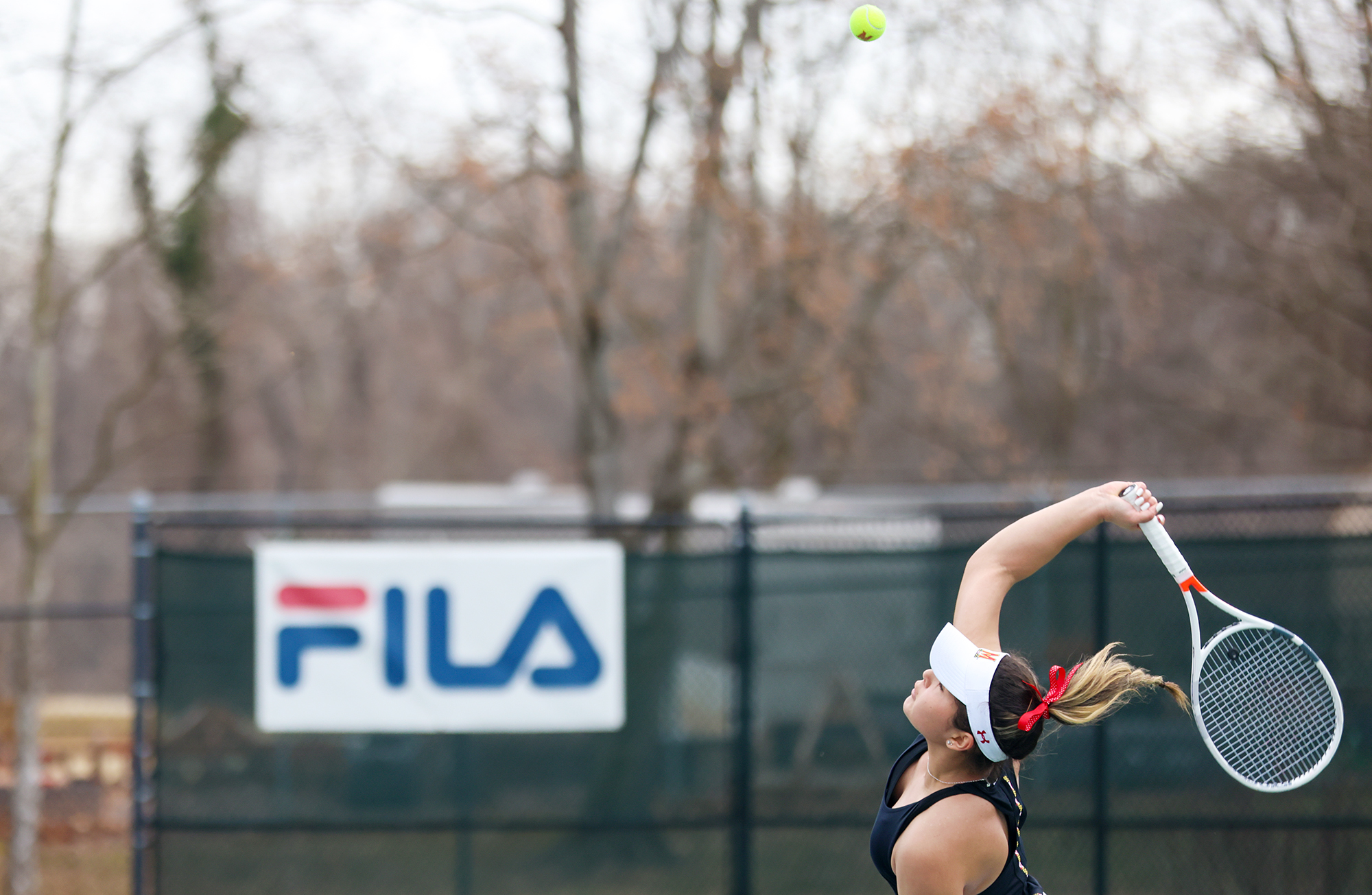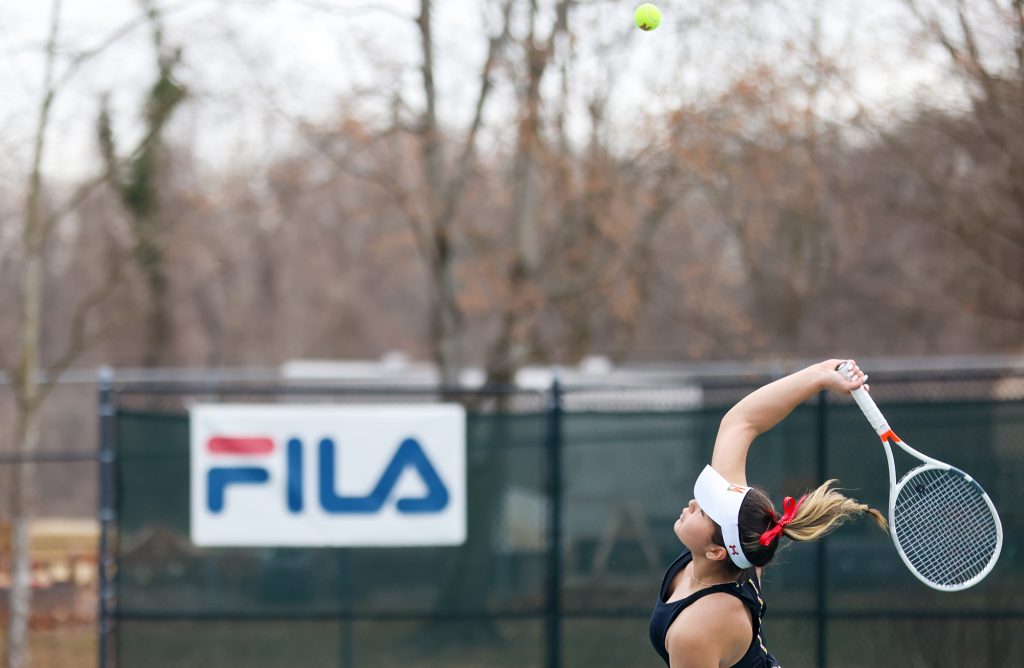 April
When a group of six demonstrators armed with signs that read "Jesus or Hellfire" and "feminists are whores," set up camp outside of McKeldin Library, students came together in protest. The demonstrators yelled at students, especially those who were women, Muslim, Jewish or part of the LGBTQ+ community. Students ridiculed their rhetoric, with one even throwing a dildo at the demonstrators.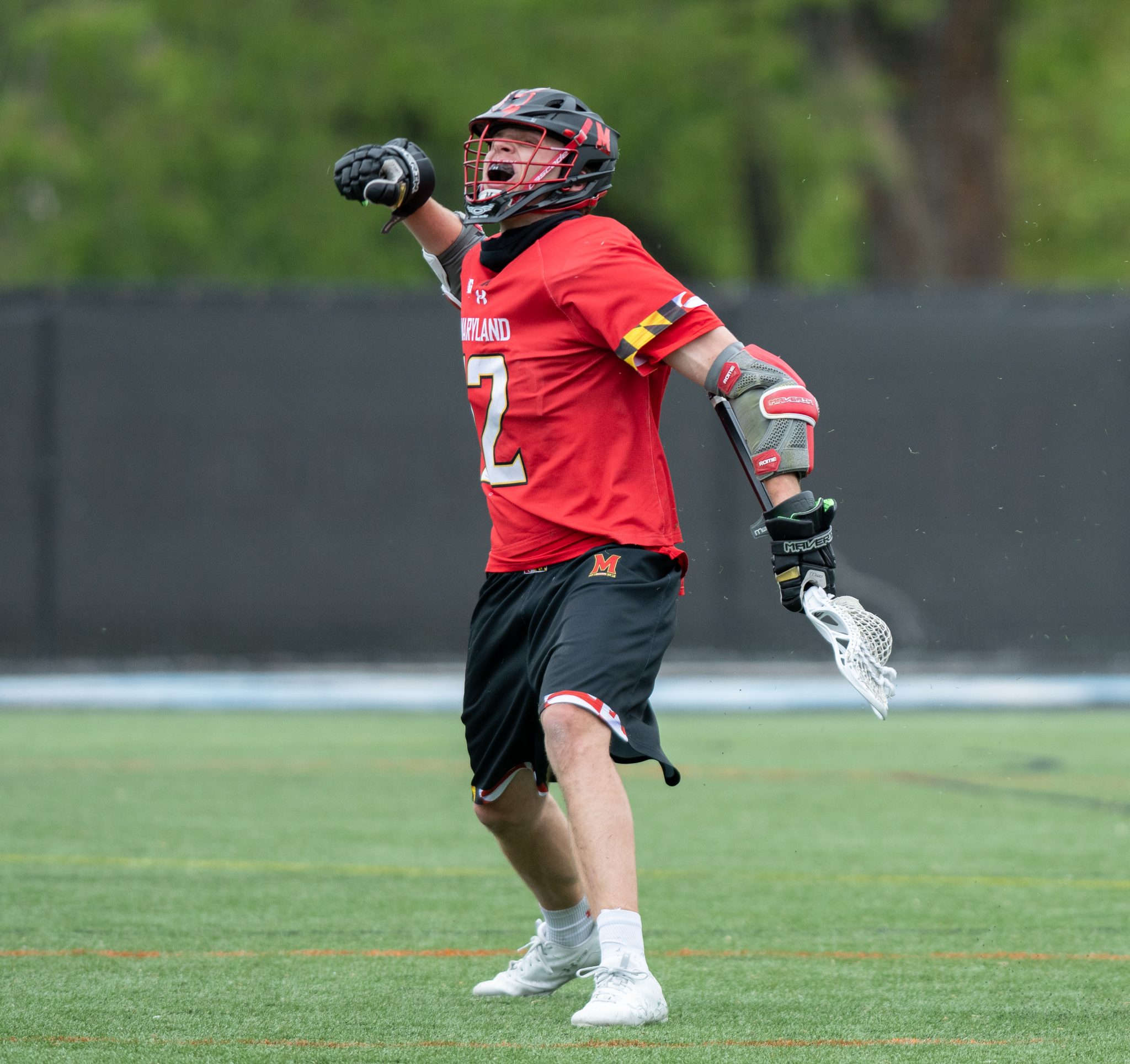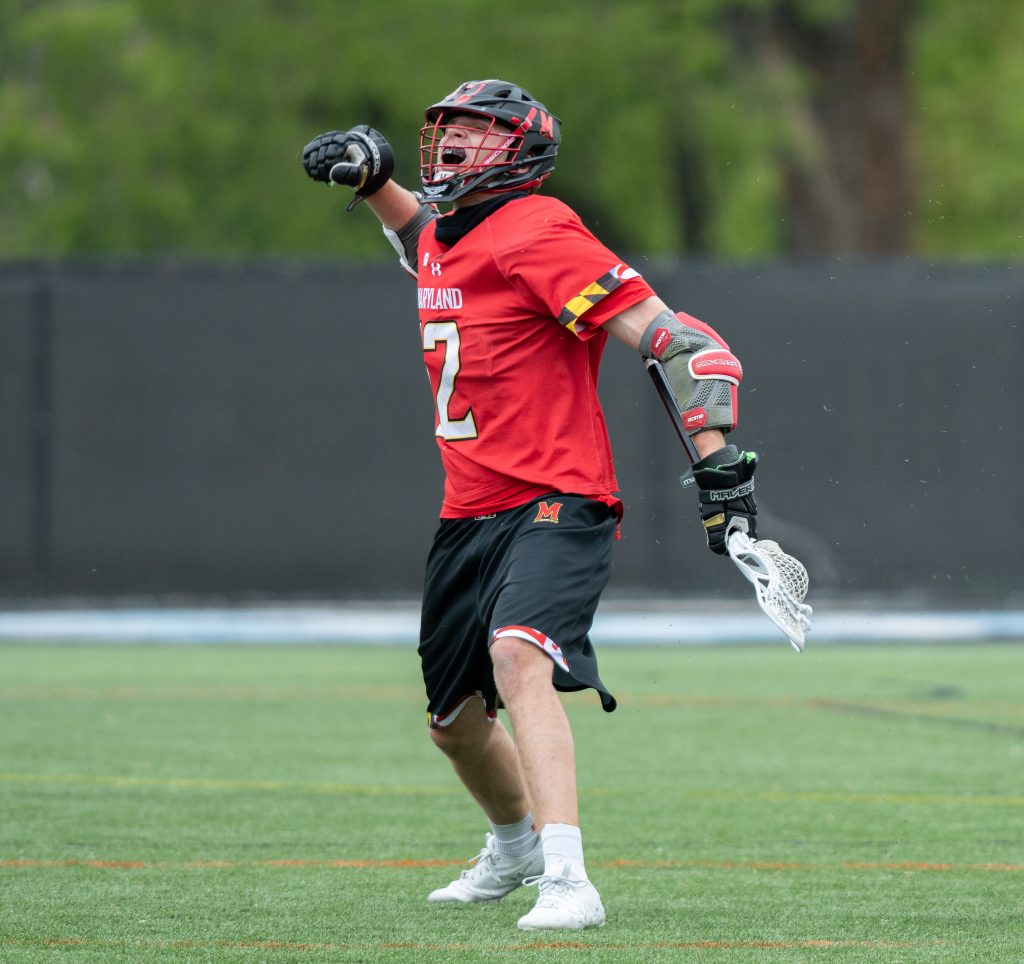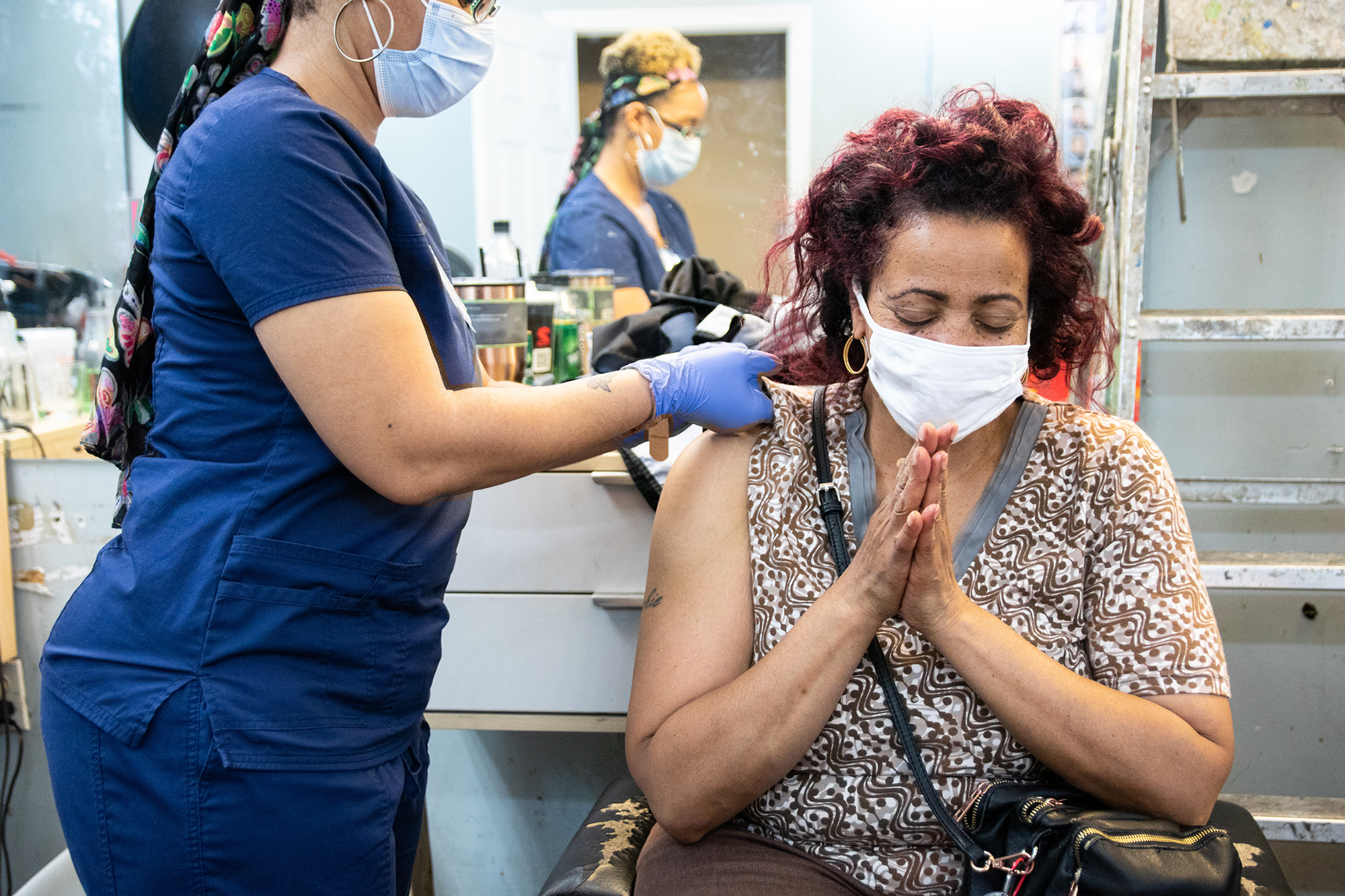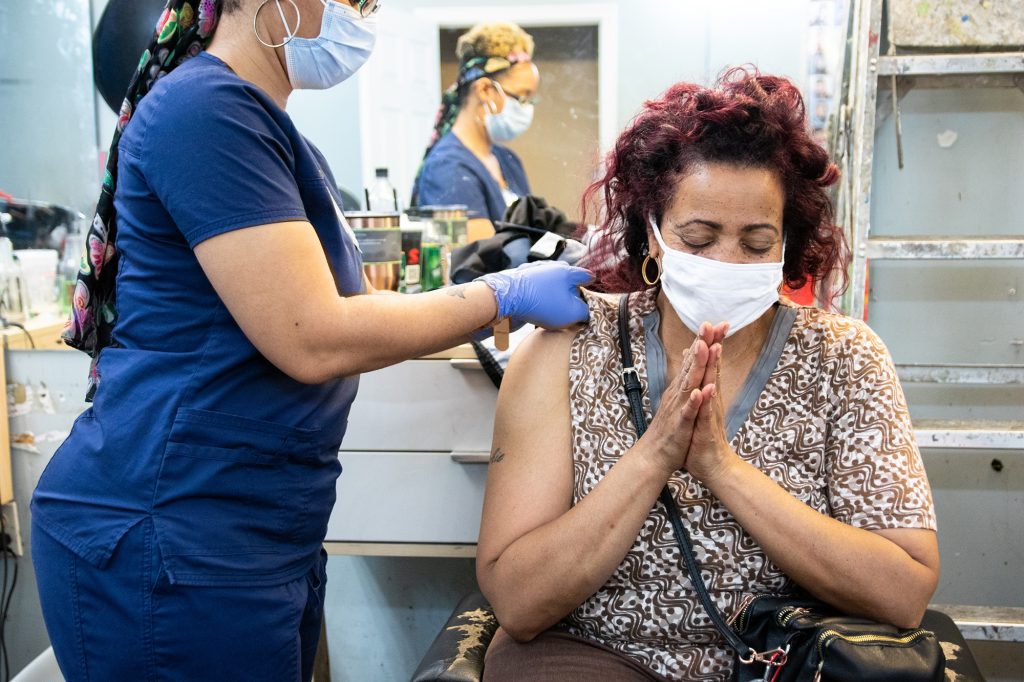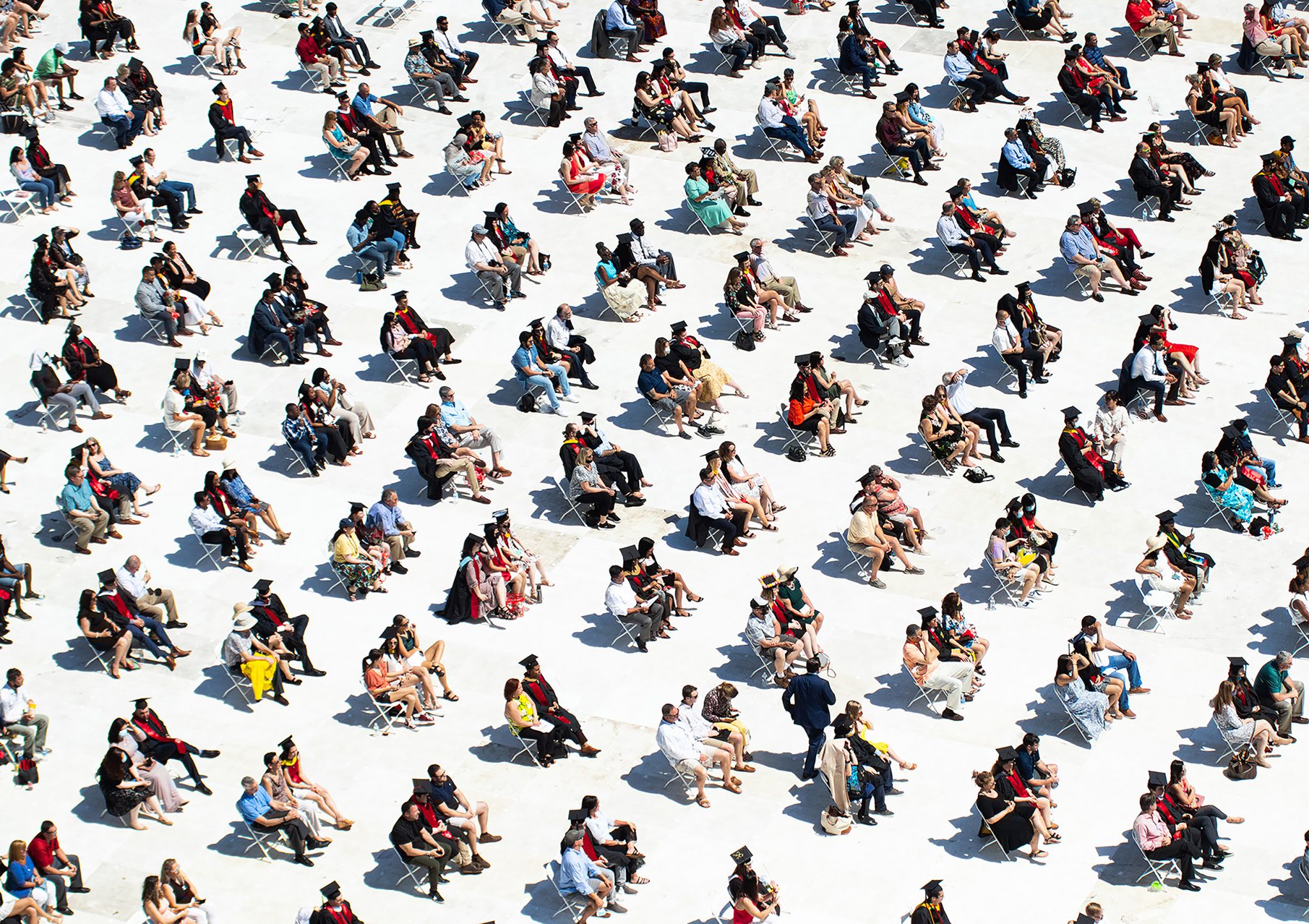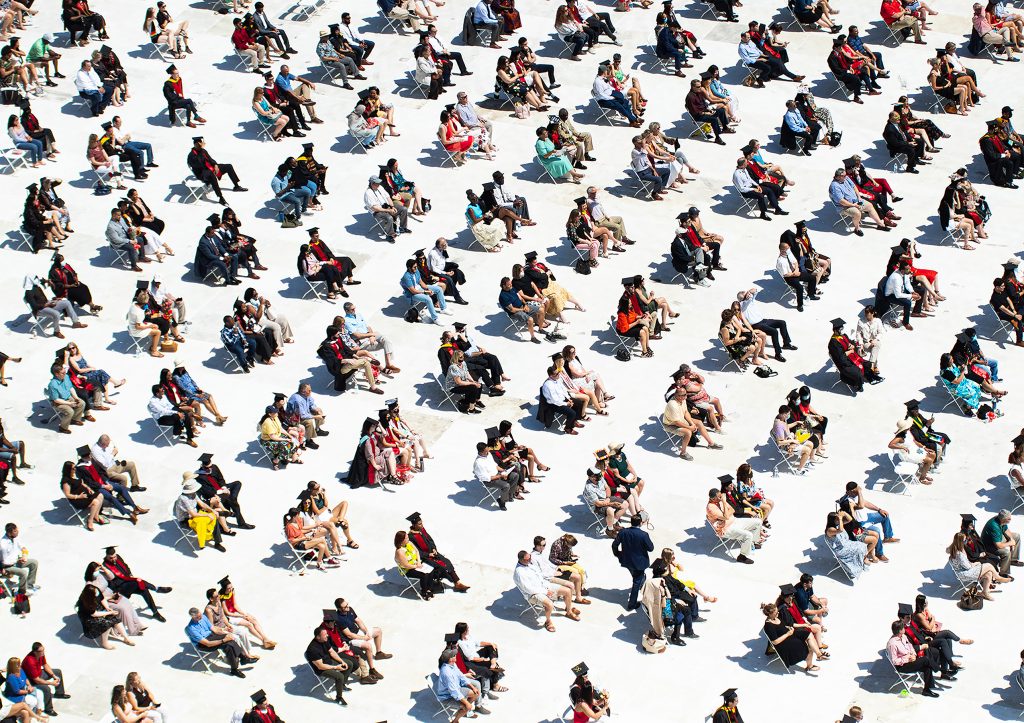 June
After years of construction, Maryland football debuted the Jones-Hill House on June 4, named after the first Black football and men's basketball athletes to attend the University of Maryland. The facility features three practice fields, specialized team rooms, three pools, state-of-the-art workout technology, a barbershop and a turtle-shaped pizza oven.
July
The February fire that forced Today's Hair to close caused approximately $60,000 worth of damages to affected businesses. More than five months later in July, Today's Hair was still closed, as owners Pola and Sokha Kry worked to get it ready for a reopening by the start of the school year.
August
In August, University of Maryland students finally made their return to campus, bustling from class to class after a year of virtual learning.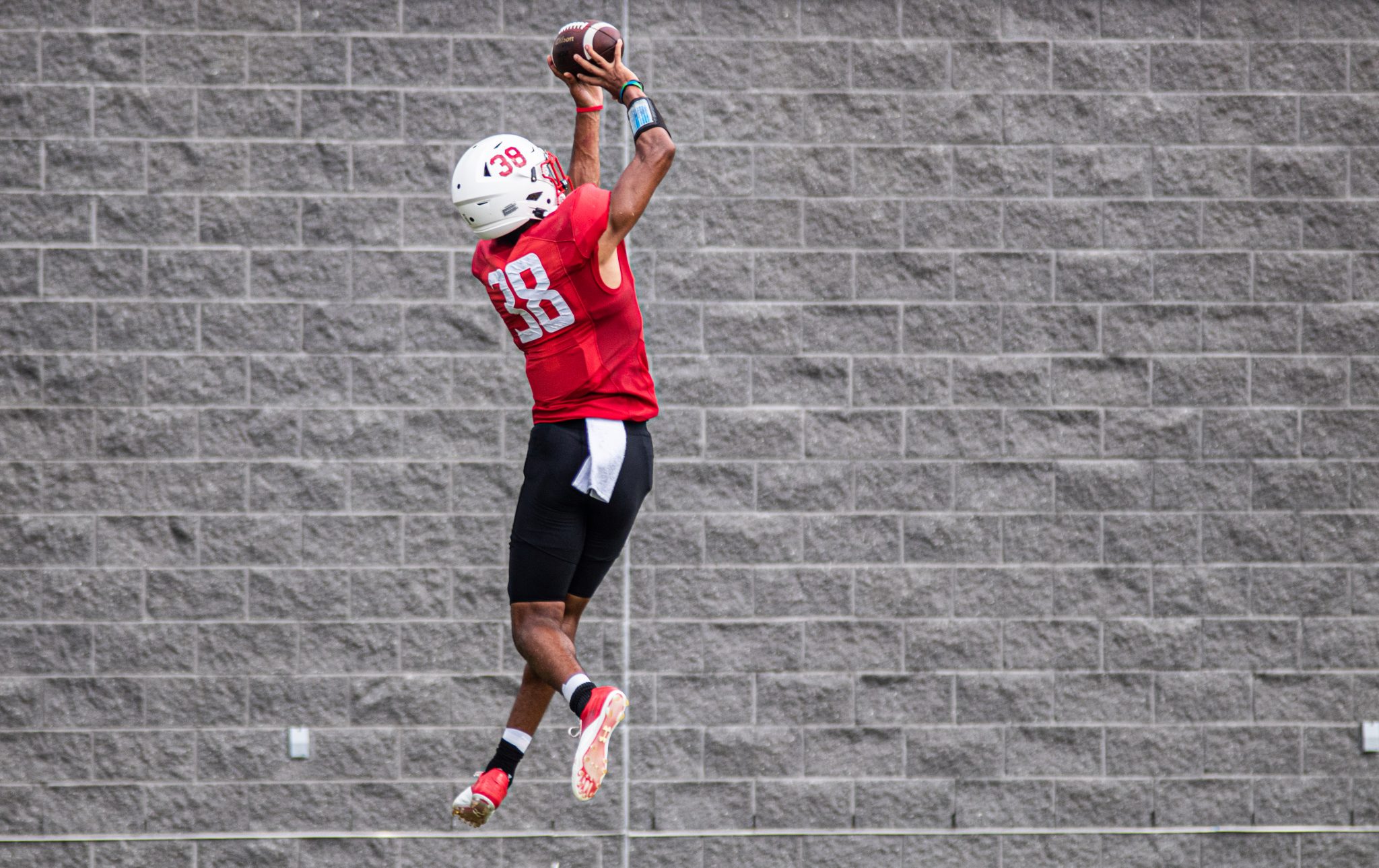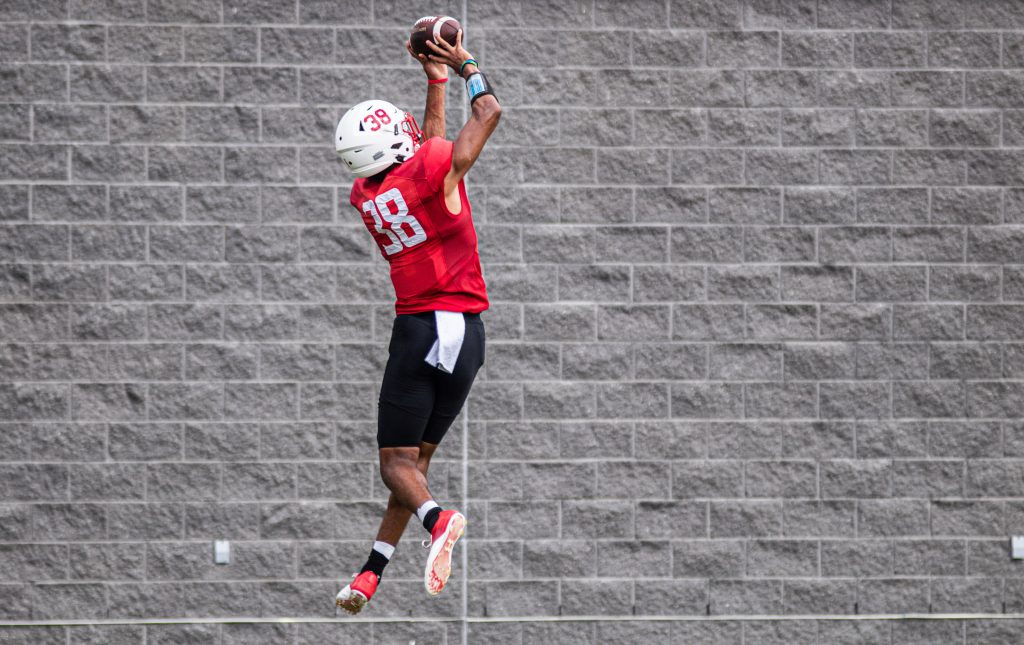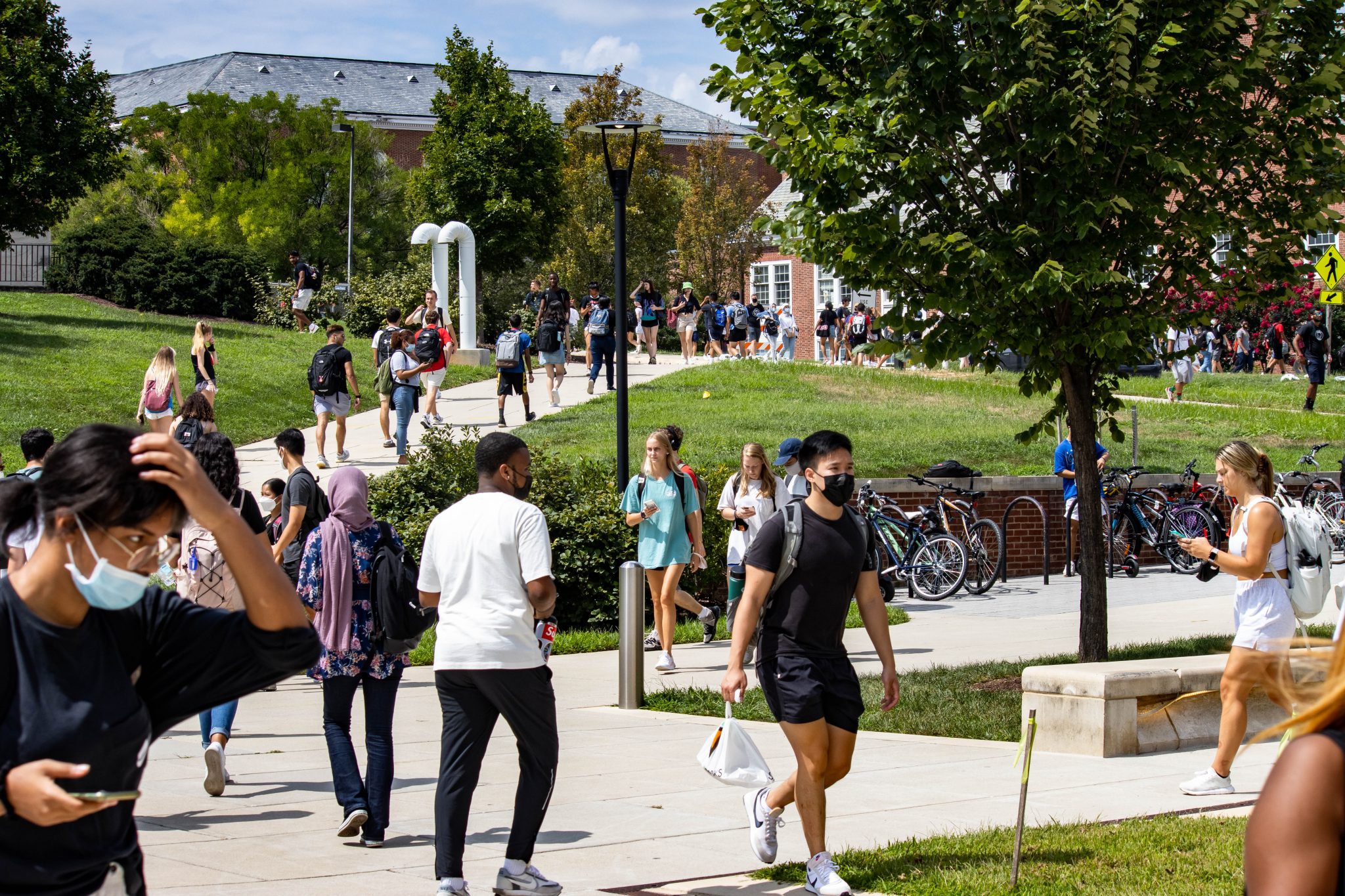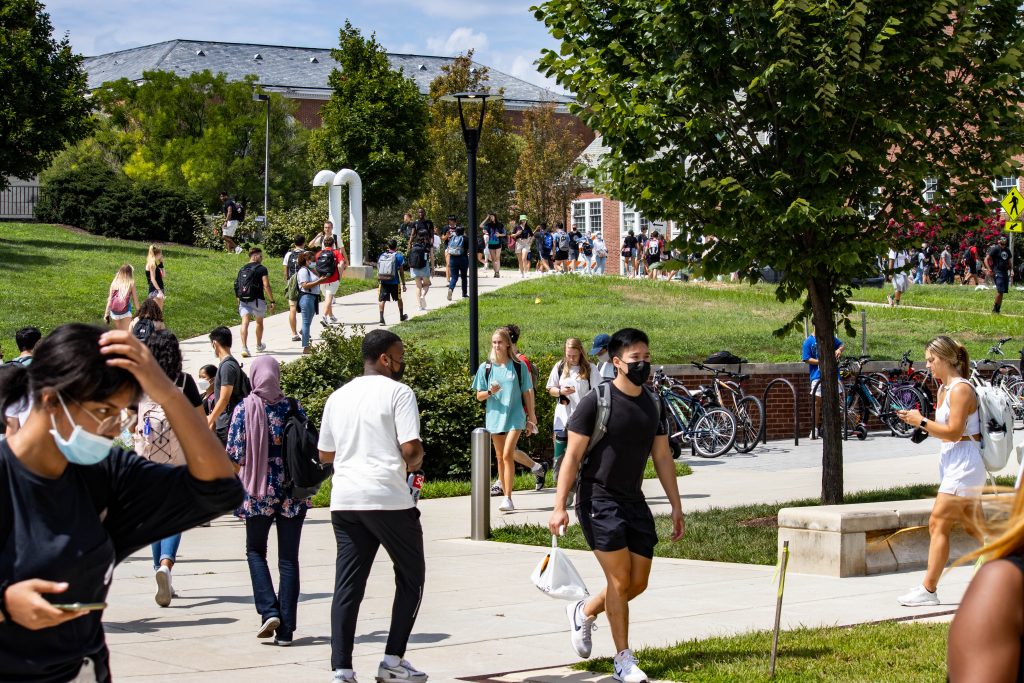 September
After years of student activism, the university installed menstrual product dispensers in 25 buildings for the fall semester. 
The Diamondback also took a look back at the lasting damage inflicted by a tornado that tore through campus twenty years ago on Sept. 24. The storm whipped 200 mph winds, destroying apartments and roughly 300 cars, leaving two dead.
September also brought with it a striped saga that would end up lasting months, captivating not only local audiences, but also the nation. Five zebras escaped a private farm in Upper Marlboro and were only caught on Dec. 15. Unfortunately, one of them died. 
Sports also kicked off, with fans filling the stands at Maryland Stadium. Volleyball and field hockey also found explosive starts to what would become successful seasons. 
As the month came to a close, students took to McKeldin Mall for the first in-person First Look Fair since the start of the coronavirus pandemic.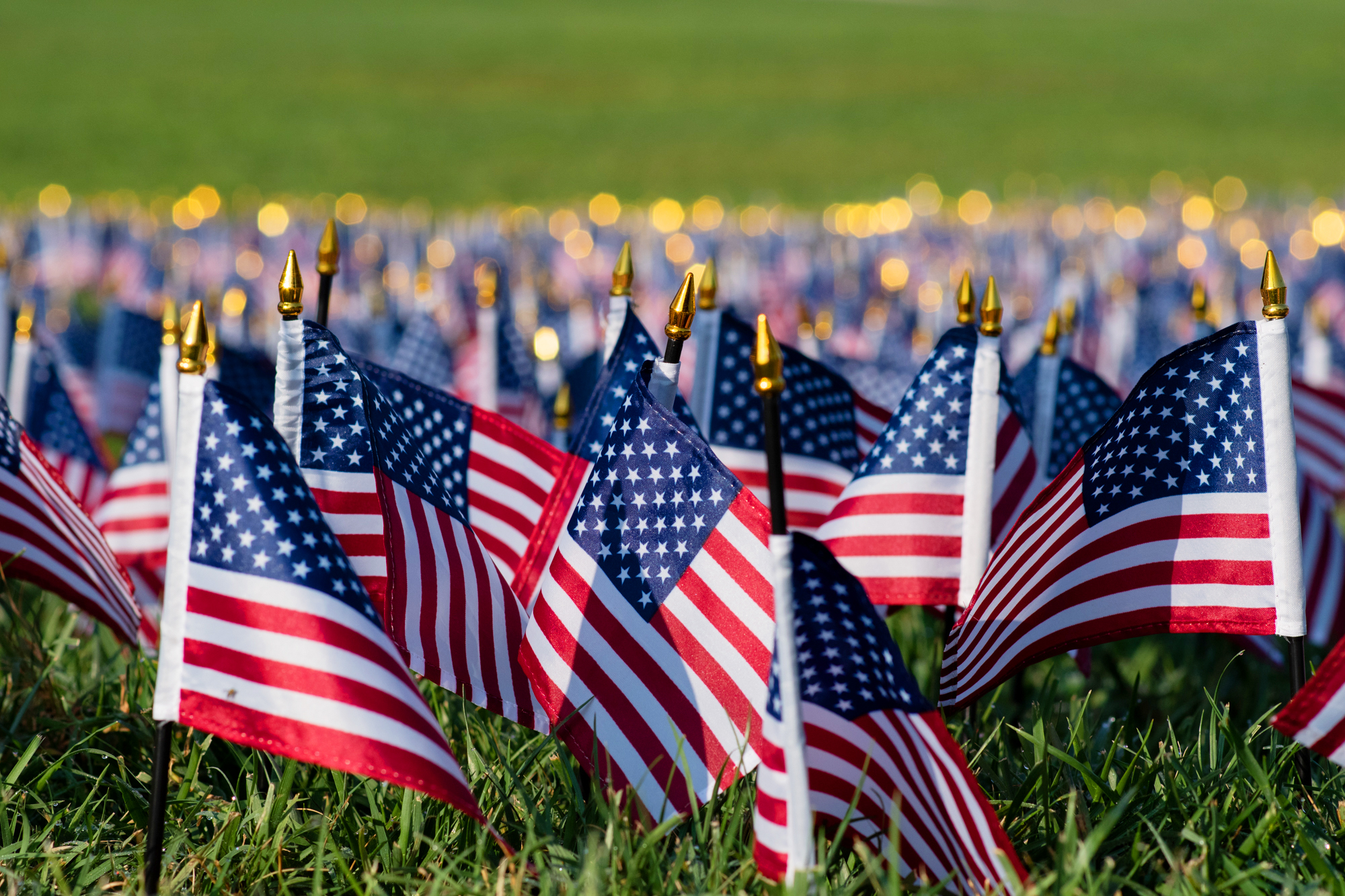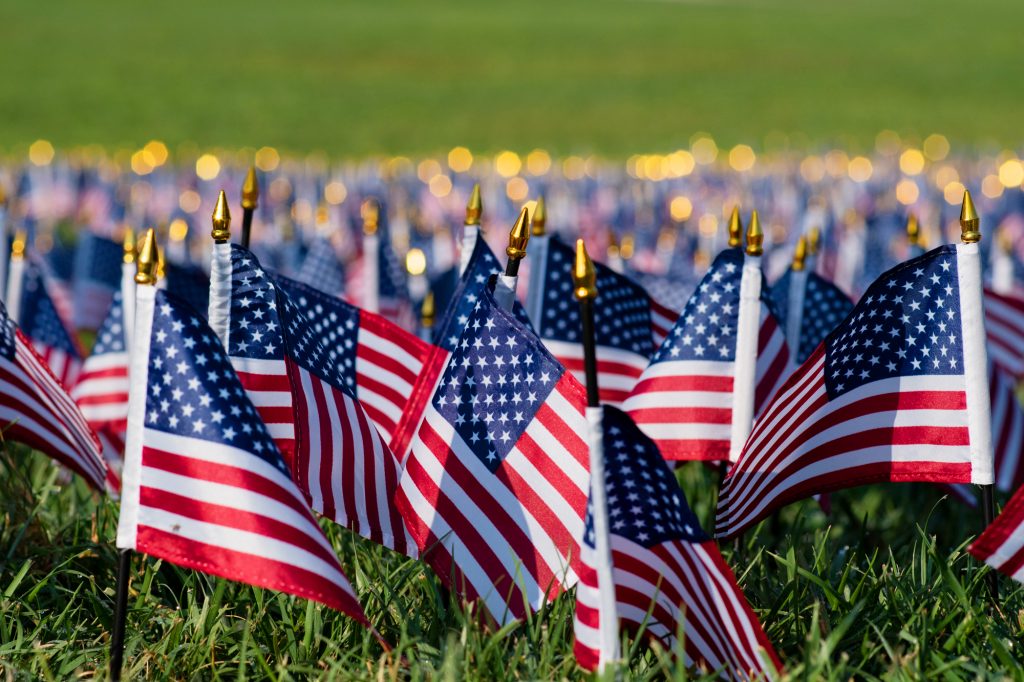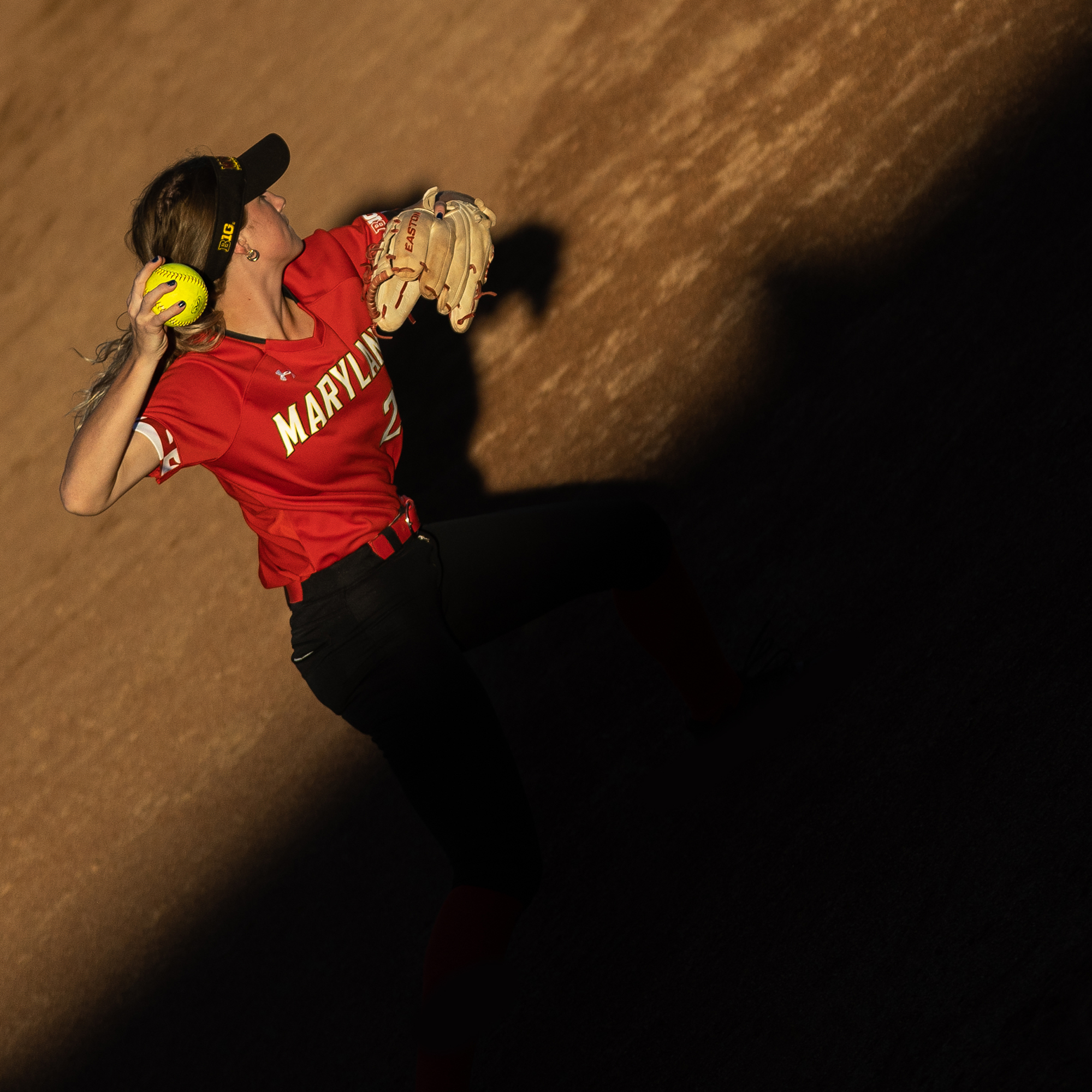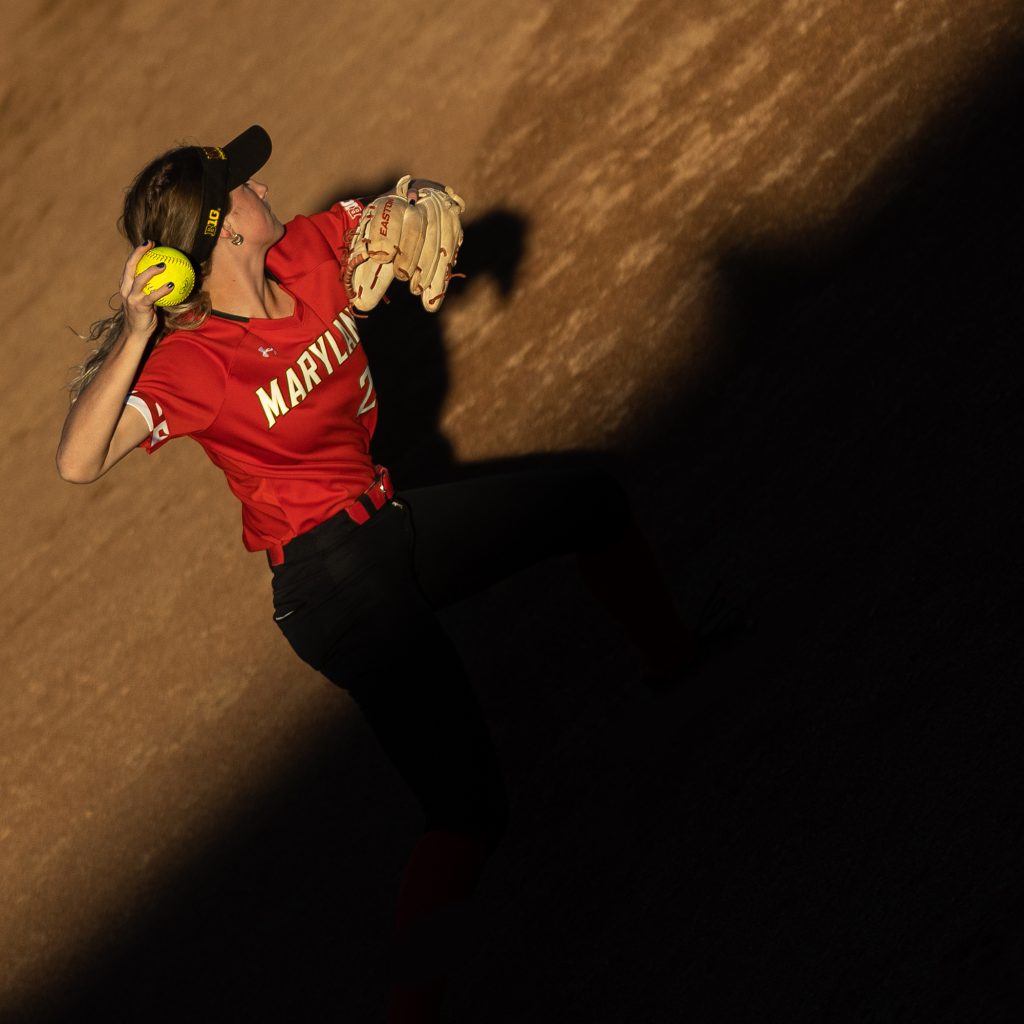 Michaela Jones pitches during Maryland softball's 5-1 victory over George Mason on Sept. 24, 2021. (Julia Nikhinson/The Diamondback)
Maryland volleyball celebrates following its 3-2 victory over No. 2 Wisconsin, the biggest win in program history, on Sept. 24, 2021. (Julia Nikhinson/The Diamondback)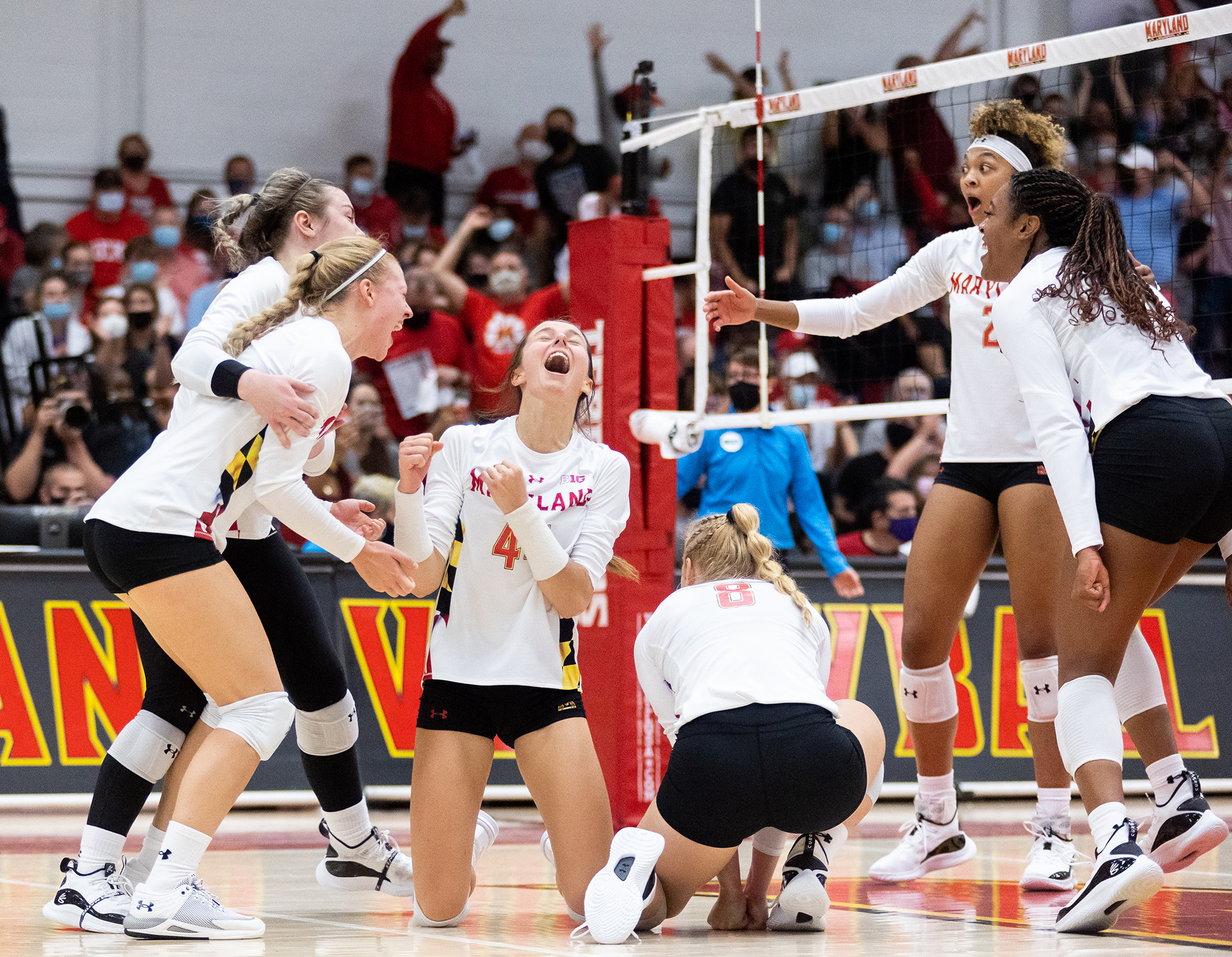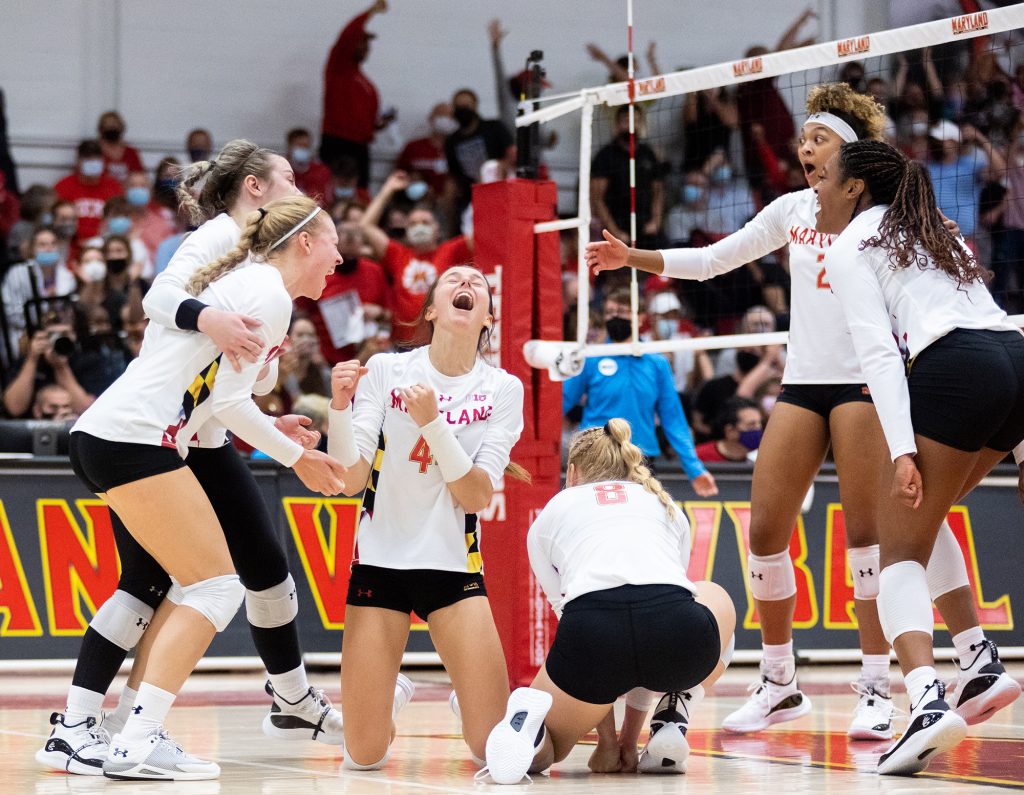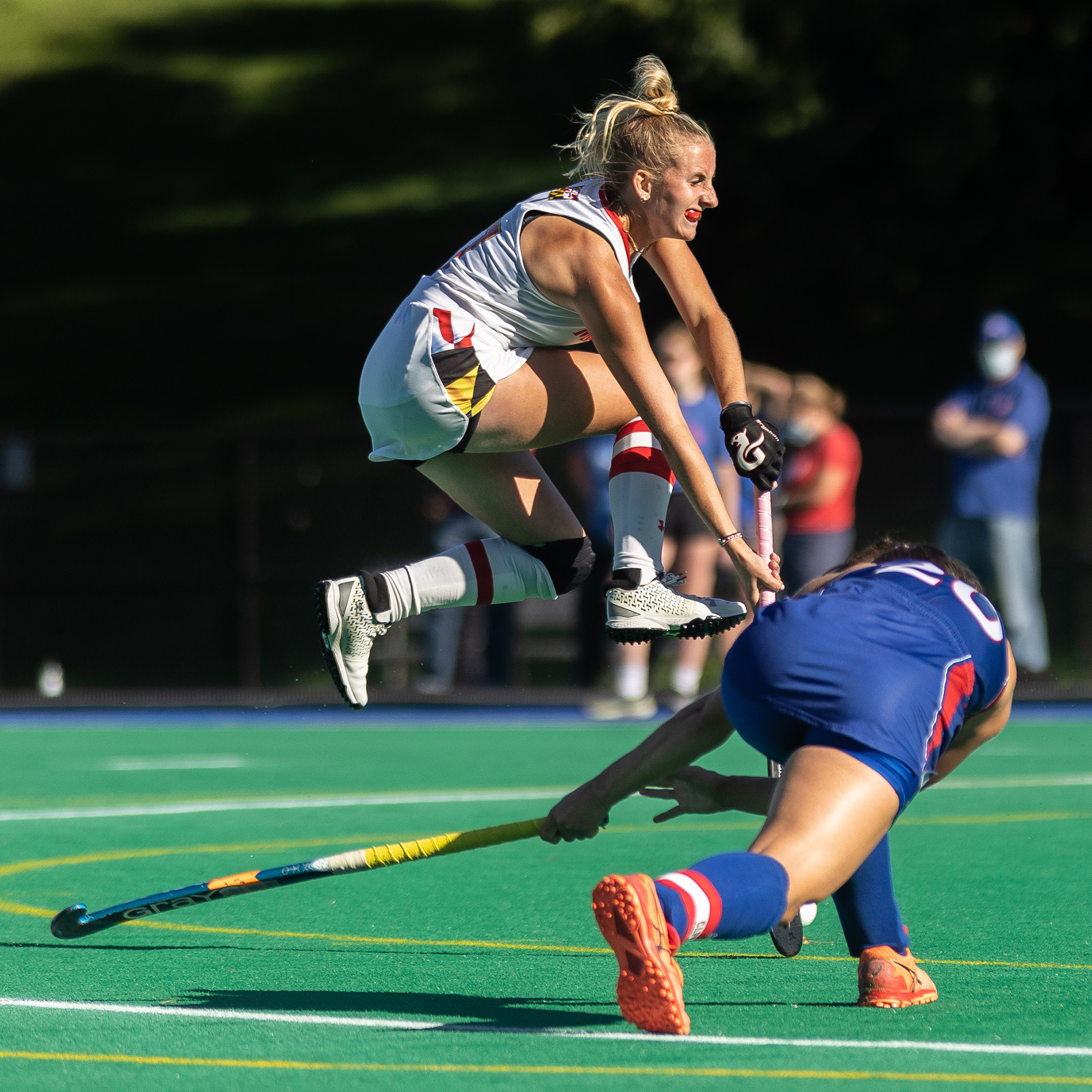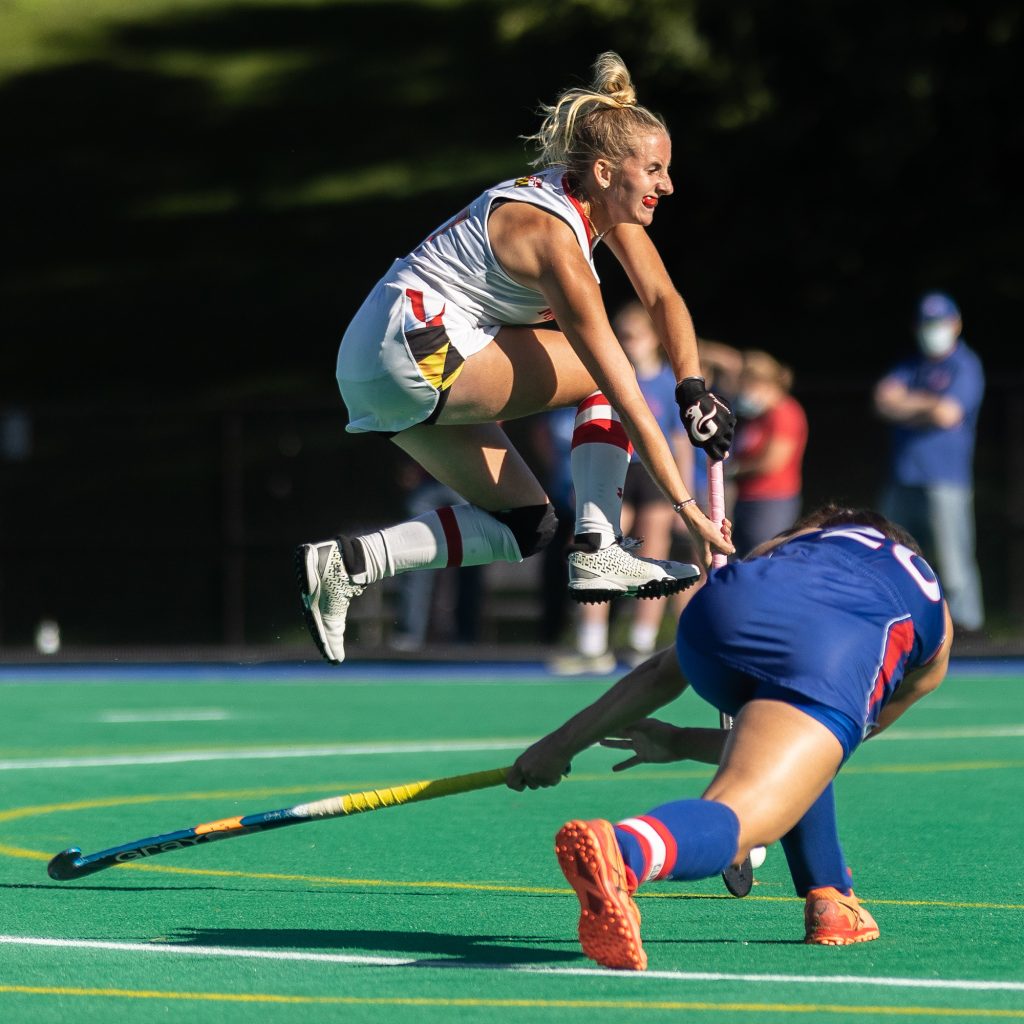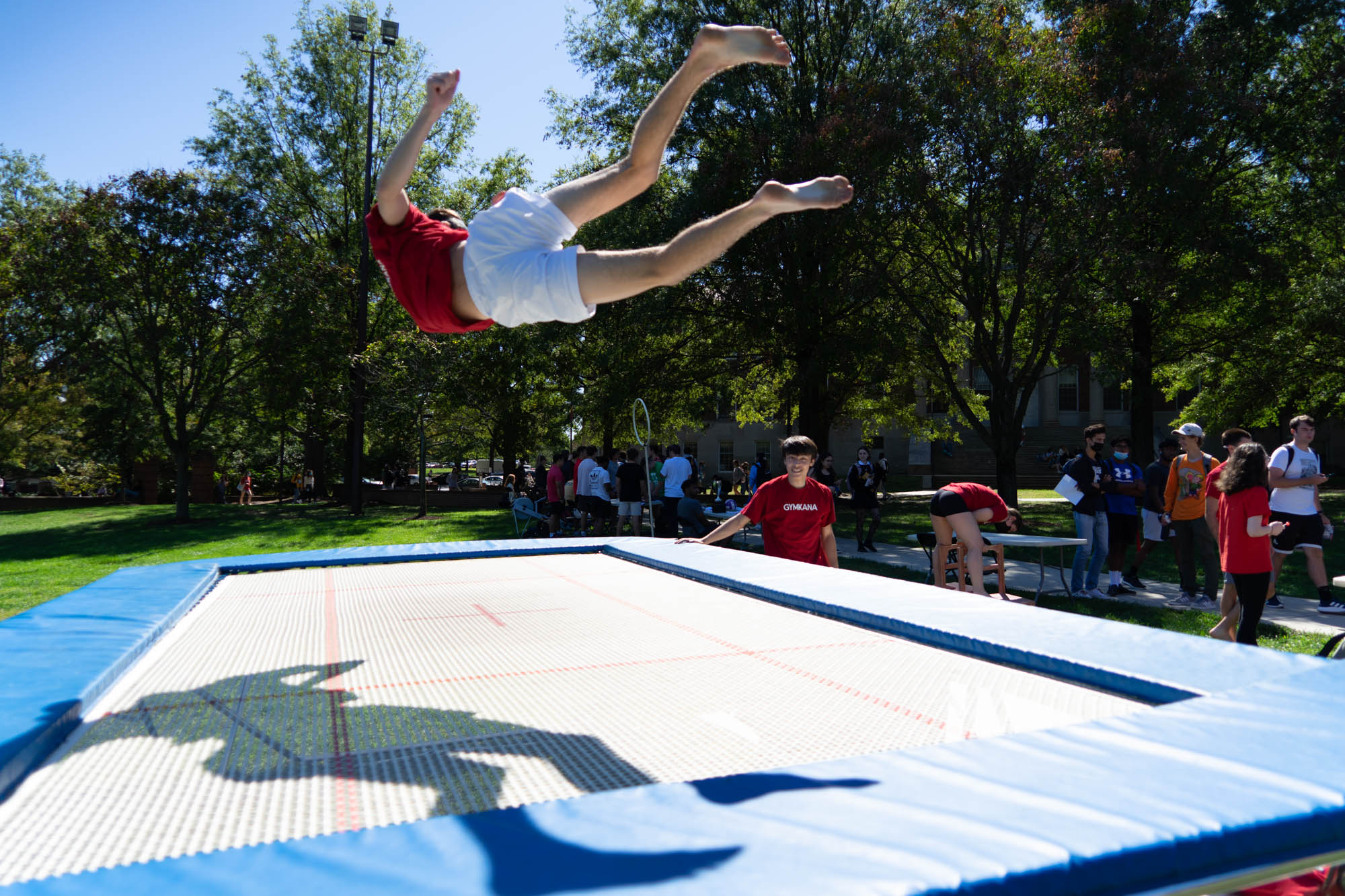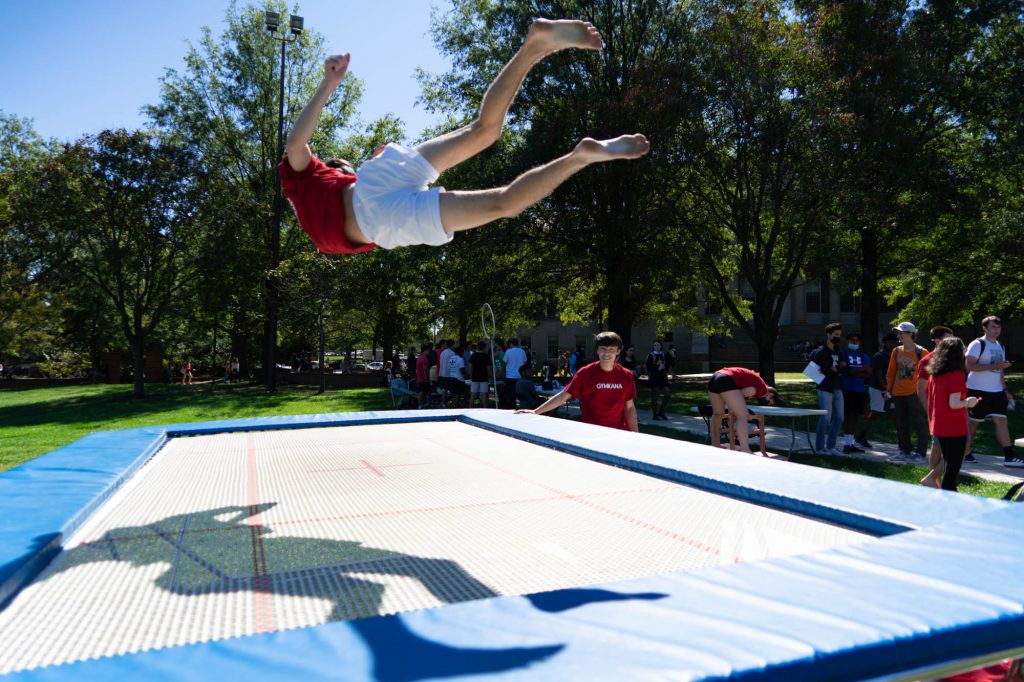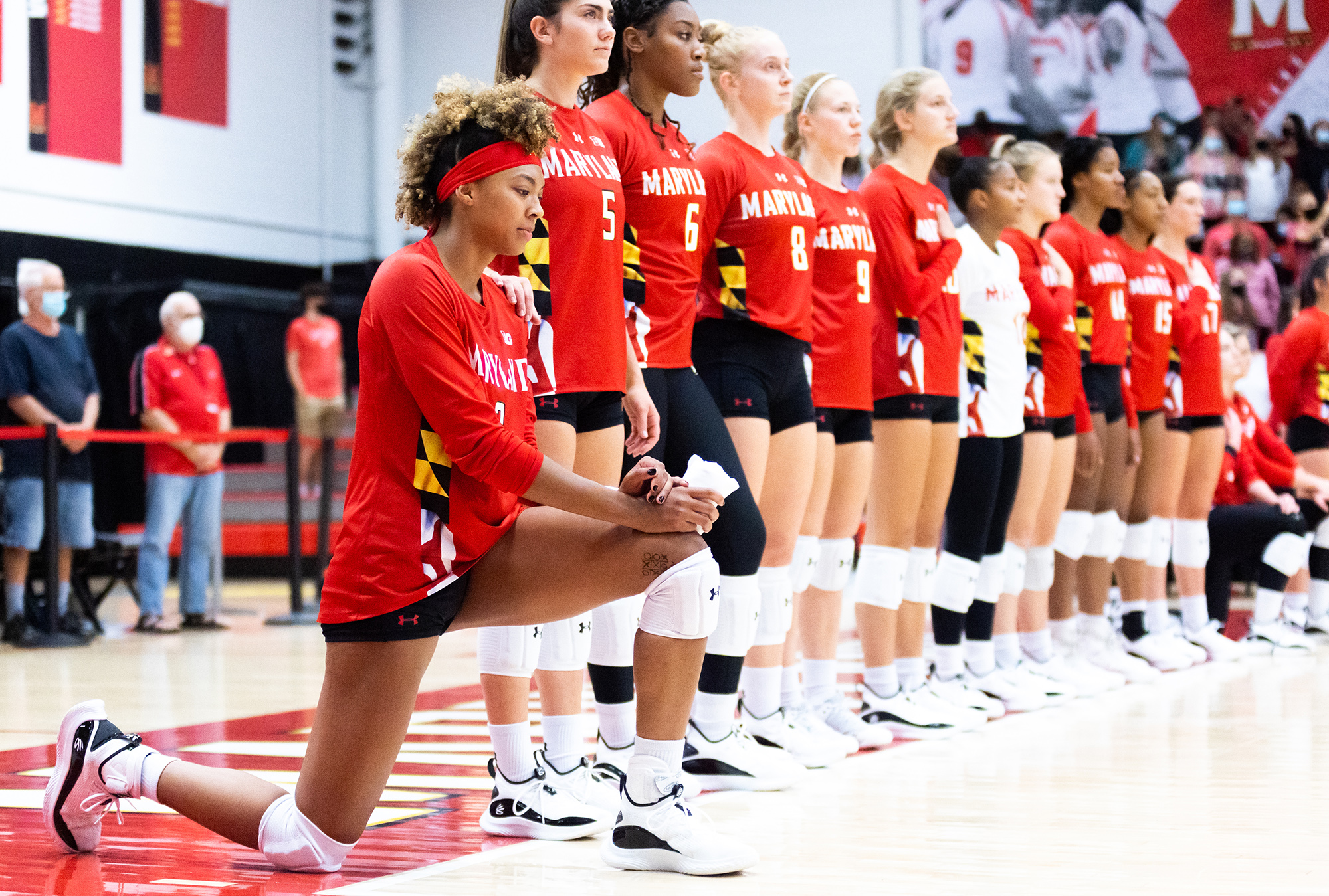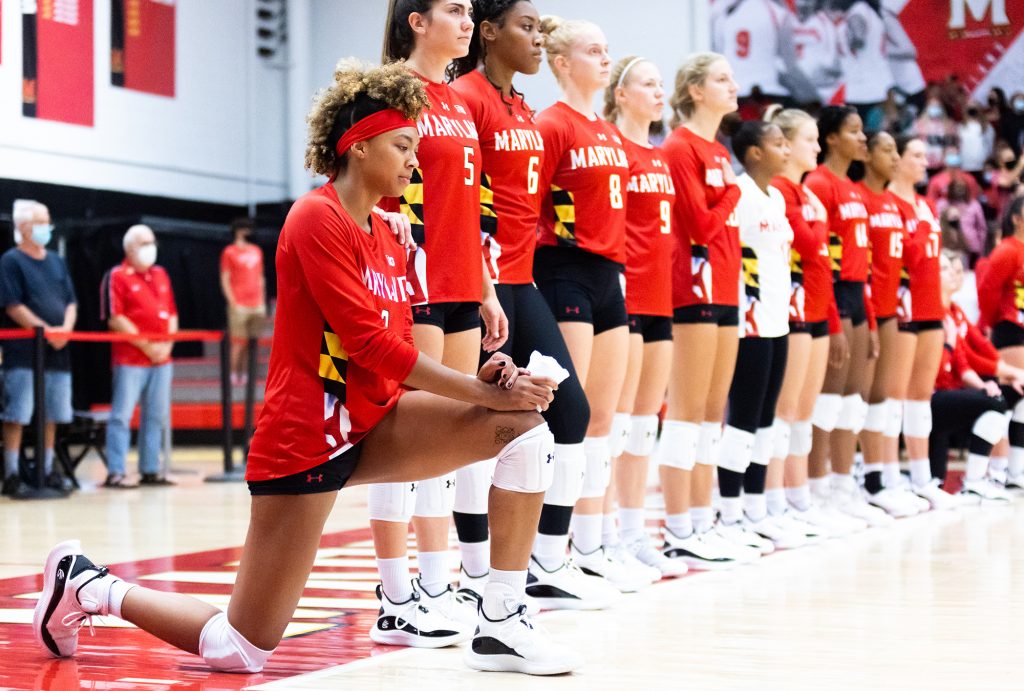 October
Following sexual assault allegations against a Pi Kappa Alpha affiliate, the university's Department of Fraternity and Sorority Life placed a cease and desist on the fraternity, in addition to suspending their recognition on campus.
In late October, Insomnia Cookies reopened in College Park, bringing both the smell of freshly baked cookies and a new menu with it. Unfortunately, Bagel Place, a College Park staple, closed its doors on Oct. 29 due to leasing disputes.
That same week, the university's theatre, dance and performance studies school put on Little Women: The Broadway Musical in the Kay Theatre, marking a return to in-person theatre.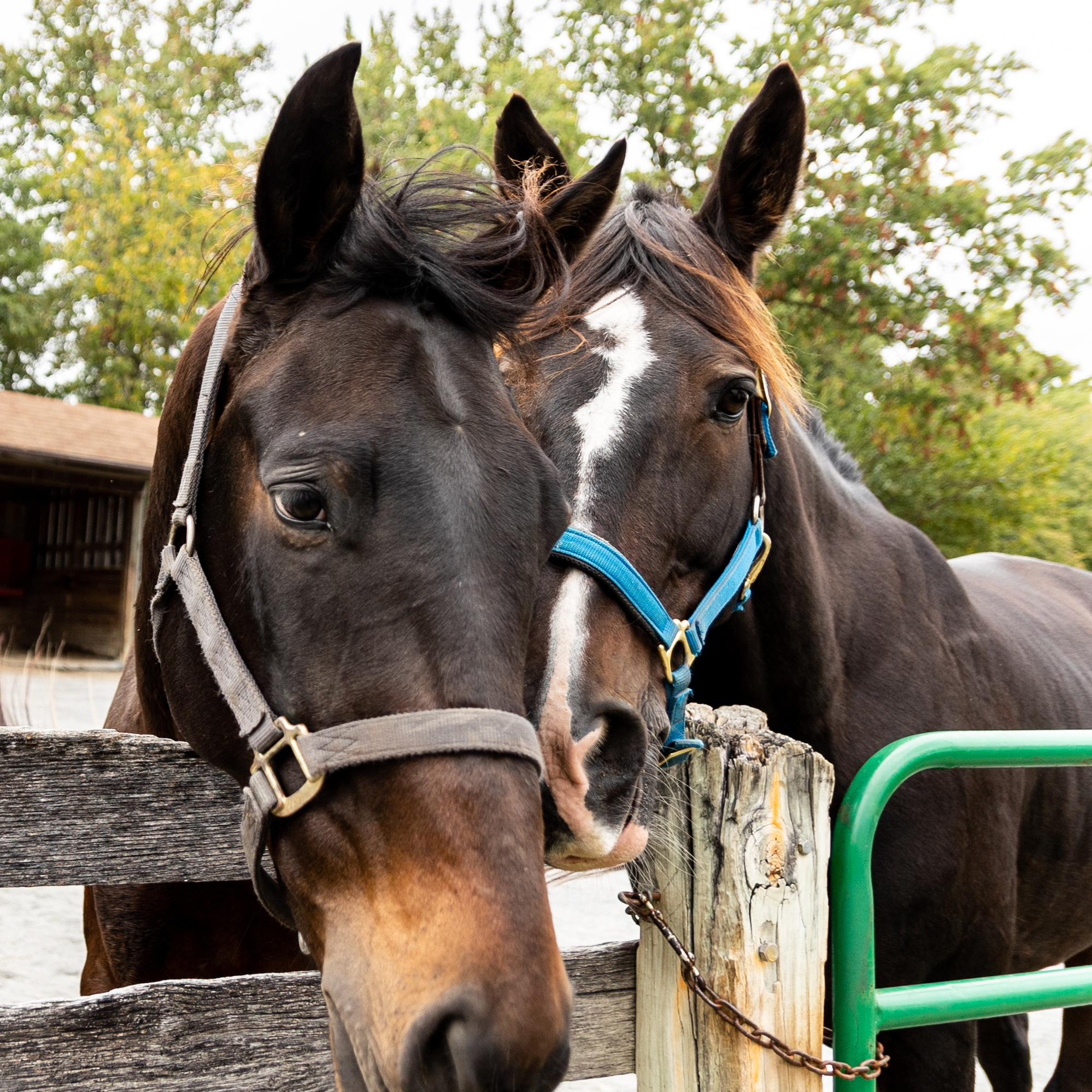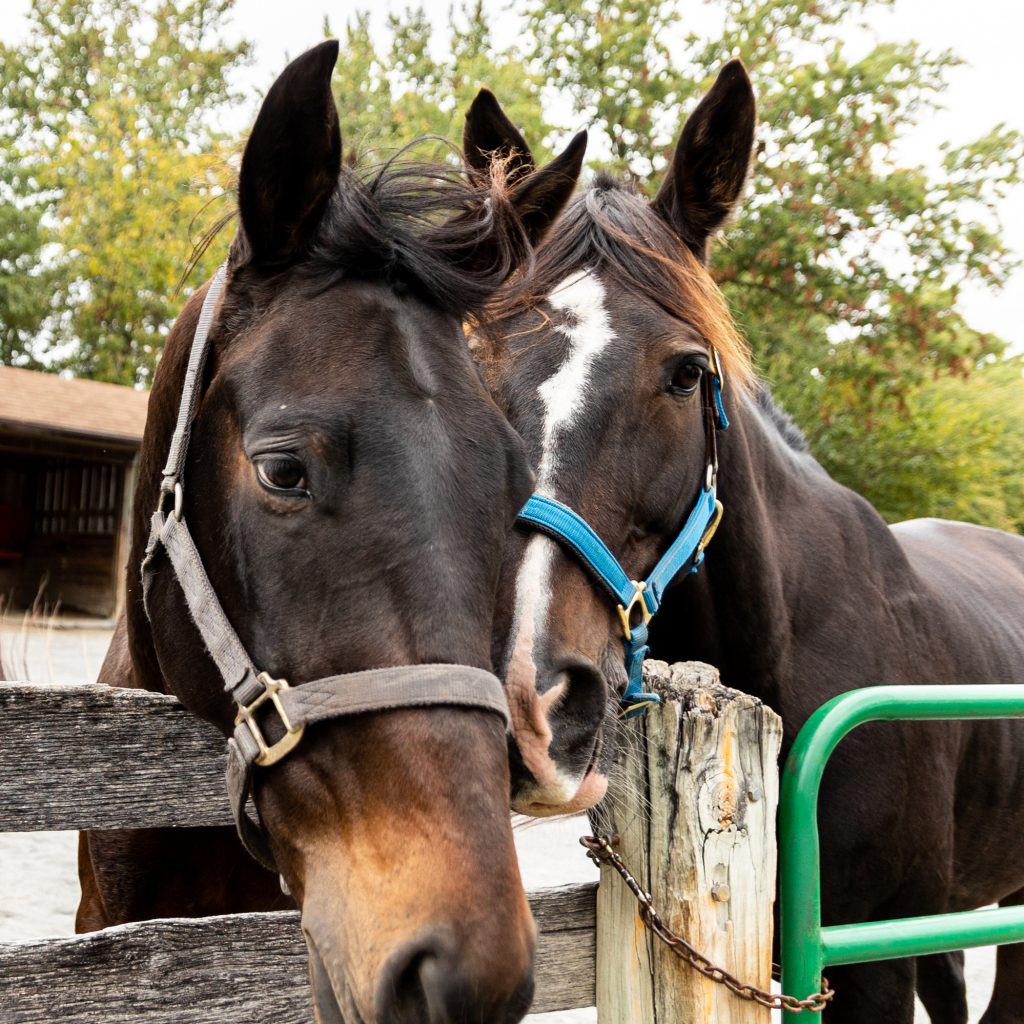 Odyn with his friend Remy at the campus farm on Oct. 13, 2021. Odyn had to quarantine for two weeks upon his arrival to the campus farm, a standard procedure. (Julia Nikhinson/The Diamondback)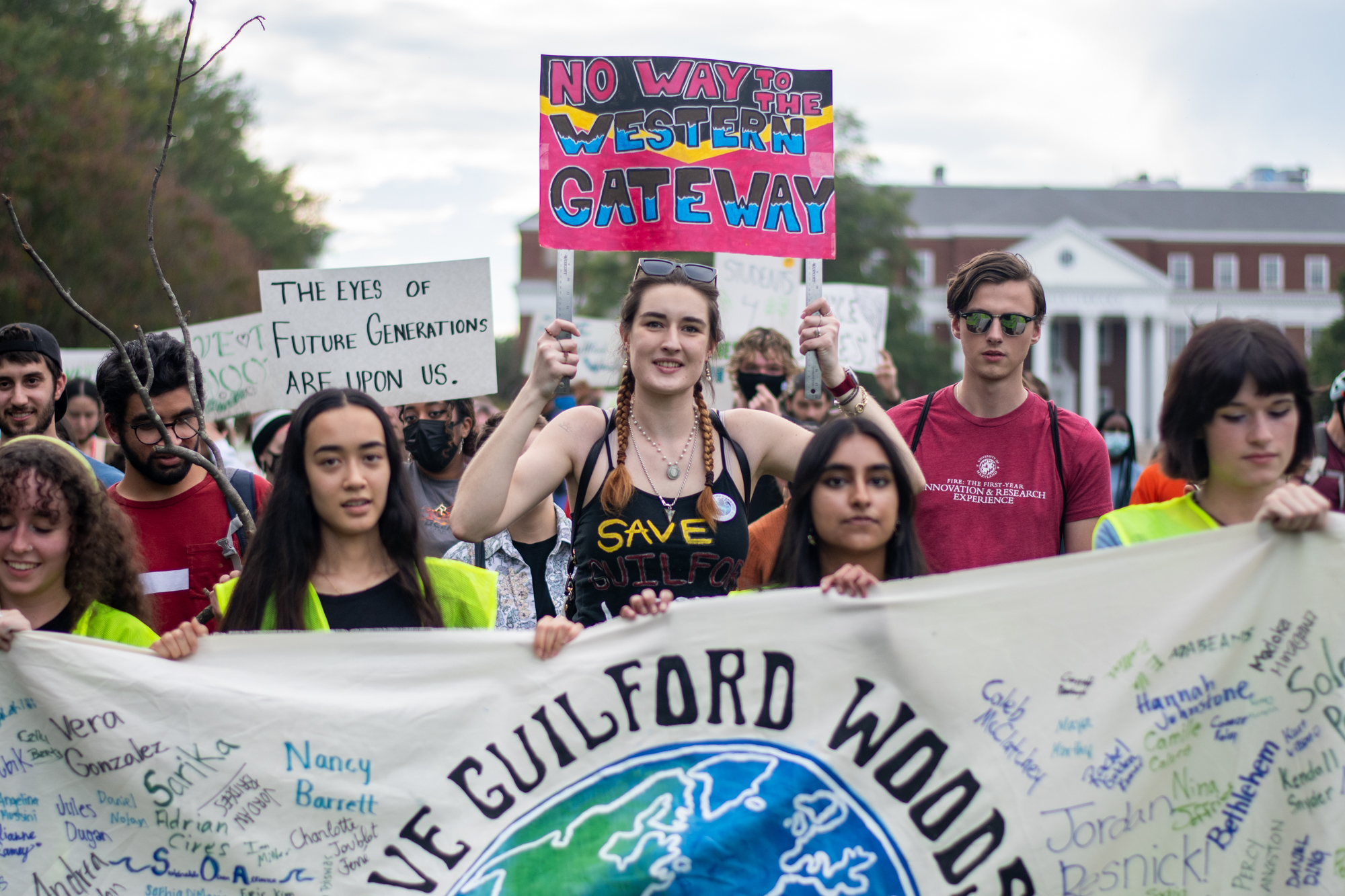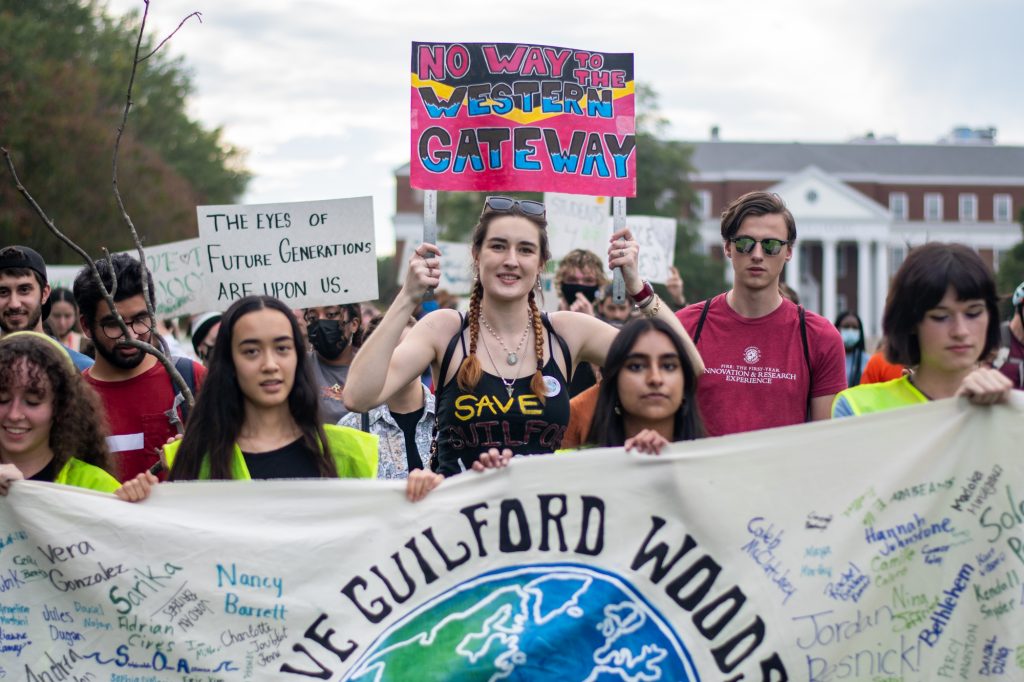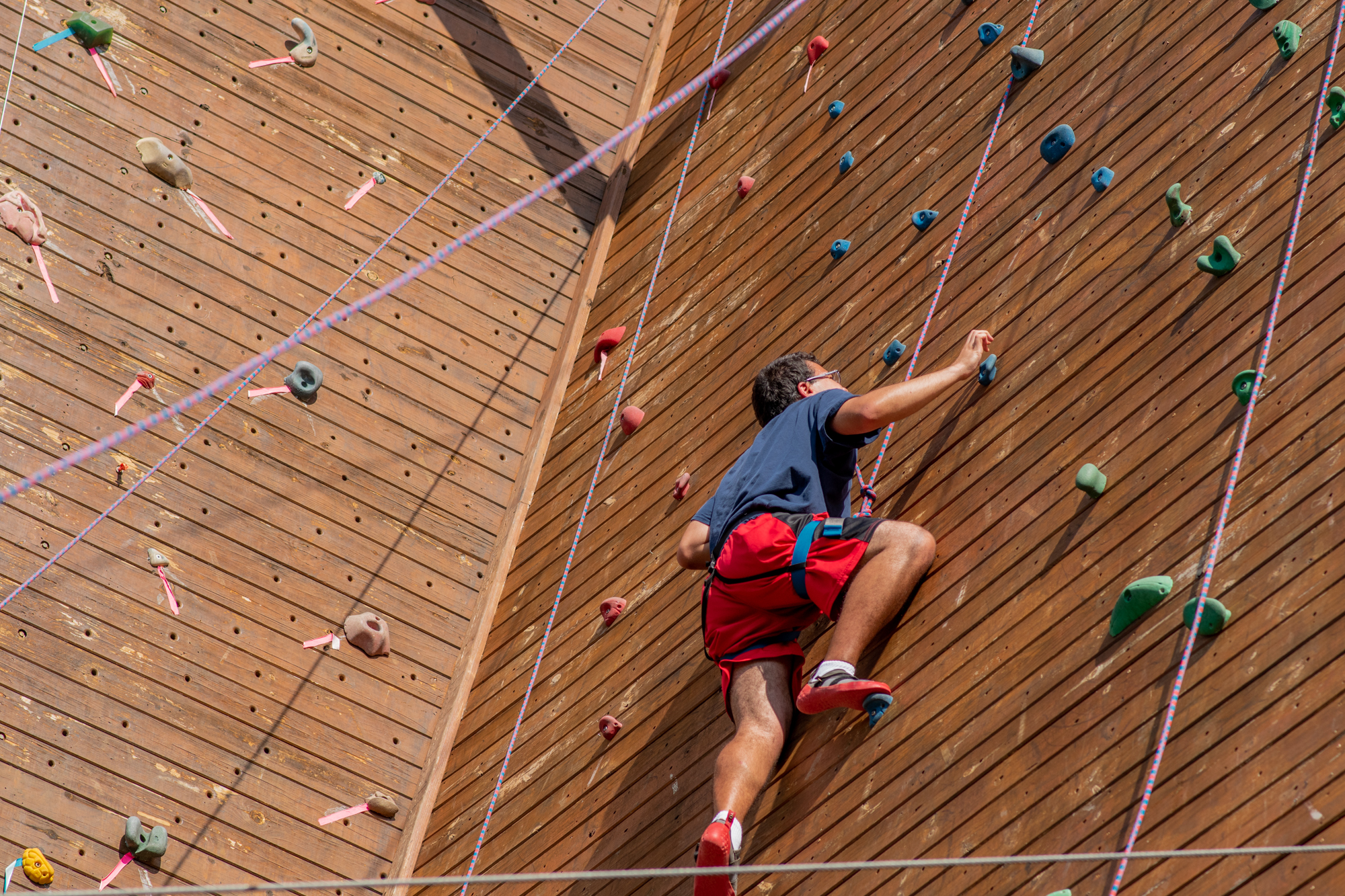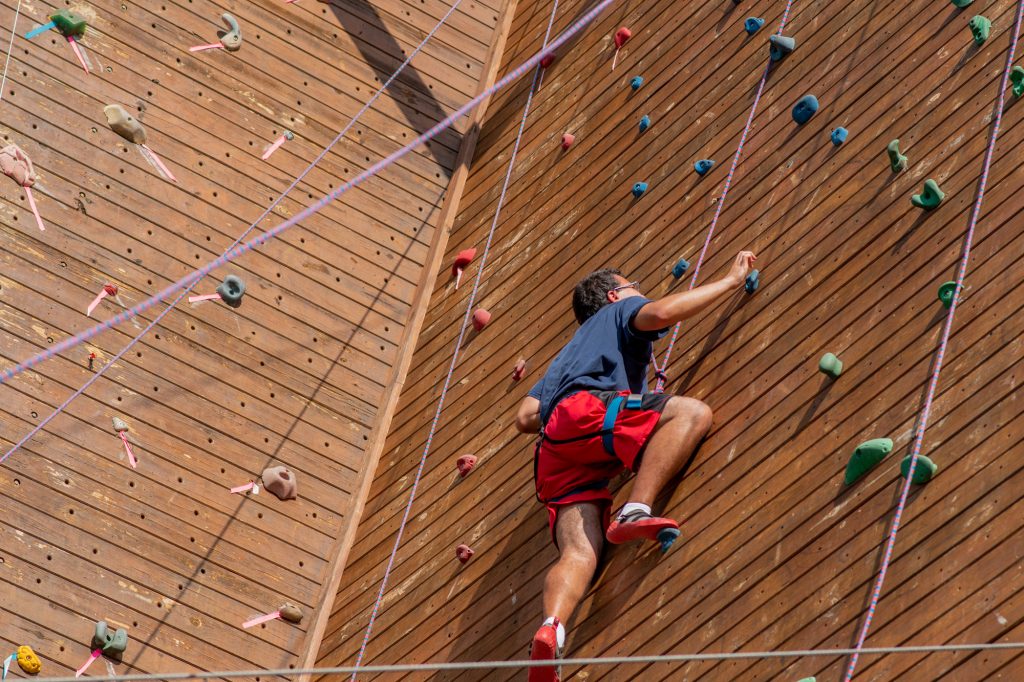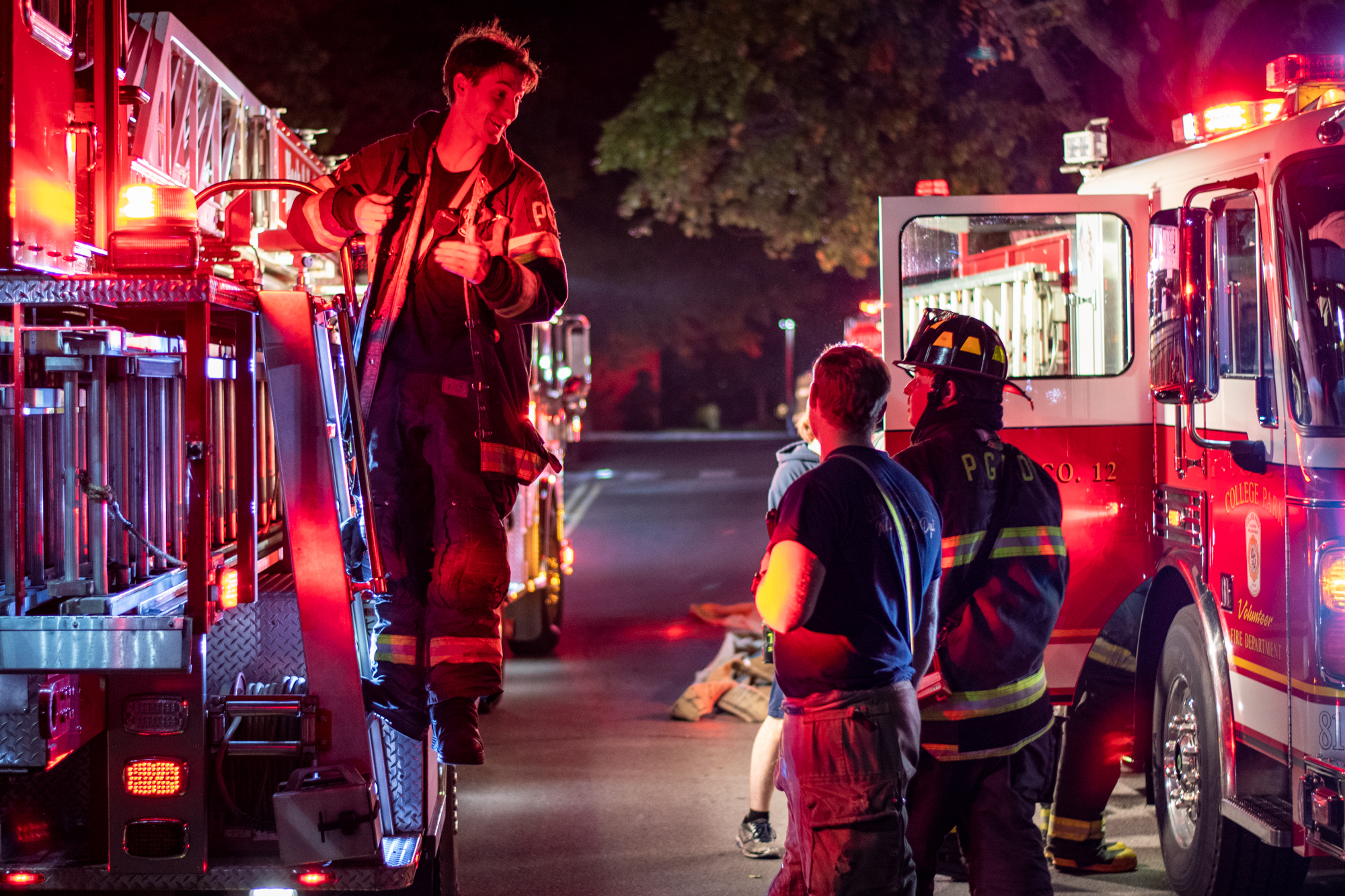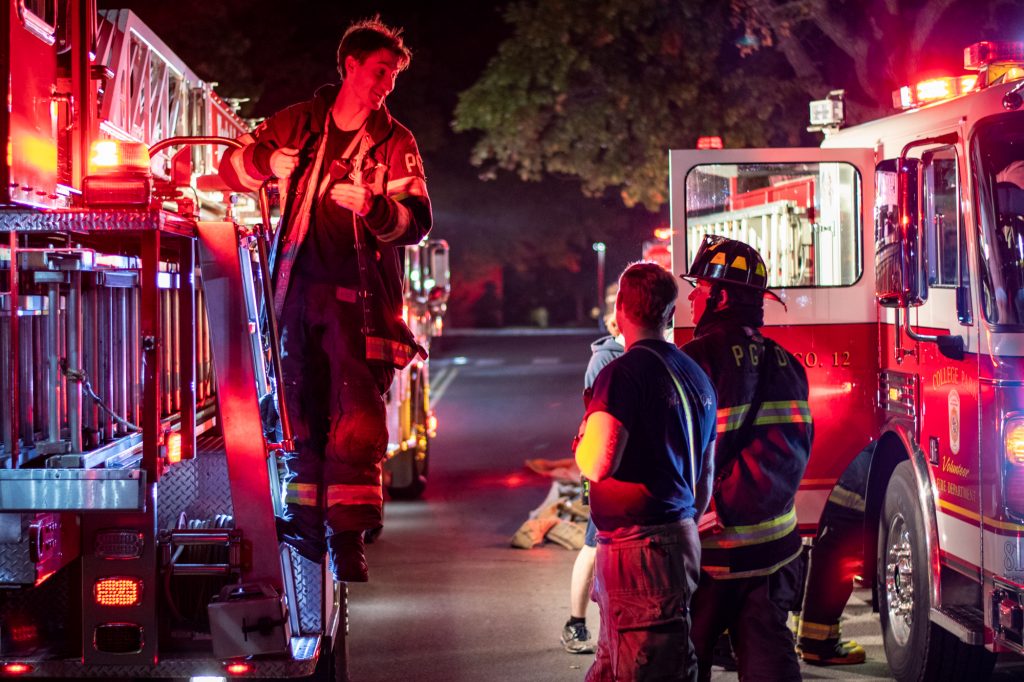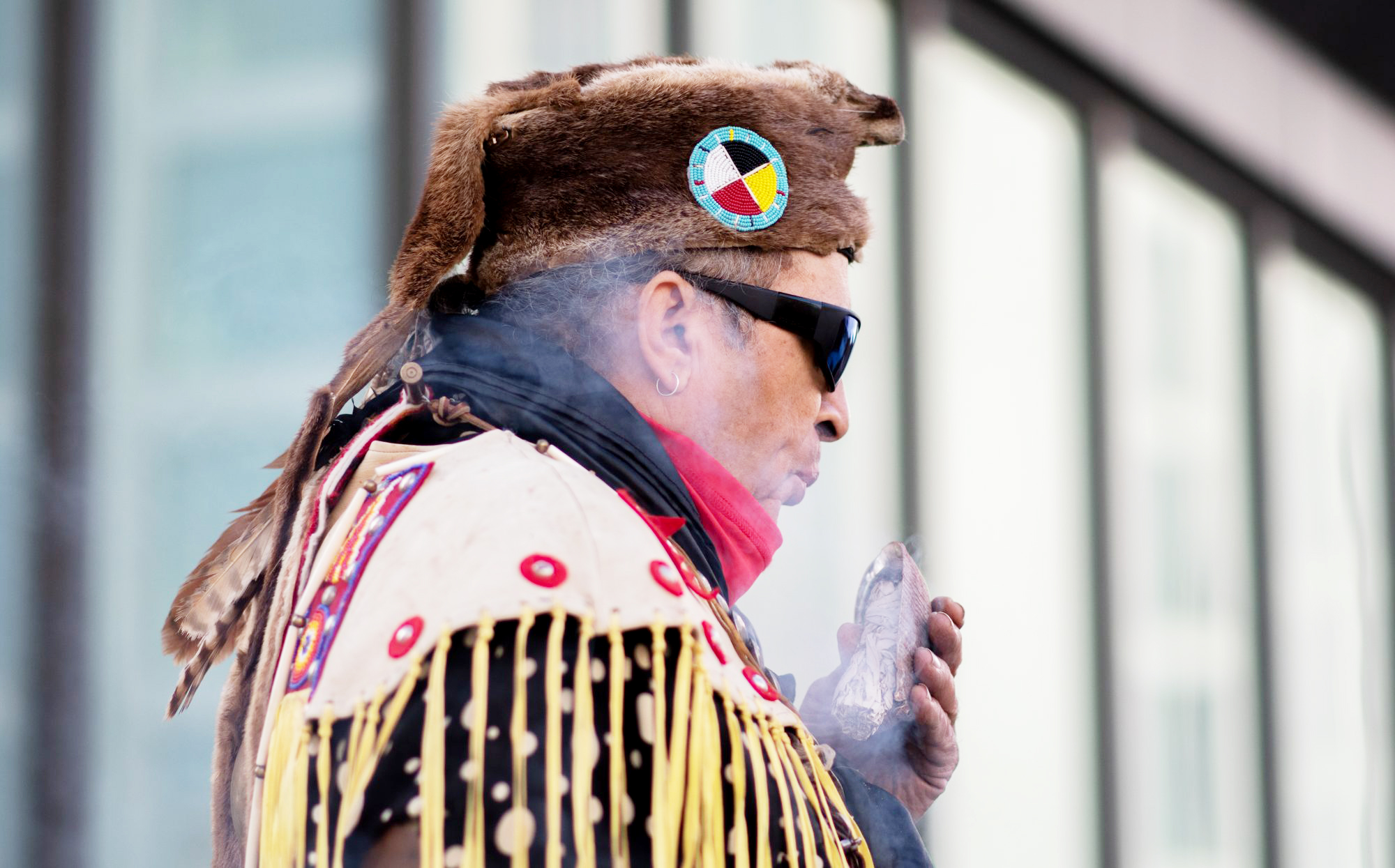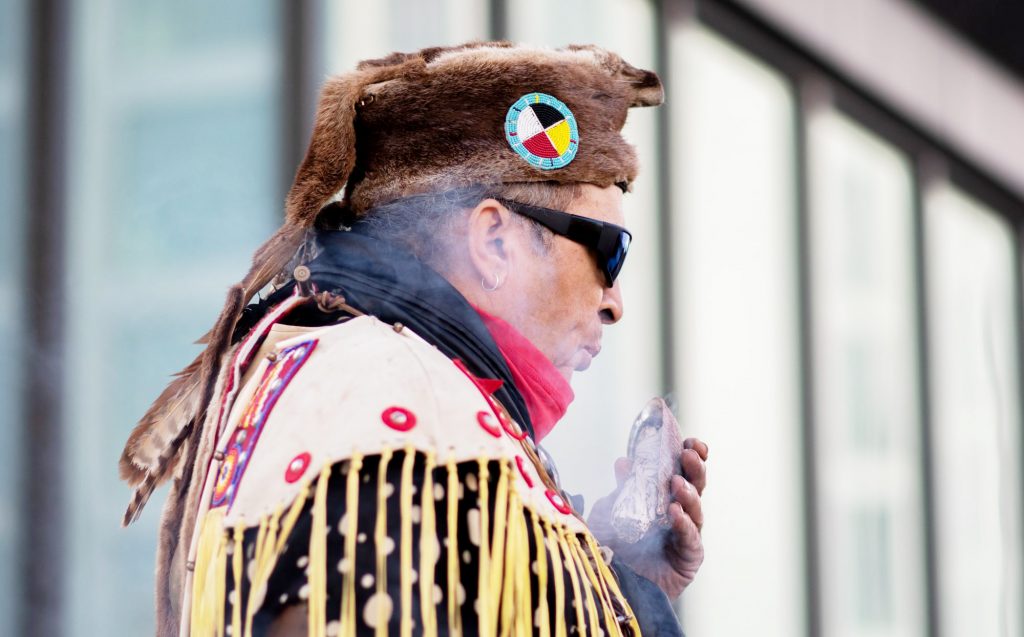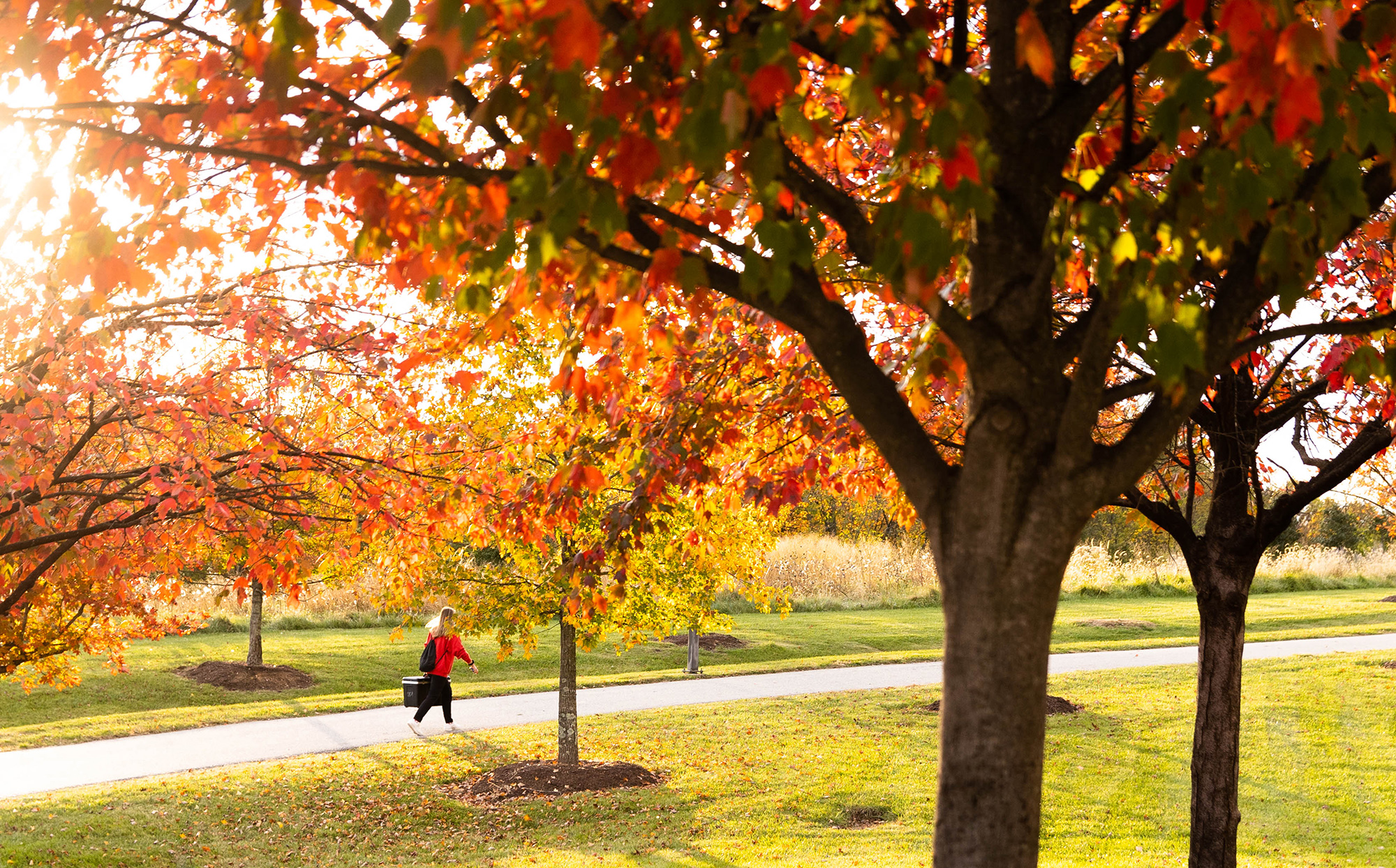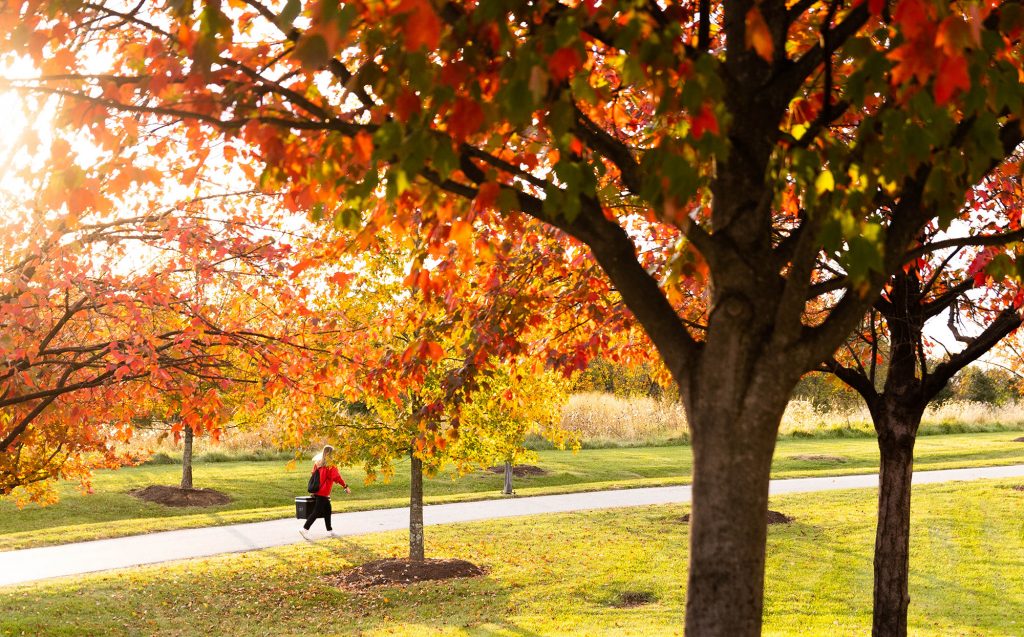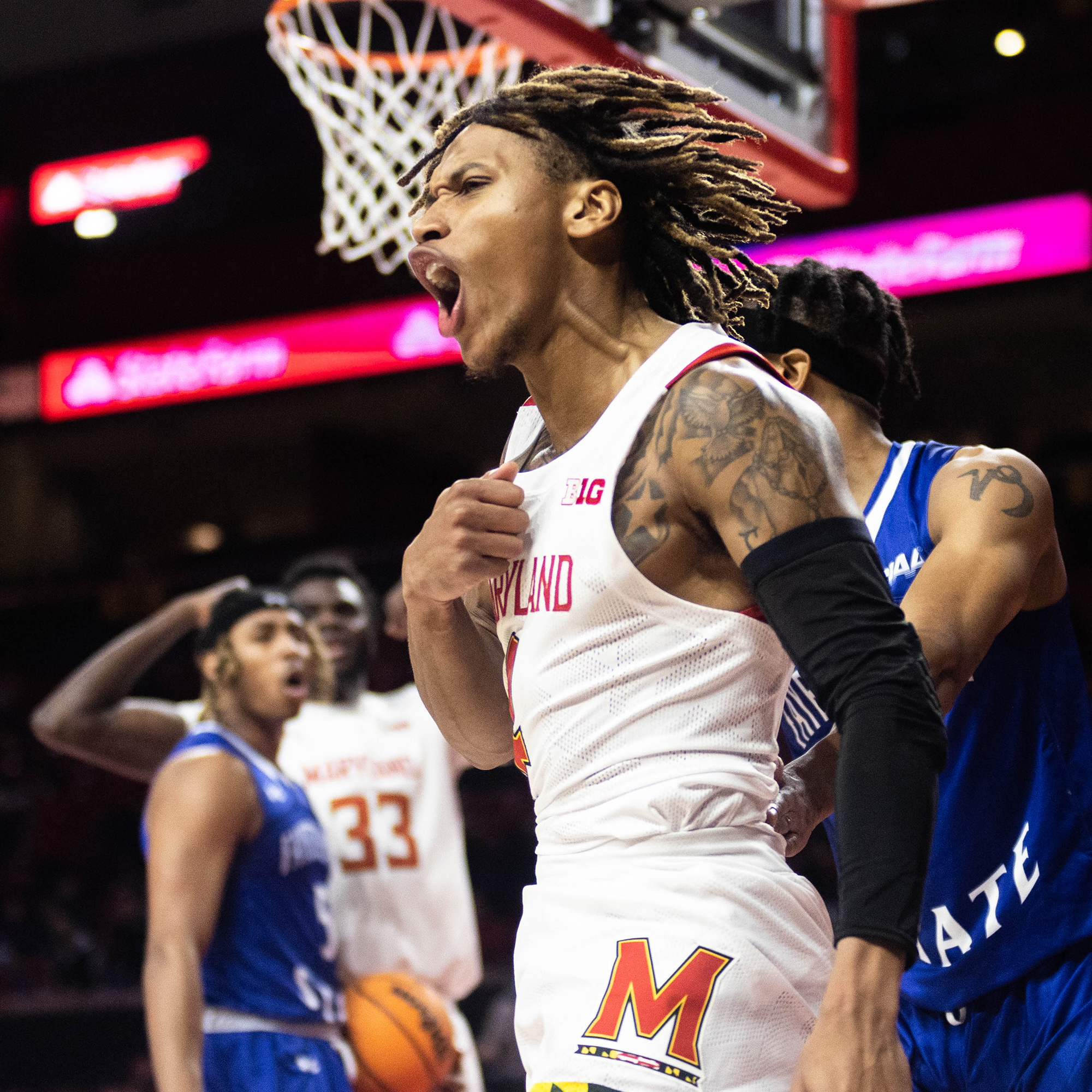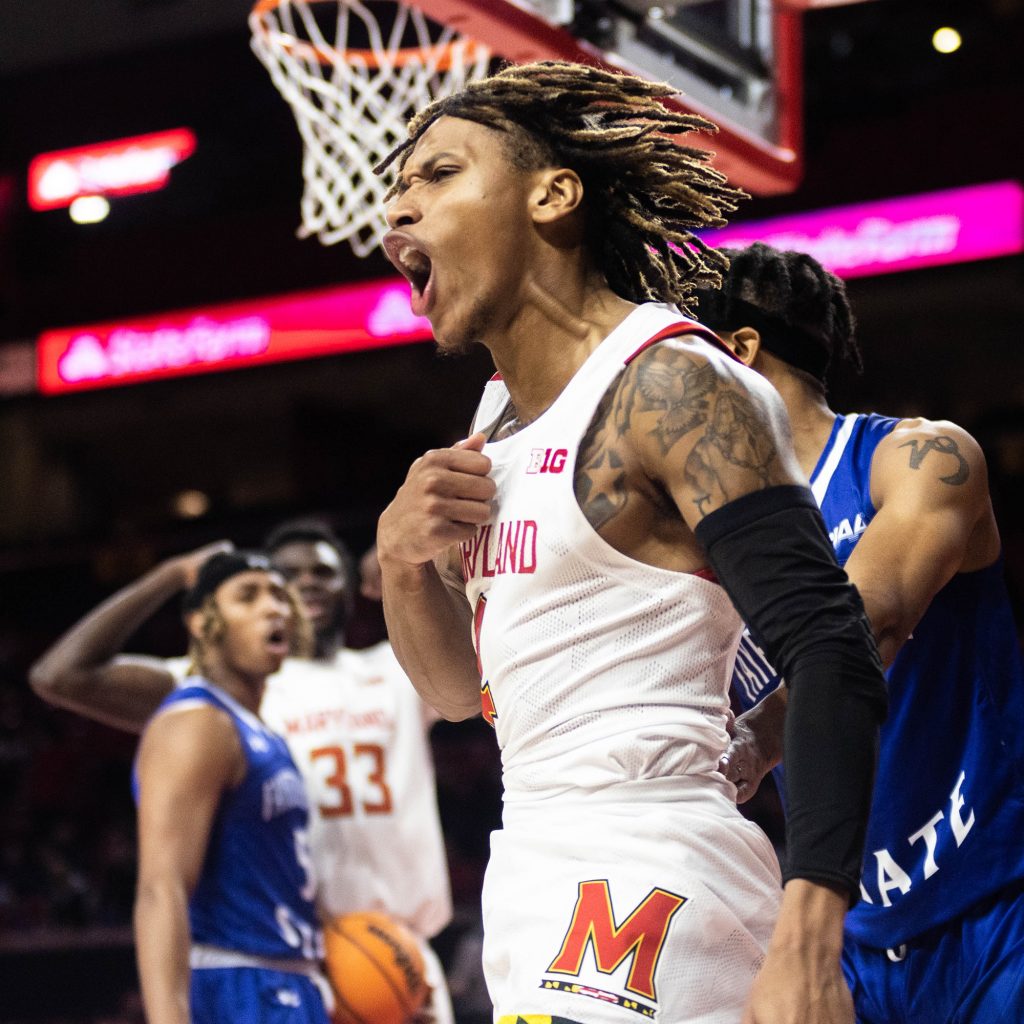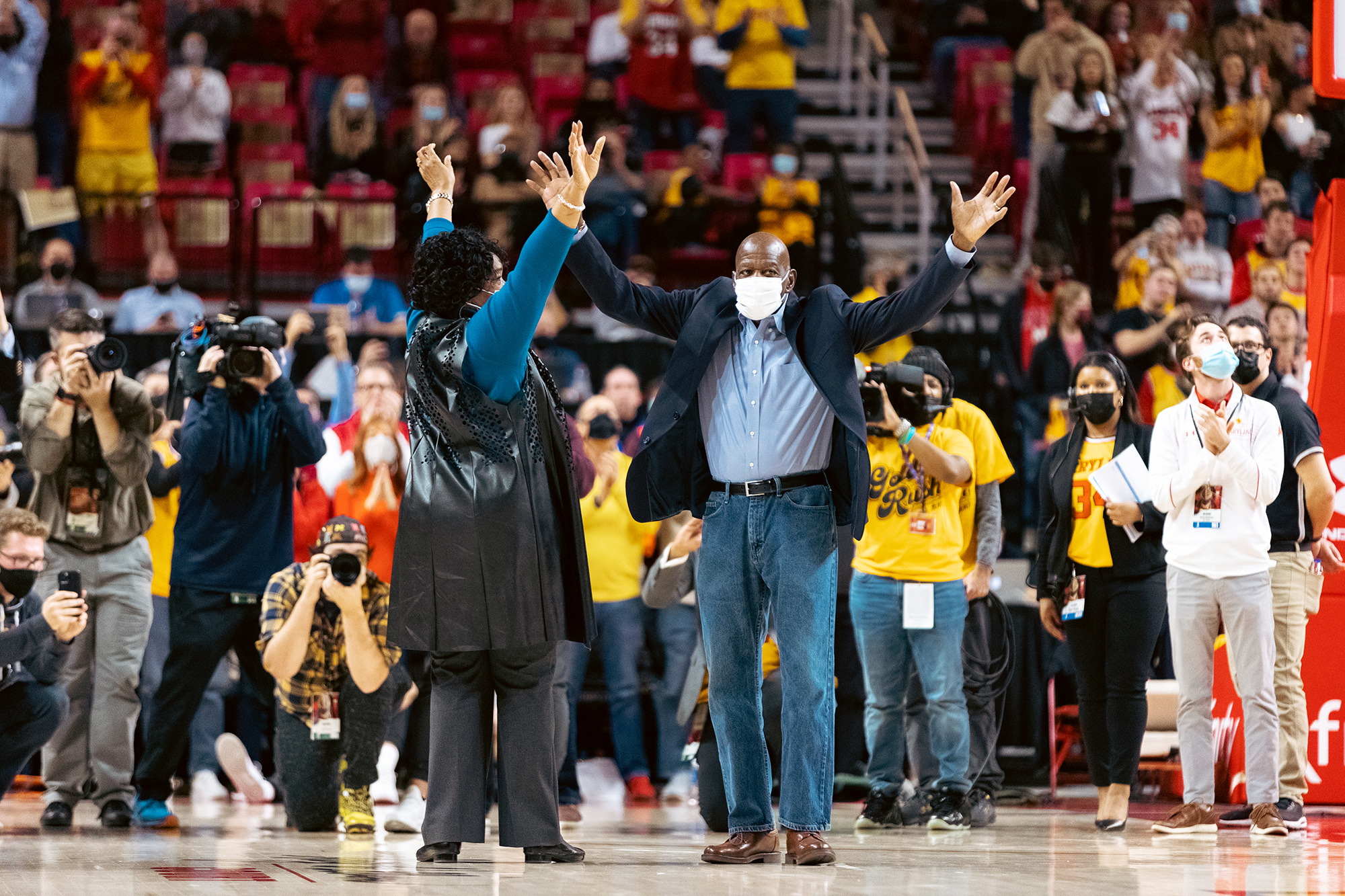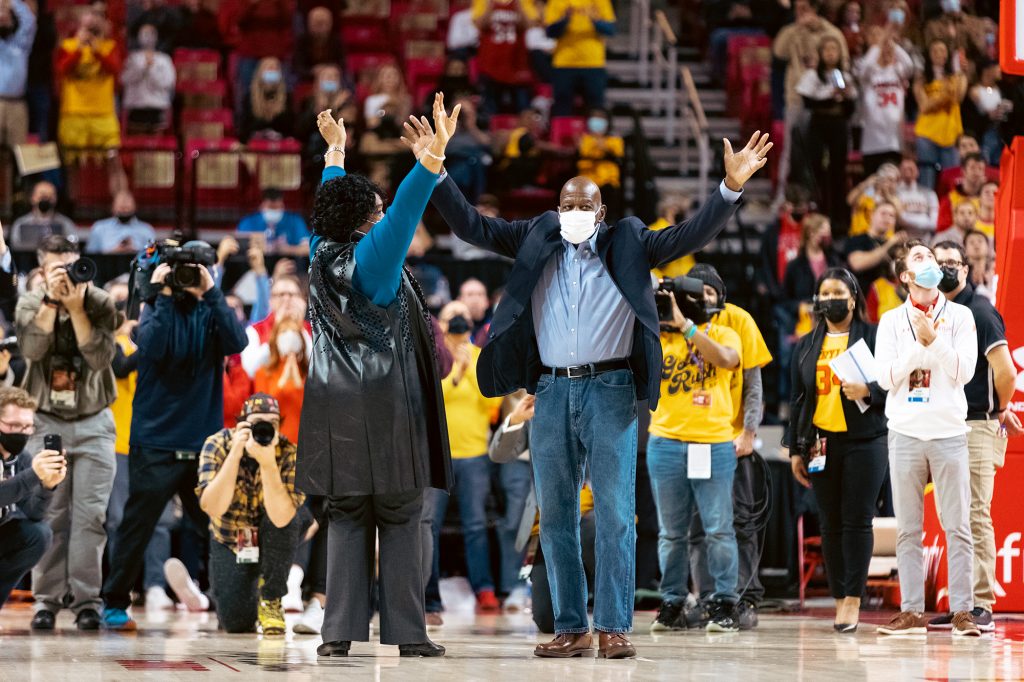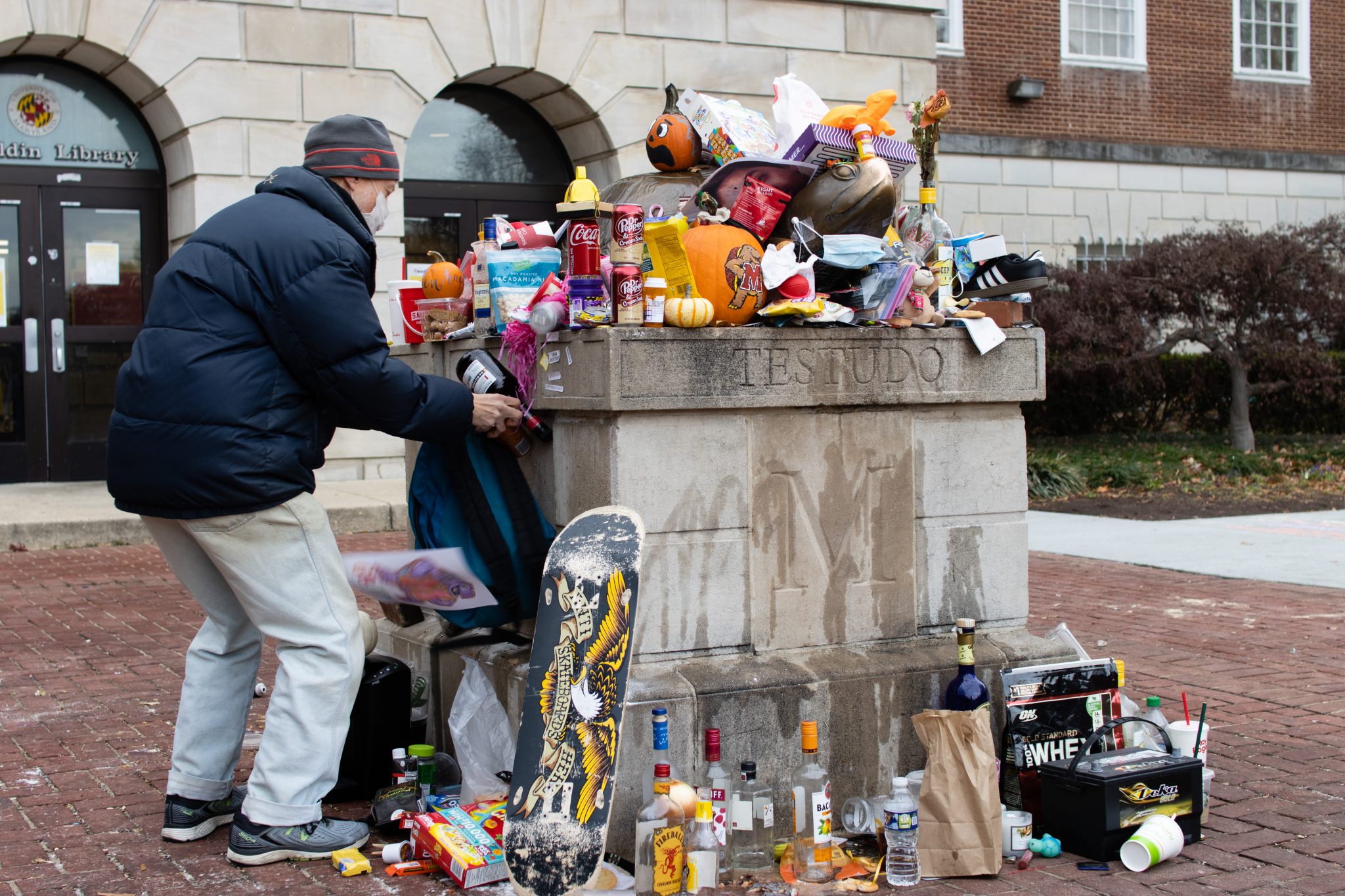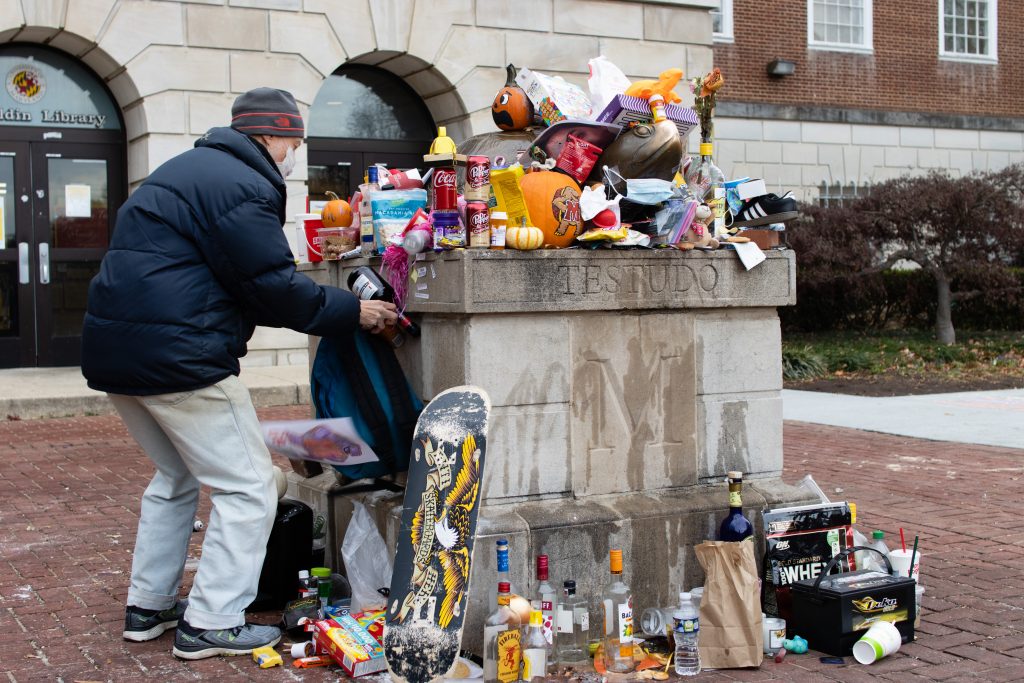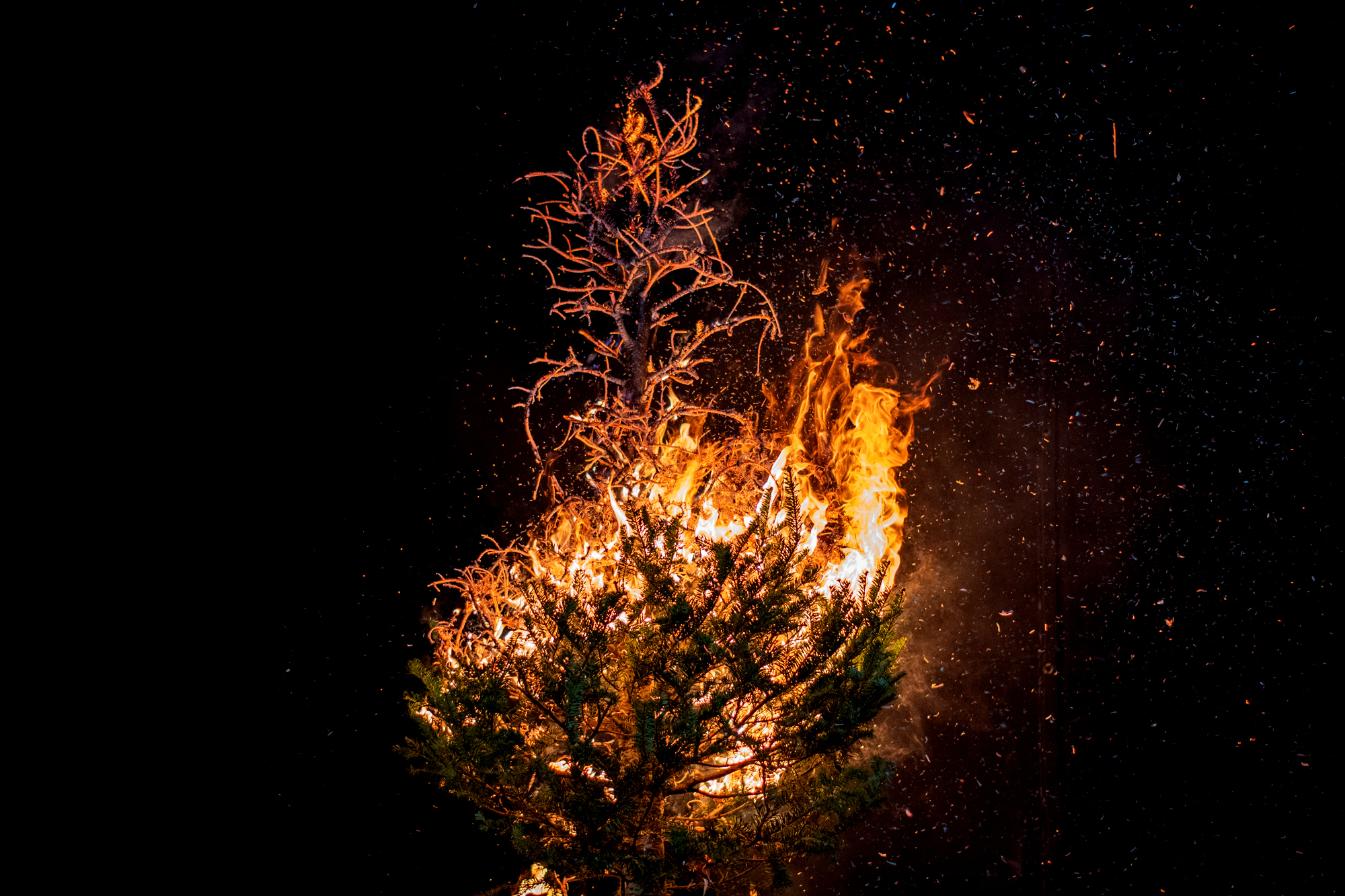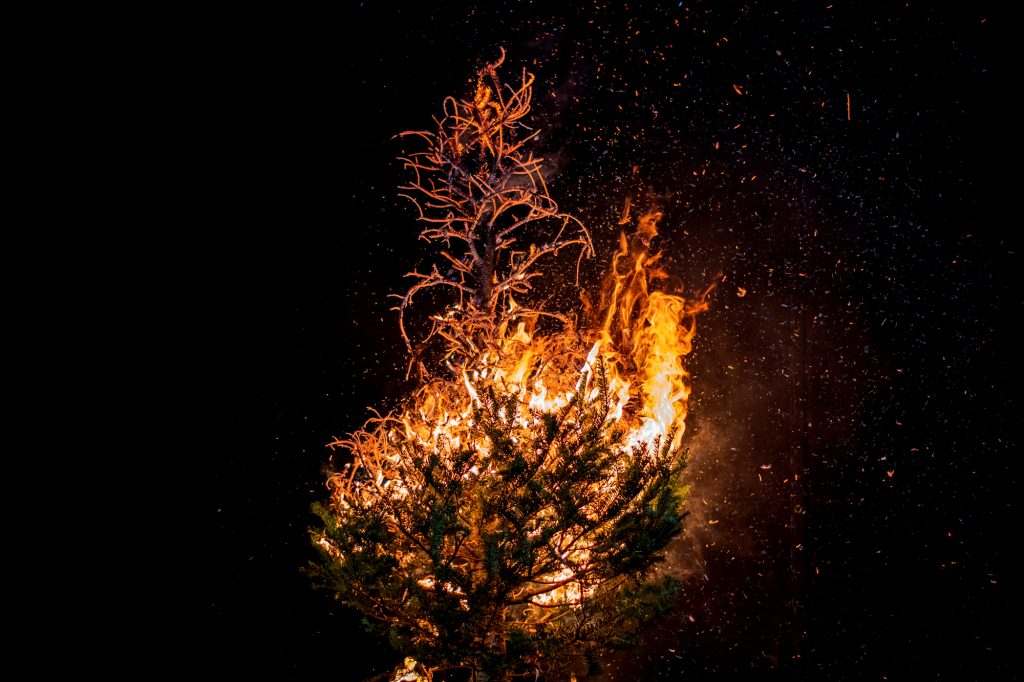 Edited by Joe Ryan, Assistant photo editor
Photos by The Diamondback's staff photographers
Website design by Julia Nikhinson