Maryland baseball needed a lucky break to get a win against Rutgers in its second try. Down one with two runners on against Rutgers closer Brian Fitzpatrick, Tucker Flint strolled to the plate.
But the Terps couldn't get one. Flint struck out, sending the Scarlet Knights to their second victory of the afternoon. Maryland's woeful pitching continued throughout the doubleheader, as coach Rob Vaughn's squad dropped both games to Rutgers while giving up 17 runs in 16 innings of action.
The opening game didn't provide promise, as the Terps labored through seven innings.
Starting pitcher Sean Fisher immediately struggled, allowing four runs through three innings — two of which were earned.
"First game was kind of a repeat of last Saturday," Vaughn said. "We just weren't clean enough defensively."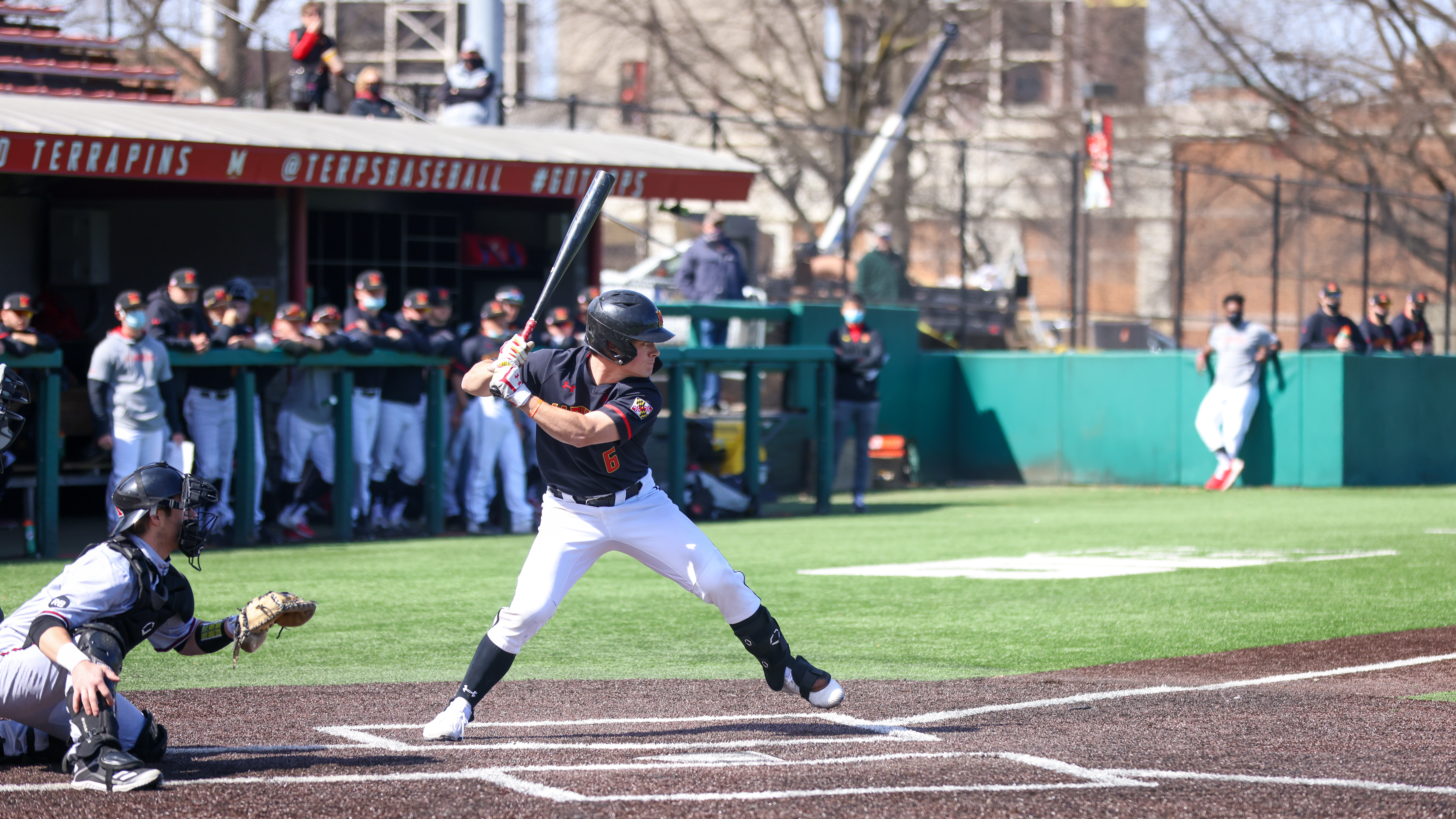 Maryland (2-6) cut into the deficit in the second inning with a Matt Orlando home run bringing the Terps within two. Shortly after, shortstop Ben Cowles slapped a shot over the fence, his fourth homer of the season.
It looked like Maryland might repeat its performance from Friday night, piling up the hits and runs once more. But the Terps' bats went dull and quiet, unable to find a spark against a strong Scarlet Knights' pitching staff.
After a few quiet innings, Rutgers (4-3) pounced on Elliot Zoellner in the sixth.
It clubbed two home runs in three at bats to start the inning, sending Maryland down three and forcing a pitching change. Chris Chaney could not find his stuff, allowing a double, a walk and a RBI on a fielder's choice.
[Maryland baseball rides offense to 13-8 win over Rutgers]
The Scarlet Knights added two more in the seventh, as it seemed the Terps had no answer on the mound. And Maryland's withering lineup was retired easily in the bottom of the frame, sending Rutgers to a 9-3 victory.
"First game [today] we didn't play clean defense, we didn't play our best brand of baseball," right fielder Randy Bednar said.
Connor Staine led the Terps on the mound in game two of the doubleheader and looked poised to build off a clean first appearance against Michigan State.
Early on, he did.
After a three up, three down top of the first, Maryland came to the plate ready. Chris Alleyne stroked a leadoff single to left-center field, and Matt Shaw drove him home with a double on the next at-bat. Then, Bobby Zmarzlak singled in Shaw, and the Terps had an early 2-0 lead.
But the Scarlet Knights responded in the third. With a quick swing of his bat, Jordan Sweeney tied the game with a two-run homer off Staine. Despite the knock, Staine struck out the next three batters to end the frame on a high note.
With the Terps up to bat again, Zmarzlak doubled in Shaw, sending Maryland back in front. Entering the fourth, Staine looked to re-establish his dominance. Instead, he began to look like the rest of the Terps' pitching staff.
Staine led off with a four-pitch walk to Danny DiGeorgio, and then Chris Brito slugged a backbreaking two-run homer that gave Rutgers its first lead of the day at 4-3. And the bleeding didn't end there. After a hit batter and a double, Peter Serruto singled in two runs to push the Scarlet Knights ahead three.
"The big swing of the day was from Serruto," Vaughn said. "I know everyone talks about the homers … [Serruto] changed the inning from a two spot to a four spot."
[Maryland baseball's Jason Savacool named Big Ten freshman of the week]
Tommy Gardiner gave Maryland a bit of hope. He roped a one-out triple to left-center and came home on a groundout, forcing a pitching change as the Terps' cut their deficit to two.
Rutgers responded with a Brito solo home run in the fifth, sending the edge back to three. Staine departed after five innings of seven-run ball, allowing six hits while striking out eight.
Sean Heine entered in the sixth. He allowed an early run but settled in, tossing three innings while giving up just three hits to keep Maryland competitive.
Now down 8-4, the Terps turned it over to the bottom of their lineup. And they saw production. Cowles and Gardiner stroked consecutive homers, drawing the Terps within two runs.
Now, Maryland needed a break on defense with the dangerous Brito at the plate. Heine conceded a single to Brito but struck out the next batter. Down two runs, the Terps needed to get out of the inning without a blemish to remain within striking distance.
And with a grounder to third, a throw to second and one to first, Maryland delivered a key double play to put Rutgers away.
Cowles gave Vaughn's squad a chance with a solo home run, bringing it within one. But Alleyne struck out with a runner on, and the Terps would need the ninth inning to try and overcome the slim one-run deficit.
Maryland put two runners on, making Fitzpatrick sweat as Flint strolled to the plate. But the Scarlet Knights' closer pulled through, getting Flint to whiff and sending the Terps home with an 8-7 loss.
"We can still leave this series tied up at 2-2," Alleyne said. "[Have to] take the positives from this game and move on."