Para leer este artículo en español, haga clic aquí.
By Anaya Truss-Williams and Auzinea Bacon
Staff Writers
CLARIFICATION: This story has been updated to clarify the size of the wooded area southwest of campus. The Gilbane Development Company claims it is 40 acres, but activists say Guilford Woods spans about 15 acres. The entire Western Gateway site is 16 acres, but the developers say that the project would impact only nine acres of trees.
As the sun beat down on McKeldin Mall Friday afternoon, Jan-Michael Archer's voice reverberated through a megaphone.
The University of Maryland doctoral student understands the need for affordable graduate student housing — but he remains fiercely opposed to the proposed development of Guilford Woods.
"This is not an 'either or' issue," Archer said. "We refuse to choose between housing and the environment — we want both."
Guilford Woods is a 40-acre tree cover on the south part of the university's campus. A proposed development — called the Western Gateway — would take up nine acres of the land to build affordable graduate student housing, in addition to townhomes, according to project plans. This university and Gilbane Development Company affirm the project would only take up a fraction of the land along Guilford run, but activists say Guilford Woods spans about 15 acres.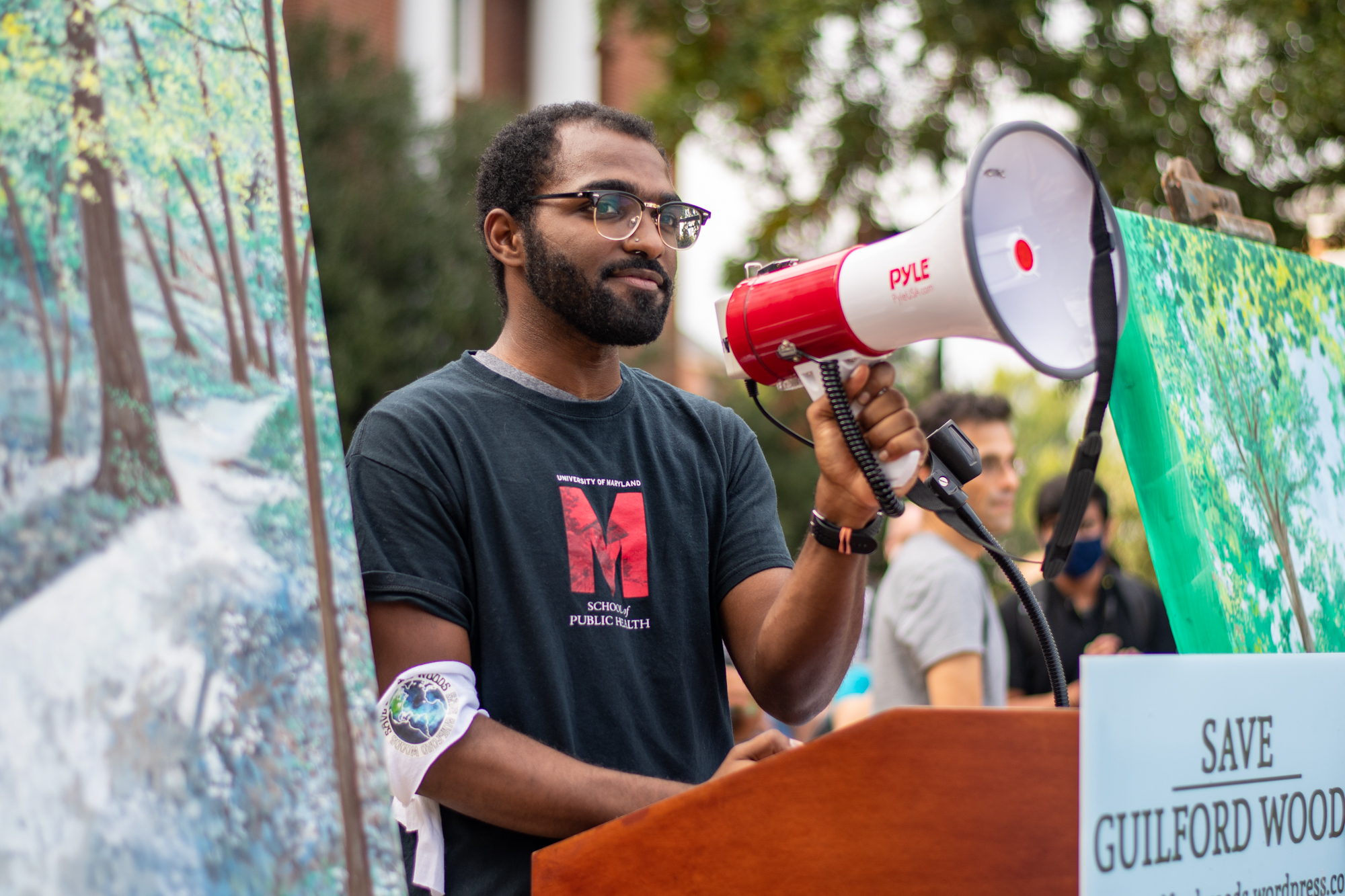 On Friday, students, local politicians, environmental activists and scientists ventured to McKeldin Mall to protest the development. Students made posters with messages such as "deforestation is not sustainable development," and some attendees wrote postcards to the Maryland Board of Public Works opposing the development.
Backlash against the development has grown this semester, with opponents blasting the university for standing by a development that would cause deforestation.
The development has its supporters, including graduate students who have struggled to find affordable housing close to campus for years.
Graduate school dean Steve Fetter said in a statement that "the university continues to prioritize sustainable, smart growth near public transportation to serve graduate students who have commuted from extensive distances for far too long." The project also seeks to address sustainability concerns. A key component of the project is "effective stormwater management," according to information provided by the university.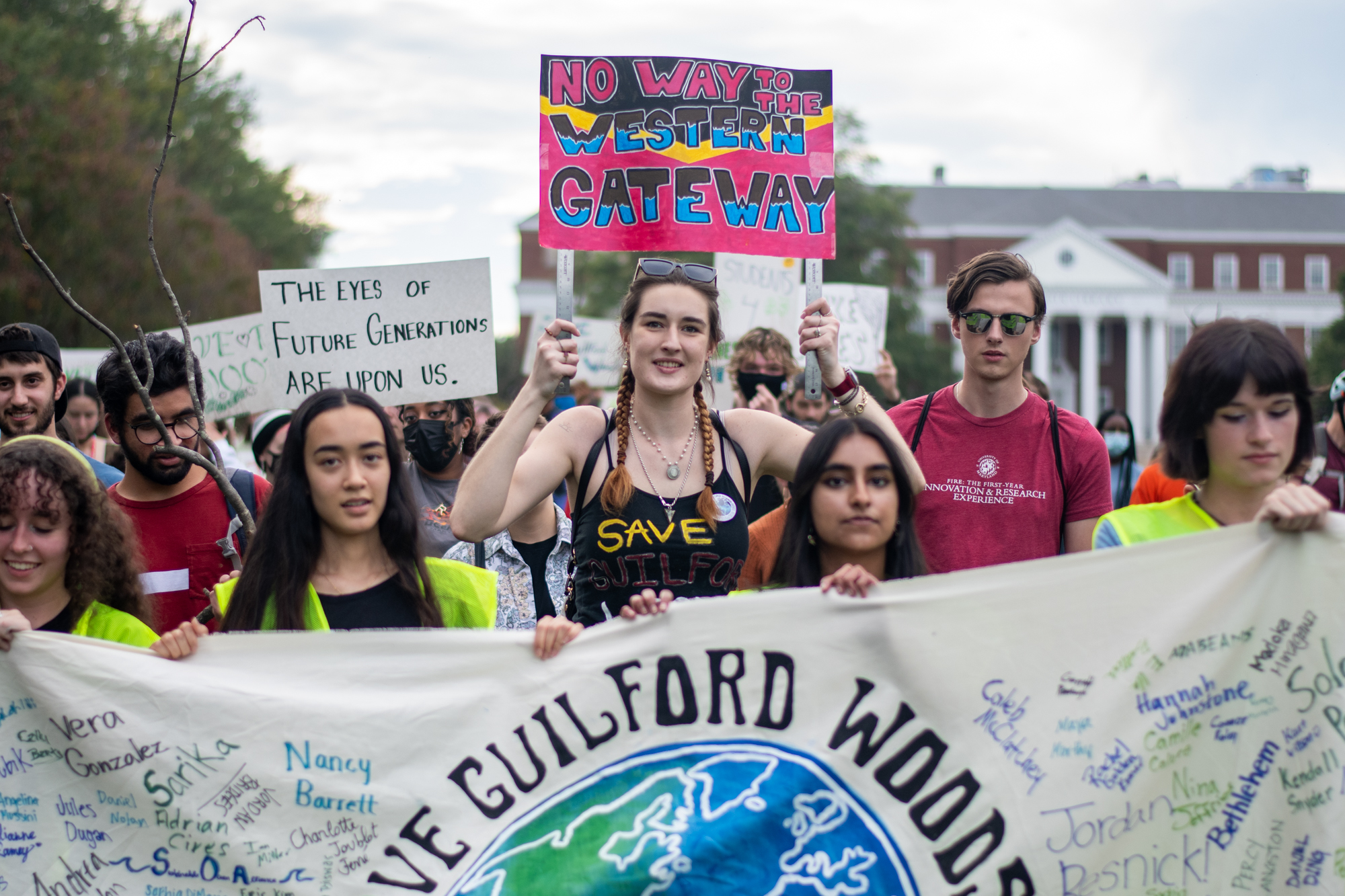 But attendees of Friday's protest were vocal in their frustration about the development. Many protesters directed their frustrations toward university President Darryll Pines, who said last week that he thinks the issue is "emotional and more political than actual scientific."
"People can get caught up in their emotions, but I definitely don't think that's necessarily a bad thing," said Allen Yuan, a freshman environmental science and policy major. 
Yuan, who attended the protest, wouldn't be directly impacted by the development. But he said the empathy he had for other communities made him feel the impact of any deforestation.
"An injustice to one group is an injustice to all," Yuan said.
[Activists say developing Guilford Woods will displace wildlife, exacerbate flooding]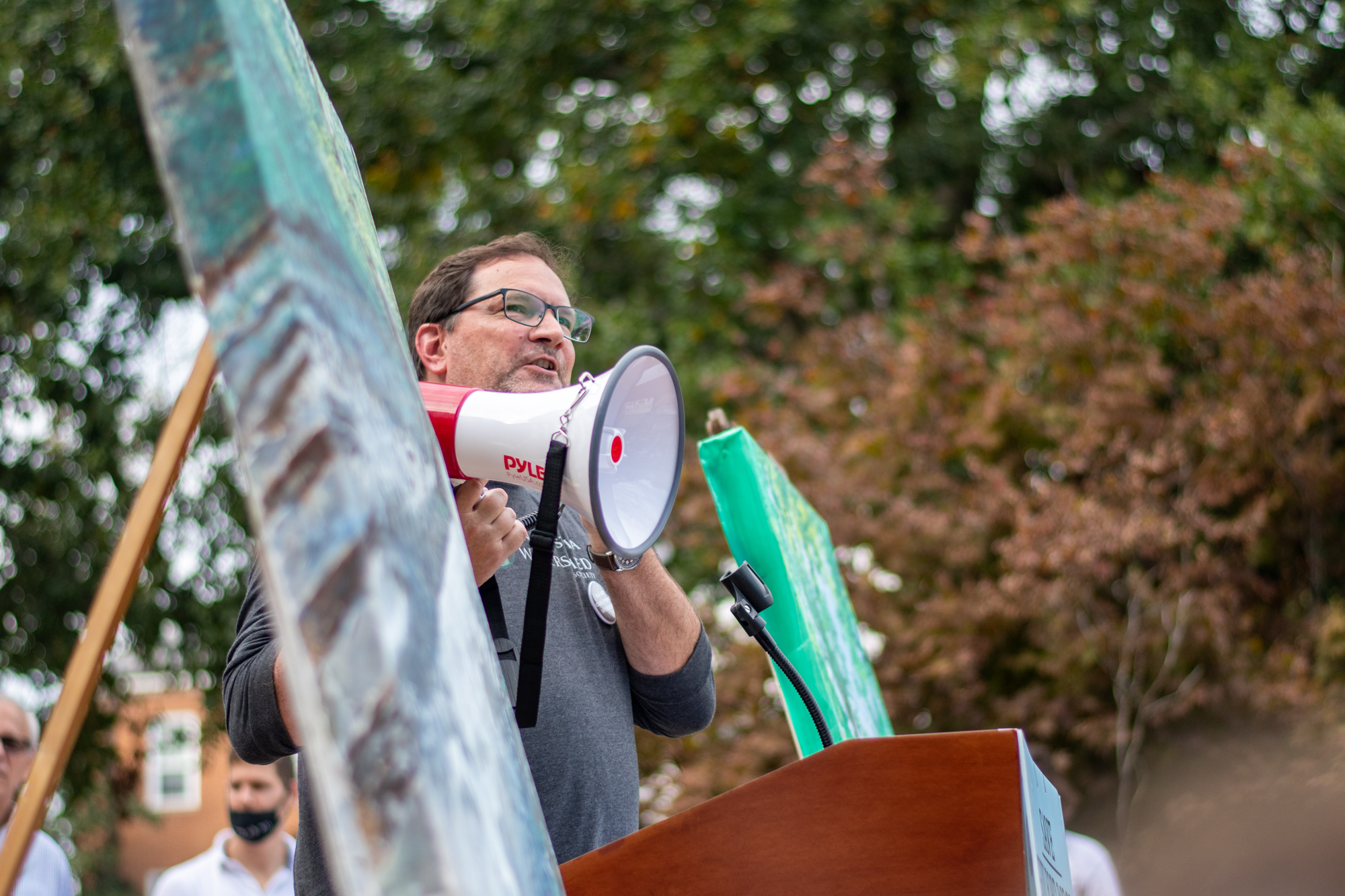 Christopher Williams, CEO and president of the Anacostia Watershed Society and a resident of Cheverly, Maryland, said he came to the rally because of the students' passion to push the university and developers to make alternative plans.
"There's a lot of emotion on Guilford Woods because people love Guilford Woods, but the emotion is largely based on the fact that Guilford Woods is so important and that's based on a set of scientific facts and conclusions," Williams said. "While people are emotional about it, it's not an emotional argument, it's a scientific argument."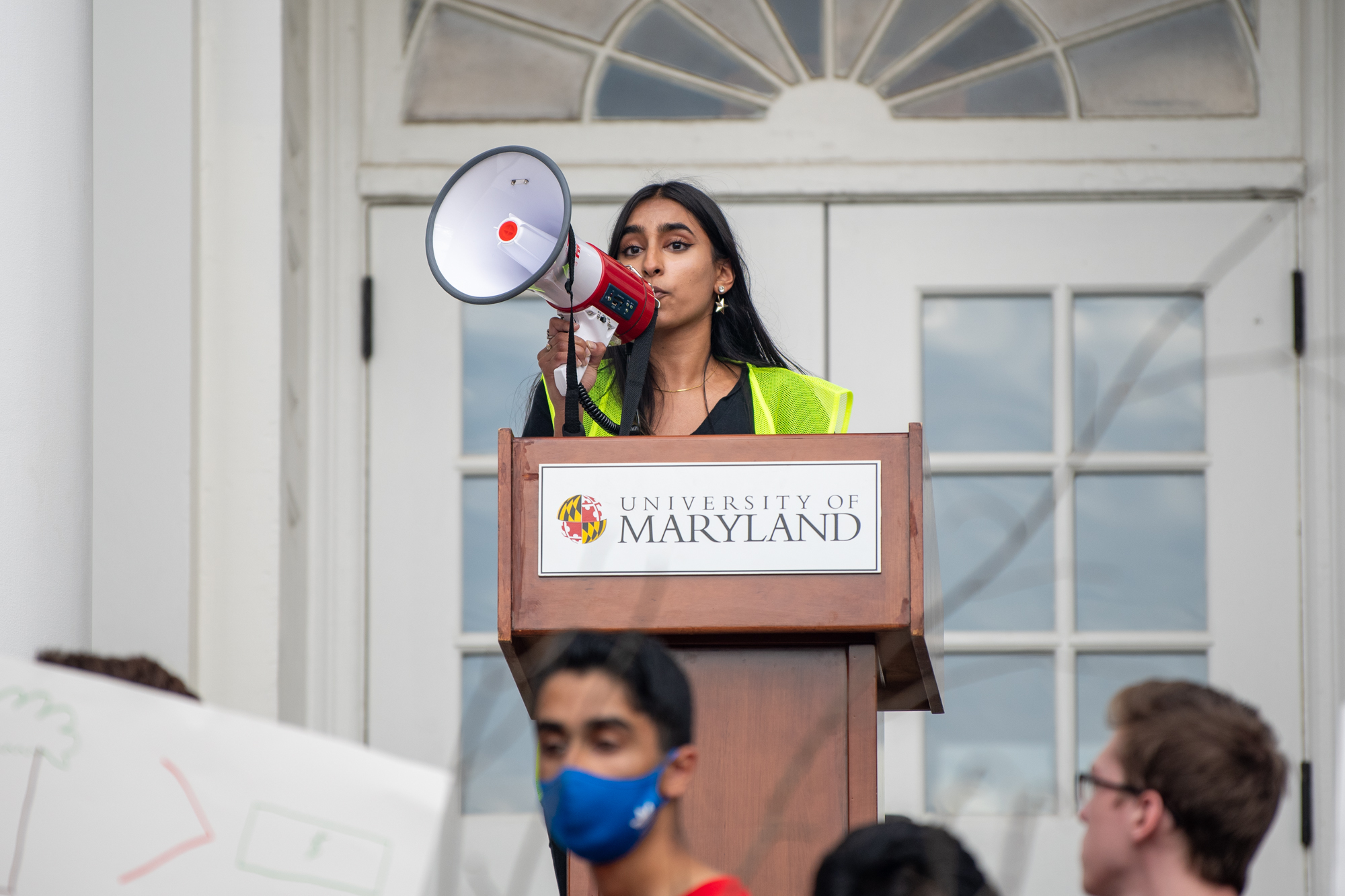 Riya Sharma, a junior anthropology and mechanical engineering major, and co-president of 17 for Peace and Justice, a student organization that helped organize the rally, said Pines' comment showed he was out of touch with the student body.
Sharma has concerns that the deforestation of Guilford Woods could increase pollution of the Anacostia River and impact Black communities living near the river. 
James Farquhar, a professor in the geology department, said that he walks through Guilford Woods on his way to and from the university every day. Farquhar uses woods surrounding the campus in the course that he teaches, he said, and he compares them to other streams.
He says he's seen more compelling arguments for preserving Guilford Woods. But Farquhar added that he doesn't have all of the information about what the development would look like.
"I think we should be thinking about this in terms of the long term," Farquhar said. "Where will we be in 30, 40, 50 years if we develop it?"
[Pines calls response to Guilford Woods development "emotional," "political" issue]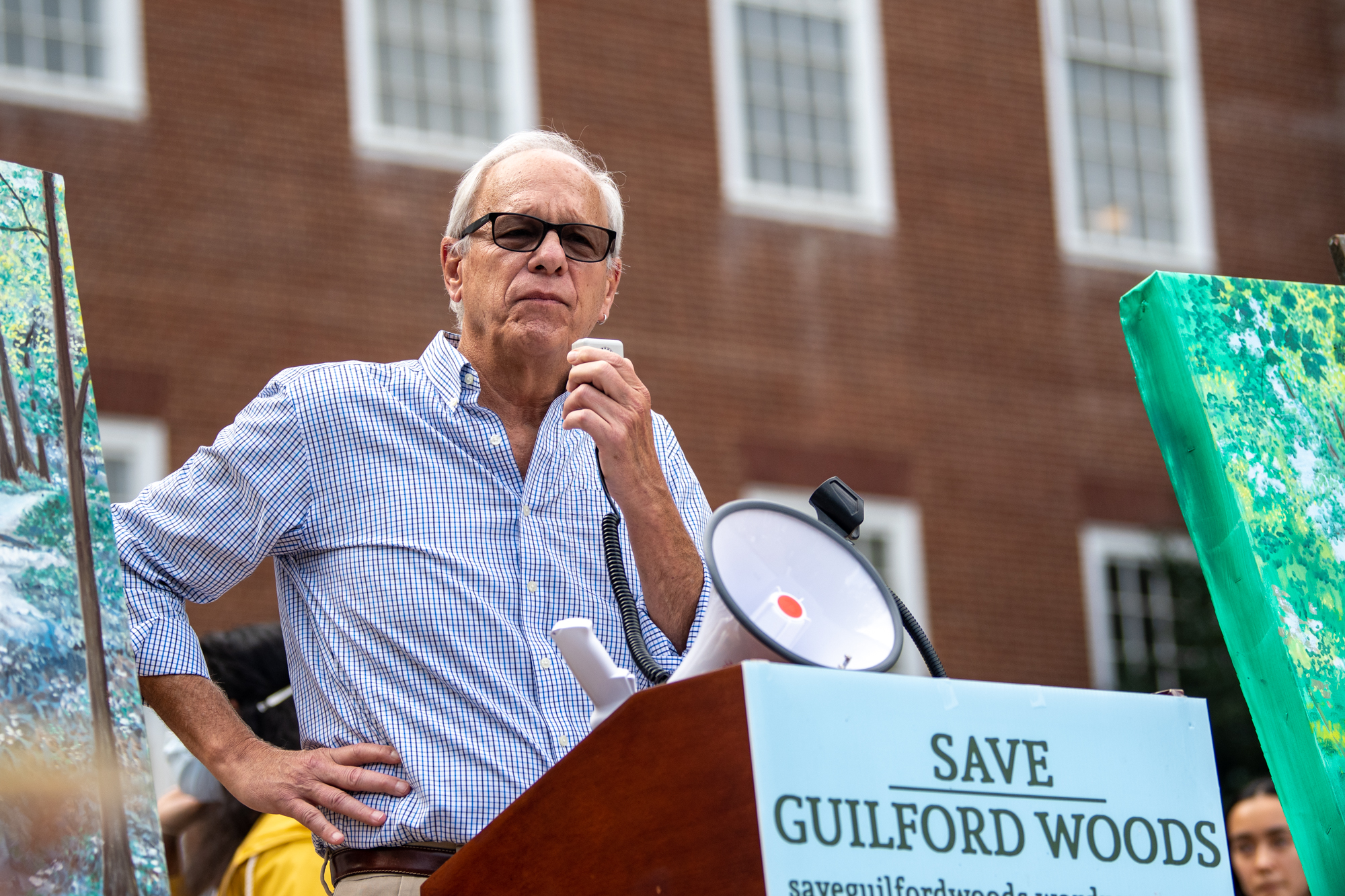 Maryland State Senator Paul Pinsky gave a speech at the event. While Pinsky acknowledged the need for development, he spoke in favor of preserving Guilford Woods.
After Pinsky's speech, attendees marched to the steps of the Main Administration building while shouting "Save Guilford Woods!"
"We are going to hold President Darryll Pines and the university administration accountable for their actions," Archer said.