University of Maryland faculty, students and administrators gathered Friday to celebrate inclusivity at the dedication of Pyon-Chen Hall, the first dorm at this university named after people since 1914. 
"This is a crown jewel of a residence hall," said Patty Perillo, student affairs vice president. "It will facilitate community and connection, and positively impact the student experience of decades to come."
The dorm honors two alumni who broke racial barriers during their time at this university. Pyon Su became the first Korean student to receive a degree from any American college or university when he graduated from the Maryland Agricultural College in 1891. In 1915, Chunjen Constant Chen became the first Chinese student to enroll in the Maryland Agricultural College — now the University of Maryland. 
"We have a long family history at the university with four generations of graduates, so to honor my grandfather is a big honor for us as a family," Andrew Chen, grandson of Chunjen Constant Chen, told The Diamondback.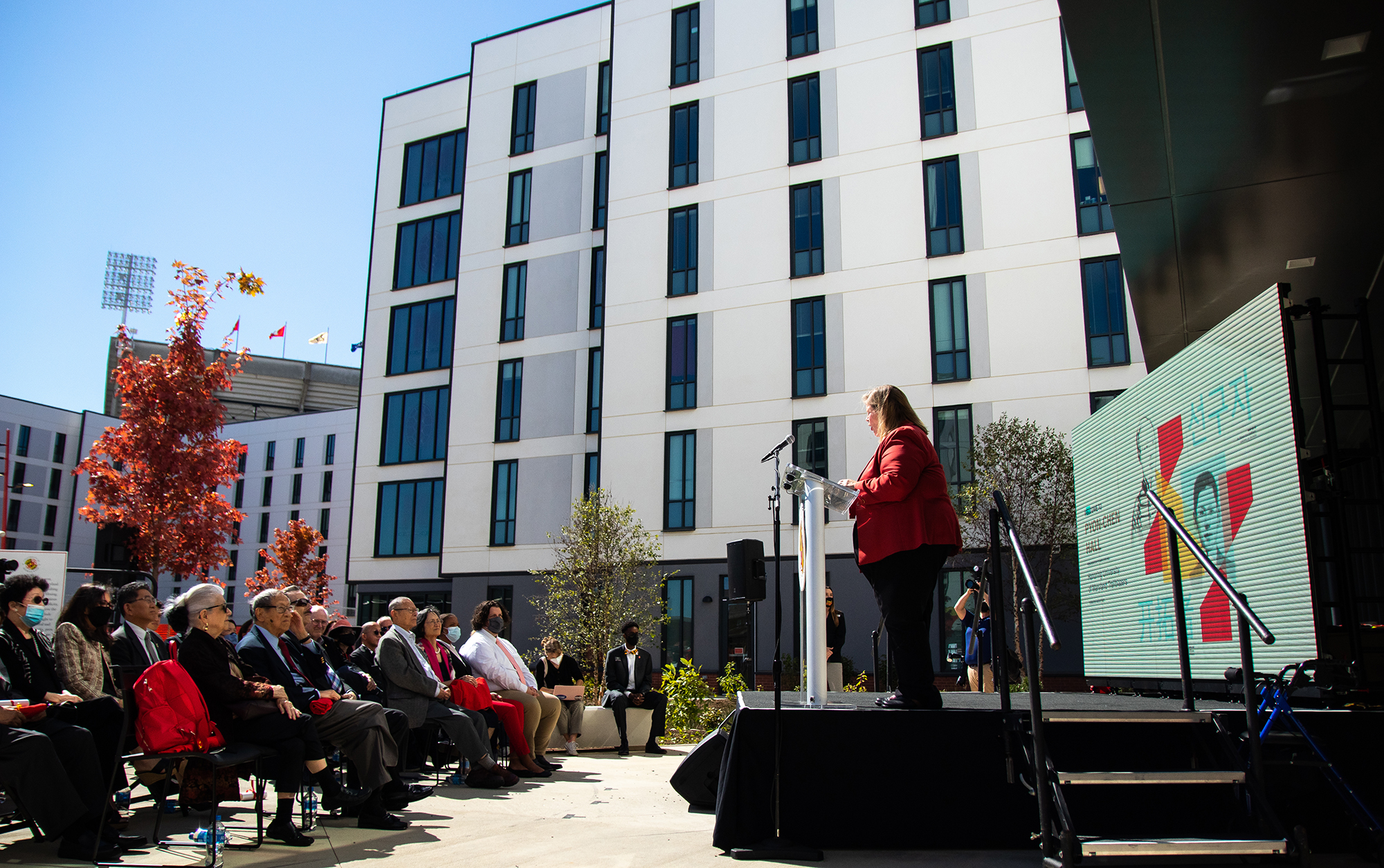 University President Darryll Pines, who was not in attendance at the main ceremony, shared remarks through a prerecorded video. 
[UMD's newest dorm opens doors for University Honors students, other freshmen]
Pines said that Pyon and Chen laid the groundwork for the university's multicultural campus environment, which this new dorm personifies. With knowledge of Pyon and Chen's legacies, students are able to embrace new perspectives at this university, Pines added.
"Pyon-Chen Hall is a tribute to two individuals who helped define this institution and where we are today, and it serves as a physical reminder of our commitment to inclusive excellence," Pines said.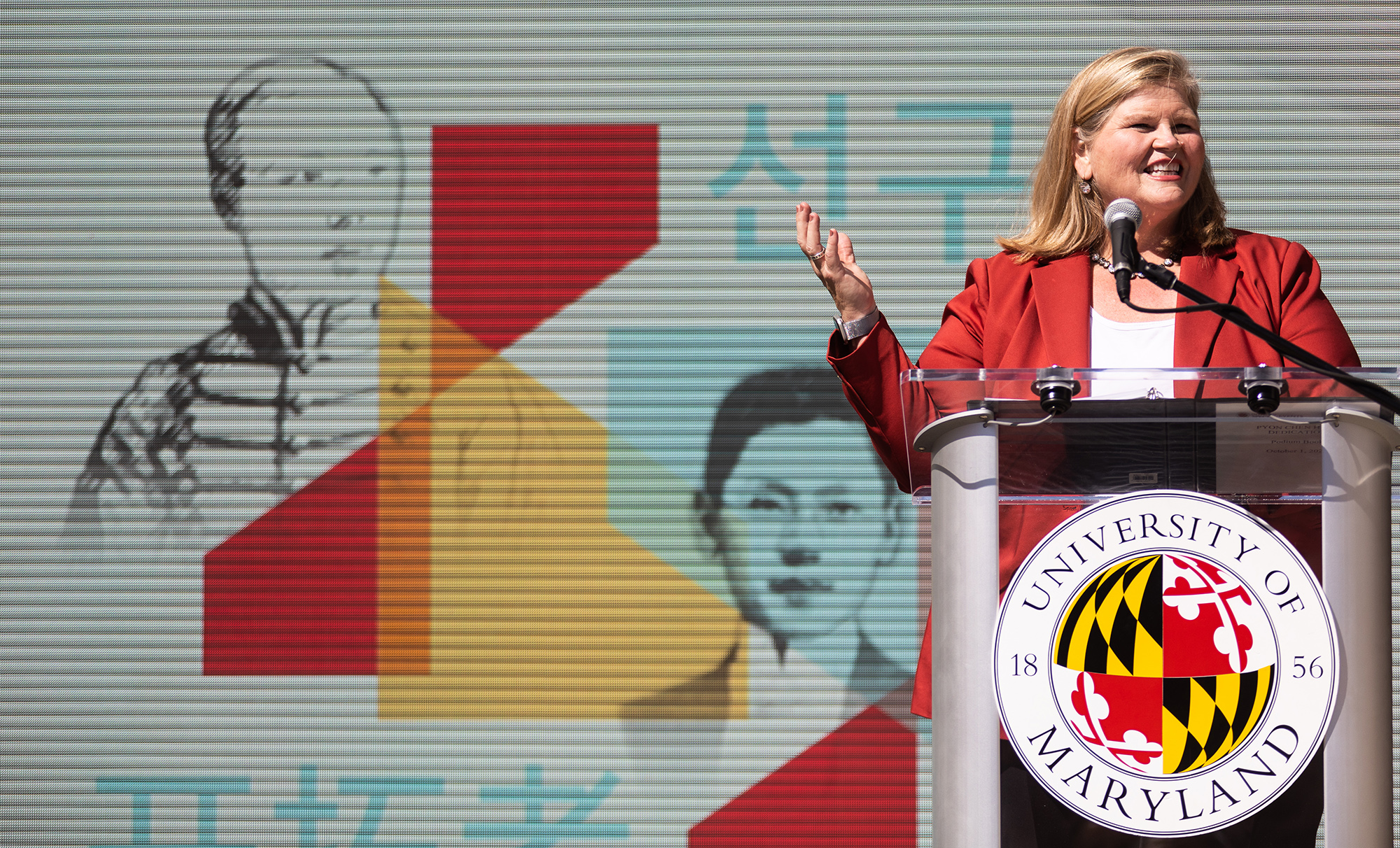 Alyssa Cobb, the head resident assistant at Pyon-Chen Hall, said that Pyon-Chen is already helping students foster connections in honor of the building's namesake. Students have bonded in the dorm, from studying to making late-night cookies, Cobb said. 
"Beyond simply being a beautiful building, Pyon-Chen Hall provides an environment that perfectly complements community development," Cobb said.
[New UMD dorms to be named for former students who broke racial barriers]
To promote inclusivity, the hall includes gender-neutral bathrooms and music and sensory rooms, which allow students a quiet place to pray or meditate. In Cobb's eyes, the building's name honors Pyon and Chen's legacies by continuing to be "fearlessly inclusive," the junior criminology and criminal justice major said.
Hundreds of the 450 students living in Pyon-Chen Hall, Perillo said, demonstrated this community before the event, where they gathered on La Plata beach to receive "Pyon-Chen Terps" T-shirts and take group photos as the inaugural residents.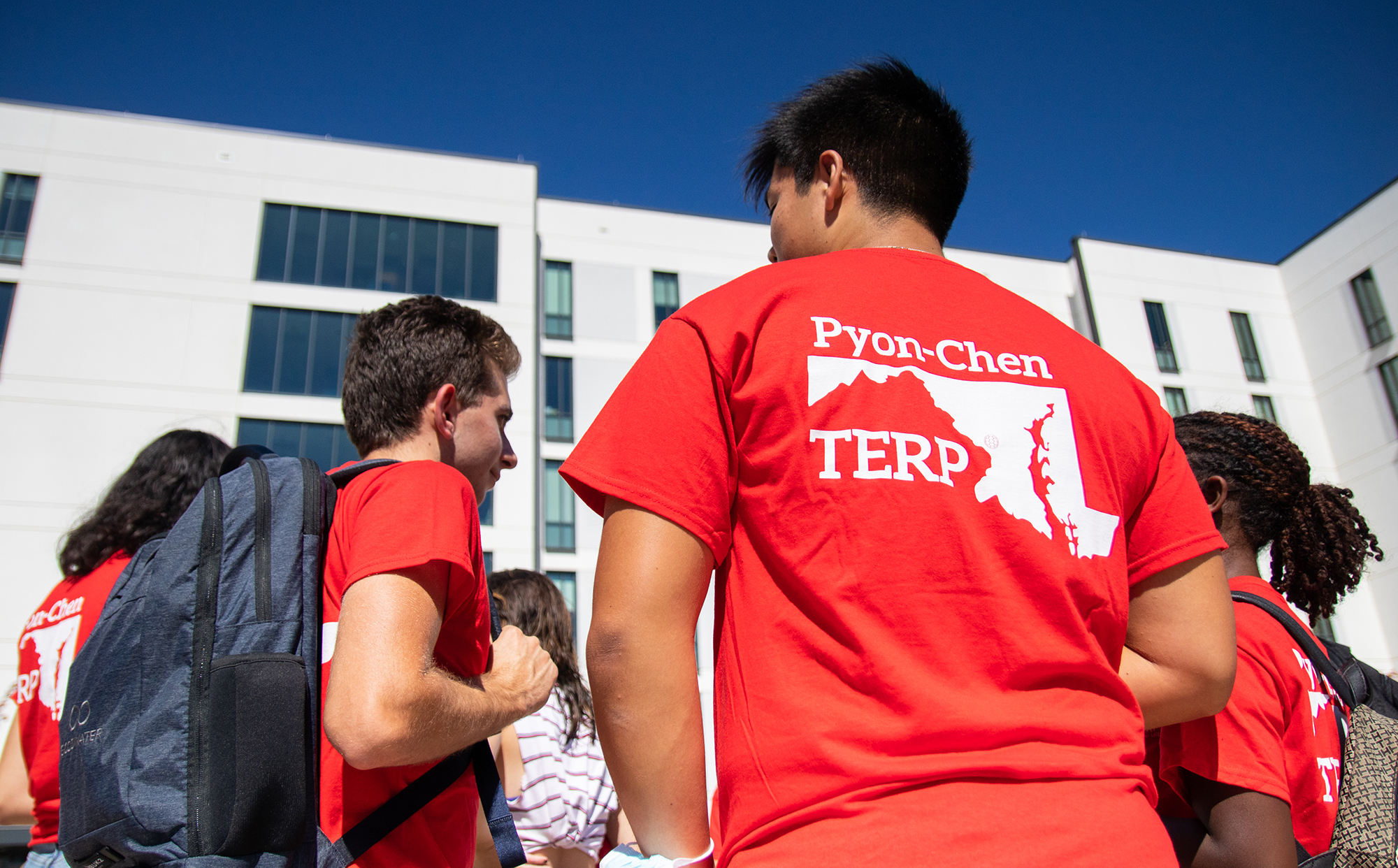 The dedication concluded with a ribbon-cutting ceremony. Perillo also presented a framed mural of Pyon and Chen to their families. The same mural is painted on the dorm's lobby wall.
After the formal program, university administrators and the Pyon and Chen families received tours of the new dorm. 
"I'm just so proud and honored to be a permanent part of the university," Andrew Chen told the Diamondback.
Andrew Chen's son, Adam Chen is a sophomore enrolled in letters and sciences at this university and the great-grandson of Chunjen Constant Chen. He was surprised when his dad told him of his great-grandfather's importance to this university. 
"I'll tell some of my friends and they don't believe me, and I'm like 'no, it's really my great-grandpa,'" Adam Chen told The Diamondback.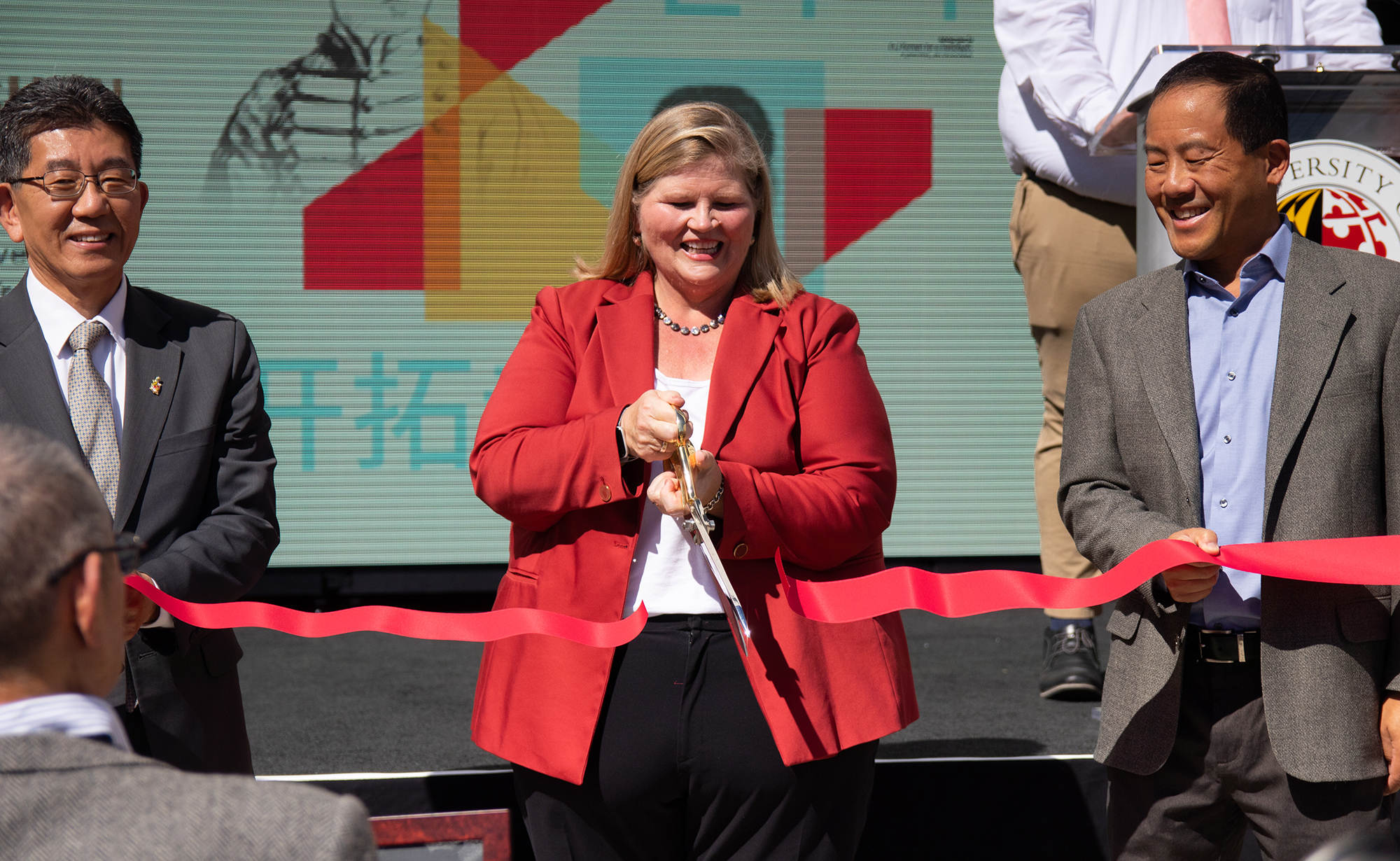 The dorm is the first to open in the university's Heritage Community. When completed in 2022, the community will be home to another new dorm, Johnson-Whittle Hall, as well as a dining hall. This new community will begin the university's effort to honor its past, Perillo said.
"It is our deep hope that this inspires our Pyon-Chen Terps to use history to better understand our current moment in time," Perillo said. 
The new dorm, and the inclusivity it represents, brings joy to Scott Cronin, president of this university's Residence Hall Association.
"For years to come, people will understand the importance of these influential names who paved the way for students and make their mark on our campus, and that is invaluable," Cronin said.