The University System of Maryland Board of Regents finance committee recommended Thursday that the system raise the minimum wage for union-represented system employees to $15 an hour.
University of Maryland community members heard about the recommendation at a worker town hall Tuesday night. Todd Holden, President of AFSCME Local 1072, the union that represents workers at the University of Maryland, made the announcement about the minimum wage increase and was met with cheers and clapping.
The potential wage increase applies to employees that AFSCME represents and does not include student workers and contractors.
The Board of Regents will vote on the finance committee's recommendation at a meeting Dec. 10, according to a news release from USM. Bargaining units across USM have requested to engage in collective bargaining about the recommendation for the minimum wage increase, the release said.
The potential increase is one workers rights' activists at this university have been pushing for for several months — and the reason they were at the town hall at Stamp Student Union, which was organized by the university's chapter of United Students Against Sweatshops, another workers' rights organization.
USAS organized the town hall as part of a campaign called #PayUpPines, in which they called for higher wages for all workers across campus. The group received more than 1,250 signatures on a petition for the minimum wage increase. USAS submitted the petition to university President Darryll Pines and other administrators via email last week.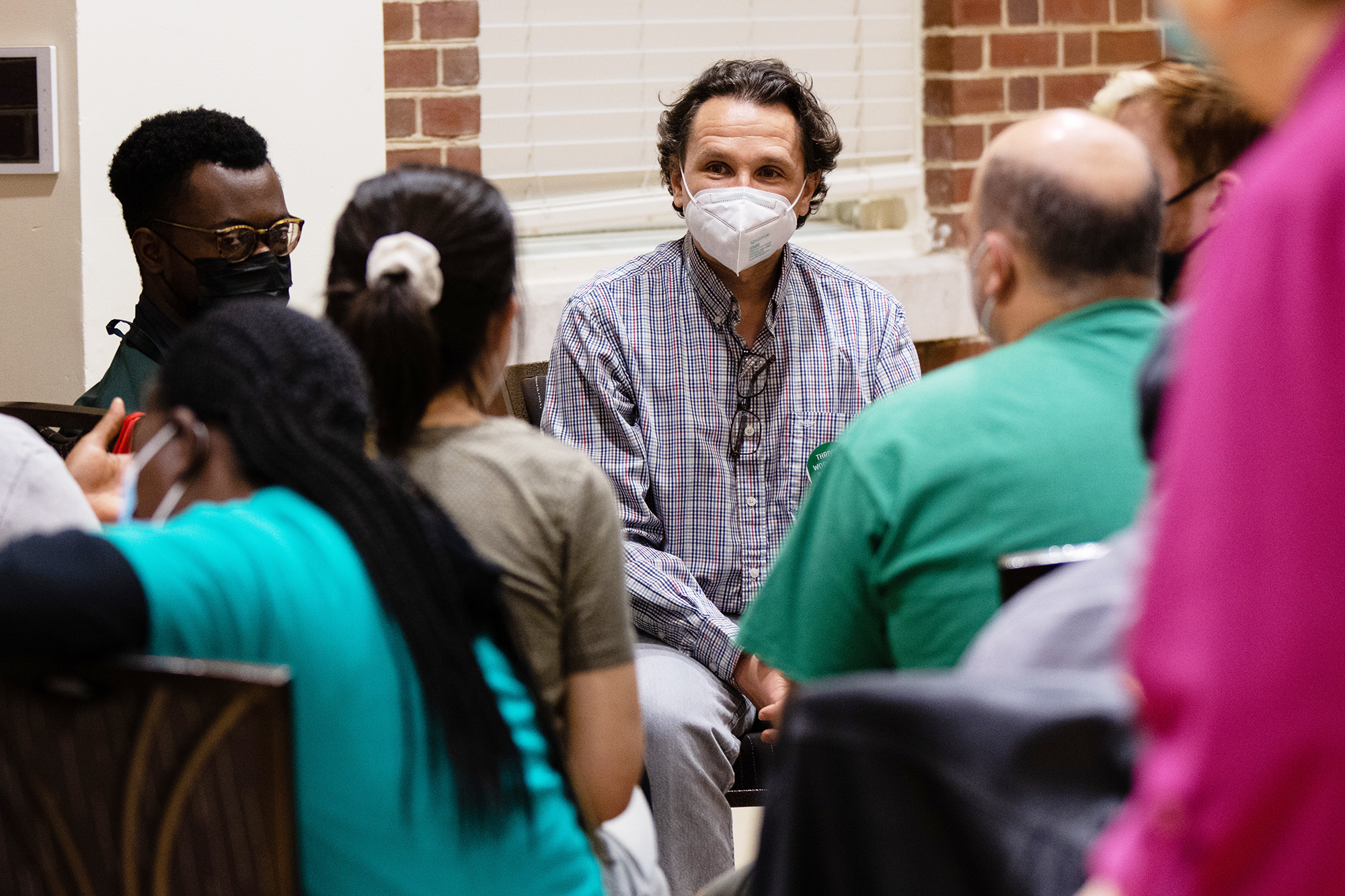 "The petition is mainly just asking for $15 an hour across the board, for not only student workers, but people on staff, the faculty here and even contractual workers," said Grace Orellana, a member of USAS and a sophomore enrolled in letters and sciences.
[Following complaints, UMD raises minimum stipend for some graduate assistants]
The petition outlined how some housekeepers who work at this university have to take on a second job to support themselves and their families, and how university employees make up the bulk of the campus food pantry's users.
"Many staff members have worked at UMD for more than 20 years and are still not making enough to live on," the petition read.
Members of the university community have advocated for a $15 minimum wage on several past occasions. Workers in AFSCME Local 1072 gathered over the summer to demand higher wages and share their experiences working during the pandemic.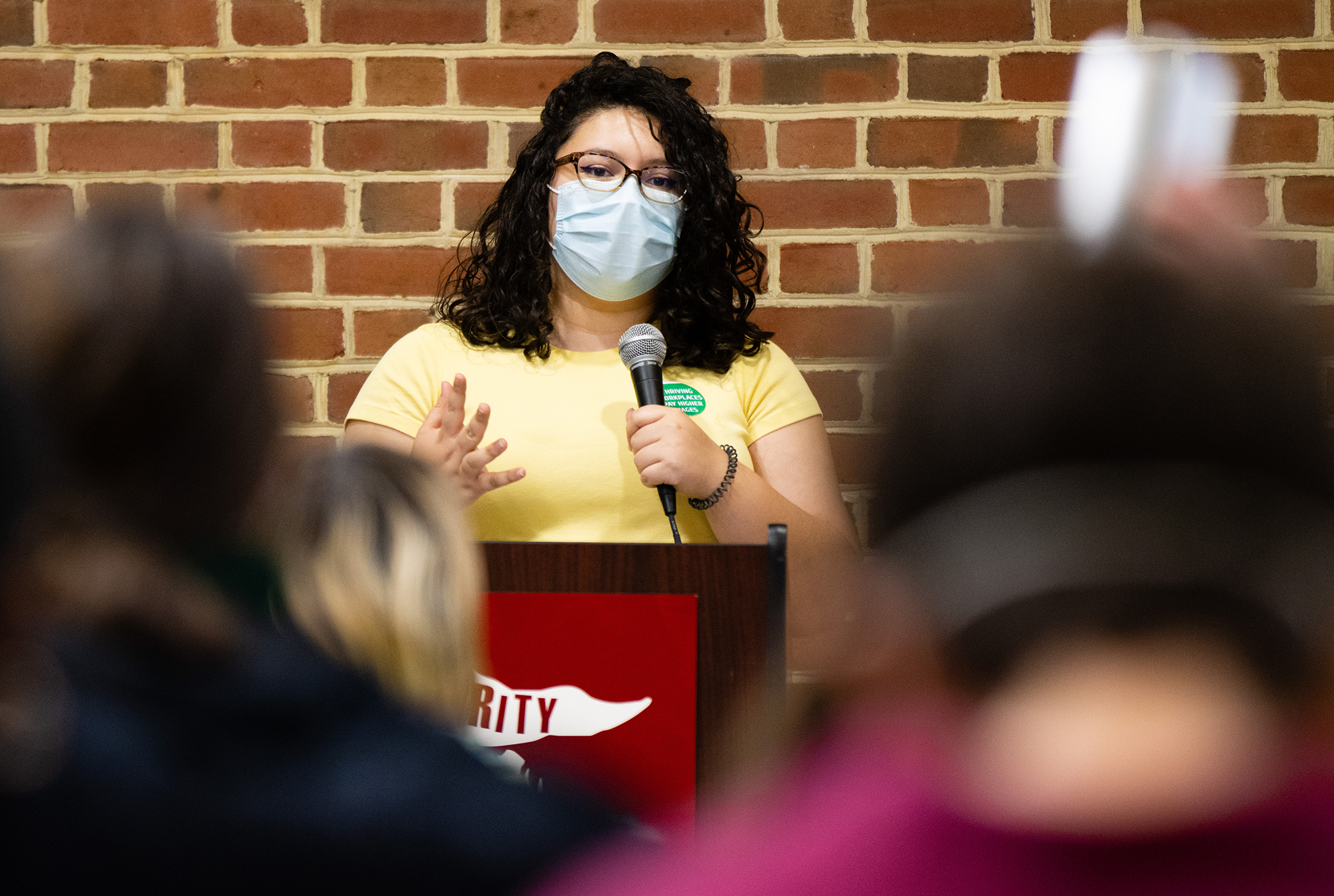 State legislation passed in March 2019 mandated that starting in January 2020, employers in Maryland pay their employees a series of increases so they can reach a $15 minimum wage by 2025. The legislation, however, did not include higher education workers in the state, said Carmen Metoyer, a USAS member.
With the #PayUpPines campaign, Metoyer said the group wanted to continue past efforts to demand that workers receive $15 an hour while focusing on creating a cohesive fight.
"This time around, we're really trying to mobilize people…and foster a sense of solidarity among everyone on campus, because ultimately, it's an issue that does affect everyone," said Metoyer, a sophomore political science major.
At the USAS town hall, university employees like Amanda Vu discussed their experiences working on campus.
Vu, a sophomore community health and psychology major, is a resident assistant in Pyon-Chen Hall.
"We're expected to cover night shifts, day shifts, handle packages, keys, manage any questions, handle very drunk or intoxicated residents, and it has been a big stressor in my life," she said. "There's no reason that we shouldn't be making a $15 minimum wage, especially when Pines makes like $765,000 a year."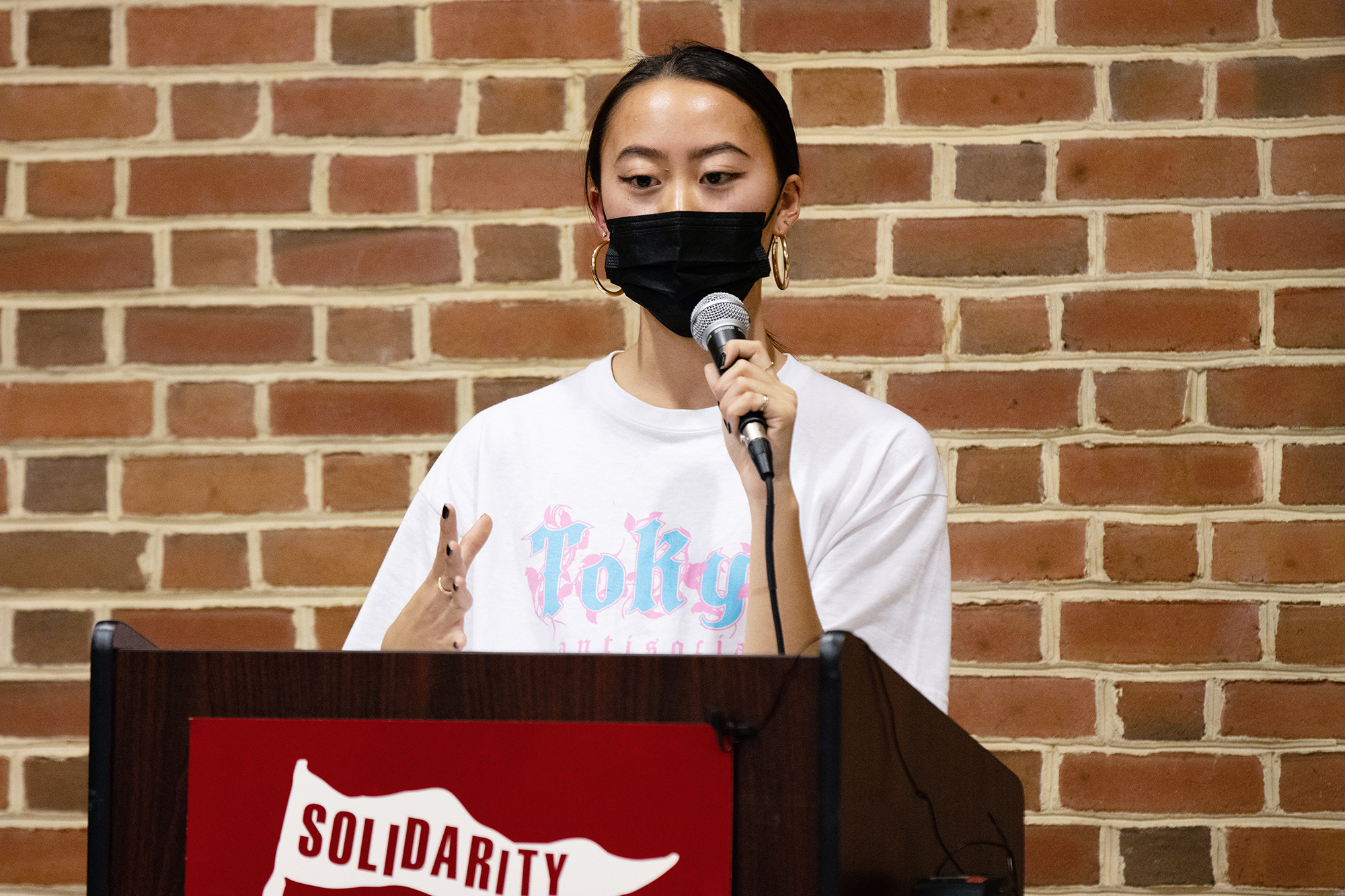 Michael Marinelli, a USAS member and fifth-year senior English major, said the organization decided to center student workers' experiences as part of the campaign for higher wages.
"Student workers have a particular power, I think, on campus. We're workers, on one hand, so we have power in our numbers, power in our ability to withhold our labor," Marinelli said. "But then on the other hand, we're students and so we pay money to the university and so they're obligated to listen to us."
[AFSCME report finds wage disparities by race and gender at USM schools]
USAS also highlighted disparities between wages at this university and other universities across the state, Marinelli said. The University of Baltimore, which is part of the state university system, has a $15 per hour minimum wage. Johns Hopkins University and Morgan State University, among others, also pay university employees at least $15 an hour.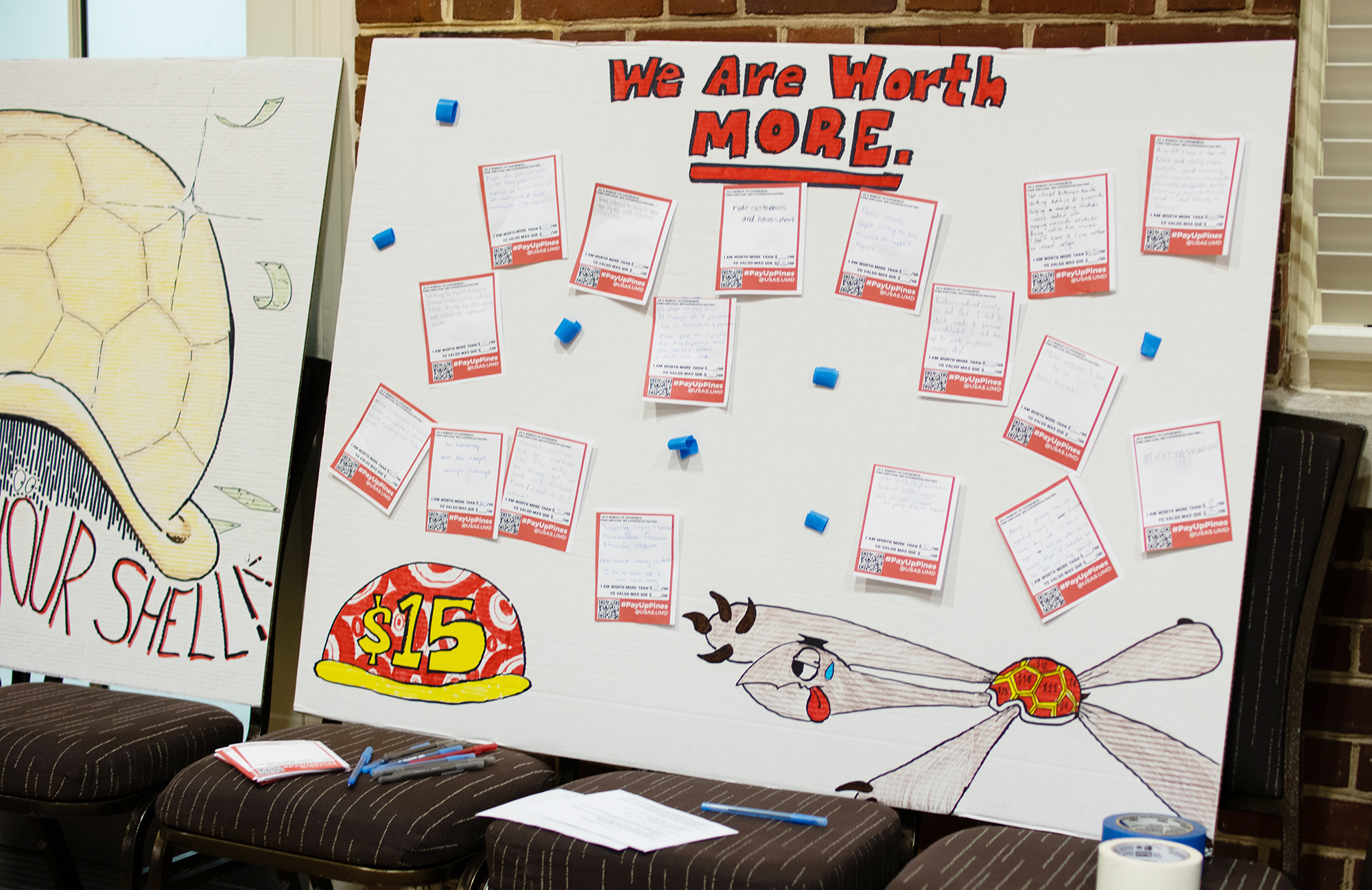 In an interview with The Diamondback, Pines said he was "totally supportive" of USAS' campaign.
He said administration had been working with non-exempt workers to raise the minimum wage before USAS staged the campaign, and he hopes community members do not see any steps that the administration takes regarding wages as reactive to the USAS campaign.
"The administration have been working on this for about 12 months … so it's not like we are responding in response to the activism," he said.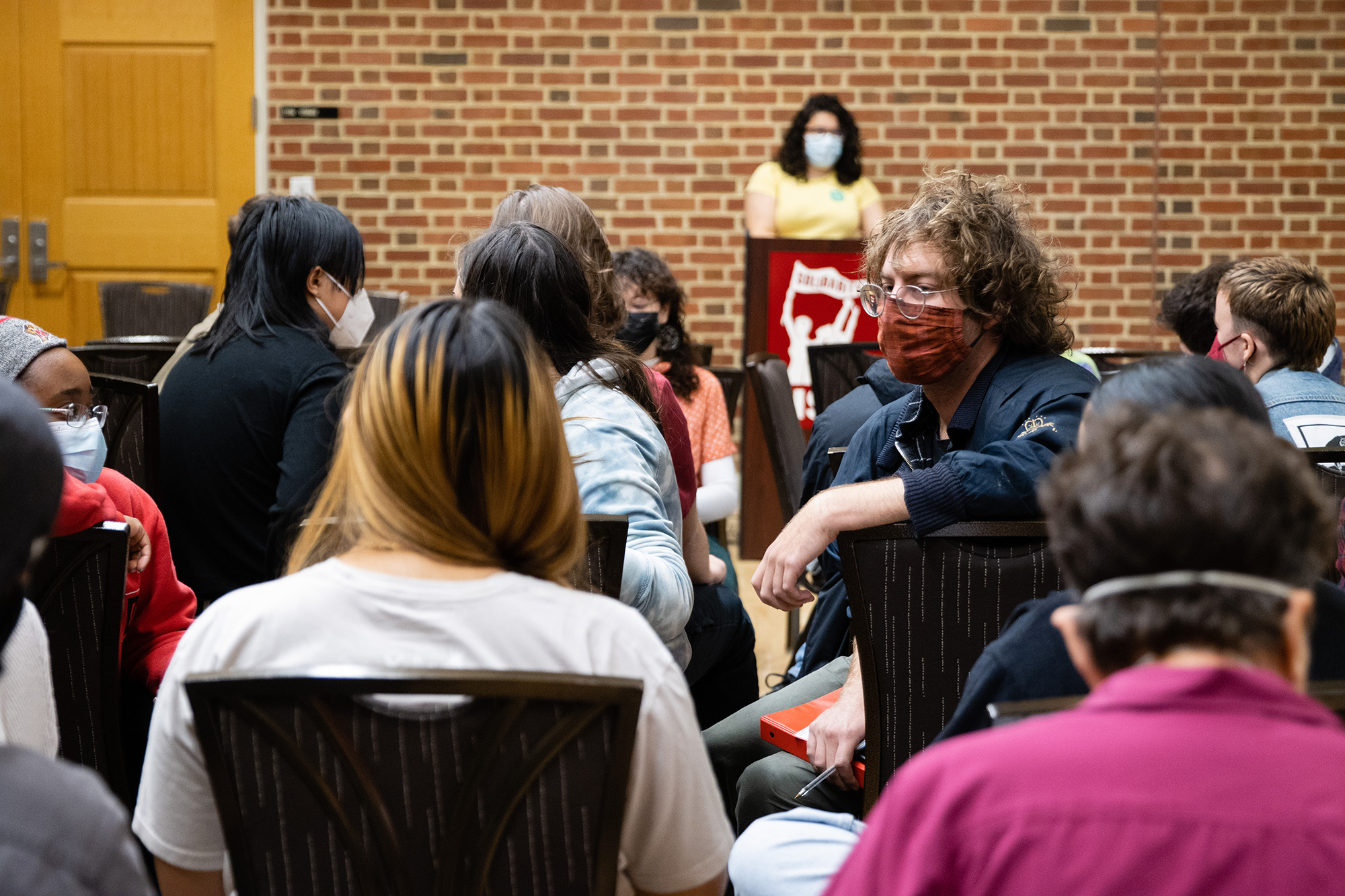 Despite the expected minimum wage increase for hourly employees who work for the state university system, Holden said there needs to be further change so all employees — not just those represented by bargaining units — can have higher wages.
"We want to live in a world where we are bringing everyone with us. Not just union-represented employees, not just full-time employees, not just part-time employees," Holden said.
Staff writer Victoria Stavish contributed to this report.
CLARIFICATION: This story and its headline have been updated to reflect the fact that the proposal to increase the minimum wage applies to employees represented by a union, not contractors and student employees.