The frustration on McKeldin Mall was palpable Friday afternoon.
About 200 University of Maryland students had gathered to the center of campus for Preventing Sexual Assault's annual Slut Walk — but this year, organizers say the backdrop to the demonstration was particularly troubling.
Allegations that surfaced this month in the Pi Kappa Alpha fraternity and comments made by university President Darryll Pines that Greek life does not "have a big problem" when it comes to sexual assault, have prompted some students to call for increased accountability in addressing sexual assault on campus.
"Having an event like this, we're all standing together [to say] that we're not happy. We're upset," PSA co-president and senior communications major Hailey Chaikin told The Diamondback.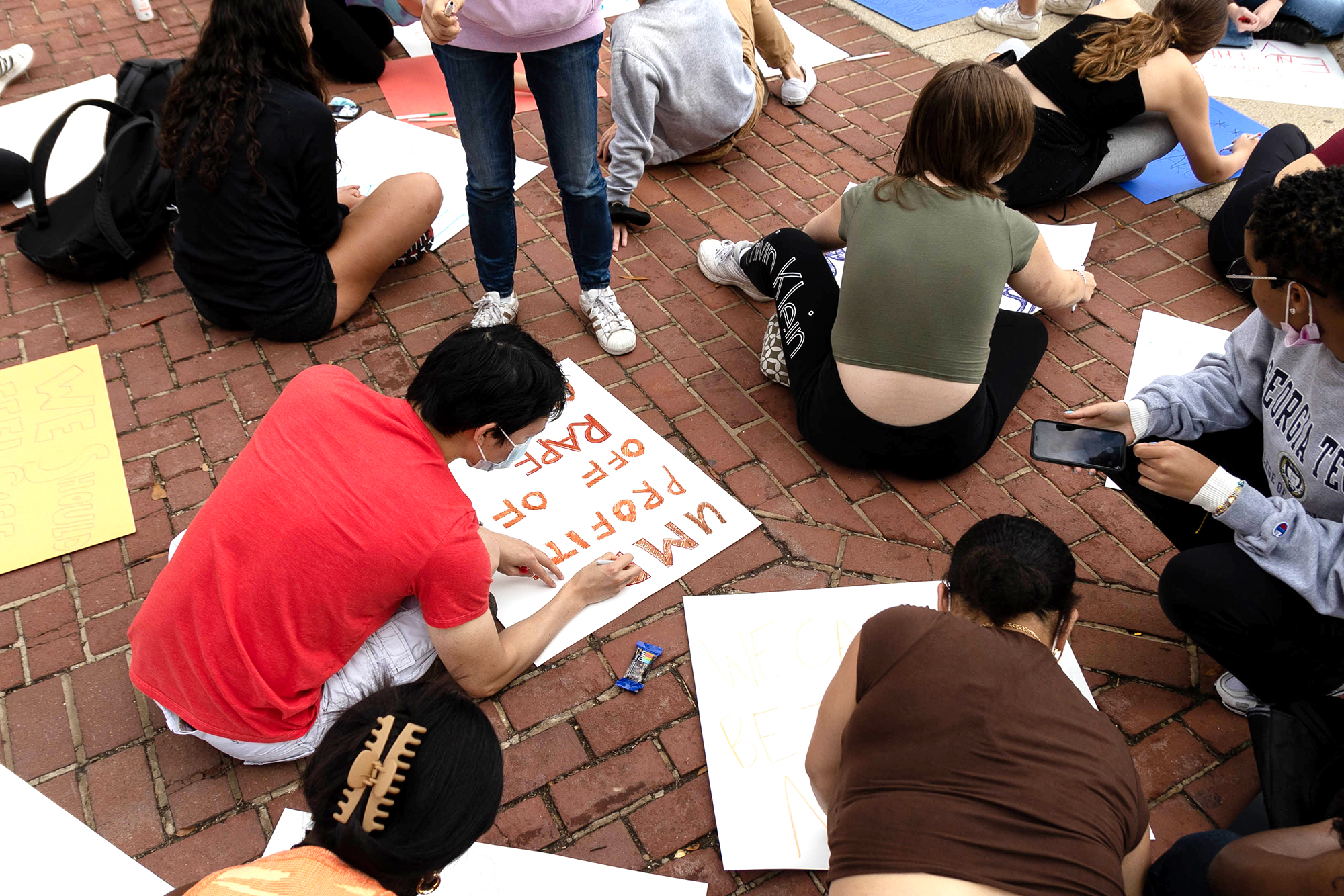 In light of the allegations toward Pi Kappa Alpha, the Department of Fraternity and Sorority Life suspended the Pi Kappa Alpha's recognition and placed a "cease and desist" on Oct. 1, according to a statement from the university. It required "all chapter-sponsored events and activities, including philanthropic, service, social activities, parties, events, and intramural participation" to be suspended, the statement said.
At Friday's demonstration, students — including some survivors of sexual assault — blasted the university's handling of sexual assault.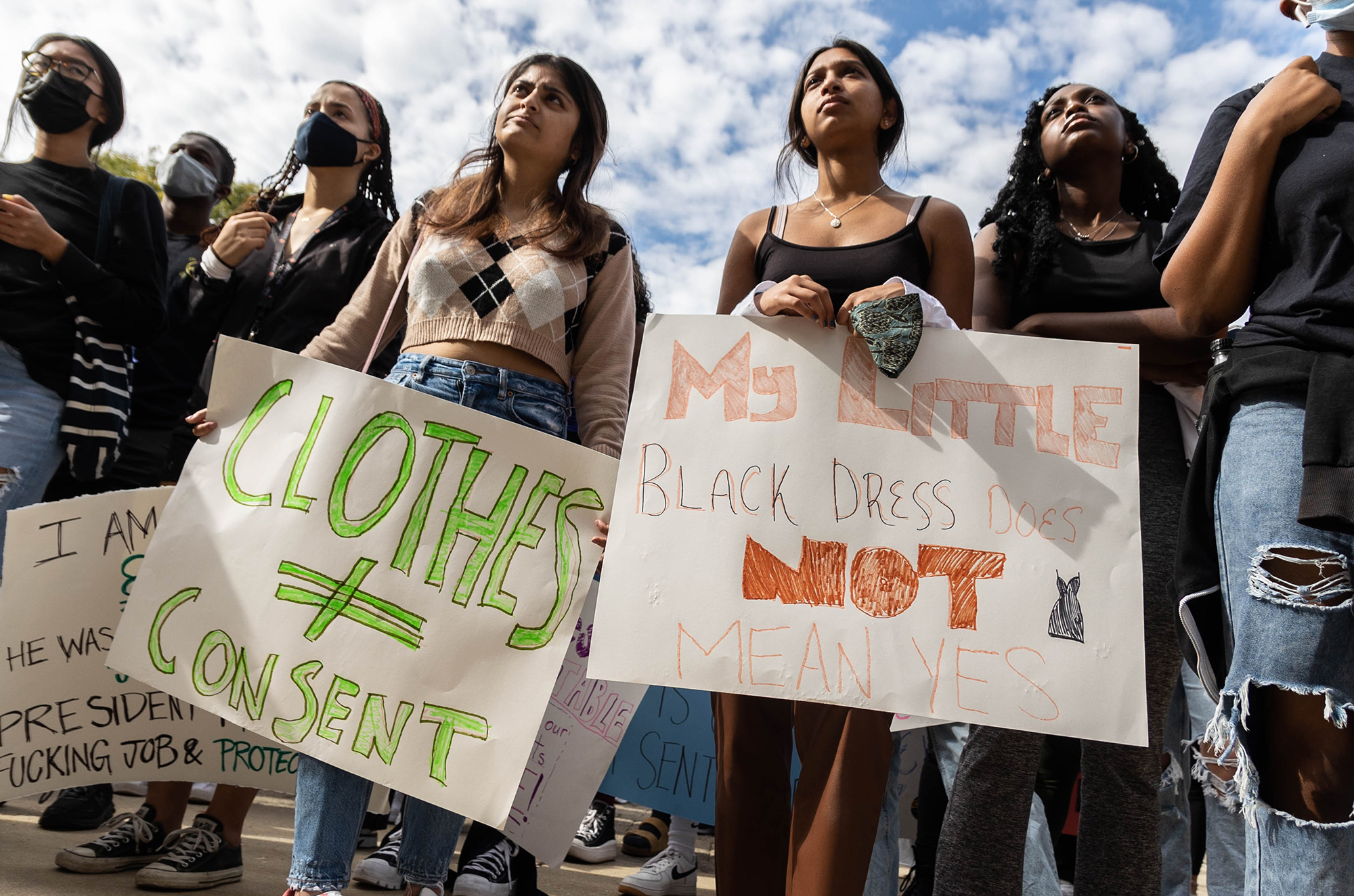 [PSA covers McKeldin Mall with messages of UMD students' experiences with catcalling]
In a statement, this university said addressing and preventing sexual assault is a top priority of the administration, with resources such as the Office of Civil Rights and Sexual Misconduct, the University of Maryland Police Department, CARE to Stop Violence and more at students' disposal. Pines told The Diamondback in an interview that the university should not ignore any instance of sexual assault in its residence communities, including within Greek life.
Students held signs reading "100% of rapes are caused by rapists" and "stop the stigma" as they marched through the heart of campus. The group made stops at the Main Administration Building, Hornbake Plaza and Stamp Student Union.
During their route from McKeldin Library to the administration building, students echoed chants such as "hey hey, ho ho, sexual assault as got to go," and "no means no." Outside the administration building, dozens of students booed President Pines for his remarks about sexual assault on this campus.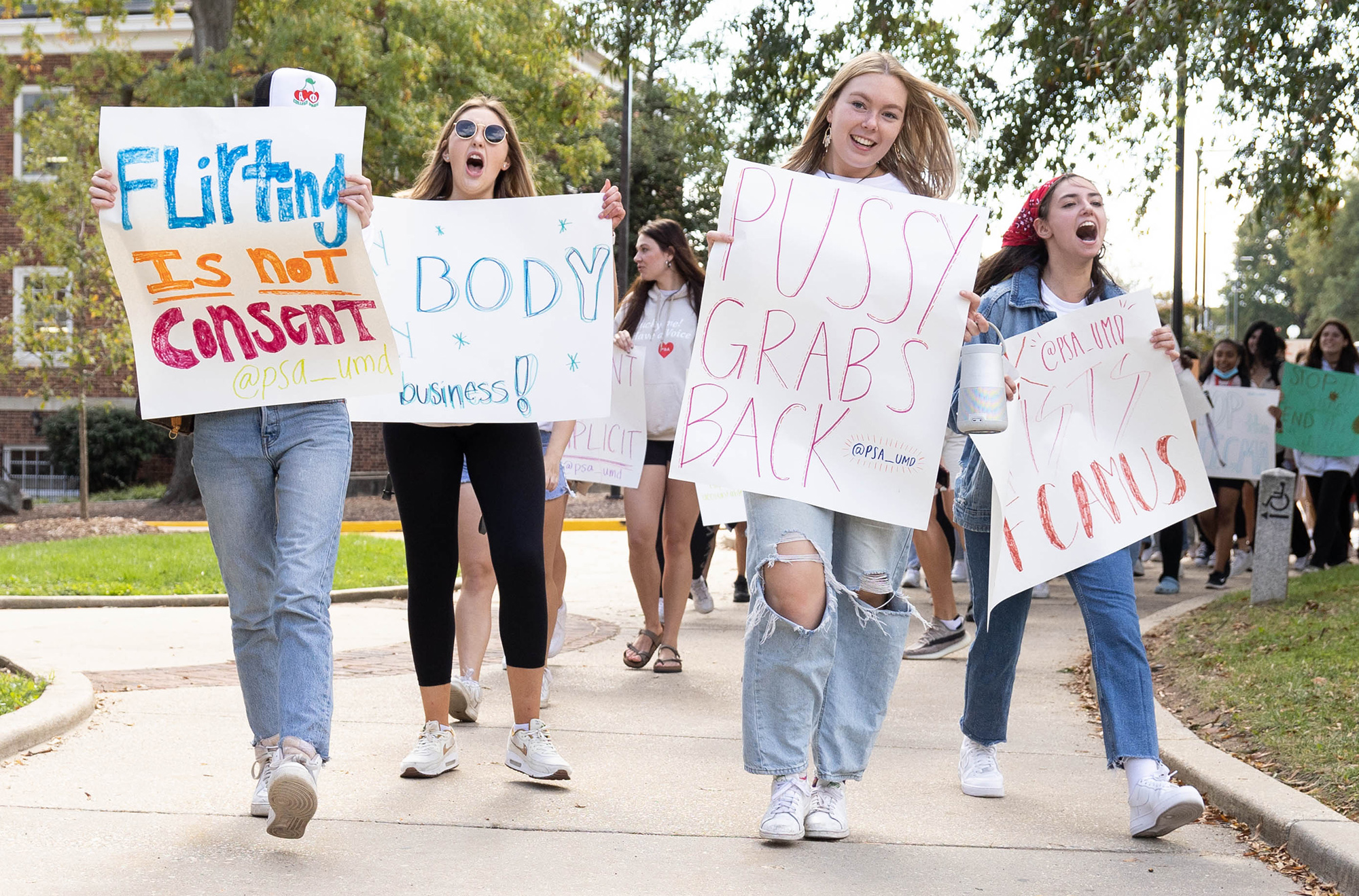 "People are getting fired up. People are getting upset with administration and leadership's way of handling sexual assault on campus," Amanda Sherman, junior marketing and international business major and PSA's co-events coordinator, told The Diamondback. "It's definitely about empowering people, empowering survivors … and being like, 'this is my time to say that that's not okay.'"
At Stamp, Nicole Emory shared her experiences with sexual assault.
"I believed for a long time that perhaps my role on earth was to be used for sex by men and that if I wanted to stop getting raped, that I should just say yes more often," said Emory, a PSA member and senior English major. "I don't believe that anymore. I wouldn't be in PSA or giving this speech if I believed that this was my fault, or your fault, or anyone's fault that they were assaulted."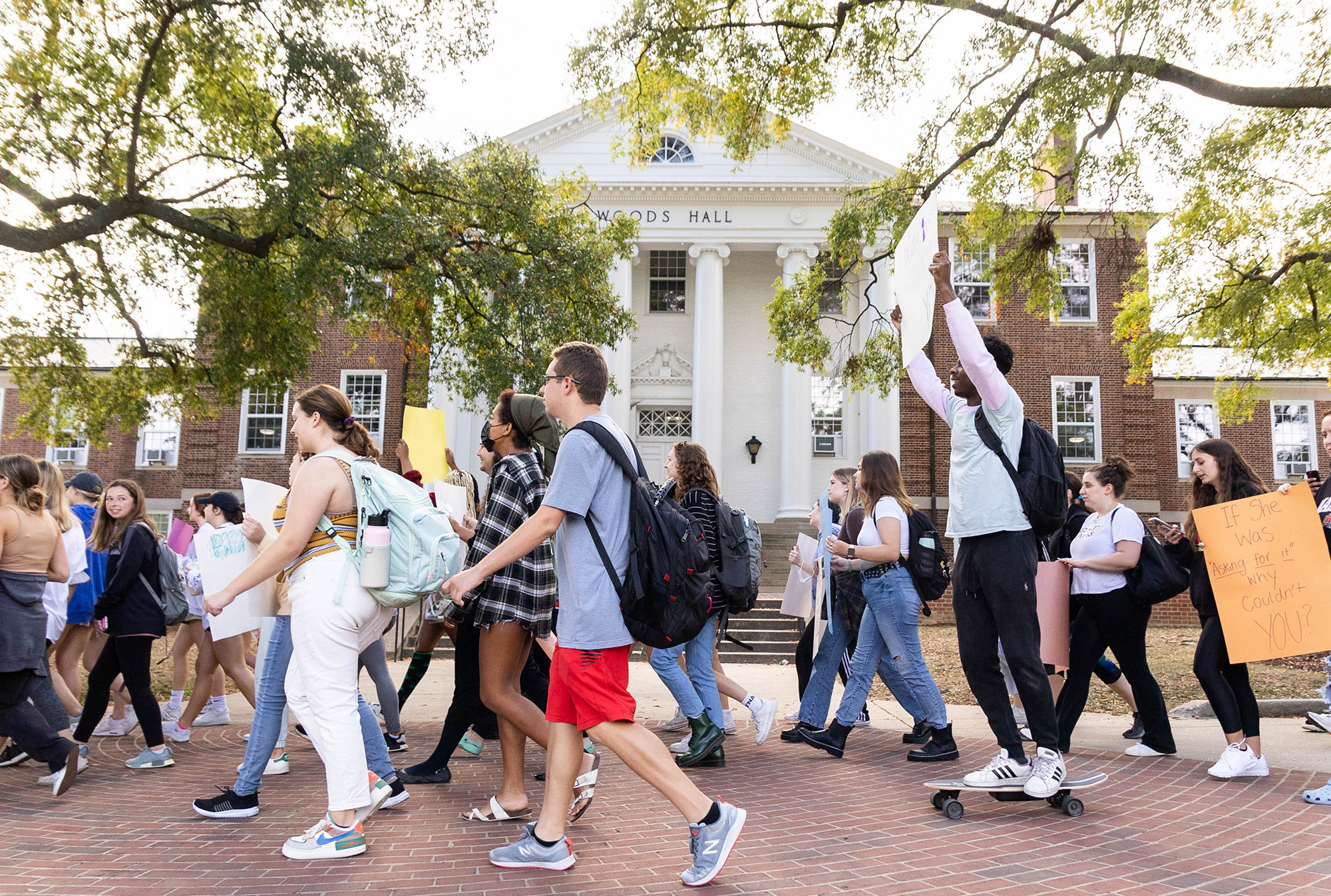 Kayla Scott, a junior psychology major, shared her story of sexual assault at this university.
She hoped doing so would validate the experiences of other survivors.
"We can create a truly zero-tolerance community — not just zero tolerance until it's your friends — if we speak up against what we know is wrong before it gets to the point of sexual assault," Scott said.
[UMD suspended recognition of Pi Kappa Alpha fraternity this month]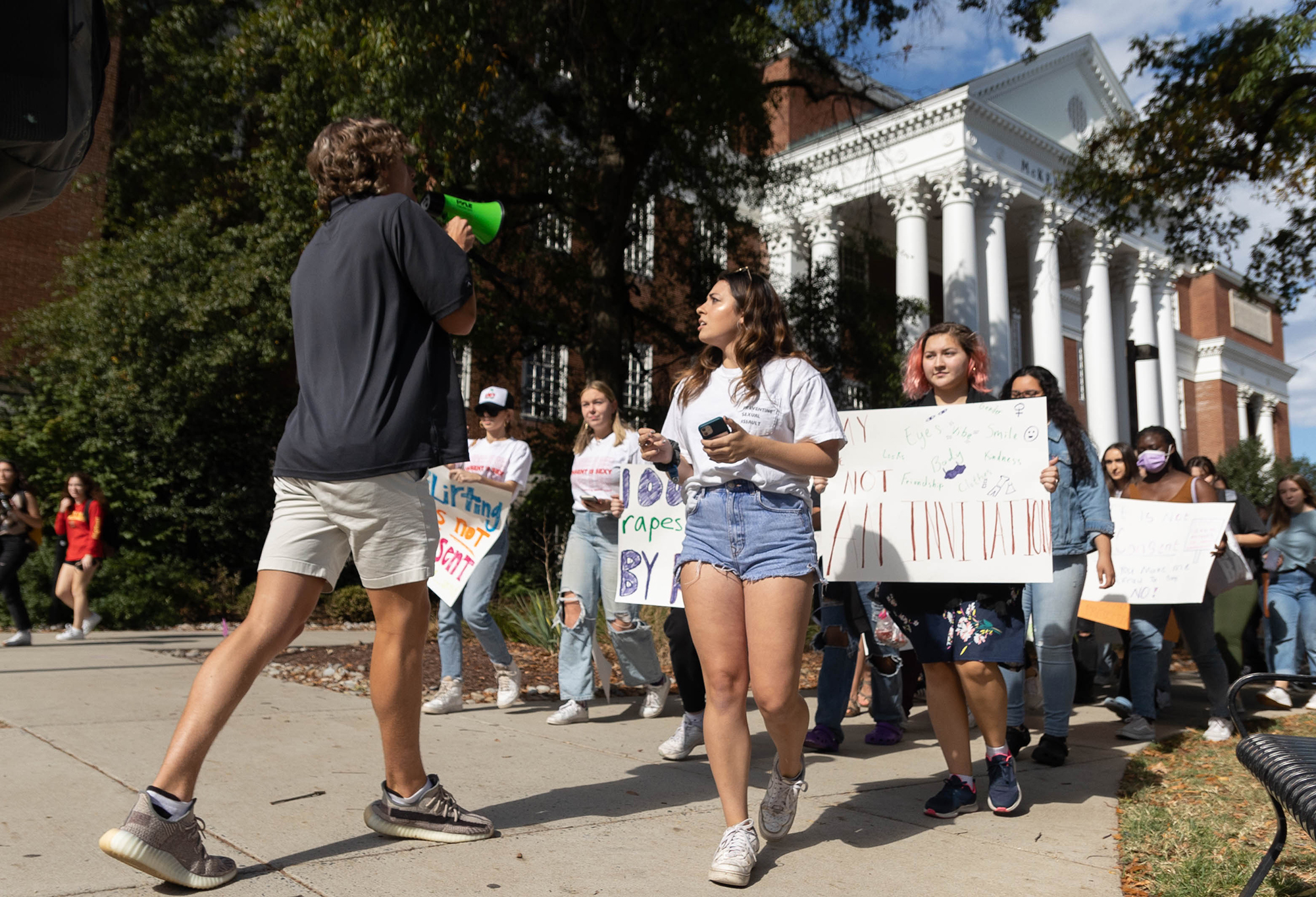 Madoka Minagawa, a freshman government and politics major, attended the demonstration. She hopes the student turnout for this year's Slut Walk will uplift victims.
"We want [victims] to know that we're here for them, that we hear them and that will support them all the way through," Minagawa said.
Slut Walk is an international movement that calls for the end to rape culture, victim-blaming and slut-shaming of sexual assault victims. The first Slut Walk took place in 2011, inspired by a Toronto police officer's advice to women that they should "avoid dressing like sluts" if they wanted to avoid sexual assault.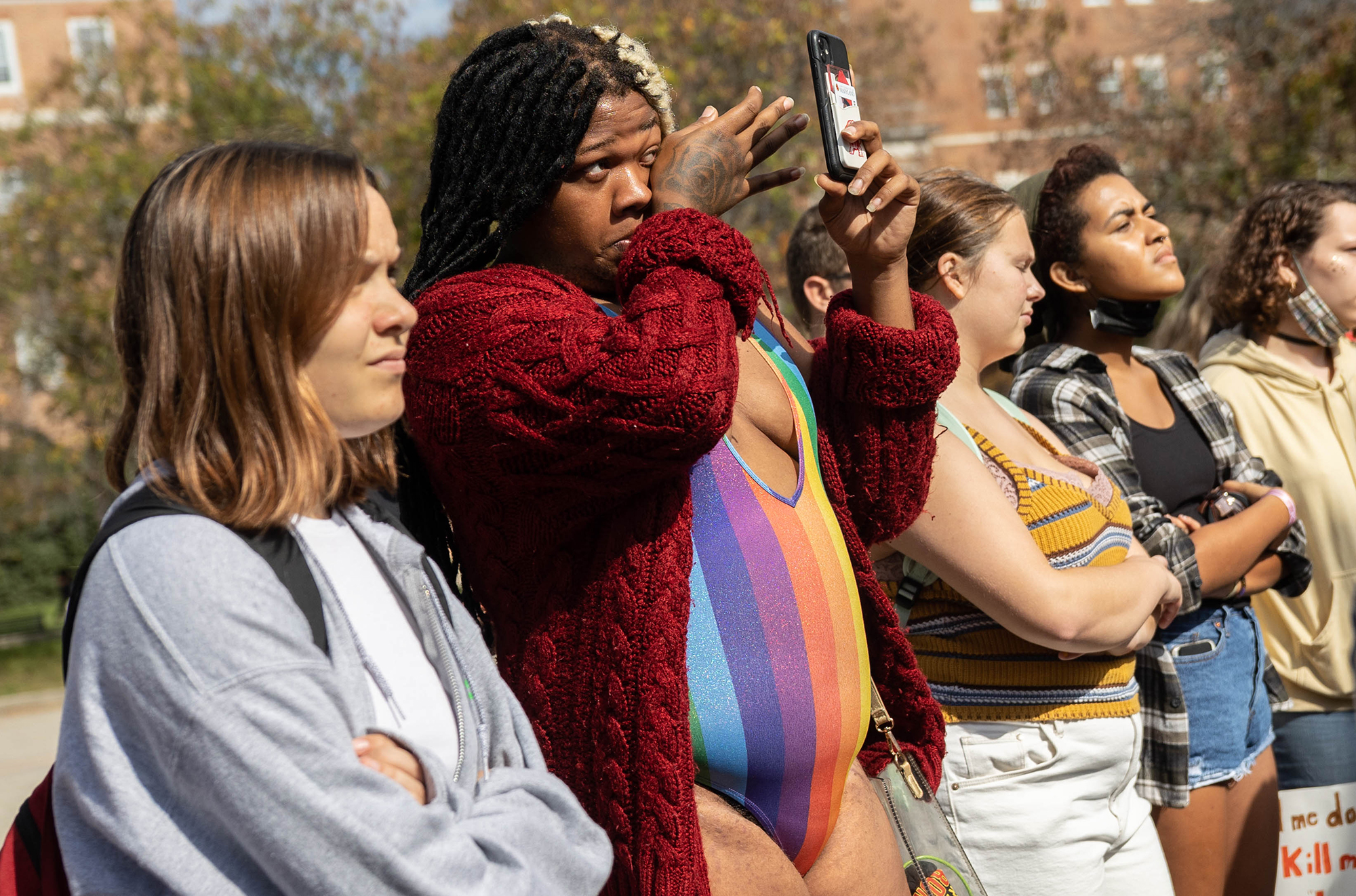 PSA began holding the event in 2016 but the group did not hold the event last year due to the pandemic.
Chaikin thinks it's important for PSA to bring the event to this university because she believes a pervasive victim-blaming narrative exists on campus.
"There have been many cases where people have questioned victims about sexual history, or what they were wearing or what they were drinking," Chaikin said. "We're trying to reclaim that and show you that does not matter."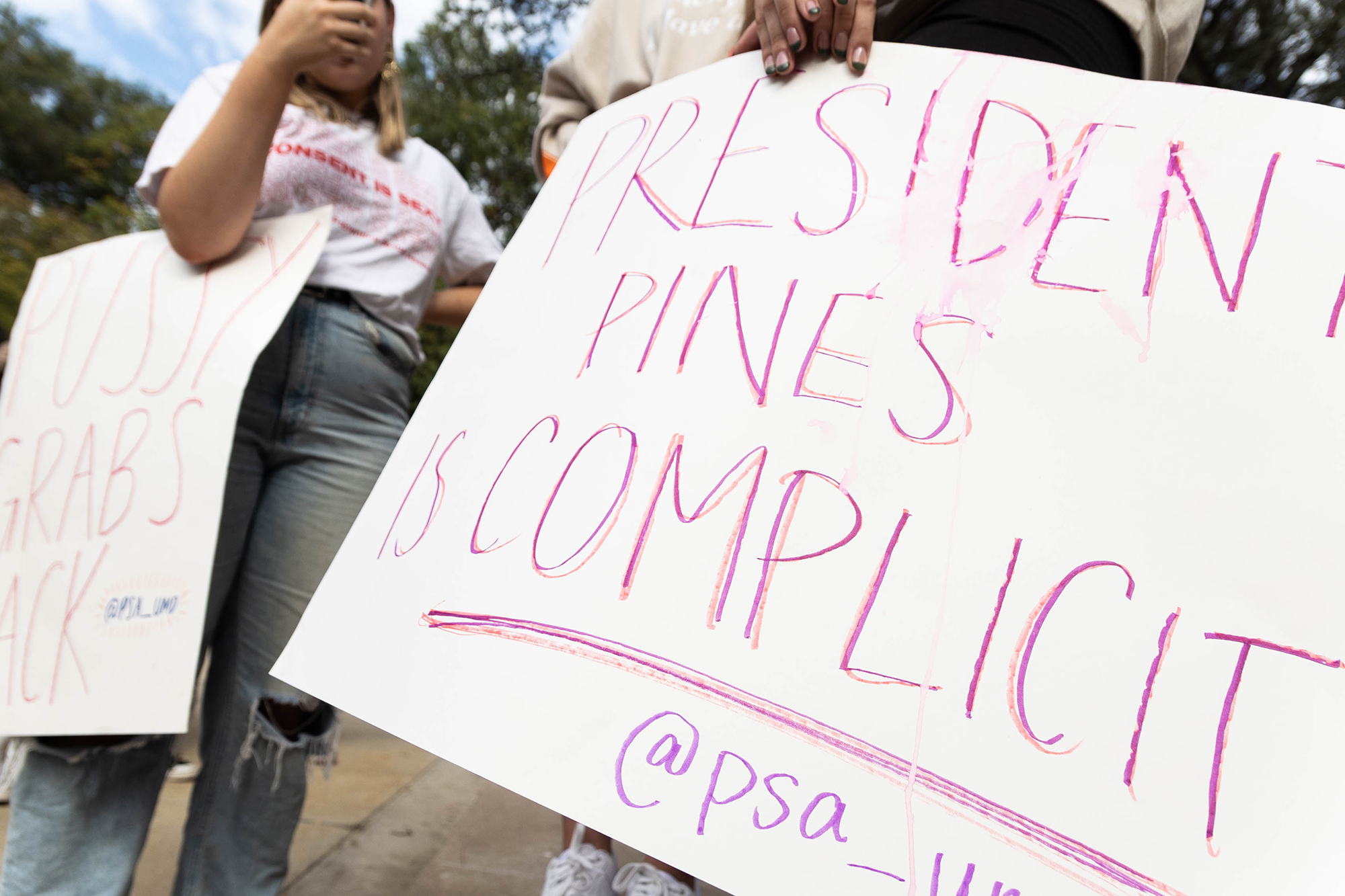 Chaikin told attendees Friday that if they take one thing away from this event, it should be that sexual assault does happen on this campus.
"This is to show our survivors that we support them and demand that our administration supports them as well," Chaikin said.