Para leer este artículo en español, haga clic aquí.
The University of Maryland is installing menstrual product dispensers in 25 buildings for the fall semester, a move that comes after years of student activism to increase the accessibility to these products on the campus.
Since fall 2019, a group of students have pushed for a solution to "period poverty" at the university. The students encountered hurdle after hurdle to seeing their goals become a reality.
The push began when a group of six students formed an organization called Get Ovary It in 2019. The organization was a result of a group project, where students in a communications class were tasked with creating a feasible solution to a problem on the campus.
"And I think the worst and most eye-opening thing that I learned throughout this is that the health center will give out boxes of condoms to RAs … but they will not give out boxes of tampons," said senior communication major Hailey Chaikin, the founder of Get Ovary It. 
Later that semester, Get Ovary It began placing baskets of menstrual products in bathrooms around the campus.
After positive response from that initiative, Get Ovary It applied for a grant from the Student Facilities Fund to place dispensers in 15 bathrooms across campus. The group negotiated with the Student Facilities Fund's administrators, Chaikin said, and ended up being promised $20,000 on the condition that they fundraised $20,000 as well.
Then, when the pandemic hit, the project hit a standstill when administrators canceled the funds, Chaikin said.
"That was really frustrating because we'd already spoken with everybody and got everyone on board," Chaikin said. "We're in the middle of fundraising, and everything was taken away from us." 
[UMD SGA allocates additional $407k to support Campus Pantry, Student Crisis Fund]
Josie Shaffer, now the Student Government Association vice president, stepped in and helped the project to gain momentum.
Shaffer, the then-chair of the Student Facilities Fund, met with every member of administration she could to receive more funding for the project. Oftentimes, she would meet with an administrator who would agree to provide funding, only for them to later change their mind.
Eventually, Shaffer was able to meet with administrators from the facilities management department. However, they did not have the authority to fund the project, so the final approval would have to come from university President Darryll Pines. 
In the summer of 2020, Shaffer said, the SGA launched a survey to assess the need for the dispensers. About 87 percent of the respondents said they had been in a situation where they got their period on campus and didn't have any menstrual products, Shaffer said. 
"It was exciting to see so many students who were passionate about this issue, and then it just kind of solidified for me that this is something worth fighting for," Shaffer said.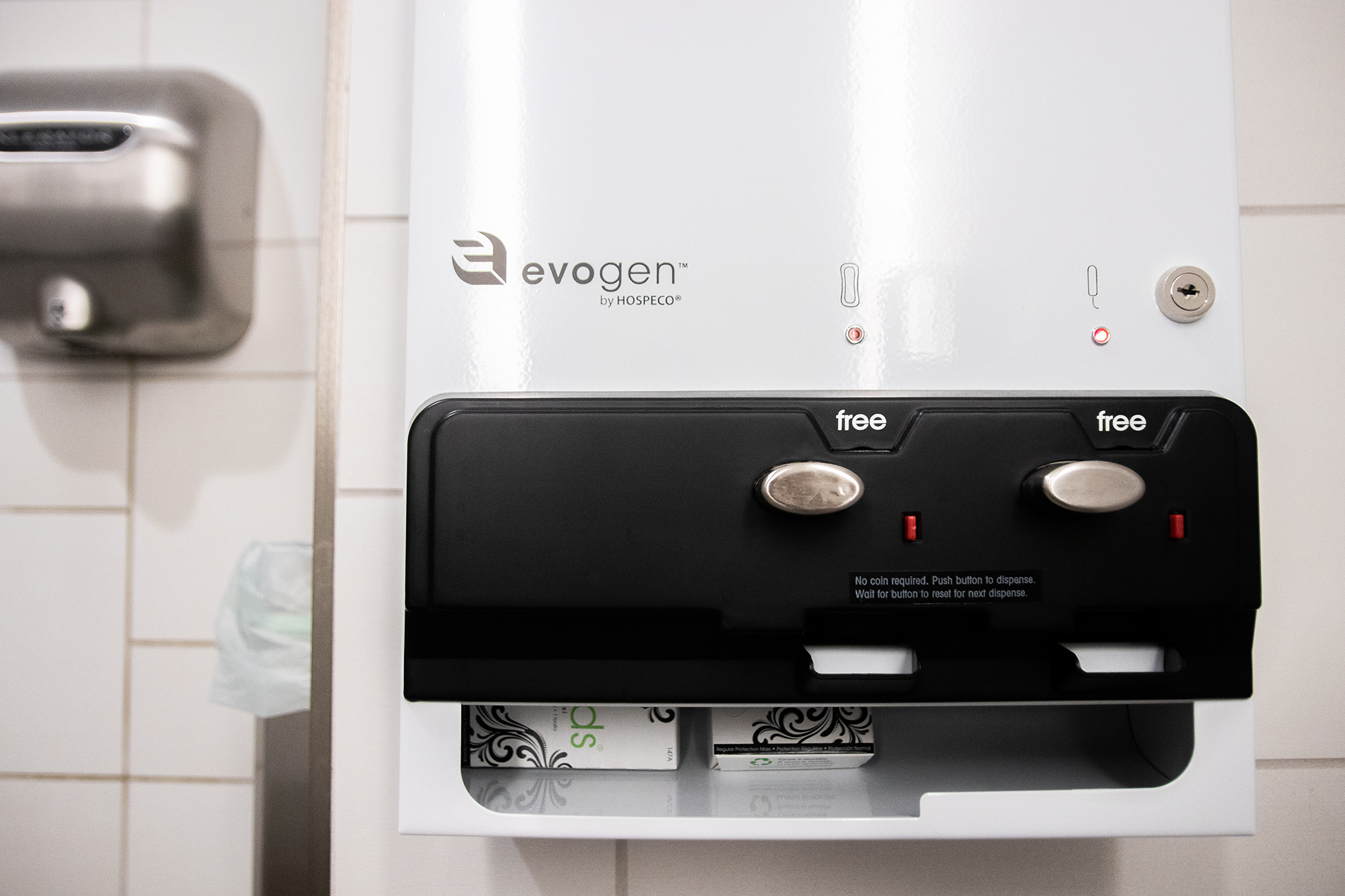 Later, during an SGA cabinet meeting, Dan Alpert, the former SGA president, explained that there was a surplus of money due to funds not being used during the pandemic. Shaffer proposed using some of the excess funds to support the menstrual product project.
The SGA allocated $48,000 to the project, and the Student Facilities Fund promised $7,500 as well, Shaffer said. This funding allowed the project to increase to 25 dispensers across the campus.
The funding also enabled them to extend the pilot program to three years. After the pilot program is over, the SGA will present the project to Pines to try to receive consistent funding and continue the project.
The SGA money is funding the current project, so Pines did not have to give his approval.
Once a month, data is collected to track how many products are being used and which dispensers are the most popular. 
"I think it's just really special. I'm so happy that every time I cried because a meeting went bad was worth it," Shaffer said.
[Hagerstown Hall has free pads and tampons. Students want other UMD dorms to follow suit.]
Dr. Jessica Mathiason, an assistant research professor in this university's women's studies department, said she's interested to see where the project goes.
Mathiason added that a stigma exists around menstruation because society often views "the neutral body as inherently male."
"If we thought about all bodies potentially menstruating and needing menstrual products, then those products would be available just like toilet paper is available," Mathiason said.
Access to menstrual products has been harder to come by in the pandemic. According to a study conducted by Thinx and PERIOD, 23 percent of teenagers have struggled to afford period products, and 16 percent reported that they chose buying period products over food and clothes during the pandemic. 
"So that's an issue of both health and safety, as well as educational access," Mathiason said.
This past year, students who received menstrual products from their high schools, similar to those who received free lunches, were unable to get those products because of the pandemic, Mathiason said. 
And while Mathiason is glad about the initiative, she said it needs to be publicized effectively "so that students can simply find these dispensers and access these products and know that they exist."