University of Maryland leaders, faculty and state leaders celebrated the groundbreaking of a new chemistry building Tuesday afternoon.
University President Darryll Pines, state politicians — including Maryland state Sen. Guy Guzzone and Maryland House of Delegates member Maggie McIntosh — and speakers from the computer, mathematical and natural sciences college gathered in a white tent on Stadium Drive next to the chemistry and biochemistry complex. 
The new 105,000-square-foot building will include 34 research labs, 2 core research facilities and 13,000 square feet of collaboration space, according to the chemistry and biochemistry department's website. The university expects to receive $105 million from the state of Maryland, Pines said at the event. The building is expected to open in 2023. 
Before speeches commenced, red, white and gold smoke billowed from black pillars outside the tent. Just adjacent to the gathering stood a dilapidated structure — the old Chemistry Building's wing 1, which was demolished last week and will make way for the new building.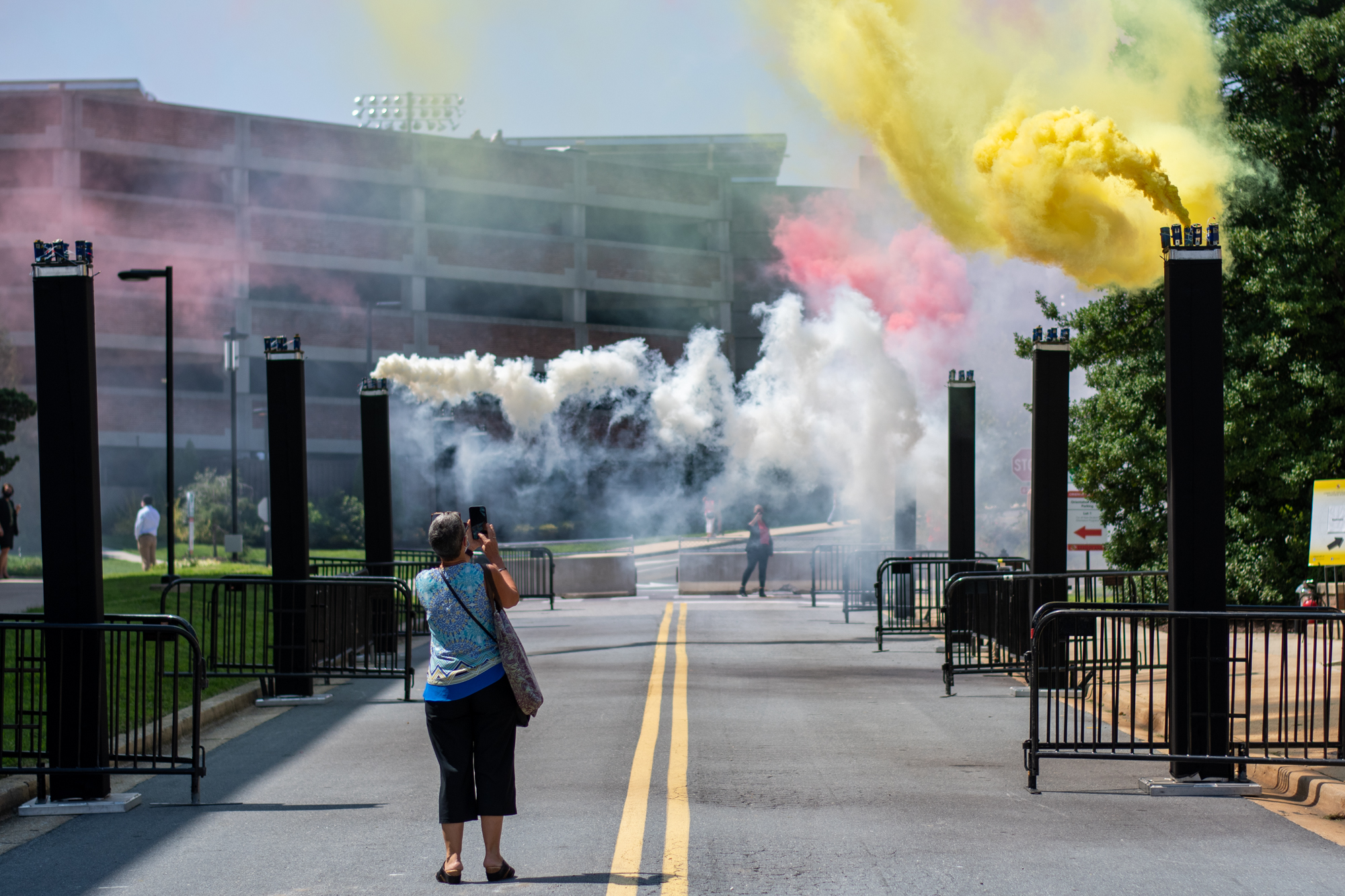 Pines, the opening speaker, thanked the chemistry and biochemistry department for their efforts in creating the vision for the new "unparalleled facility." 
['Ready to fight': UMD employees protest in latest push for more telework]
"Thanks to the investments by the state of Maryland and generous partners, the new facility gives us a competitive edge going forward," he said. 
The new building is set to be at least LEED Silver certified — a rating that signifies achievements in sustainability in buildings, according to the chemistry and biochemistry department's website. It will also include features such as basic climate control, which are critical in a research environment, said chemistry doctoral student Matthew Leonard. 
"In the previous building … if it was raining outside it was also raining inside," he joked.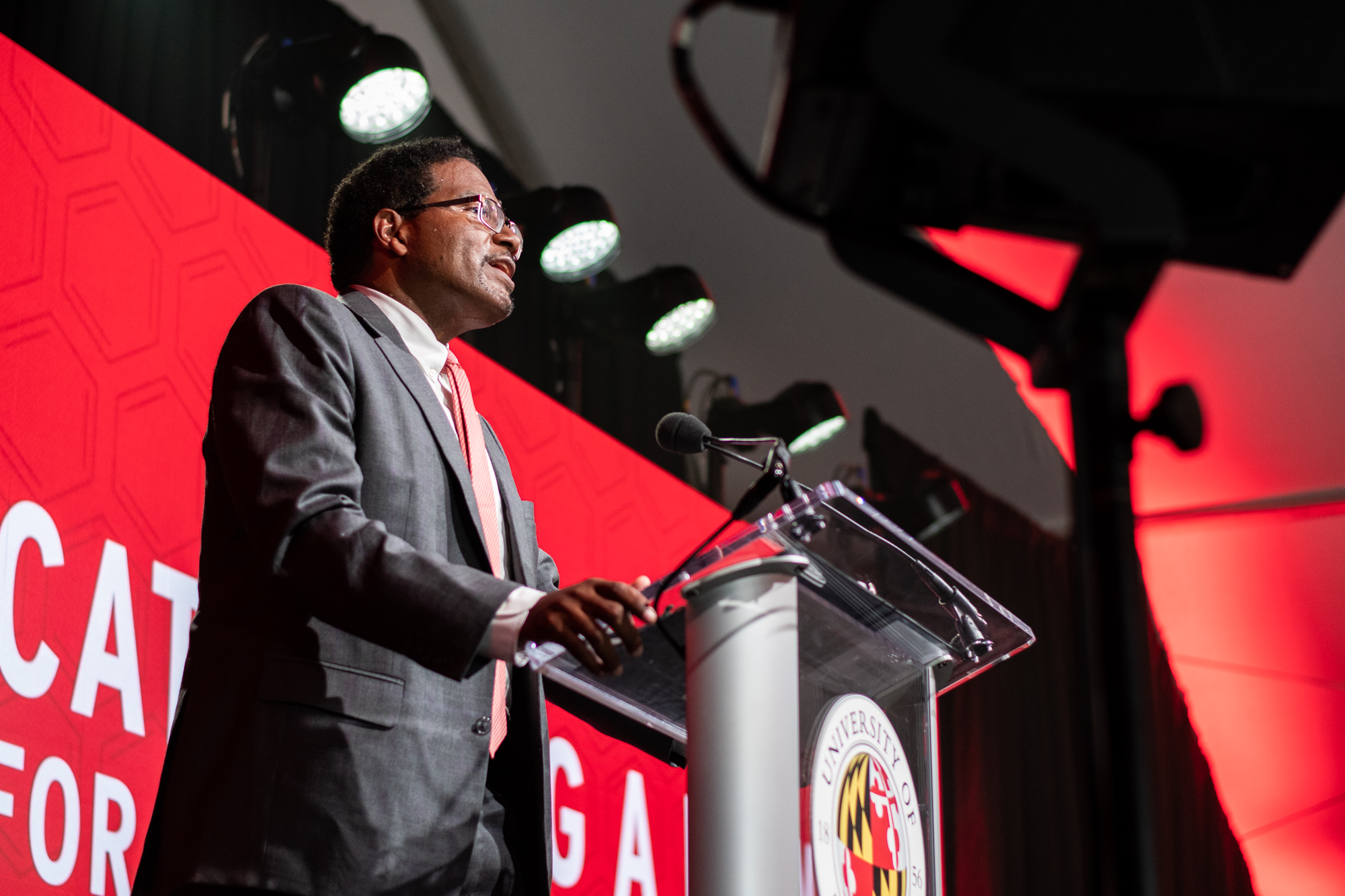 The new building's labs will also be adaptable for any research in the molecular sciences, according to the chemistry and biochemistry department's website. Students and faculty will be able to engage in innovative research in areas such as quantum chemistry and biochemistry.
The event was a celebration of science and innovation for McIntosh, who underscored the importance of investing in research, especially amid the coronavirus pandemic.
[US Secretary of State visits UMD, touts investments in infrastructure]
"It is science that is leading us through this," she said.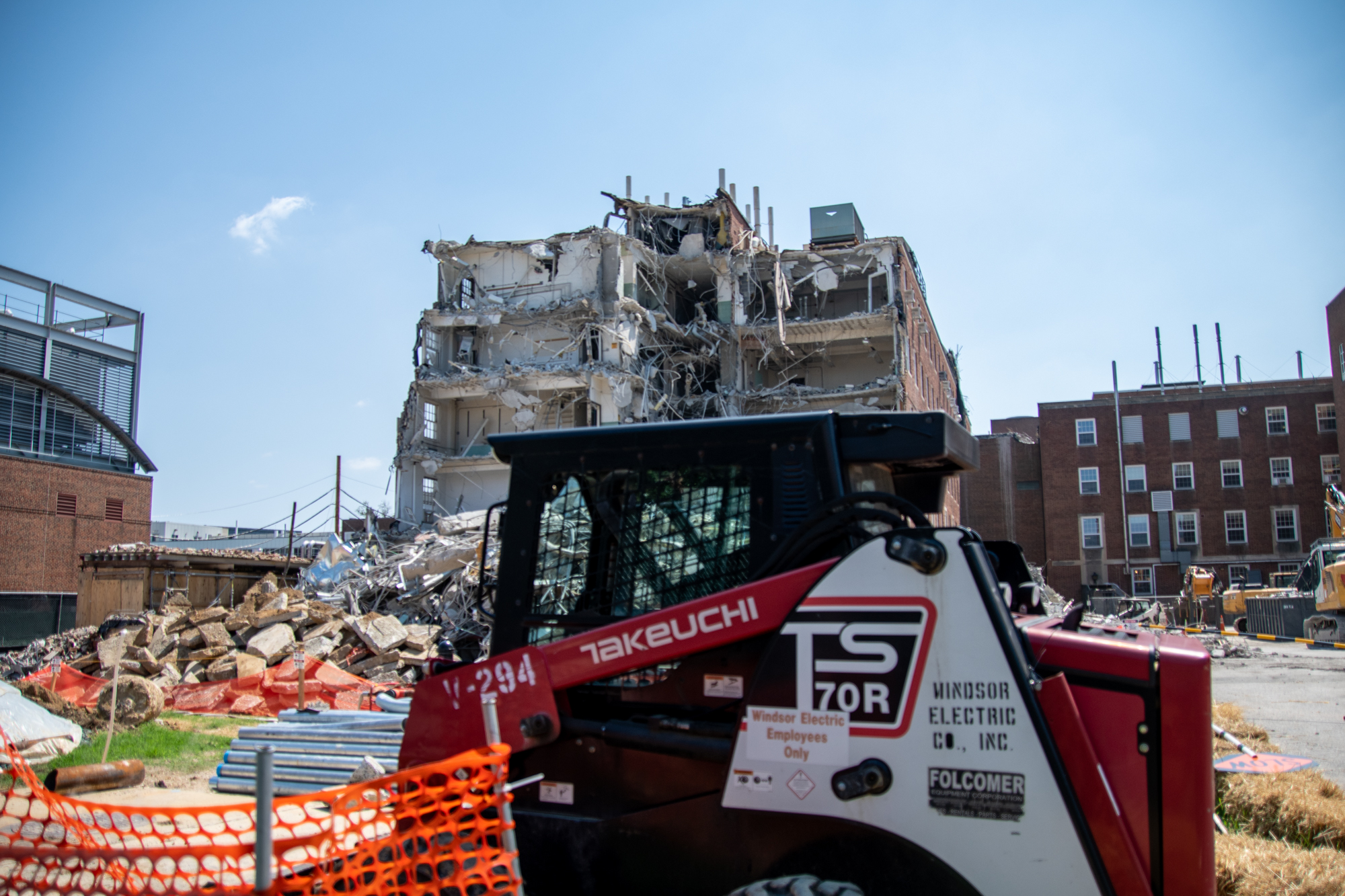 Provost Jennifer Rice also highlighted the value of investing in future potential. Infrastructure, she said, is key to securing that potential.
"The potential is limitless, but it requires modern and safe research and collaboration spaces where students and faculty can learn from one another as they investigate real-world problems," she said. 
To symbolize the groundbreaking, speakers from the event put on safety goggles and joined five students in white coats. Each speaker poured a red liquid from a test tube into a black vessel that began to smoke. Finally, a student poured liquid from a larger bottle into the vessel, enveloping the stage in a large cloud of smoke to officially signify the groundbreaking.
The new building symbolizes the bright future of the chemistry department and will also help with recruitment efforts, explained Janice Reutt-Robey, professor and chair of the chemistry and biochemistry department.
"Our old building with its obsolete infrastructure was truly holding us back from opportunities to build on our discoveries and advance in important lines of research," she said.