Maryland football's defense had been unexpectedly stout all night, denying Penn State at nearly every turn. But there was one man who flustered the Terps, singlehandedly giving the Nittany Lions their ultimate margin.
Jahan Dotson streaked into the end zone, the road faithful growing louder as he blasted past each hopeless Maryland player for his third touchdown. At the same time, he shushed the stunned Terps crowd, which had been riding the high of a game-tying score moments earlier.
That fourth-quarter mark cemented Dotson's explosive afternoon, sparking a run of 17 unanswered points for No. 22 Penn State en route to a 31-14 win over a scrappy Maryland squad.
Dotson registered a career-high 242 yards and the Nittany Lions' first three scores, the last one on an 86-yard seam route. His first two also came on deep balls.
Dotson first burned the Terps' Nick Cross, leaving the senior wideout untouched for a 38-yard touchdown. Early in the third quarter, Dotson shook Maryland's Jakorian Bennett for a 21-yard score. That capped a methodical Penn State drive that went 95 yards on 14 plays.
"Just some missed assignments and blown coverages, but he's just a good player that made some really good plays," safety Jordan Mosley said.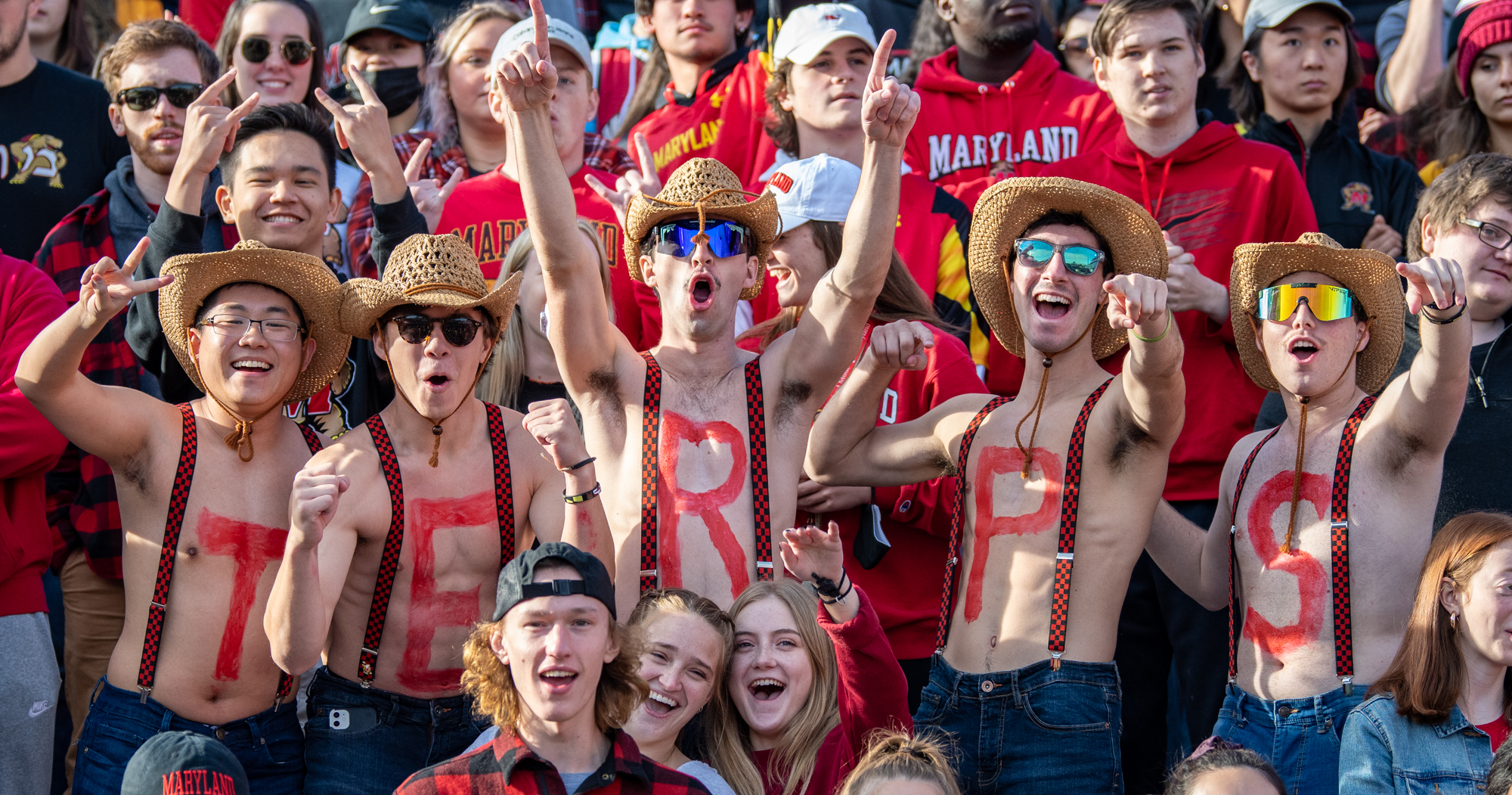 [Maryland running back Isaiah Jacobs enters the transfer portal]
But aside from Dotson, the Terps' defense played one of their best games all season. They forced four three-and-outs and came up with several critical third-down stops, bending but rarely breaking. In one critical stand, Jordan Mosley came flying in to stuff Tyler Warren on fourth down in Maryland territory, and the Nittany Lions remained flustered.
Yet for most of the game, the Terps' offense could not capitalize. From the game's first series, Penn State's elite defense did not budge, holding Maryland (5-4, 2-4 Big Ten) down each time it seemed it would score.
The Nittany Lions forced Terps quarterback Taulia Tagovailoa into an intentional grounding on their opening drive, forcing them out of the red zone and into a punt. Brandon Smith tipped Tagovailoa's pass out of Chig Okonkwo's reach as Maryland was looking to tie, causing another punt in plus-territory. And a false start backed the Terps out of fourth-and-manageable territory with time winding down.
Maryland only converted two of its five red zone opportunities into points.
"We did a good job moving the ball down the field the whole time," Tagovailoa said. "Just a matter of finishing."
But the Terps also made life harder for themselves. Tagovailoa mishandled a high snap with his team 10 yards from scoring and possibly tying the game, fumbling it away to Penn State (6-3, 3-3). He later threw a pick-six to Ji'Ayir Brown as his team was driving that sealed the contest.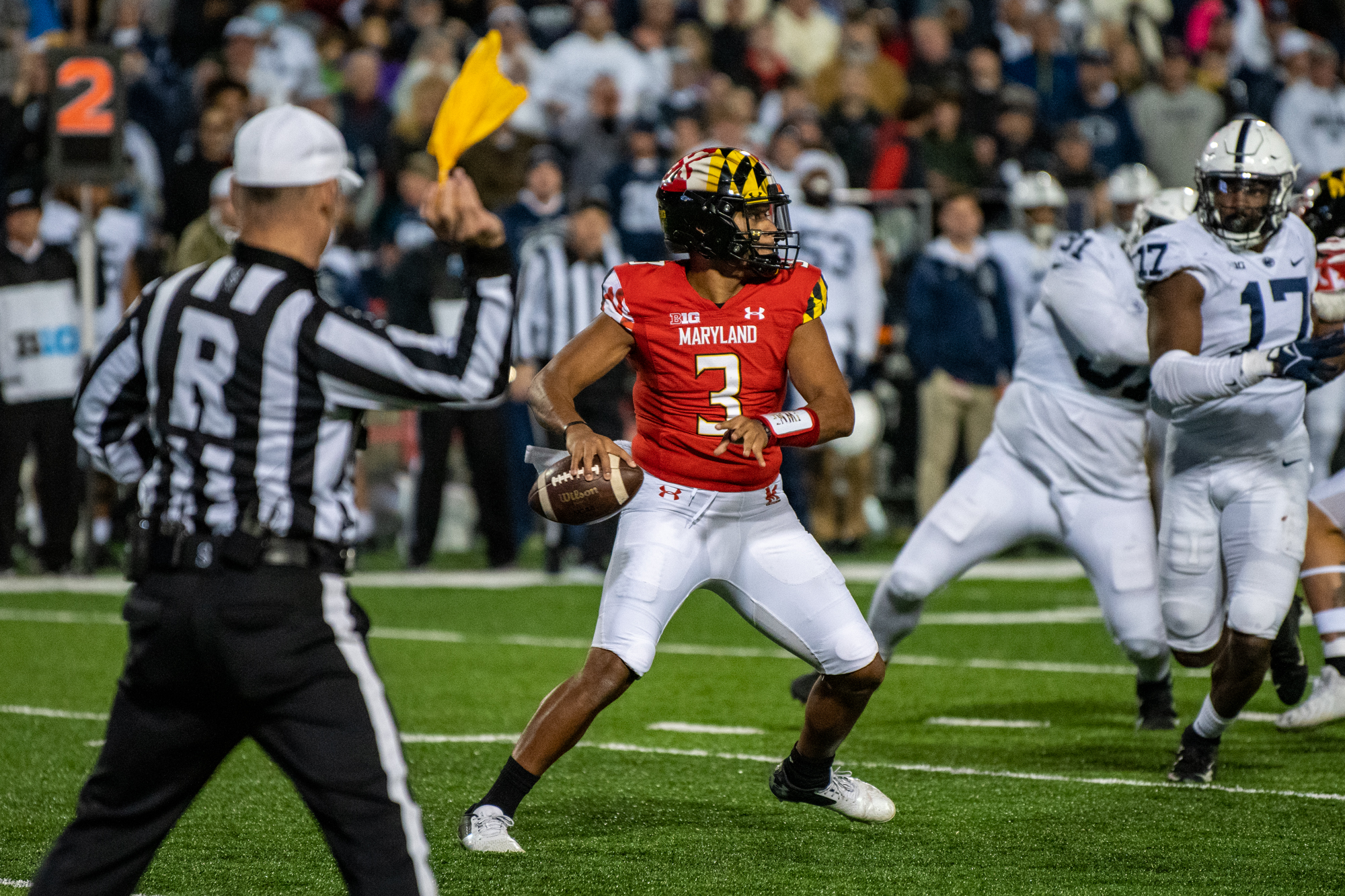 [Maryland football still searching for a complete performance with Penn State up next]
Maryland's receivers also dropped numerous passes, including a deep shot to Marcus Fleming that could have resulted in a touchdown. That was part of back-to-back drops in the second quarter, one of a handful of similarly frustrating sequences all afternoon.
"It's still about more what we do than it is what our opponents do," coach Mike Locksley said. "We just continue to make mistakes at the most inopportune times."
The Terps did manage to break through late in the first half. Maryland drove 86 yards in under two minutes, capping the eight-play surge with Challen Faamatau's two-yard touchdown rush. But Joseph Petrino shanked the extra point, and the Terps remained down one.
To start the fourth, Tagovailoa found Corey Dyches on a 13-yard wheel route, and Okonkwo punched in the two-point conversion to even the contest at 14-14.
Then, Dotson turned on the jets, sparking a Nittany Lions rally that culminated in Brown's interception. But when the final whistle sounded, it was Dotson who could almost claim sole responsibility for Maryland's demise.
"He's a big time player, and he made the plays that were available to him," Locksley said.