COLUMBUS, Ohio — There are football games when one team clearly outmatches the other, and it shows on the field and in the box score. Saturday's contest between No. 7 Ohio State and Maryland was one of those contests.
Hampered by injuries, the Terps couldn't keep up with the Buckeyes' vastly superior offense — they quickly fell behind and ultimately succumbed to a 66-17 defeat.
"We played No. 5 [Iowa] and No. 7. We're obviously not there yet," coach Mike Locksley said. "We have a lot of work to do as a program."
While the game was yet another lopsided entry to the Maryland-Ohio State canon, the Terps were missing several key starters, which swung the contest in the Buckeyes' favor from the outset.
That was particularly evident on Maryland's defense, where the impact was immediate. Already missing Deonte Banks, Jakorian Bennett and Kenny Bennett were ruled out at game time, depleting the Terps' secondary. And Ohio State's Big Ten-best passing attack picked them apart.
C.J. Stroud led the Buckeyes 88 yards down the field on their opening series, with all of those yards coming through the air. He found Garrett Wilson in the end zone on fourth down to put his side on the board. They were just getting started.
Ohio State (5-1, 3-0 Big Ten) had 12 passing plays of at least 15 yards, the assault spearheaded by Stroud and his top wideouts — Wilson and Chris Olave. The two stars were on the other end of 204 of Stroud's 406 yards, scoring four times before all three took a well-earned seat on the bench at the end of the third quarter.
"[Stroud] had wide open guys, and he hit the wide open guys, which is what you want your quarterback to do," Locksley said.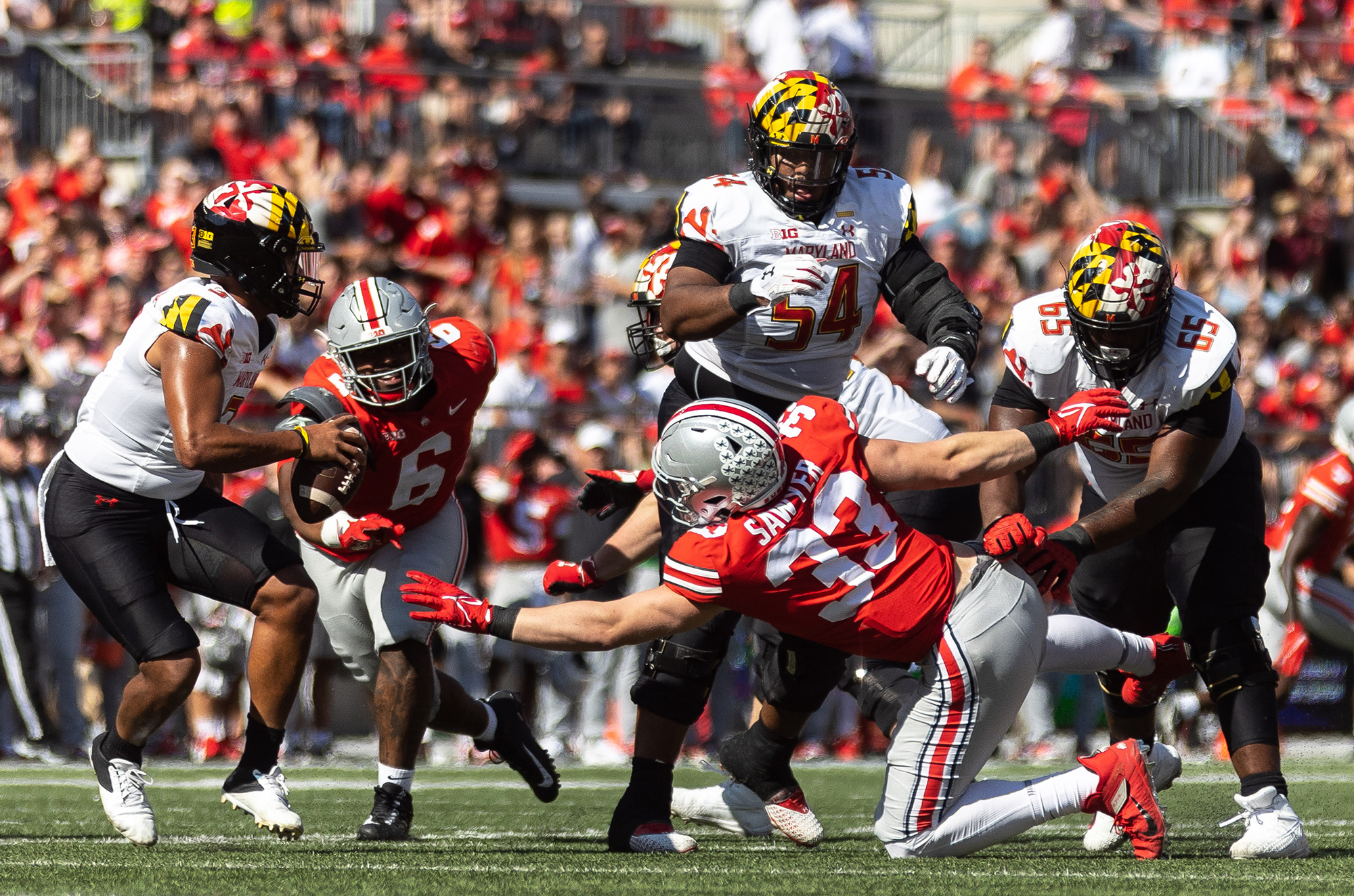 [Maryland football hasn't allowed injuries to hold it back. Ohio State will test that.]
They burned Maryland's backfield, particularly Tarheeb Still, who struggled without his usual backfield mates. Still got turned around several times by Wilson and Olave, including the first touchdown and a third quarter score in which Olave collected a fourth-down reception from 30 yards out.
That left replacements Lavonte Gater and Corey Coley no help as they could not stop Stroud's other top targets — Jaxon Smith-Njigba and TreVeyon Henderson. In a cruel twist of fate, both Gater and Coley got banged up themselves and left the game in the fourth quarter.
"We just got to get back to the basics really, get back to the fundamentals, get back to playing the game step by step" defensive lineman Sam Okuayinonu said. "I felt like some of us got overwhelmed."
The injury bug also infected the offense.
Down Dontay Demus for the rest of the year, Maryland (4-2, 1-2 Big Ten) had to turn to its depth out wide to find success through the air. Yet that plan hit a snag on the second play from scrimmage, when Jeshaun Jones had to be carted off the field with a leg injury after making a six-yard completion.
It slowed that unit a bit, though not as much as the Buckeyes' front seven, which bullied the Terps' pass protection all game. Taulia Tagovailoa haplessly scrambled out of the backfield for much of the contest, rarely finding time to get set in the pocket.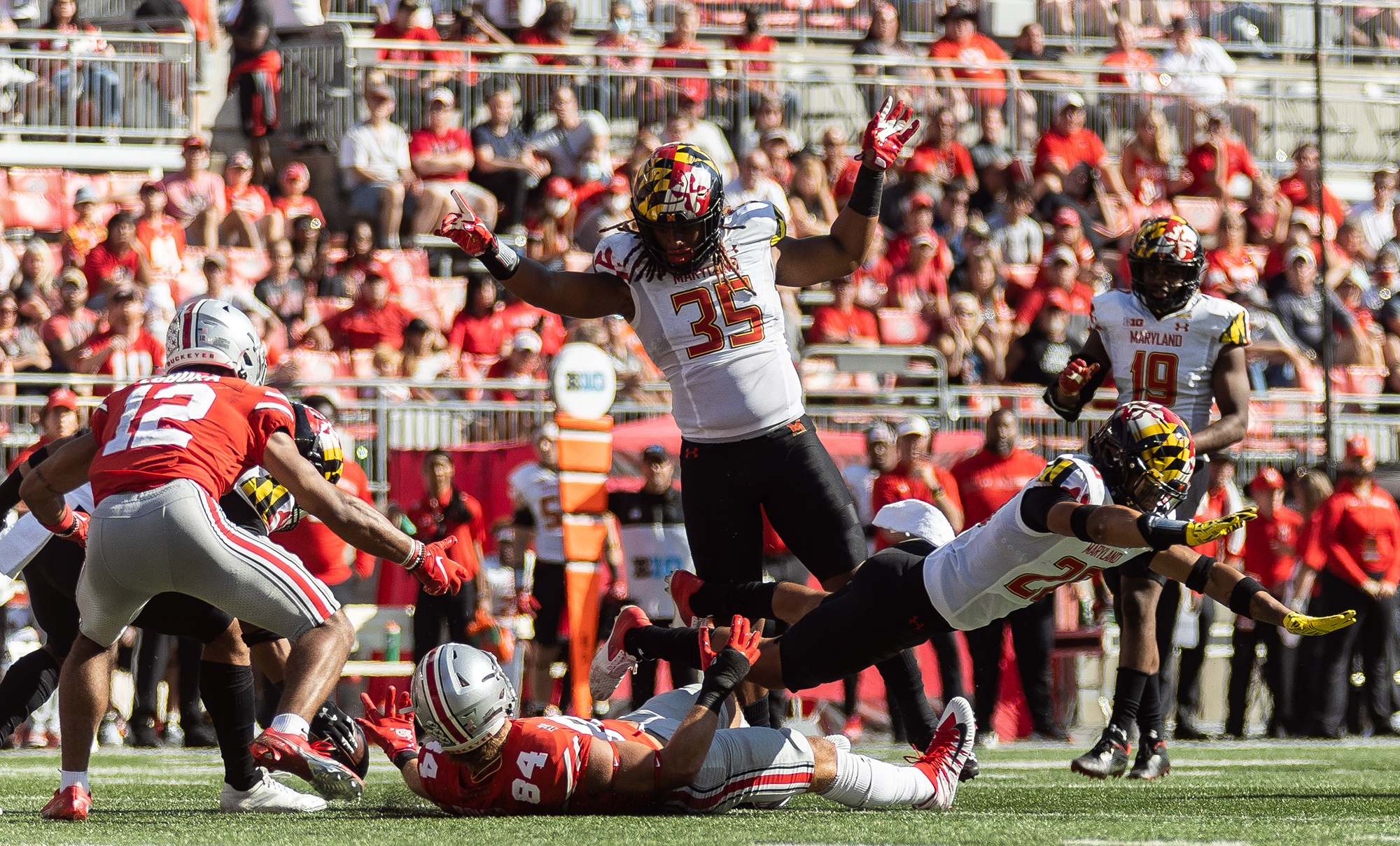 [Maryland football's season often crumbles against Ohio State]
But he looked more poised after a disastrous five-interception performance against Iowa, making strong, smart throws under duress. He finished with 279 passing yards.
"I think our receivers responded well [to the injuries]," Tagovailoa said. "I think they did a pretty good job when I scrambled and making plays when I get the ball in their hands."
Still, that pressure meant Maryland rarely sustained extended drives. The Terps only scored thrice — a field goal on the opening possession, a seven-yard touchdown pass to Carlos Carriere in the second quarter and a screen to Rakim Jarrett that went for 43 yards.
Even if Maryland's offense operated at peak, it likely could not have kept up with Ohio State's attack. The Buckeyes didn't score on just two drives — when they kneeled out the end of the first half and late in the fourth quarter with the backups in.
While the injuries certainly didn't help, Ohio State proved its mettle as one of the country's elite attacks. The Terps fell behind early and couldn't recover, each successive Buckeye possession inevitably turning into a score.
Sometimes, teams are just outclassed. At Ohio Stadium, that was Maryland.
"The last two weeks have showed us we still have a little ways to go," Locksley said. "The bye week couldn't have come at a better time for us."