COLUMBUS, Ohio — In my preview for Saturday's Maryland football game against No. 7 Ohio State, I focused on how the Terps had not allowed themselves to be defined by injuries they had suffered.
It was going to be gut check time for Maryland's offense, with the chance to see its passing game without Dontay Demus Jr. And it didn't look too bad.
But when the news came that the Terps would be without defensive backs Jakorian Bennett and Kenny Bennett, it now became a question of how Maryland would possibly be able to stop C.J. Stroud and the dynamic Buckeye offense.
The short answer is — they didn't.
While the Terps' offense bucked a lot of the doubts about their ability without Demus, Maryland's secondary was burned all day by Ohio State's receivers.
"We had guys look like they fell out of airplanes," coach Mike Locksley said. "They were so wide open … we've got to do a better job calling things that we can get executed with the players we have."
Nothing showed the frustration the Terps had on defense like Chris Olave's touchdown in the third quarter on a key fourth-and-one. As the ball came sailing toward Tarheeb Still and Olave, the sophomore cornerback kept his eyes glued on his receiver and the two collided.
As Olave fell to the ground with a penalty flag in tow, he was able to snag the ball and collect the Buckeyes' seventh touchdown of the game.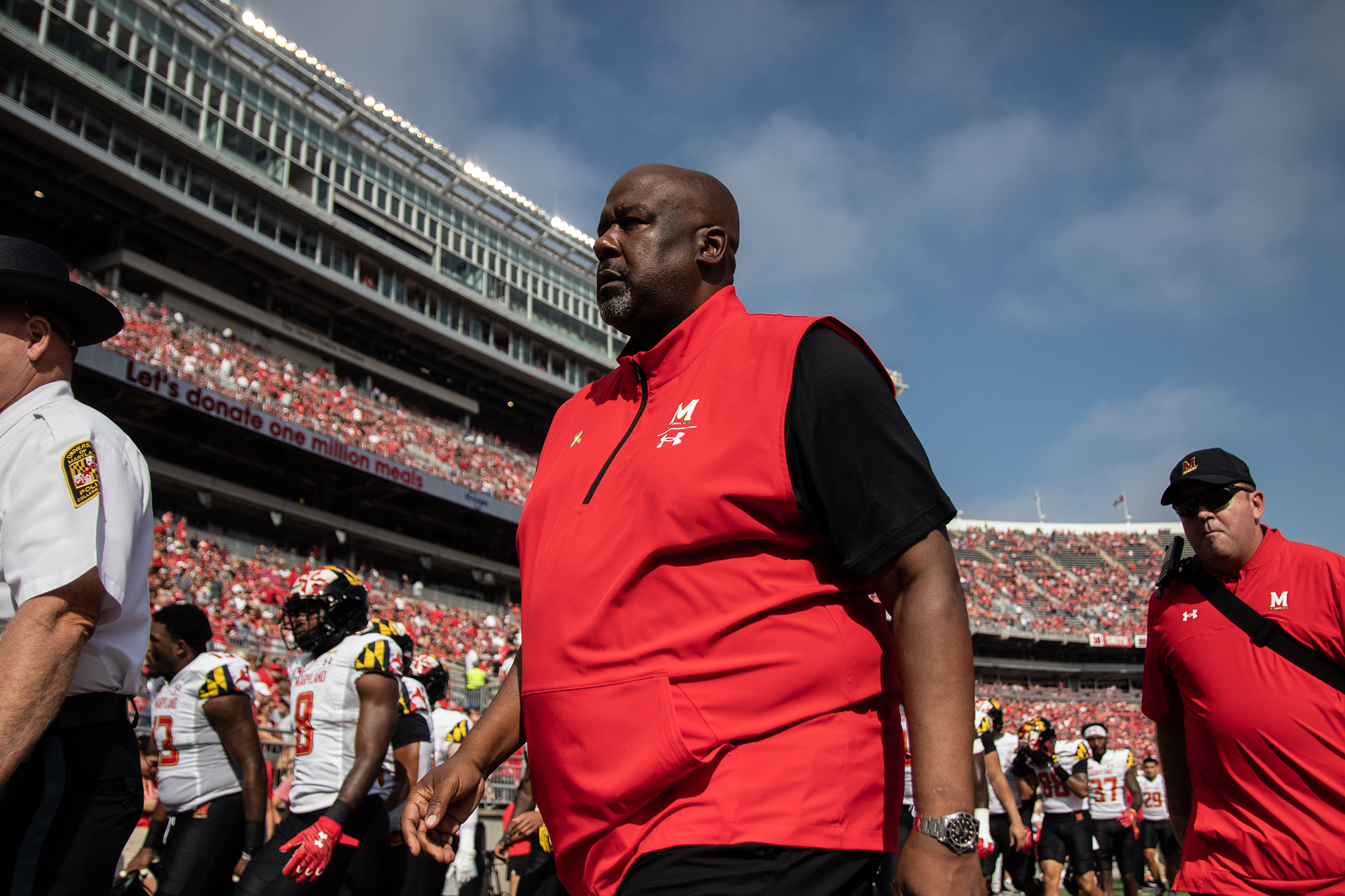 [Depleted Maryland football decimated by Ohio State, 66-17]
That was the story the entire day. Time for Stroud to throw, space for receivers to run — and if there wasn't — an Ohio State player made a big play.
Stroud amassed a monstrous 406 yards and five touchdowns, sitting the fourth quarter. The Buckeyes had two receivers with more than 100 receiving yards, along with wide receiver Garrett Wilson and running back TreVeyon Henderson getting remarkably close.
Maryland gave Henderson a hard time early, but once things opened up in the secondary, he had no problem racking up 169 all-purpose yards.
"Early on, we stopped the run, but I felt like it was the pass that got to us," defensive lineman Sam Okuayinonu said. "We weren't getting off the field on third down. That's important, you've gotta get off the field on third down playing Power 5 ball."
The Terps were stuck with a point deficit quickly, just like last week. And against Iowa, the offense had a tough time keeping their eyes away from a daunting scoreline.
This time around, Taulia Tagovailoa and the Maryland offense kept its gaze at the raging red jerseys in front of them.
"We had a good time moving the ball," Tagovailoa said. "We didn't play to the scoreboard. We kept fighting."
After last week's five-interception performance, Tagovailoa showed up against Ohio State, despite losing another receiver — Jeshaun Jones — to an early injury.
Although it wasn't a clutch showing from the junior, he made good throws throughout the game, amassing 279 yards and a pair of touchdowns. And he did it while being chased down by the Buckeyes' defensive line for four quarters.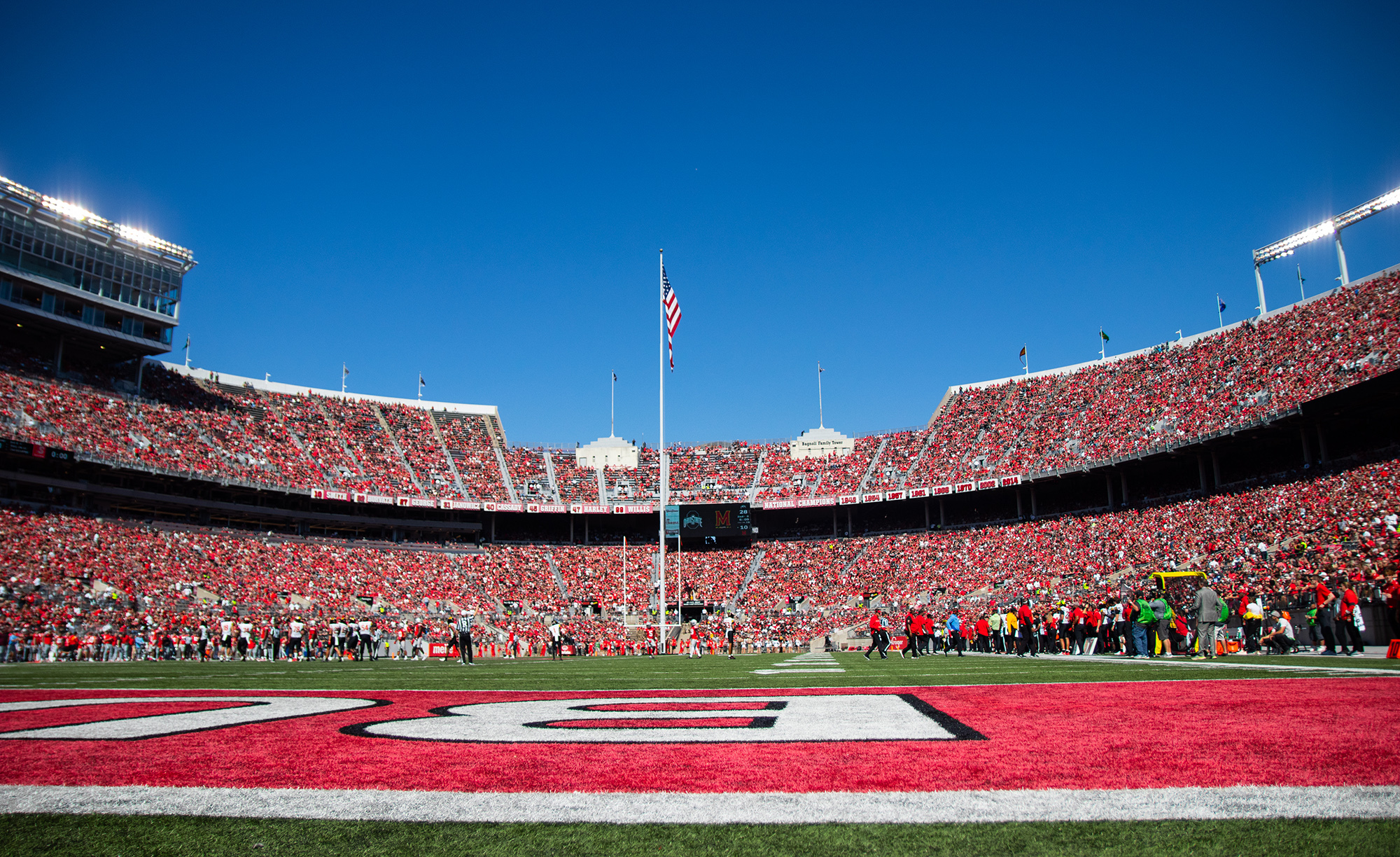 [Maryland football hasn't allowed injuries to hold it back. Ohio State will test that.]
One week ago, Tagovailoa threw three interceptions in the second quarter. This week, he went 9-10 for 96 yards and a touchdown in the same frame.
It looked like Tagovailoa would escape without a pick until late in the fourth when an arcing-throw seemed to get away from him and into the arms of redshirt freshman Ryan Watts. On the next drive, a deflected pass fell to Craig Young, who went 70 yards the other direction for a touchdown.
"He played a really strong game for three quarters," Locksley said. "He just made some piss-poor decisions at the end … For three quarters, he played the type of game that we need out of our quarterback."
On the second interception, Locksley and Tagovailoa both said the quarterback should've handed the ball off based on his read key, but he just wanted to make a play.
So while Tagovailoa seemed to take a big stride in rising to the challenge, there was only so much three solid quarters of game can take the Terps when their defense was caught like deer in headlights.
Now comes time for Maryland to regroup with a much-needed bye week.
Two consecutive blowout losses, no matter the quality of the opponent, can shake a team. But Locklsey and his squad said they refuse to lie down and will continue to build on what has already been an improved season.
"I still have the ultimate confidence in this group of players," Locksley said. "​​As we move into the meat of our schedule, that we'll have an opportunity to continue to grow and develop this program."