By Jacob Richman and Noah Ferguson
The first time Lawtez Rogers set foot in a crowded Maryland Stadium was breathtaking — the fireworks, the mascots, thousands of rowdy Terp fans chanting and shaking their keys on third downs.
"I can't wait to have a stadium full of fans again … to see the Maryland flag come down the bleachers," Rogers said, shaking his head with a smile, "the energy is exciting."
Rogers won't have to wait long to see the state's flag rush down the mob of students. On Saturday, Maryland football hosts what is anticipated to be a strong crowd in their return to a full capacity Maryland Stadium.
As of Thursday, 39,000 tickets have been distributed for the season-opener against West Virginia, with over 11,000 of them being student tickets, per Maryland athletics.
When fans flood to College Park for the first Terps football game open to the public since 2019, it will be a culmination of the reintroduction of Maryland supporters back to the sports that were displaced last year due to COVID-19.
With 10 Terps home games already in the books, players have already noticed the difference in getting their cheering section back.
[Caden Stafford thrived in his first two appearances for Maryland men's soccer]
Ludwig Field
When Maryland men's soccer takes the field, the atmosphere is unmatched. Opponents often consider it a landmark for college soccer, and the task of visiting the Terps' home field can be daunting.
But the same can be said for Maryland players.
"It was very nerve-racking. Just kind of seeing a lot of the fans, especially on Sunday night, was kind of glorifying and it was a bit nerve-racking," defender Nick Richardson said. "You could tell everybody kind of had that little tense nerves in their system to start the game. But it was extremely exciting."
After a season without the intensity of thousands of screaming fans breathing down the neck of the opposing team's keeper, the Terps have enjoyed getting their 12th man back at Ludwig Field.
"All of our players were so excited, as I was, to show up at Ludwig Field, under the lights, with fans in the stands," coach Sasho Cirovski said.
Cirovski said having a vibrant student section showing energy, passion and love propelled the team forward. And Maryland has two solid home wins to show for it against then-No. 18 Charlotte and in-state rival UMBC.
He also praised the community turnout and said he knows people in and around College Park want to get out of the house, and he's happy his squad can entertain them.
For a player like Richardson, who had one season in front of the Terps faithful before playing to the empty bleachers in spring 2021, getting back to the ritual of a Maryland home game is something he won't take for granted.
"I've seen all the pictures, but I haven't really gotten the chance to play too much in front of it, so I'm really going to enjoy it," Richardson said.
Sunday's crowd of 4,089 spurred the Terps to a 4-3 win in a slugfest with the Retrievers. And when George Mason visits Friday, it wouldn't be a surprise if the pack of Maryland fans expands.
"There's nothing like Friday night lights at Ludwig," Cirovski said.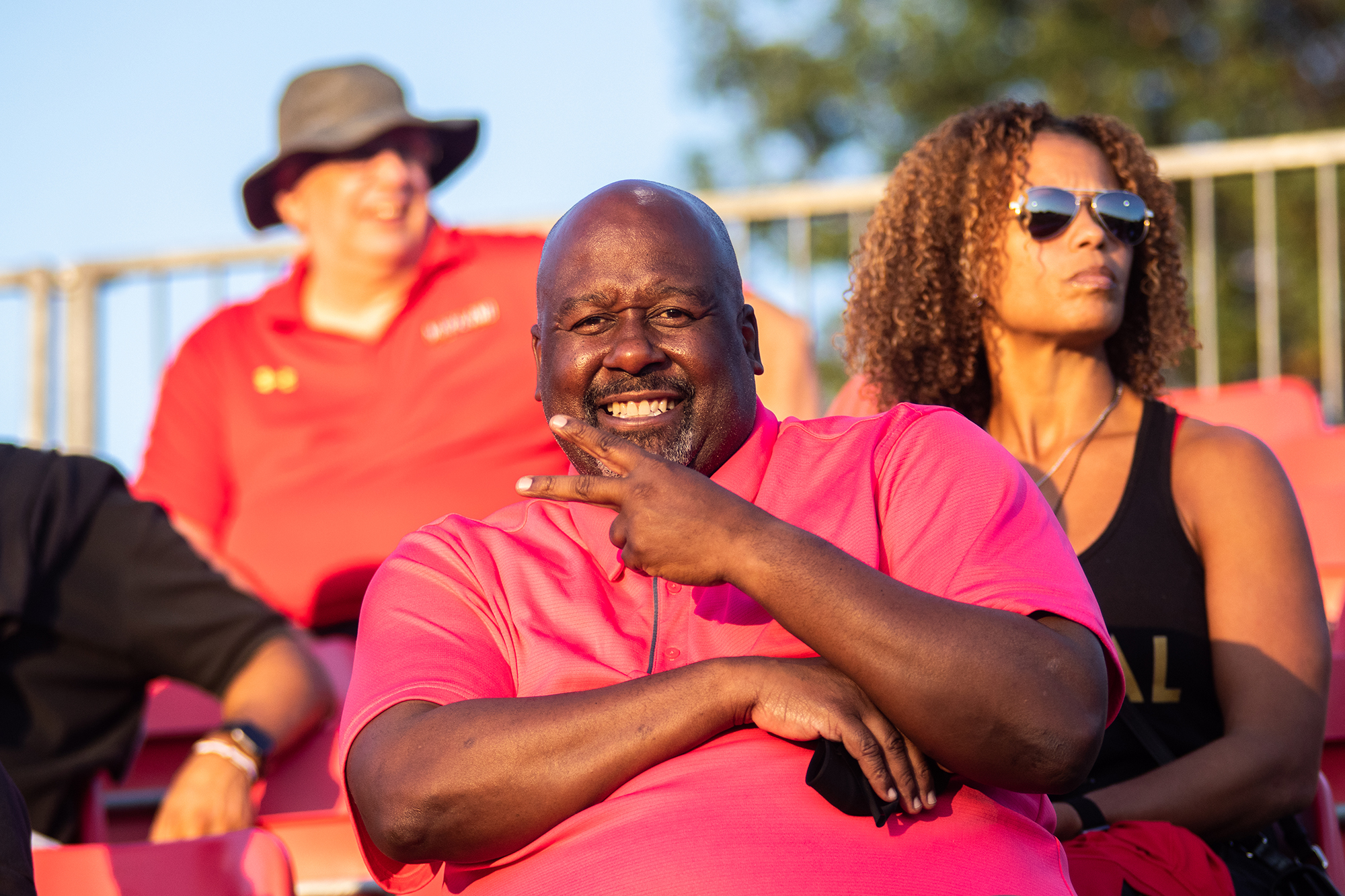 [In opening weekend, Milan Gomillion paced Maryland volleyball to undefeated start]
"The Pav"
With a maximum capacity of just 1,500, the Xfinity Center Pavilion is one of Maryland's smaller sporting venues on campus.
While "The Pav" lacks the large proportions of some of the Terps' other stadiums, its compact structure with fans stationed just feet away from the action can generate a hostile, raucous environment for visiting programs.
And with fans allowed back into the pavilion for the first time in 22 months, Maryland volleyball is finally feeling the impact of a home crowd.
"It was crazy," graduate transfer Hannah Thompson said of her first match at the pavilion. "I've never been in a gym where the fans were right there, and it was a lot of energy. There was a few nerves, especially at the beginning, but just using all of that love and support to play your best on the court was awesome."
For coach Adam Hughes, having fans back in attendance to pack the pavilion has given his players a distinct advantage in the team's young season.
"That's why we love 'The Pav', because it's a little bit small, a little bit tighter, but when it fills up, it can be loud," Hughes said. "It can be the big difference when you're at 22-20, can you turn a point and fans go nuts. It gives our players energy."
The Terps, who are donning a roster full of youth after losing several veterans in the offseason, have leaned on the crowd en route to a 3-0 start to open their fall 2021 slate.
"I know we have some vets but there are a lot of young players out there," Hughes said. "Whether it's Sam [Csire] … Syd Dowler, Laila [Ricks], Milan [Gomillion], I mean you talk about a lot of guys that haven't had a ton of experience yet, so having a home crowd is huge."
[After year away, Chig Okonkwo is primed to lead Maryland football's renewed tight end room]
"The Shell"
When coach Mike Locksley looks out of his office window, he sees the bronze turtle shell that Maryland put up just in time for his team to run out of it in his first game as head coach in 2019.
Eventually, it became second nature for Locksley to start referring to the home stadium as "The Shell" amongst players and coaches. He said he's always had a marketing mindset, and after coaching at schools such as Florida — which lovingly calls Ben Hill Griffin Stadium "The Swamp" — he thought it was a good fit.
"It started as an inside nickname for the stadium, for me," Locksley said. "But it's very appropriate now that we do run out of a turtle shell to enter into Maryland Stadium."
And after saying the name a few times in news conferences, it seems as though the moniker is starting to find its way into the culture Locksley has been building over his first three years at the helm of Maryland football.
"Why not ride the wave?" he said.
But what makes this season-opener unique for over half of the roster is this will be their first time at "The Shell" with their crowd. With freshmen, sophomores and some upperclassmen never having that experience, the promise of an unforgettable moment is high.
"It's gonna be a blessing," quarterback Taulia Tagovailoa said.
Tagovailoa is slated to be the Terps' top option at quarterback once again, but the junior will be one of the many Maryland players getting to meet the fans for the first time.
Even without the experience of a resounding Terp crowd, Dontay Demus Jr. said he has faith in his young teammates to stay focused on the task at hand.
"I talked to the guys, a lot of guys, they were that type of man at their high school," Demus said. "I told them to think about it like that. You have a crowd the same way you had your crowd before. Just act like you've been there before."
The stakes are high for Maryland as the team looks to start fall 2021 on a strong note. The rival Mountaineers return to College Park for the first time since 2014. It will need to be both veteran play and maturity from the unseasoned underclassmen to lead the Terps to just their second win over West Virginia in the last 10 meetings.
And with an eager crowd behind them, Maryland can say it has its boost.
"Just to be able to bring that atmosphere that we didn't have, have that crowd roaring, giving you that extra energy, that 12th man energy … that's really big for us," Demus said.