Nestled in a pocket of Berwyn Heights, about a 15-minute walk away from the University of Maryland campus, is a sweet little house with black shutters and an odd nickname: Shark Jar, after a chemically preserved baby shark that one of its former residents found while thrifting.
Not too far away is a witchy-looking house filled with nooks and crannies called Coven Cove. Then, in Calvert Hills, there's Mad Ox, which is named after the woman who founded Cooperative Housing at University of Maryland — the community that all three houses belong to.
But in a city filled with expensive high-rises, there's something beside these houses' goofy monikers that set them apart: rent that ranges from $350 to $400 for a double room.
Affordable housing is sparse in College Park. Route 1 is already lined with luxury apartment buildings — where rent reaches up to $1,300 for a four-bedroom, four-bath unit — and more are on their way to the area. The Aspen and the Hub, which will replace the Knox Boxes in the near future, are set to feature amenities like hot tubs, pools, lounge areas with fire pits and pool tables and bistros. The city's median rent is already at roughly $1,185, and after these apartments open for business, it's not likely to drop any time soon.
Considering the scale of the problem, some city officials raised doubts that cooperative housing could be the whole solution for the lack of affordable housing available for students in College Park. Still, Cooperative Housing at University of Maryland represents a safe haven for those who might otherwise not be able to afford to live so close to the campus. And as the cooperative works to build capital and ultimately purchase its own property, its treasurer, senior public policy major Ayesha Amsa, said it has the potential to further shape what housing looks like in the city.
"I do think CHUM can become a much larger force than it is right now," she said.
CHUM has existed in College Park since Rachael Maddox founded it in 2009 as a product of her thesis, which examined the lack of affordable housing in College Park. Though the cooperative currently has three houses, it has previously had up to six at one time. 
Typically, CHUM rates go up to $400 for a double and singles are usually $600. On top of that, residents pay a grocery fee of roughly $50 every month. To save even more money, they try to buy in bulk when shopping.
What makes cooperative housing so affordable is that residents don't own the space outright, but instead are shareholders in the co-op itself. CHUM is a zero-equity, not-for-profit organization, meaning it operates on an "at-cost" basis — only collecting money from residents to cover expenses — and cannot sell property for a profit. Besides paying rent each month, CHUM members contribute to the cooperative by doing chores, cooking and serving on committees to keep the organization running.
Though CHUM is exclusive to College Park, there are plenty of other housing cooperatives in areas close to the city, such as Washington, D.C., and Silver Spring. Nationwide, these types of living situations tend to be concentrated in cities where the cost of living is high, such as New York and Boston.
Increasingly, housing cooperatives are also becoming popular in college towns. According to Welcome to the Table, a website that supports co-ops, there are currently 51 housing cooperatives in areas surrounding U.S. colleges and universities. In the case of the towns surrounding the University of California, Berkeley and the University of Michigan, more than one cooperative provides housing to students. Amsa says she can't see why the same couldn't happen in College Park.
"UMD should also have this resource," she said. 
The future of CHUM and affordable housing in College Park
There have been CHUM houses in Calvert Hills for just over a decade — and District 3 council member John Rigg said their residents have always been great neighbors. When Rigg was the president of the Calvert Hills Citizens Association, he teamed up with CHUM members to put garden boxes by the trolley trails. 
He has always been a supporter of co-op living, he said. During his college years at Emory University in Atlanta, he lived in an intercultural co-op called the Spice House, where he met his wife. Still, he said it would be difficult for CHUM to provide widespread affordable housing with its limited resources. For that reason, Rigg doesn't see cooperative housing as the fix-all for the city's affordable housing issue.
"We're talking about thousands of students that need access to affordable housing and CHUM has, at any given point in time, housed a few dozen," Rigg said. 
District 4 council member Denise Mitchell agreed. While she supports CHUM as an affordable option for students, she says the city is planning additional steps to make housing less pricey for residents.
Over the next few weeks and throughout the summer, Mitchell said the council will be talking more concretely about how to implement affordable housing solutions in College Park. She and her colleagues will look at the measures that nearby cities, such as Hyattsville, have in place and consider the perspectives of other college towns that are members of the International Town and Gown Association.
She noted that the city still needs to define what housing affordability means in College Park.
"Everyone has a different perception," Mitchell said.
[Priced Out of Town: A look at housing costs in the College Park area]
Amsa, however, is more optimistic about the influence that cooperative housing could have on the affordability problem in College Park. Under this model of housing, she said students not only have cheaper rent, but by serving on various CHUM committees, they also have a say in how the organization is run.
Because of this, co-op residents aren't bound to decisions made by the university or by apartment complex owners. At the end of each rental year, CHUM members vote on whether they'd like to continue living in a certain house, or if they'd like to look for another one and seek out a new landlord willing to partner with the cooperative.
But since CHUM's beginning, it has had a bigger goal: property ownership. Since its founding, members have paid monthly "Future Investment and Rent Emergencies" fees. Though these fees typically come to $35, members can lower the cost they pay by performing other duties for the cooperative. For example, if a tenant helps in the garden for a couple of hours, they only have to pay $25. CHUM then saves this money, which Amsa said will hopefully go to a house one day.
Once CHUM purchases one house, Amsa said it will become easier in the future for the cooperative to buy more. Even as one organization, she said she feels like CHUM can make a difference in the city.
"Pushing cooperatives as a solution is a very possible answer to this crisis," Amsa said. 
Life at CHUM
During Catherine Oberfield's freshman year, she set out looking for housing in College Park with a budget of $350 and a desire for community living. 
Apartments, she found, were too expensive and too impersonal. Though group houses had the community feel, they proved to be too expensive for their quality. But CHUM was perfect, and she became a member her sophomore year.
Four years later, Oberfield has lived in three CHUM houses, and her rent has never exceeded her original budget. She still lives in a CHUM house, even though she graduated in May. Not only has the housing cooperative been affordable, but Oberfield says it's also been the first place that has felt like home. For her — a queer, biracial woman — it's a safe space. 
CHUM, much like other co-ops, values democracy, inclusivity and equity and aims to be a safe space for all. Many of CHUM's residents are members of the LGBTQ community. Some members eat vegan or vegetarian. But no one is made to feel inferior, left out or pressured to do things they don't want to do. 
When Elliott Shepherd decided to come to this university after a gap year in Florida, a former graduate student immediately recommended that they live in CHUM. After some preliminary research, the now-junior linguistics major decided it was the perfect place for them. They didn't even consider other living options. 
[Some UMD undergraduate commuters say housing costs pushed them out of College Park]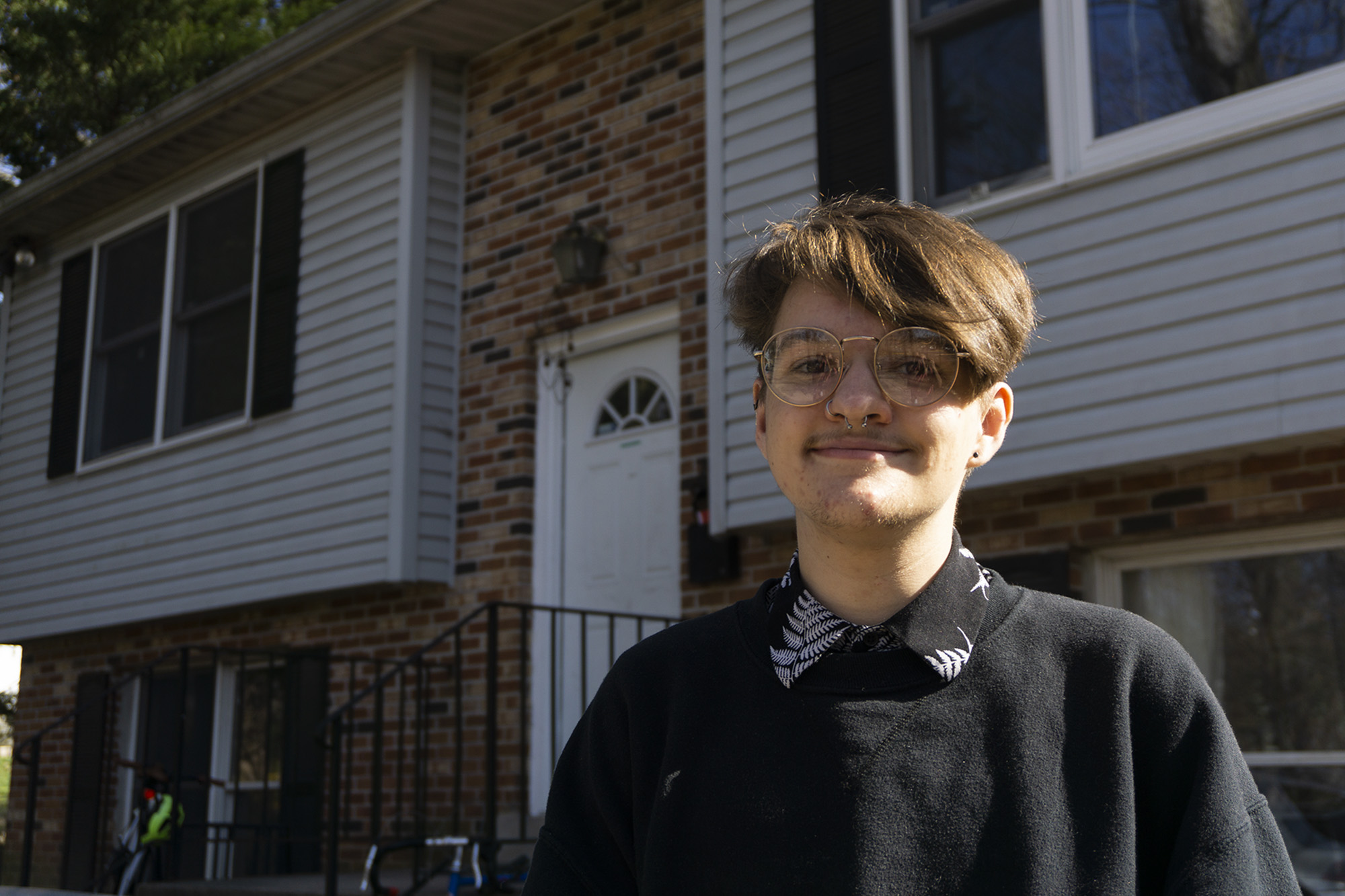 Currently, they live in Shark Jar. And even though Shepherd's roommates aren't necessarily who they would have initially picked, they still get together and enjoy each others' company — and Shepherd is still happy to be a member of CHUM.
"I love being in a community where we're all looking out for each other and we're all working together to achieve common goals," Shepherd said. 
Group dinners make up a big part of the sense of community in CHUM houses, Oberfield said. Though schedules and diets vary from house to house — Coven Cove, where Oberfield lives, is vegan, and Shark Jar is typically vegetarian — each night, one person is responsible for cooking dinner for everyone they live with. The last time Oberfield cooked for her house, she made shepherd's pie. Usually, she'll also bring back fresh vegetables from the farm where she works in Olney to make a salad for the meal. 
In Oberfield's experience, a good dinner system is what makes a good house.
"It's a time where we all come together and we're able to share stories and laugh and just enjoy each other's company," she said. "At the end of the day, if you had a rough day at school or work, you know that dinner is going to be on the table."
To live in CHUM, prospective residents fill out an application that asks about their living preferences — if they would be comfortable with potential drug use or pets in the house, for instance. CHUM's New Membership Committee then selects applicants who they think would be a good addition to the cooperative; the committee's goal is always creating an environment that is safe and inclusive, so its members pick people who would contribute to CHUM's culture and are open to living with people with different identities than their own. The committee then matches members with houses where they would fit in.
After becoming members, people are responsible for serving on a CHUM committee or on the executive board. Shepherd leads the Handbooks and History Committee, which preserves CHUM's traditions and history. Oberfield is the grocery manager of her house, which means she's in charge of all grocery shopping. She has also served as head of the Gardening and Sustainability Committee.
But while Amsa says these committees serve as a great way to keep the cooperative running, she says CHUM's high turnover rate can pose some challenges.
"It's almost always a new person every year because, like any other student organization, after four years or less, the people who have all the knowledge [and] skill move on," Amsa said. 
For this reason, the organization is hoping that more long-term College Park residents will start living in CHUM, Oberfield said. 
But at the end of the day, Oberfield recognized that not everyone in College Park needs affordable housing. 
"There are plenty of senators' sons out there who have no problem paying $1,000 rent," she said. "It's whether or not College Park wants to create a space for people like me who don't come from rich parents."
CORRECTION: Due to a reporting error, a previous version of this story misstated the range of rents for CHUM rooms. Monthly rent for a single is usually $600, not between $375 and $515. Monthly rent for a double is usually between $350 and $400, not a maximum of $390. The story also misstated that executive board members only pay five dollars in FIRE fees. Though executive board members — like all members — can lower the cost they pay by performing other duties, their fee depends on their contributions. The minimum FIRE fee is five dollars for all members.