Justin Duffie played just one snap for Maryland football before the 2002 Peach Bowl.
He was a walk-on, a 300-pound lineman that had only seen the field during garbage time as a long snapper during the Terps' thrashing of North Carolina earlier in the season.
So when defensive line coach Dave Sollazzo approached Duffie and told him he'd be Maryland's starting nose tackle days before the Terps' bowl bout against Tennessee, it was the start of a sudden, yet "surreal" experience.
"We lost our other defensive tackle for disciplinary reasons," then-coach Ralph Friedgen said. "I just told [Duffie] to tackle the guard and hope to free up E.J. [Henderson]."
"He's the epitome of being ready when your number is called," current coach and former running backs coach Mike Locksley said.
In a matter of days, Duffie went from battling for reps on the scout team to running out into the bright lights of the Georgia Dome as a starter for a ranked Maryland team that had won nine of its last 10 games.
It was a crowning achievement for a player who arrived at Maryland not planning to play football but eventually found his way onto the field, all while fighting a serious battle against Crohn's disease.
"Start the period over!"
When Duffie first arrived in College Park, it wasn't to line up at nose tackle for Friedgen's defensive front on the football field. He was a scholarship lacrosse player, a product of Landon High School's top-ranked lacrosse team and a member of coach Dick Edell's Terps in 2001.
Maryland football's trainers often helped out with the lacrosse team. They worked closely with Duffie and eventually convinced him to try out for the football team when Edell retired after the season.
['It was an ass-whoopin': 2002 Maryland football team reflects on Peach Bowl win]
By the end of his first year, he was playing scout team defensive line.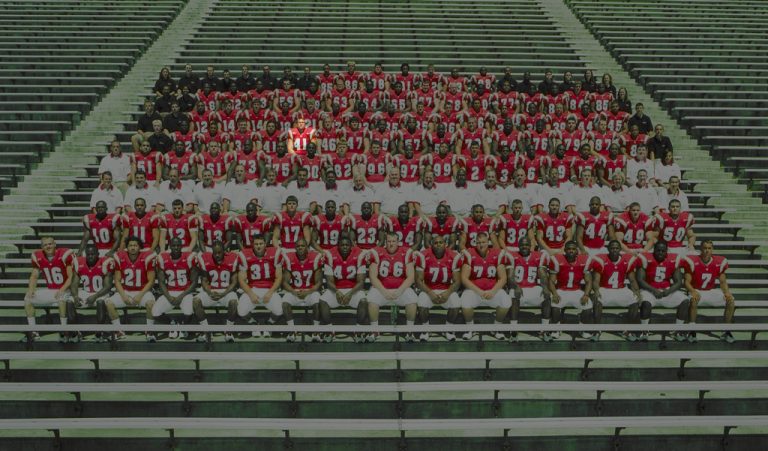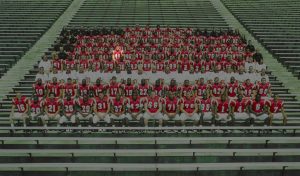 That's where Duffie first made his presence felt. Once a 235-pound lacrosse player, he had worked his way up to nearly 300 pounds over the course of the season.
Duffie remembers "killing the starters" during practice, which would usually draw the ire of Friedgen from the sidelines.
"It was the best thing ever," he said. "You make a period start over, and they'd get pissed off and there'd be a fight or whatever."
Despite making waves on the scout team as just a freshman, Duffie's hard work didn't immediately translate to a starting role — his one play against the Tar Heels marked his only collegiate snap heading into the bowl game.
But when Duffie was suddenly thrust into an unlikely starting role after his teammate was sent home for breaking team rules, he didn't shy away from the moment.
He played from the opening snap and helped Maryland's defense shine — registering two tackles and holding a star-studded Volunteers' offense to just three points in the Terps' first bowl victory in 16 years.
Duffie wasn't nervous despite his lack of in-game experience. Countless matchups against a talented Maryland team in practice had forged his mettle.
"It was my time to step up and play, and so that's what I did."
"Something's not right."
When Duffie jogged off of the field following Maryland's second defensive possession of the game, he threw up.
"God, this guy's in terrible shape," Friedgen remembered saying as he saw Duffie exit every fourth or fifth play to throw up on the sideline.
Duffie knew it wasn't his physical fitness that caused him to get sick on the sidelines between drives. Something wasn't right with him, he remembered thinking to himself as his coach teased him during the game.
[Maryland football finalizes 2023 schedule]
He battled through his ailment, helping the Terps break their long bowl drought before partying with his teammates at the team's hotel following the win.
After the season ended, he consulted his doctors. He had been diagnosed with Crohn's disease years earlier, but hoped the ailment was manageable enough to continue playing collegiately and, one day, professionally.
But just as quickly as his Maryland football career started, it stalled. Surgery forced Duffie to miss the entire 2003 season, a time he called his "lowest low."
"He had to have … like four or five feet of intestines taken out," Friedgen said. "That was the end of his football days."
Duffie attempted to continue to play for Friedgen in his senior season with dreams of the NFL still in hand. But despite regaining his starting spot and playing a few games as one of the Terps' senior leaders, he was forced to stop playing after the disease continued to worsen.
"I was so sick, man, I couldn't do anything," he said.
Still, Duffie stayed with the team. He remembers talking with Friedgen in his office, where the head coach put him in contact with others who had gone through a similar situation. Friedgen allowed Duffie to join the Terps on road trips during a time when the program usually didn't allow injured players to travel.
"My relationship with [Friedgen] is pretty special, I love the guy," Duffie said.
"He's an old-school coach … he made people go to school, and he made people practice really hard," he said. "And I think that in life, that taught me a lot of valuable lessons."
Their relationship extended even after Duffie's departure from the program following his senior year. Friedgen brought Duffie out to his golf tournaments years later, and Duffie would go to visit his former coach at his house in Georgia to celebrate the Fourth of July.
Crohn's disease cut Duffie's budding Maryland football career short. But when he looks back on his impromptu start at the Georgia Dome nearly 20 years ago, he thinks back to the good moments.
He fondly remembers the 11-hour car ride from College Park to Atlanta with his best friend, Maryland backup quarterback Chris Kelley. Years later, the two started a landscaping company together.
Duffie can still picture the opening snap of the Peach Bowl, when he was able to match up against an SEC opponent in front of thousands of fans.
And when he now watches his youngest son put on a helmet to play tackle football, he reminisces on his experience as a walk-on-turned-starter, an experience that ended with him celebrating as a member of the Peach Bowl champion Terps.