Whenever Jacob Copeland stands shirtless in front of a mirror, he sees two tattooed faces on his stomach. Both are of dead loved ones, his father on the left and his best friend on the right, separated by vertical text which reads, "FAMILY."
The ink represents two major losses in his life. Copeland's father, Darrick Bennett, spent periods of time in and out of prison and died when Copeland was 13 years old. His nephew and best friend Jaylen Millender died in 2019 after a seizure.
The football field gives the Maryland wide receiver space to take his mind off of the people he's lost and the tough questions that come with life's fragility. 
But he said when he's alone, the enormity hits him.
"I'll never forget those people because they were so close to me … Every time I'm close to someone, I end up losing them … I was always wondering and questioning, why does this happen to me?" he asked. 
"But one thing that's promised in life, we all got to die. I realized that and it's like, I gotta live life and stay positive … keep a smile on my face, even though things get tough and rough at times, you still got to stay focused," Copeland said.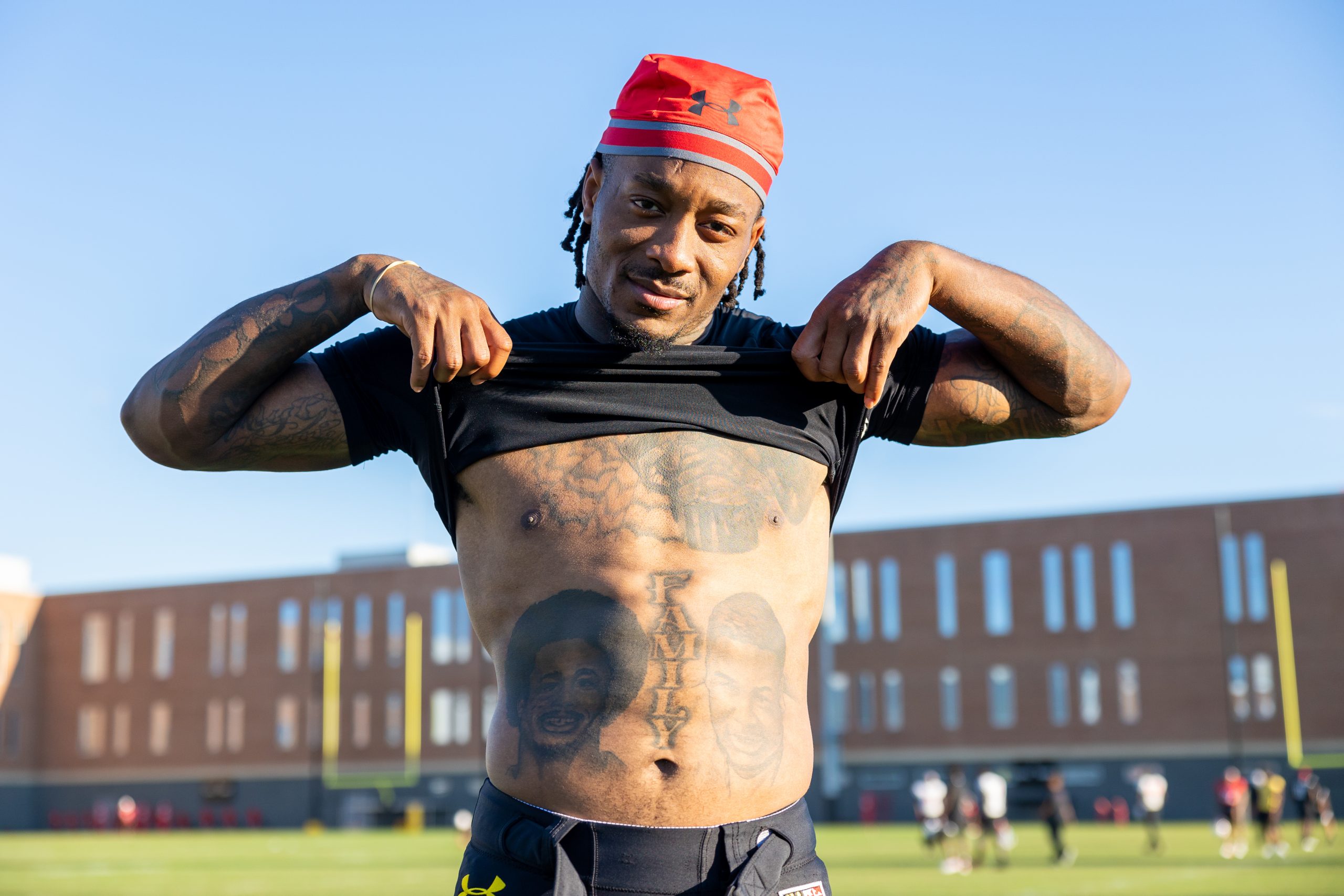 He joined Maryland football's loaded wide receiver room after he transferred from Florida in December 2021. His athletic exploits before that turned him into a local legend growing up in Pensacola, Florida.
He's got an award named after him for youth football players that make one-handed catches, earned baseball scholarships to LSU, Florida State and Georgia despite not playing since eighth grade and led Escambia High School to a 28-point comeback by delivering an impassioned halftime speech to his team and scoring four second-half touchdowns.
But that time also exposed him to the effects of poverty, violence and incarceration on those closest to him, particularly his six older brothers, some of whom are half-brothers.
Copeland escaped the worst of those effects due to his own desire to succeed and a support system bolstered by his youth football coach's family. 
He comes to College Park after a tumultuous tenure at Florida that started with a painful, viral moment during his commitment and ended with his transfer due to dissatisfaction with the Gators' offensive strategy. He made it out of the dangerous area he came from — one of the few people in his neighborhood to even make it to college — and he's focused on setting himself up to ensure he succeeds.
[With eyes on SMU, Maryland football wants to clean up messy defensive play]
An extended family
Copeland's Instagram story highlight titled "Motivation" has just one picture — a snapshot of a one-story house bordered by a patchy lawn with more tan dirt than green grass and a slightly broken window. 
Until age 12, Copeland lived in that house, watching robberies and shootings happen in his neighborhood. That violence found itself inside the house when he was 8 years old. 
Six bullets flew through the residence as he and his half-brother played PlayStation. They ran outside, where another one of his half-brothers lay in the front yard after being shot three times. He survived, but the event made an impact on a young Copeland.
"It was just things like that used to traumatize me," he said. "Seeing all that, it was just like … I distance myself when I see something crazy going on nowadays … I like to be around good vibes, good people."
Trampas Miller, a sales representative for an electronics company, coached Copeland in youth football, beginning with the Brent Raiders when the wide receiver was 6 years old.
The coach's son T.J. and Copeland became friends, and the pair spent many weekends at the Millers' house. That wasn't an uncommon experience, even for other players on the coach's teams.
"We have so many kids in these neighborhoods that half of them don't have fathers at all," Pamela Miller, Trampas Miller's wife, said. "Trampas is their father figure … we have eight or nine kids from the football team every Friday night spending the night … they just loved him."
Trampas Miller was exposed to Copeland's living situation when he dropped him off after football practices and saw drug deals happening right near the front door.
His concern grew, as did Pamela Miller's.
"I just saw a kid that needed somebody to pay attention to them," she said. 
With his mother Betty Copeland's permission, Copeland formally moved in with the Millers at the age of 12 in search of more stability. He still maintained a robust relationship with his mother and brothers after moving out of their home, staying with them on some weekends and keeping in regular touch.
The move wasn't about taking Copeland away from his mother and brothers, Trampas Miller said, but more about joining the two families to give the 12-year-old a better chance to escape the rough situations he grew up in. 
"We've adopted the whole family and they've adopted us," Trampas Miller said. "So we just became an extended family."
That relationship took time to grow. Copeland and Trampas Miller frequently clashed growing up in what Copeland called a "love-hate thing."
Trampas Miller would kick him off of the youth football team because of his hot temper, the receiver recalled, only to then bring him back days later. Those clashes continued when Copeland moved into the house and the Miller parents began imposing more rules.
"I was young, and I didn't realize and I didn't understand things in life," Copeland said. "[Trampas Miller] was only trying to teach me the life lessons."
When Copeland started high school, he and some other football players were stopped by police officers when they went to a party. The then-freshman was slapped with a loitering charge, but the Millers got him an attorney who resolved the situation without any further issues. 
The incident helped Copeland understand that Trampas Miller and his family had his back.
"From that moment, I knew a lot of people [weren't] in my corner," Copeland said. "The ones that was in my corner, to this day, are still in my corner. They're the same ones I keep communication with."
Copeland still has a room in the Millers' house and said they'd been his family since they met when he was 6, calling it "an instant love."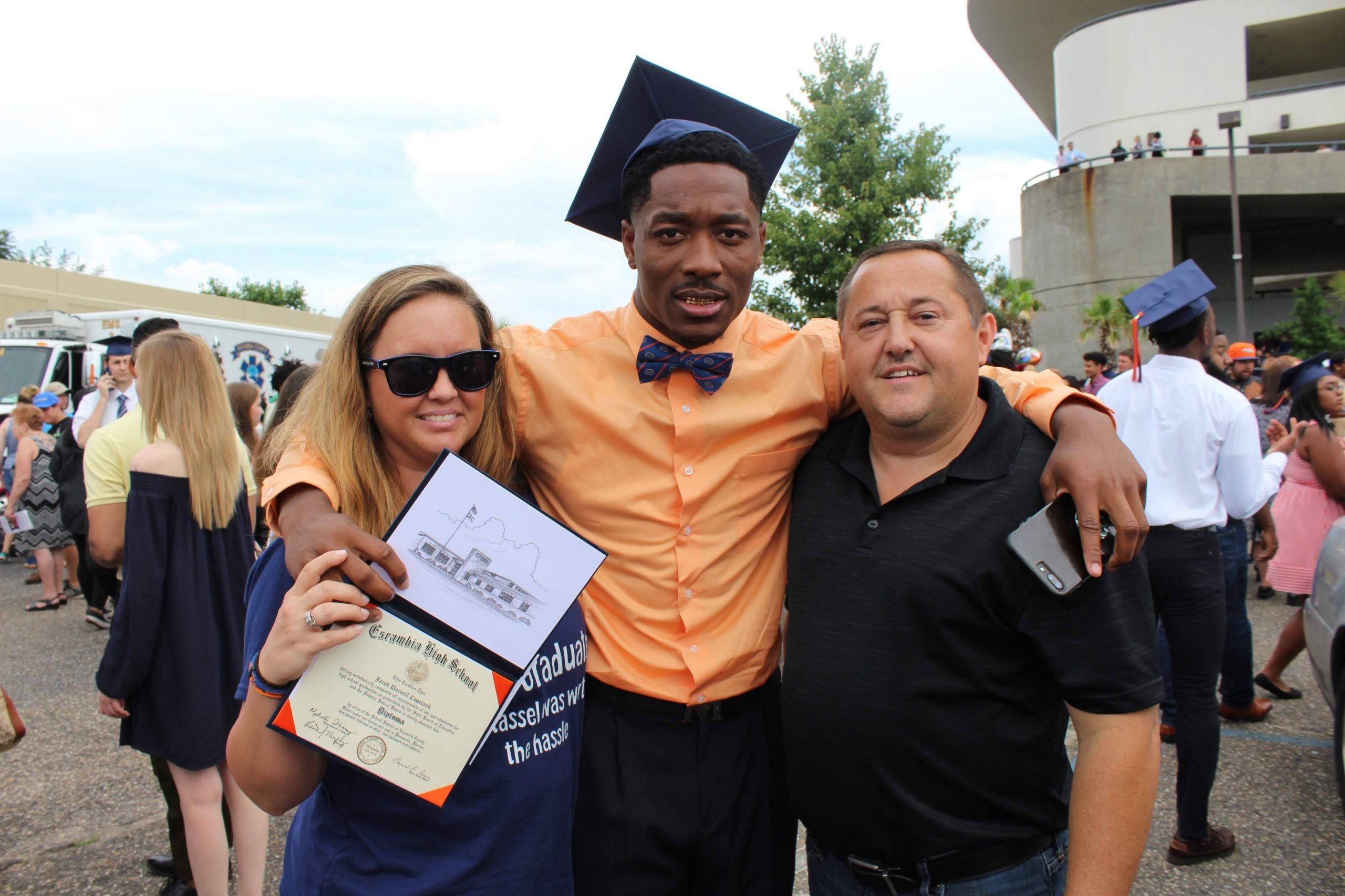 Each family member plays a different role in his life, Pamela Miller explained. Copeland goes to her for medical and financial advice and Trampas Miller for football issues. Copeland and T.J. Miller, who are just months apart in age, are close friends that joke and laugh together. 
The oldest Miller child, Kayla, served as Copeland's big sister and mentor. When it came time to pick colleges, she sat him down and made him write out what he wanted to do in life and evaluate the schools based on that metric. Her time at the University of Florida overlapped with some of Copeland's tenure. She helped him set up his apartment, bought him birthday cakes and even took him to the DMV to get his driver's license.
Soon after, the Millers bought him a car like they did their other kids — a 2016 Kia Optima with leather seats in Copeland's favorite color: red.
He's embraced them as much as they've embraced him. 
Copeland considers the Millers part of his family and credits them with saving his life. If it wasn't for them keeping him on track, he thinks he would've fallen victim to the environment he was raised in like so many others around him.
"If it wasn't for that family, I wouldn't be playing ball," he said. "I know I wouldn't, it's guaranteed. I know I wouldn't."
[Maryland football's Taulia Tagovailoa flourished in performance against Charlotte]
Coming to Maryland
By the time Copeland played in Florida's 29-17 loss to UCF in the 2021 Gasparilla Bowl, he knew he wanted to transfer.
He arrived with the hype of being a four-star recruit but also with controversy. His mother walked out of his signing day celebration on national television after he announced his commitment to the Gators. The video, posted to ESPN's YouTube account, has been viewed more than 17 million times. 
In the aftermath, people speculated about Betty Copeland's reasonings, with some accusing Copeland of gang relations — claims he and his family vehemently deny.
"He's such a sweet kid that some of the things that get written about him, especially around his signing day, it blew our minds, you know?" Pamela Miller said. "He's never even gotten a referral [in high school]."
The truth as to why Betty Copeland walked out is simpler — her son changed his mind without telling her and she disapproved of the choice. In addition, her mother grew up in Alabama and she wanted Copeland to go there to represent her.
"Only thing I was angry about was that he didn't tell me beforehand," Betty Copeland said, adding that the two patched up later that day in a tear-filled moment. 
Copeland redshirted for a year at Florida behind a pass-catching group that included Kadarius Toney, Van Jefferson and Kyle Pitts. 
He became a starter his third year but struggled with a conservative Gators' offense that didn't take any deep shots downfield, he said.
[Maryland football rolls over Charlotte for second-straight win, 56-21]
Trampas Miller said Copeland initially wanted to transfer after his sophomore year, but he told Copeland to explore all options first. The two met with then-Florida wide receiver coach Billy Gonzales and head coach Dan Mullen for a meeting that ended well but didn't result in any drastic changes.
With Jefferson, Pitts and Toney gone in his fourth year, Copeland felt it was his turn to be the "big man," Trampas Miller said.
"Long story short, the offense just didn't pan out," he said. [The offense] just wasn't able to get the ball to him."
Copeland entered the transfer portal and received an offer from a coach he knew well: Maryland's Mike Locksley. The two connected when Copeland was recruited to Alabama and the young wide receiver immediately trusted the coach due to his honesty.
"It was an instant connection," Copeland said. "Everything was true, from the heart. There was no sugarcoating between us … the relationship was always strong."
Copeland likely would've gone to Alabama if Locksley was the head coach, Trampas Miller said. With their bond, coming to Maryland became an easy choice.
"Why not go ahead and put my future in his hands?" Copeland asked.
Locksley's already seen the benefits of bringing the receiver in. He's seen Copeland mature from high school to now, praising how he's "gone about his business" and calling him a "great teammate."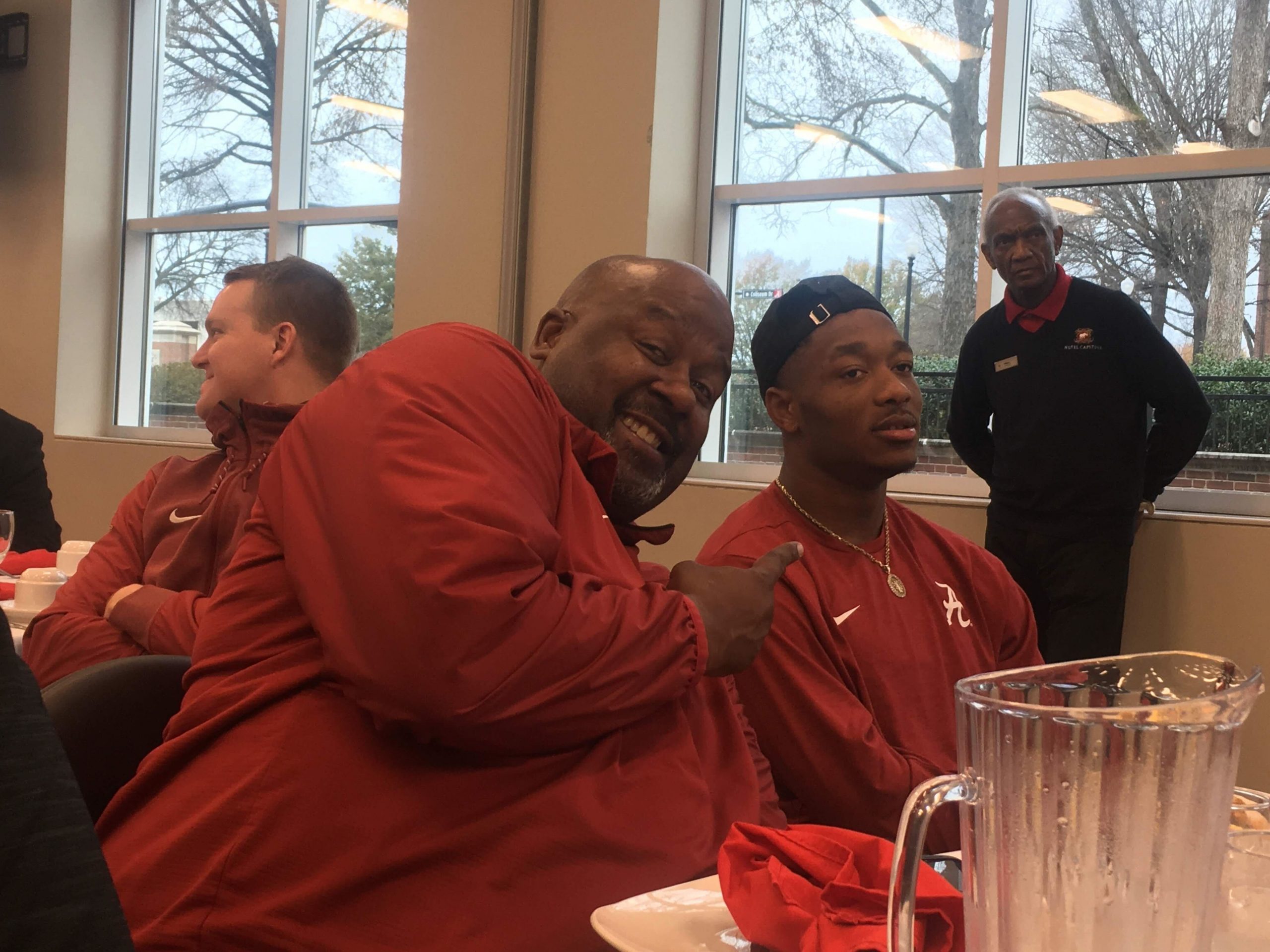 The choice also brings Maryland an imposing athlete at the wide receiver position. Brett Bennett, Copeland's offensive coordinator at Escambia, said the two used to have weightlifting competitions, and he never saw Copeland fail to complete a rep. 
Copeland's one-rep maximums on bench and squat are 430 and 565 pounds, respectively, the receiver said. 
That strength translates to the football field, where Bennett said Copeland has a "different explosion than what most people have."
Locksley saw his receiver's desire to use that explosion when Copeland walked into the coach's office with tears in his eyes two days before the Terps' season opener against Buffalo, begging the coach to let him be a gunner on the punt coverage team.
"I think that shows the type of toughness and the type of character that he has as a wide receiver," Locksley said.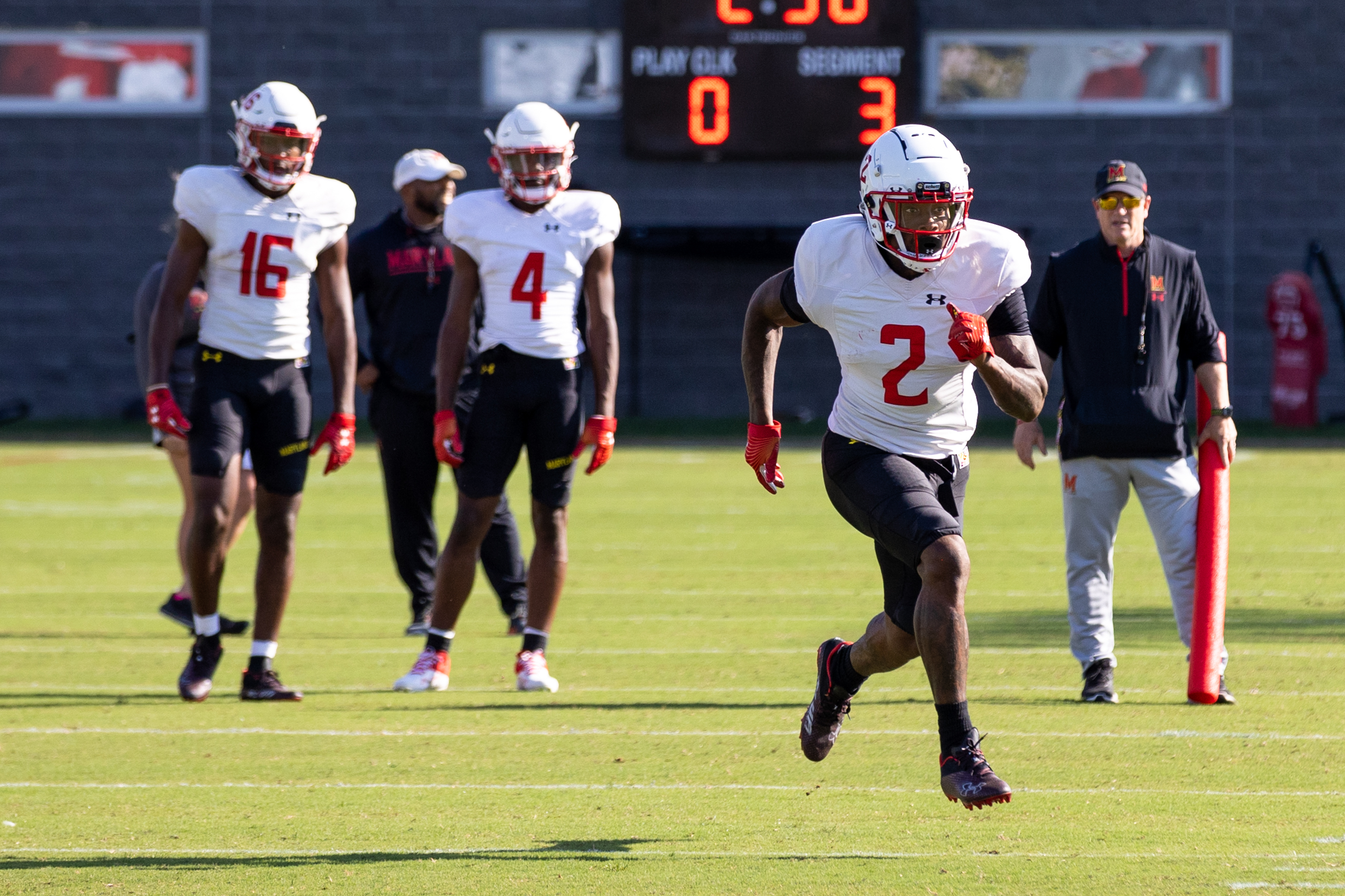 Copeland didn't make an outsized impact against the Bulls but erupted in his second game against Charlotte, scoring two long touchdowns. 
That's how it was for him growing up in Pensacola, Florida. Everyone would stand up when the ball was snapped, his half-brother Jesse Crosby said. They knew if the ball went in the air, Copeland would track it down.
Copeland knows he's a legend coming out of his neighborhood, saying he "felt like [there] was nothing people could tell me. I [have] beat the odds already."
He's hesitant to let others in unless he can trust them, a byproduct of his past experiences. 
The 23-year-old knows most who see him can only see the dreads or tattoos or grill he wears. But those who get to know him would see a genuine person with a "pure heart" who applies his knowledge of life's fragility to make the most of his existence and help others do the same.
"[I'll] do anything for anybody, help anybody when anything's going down … I always like to keep things positive, keep [people] up, lift them," Copeland said. "Let them know like, man, life can be tough, but you got to fight through it at times … that's the person I am."