Courtney Wyche took the nod on "Jackie Robinson Day" with the number 42 blazed across her chest.
Before the first pitch, Wyche followed her normal routine — standing in the circle, taking a deep breath and firing the opening pitch of the game for Maryland.
On April 15, 1947, Jackie Robinson broke Major League Baseball's color barrier when he became the first Black baseball player in MLB history. Robinson dug his cleats into the dirt at Ebbets Field in Brooklyn, New York — making history in a sport that had been segregated for more than 50 years.
On April 15, 1997, exactly 50 years following Robinson's remarkable feat, he was honored by MLB as his number 42 was the first-ever number retired by every team.
Fast forward 75 years after Robinson's monumental moment in MLB history, and you'll see the legacy he left for so many people — including one of Maryland softball's stars.
"I have a long history with Black culture and with my family of having pride in African American history," Wyche said. "So wearing 42, allowing me to represent Jackie Robinson and the legacy he's built, allows me to build my own legacy and represent African Americans as we continue in sports."
[Courtney Wyche's pitching powered Maryland softball to series win over Minnesota]
Wyche understands the importance of Robinson to her softball journey. He paved the way for athletes, including Wyche, to play baseball and softball at the collegiate and professional levels. To honor Robinson, she has worn 42 throughout her career to represent Robinson both on and off the field.
"You have to be able to see someone in a role to be able to think and dream that you can accomplish that role," coach Mark Montgomery said. "A young Black athlete has to see a Courtney Wyche or a Jaeda McFarland, and if they see them, then they believe they can be that too — and I think that's the key."
Sean Hurd, an associate editor for Andscape, an ESPN platform dedicated to covering Black culture and athletes, wrote a recent article focusing on the culture shift in softball, and how Black players are starting to find their voices and speaking out about injustice in America.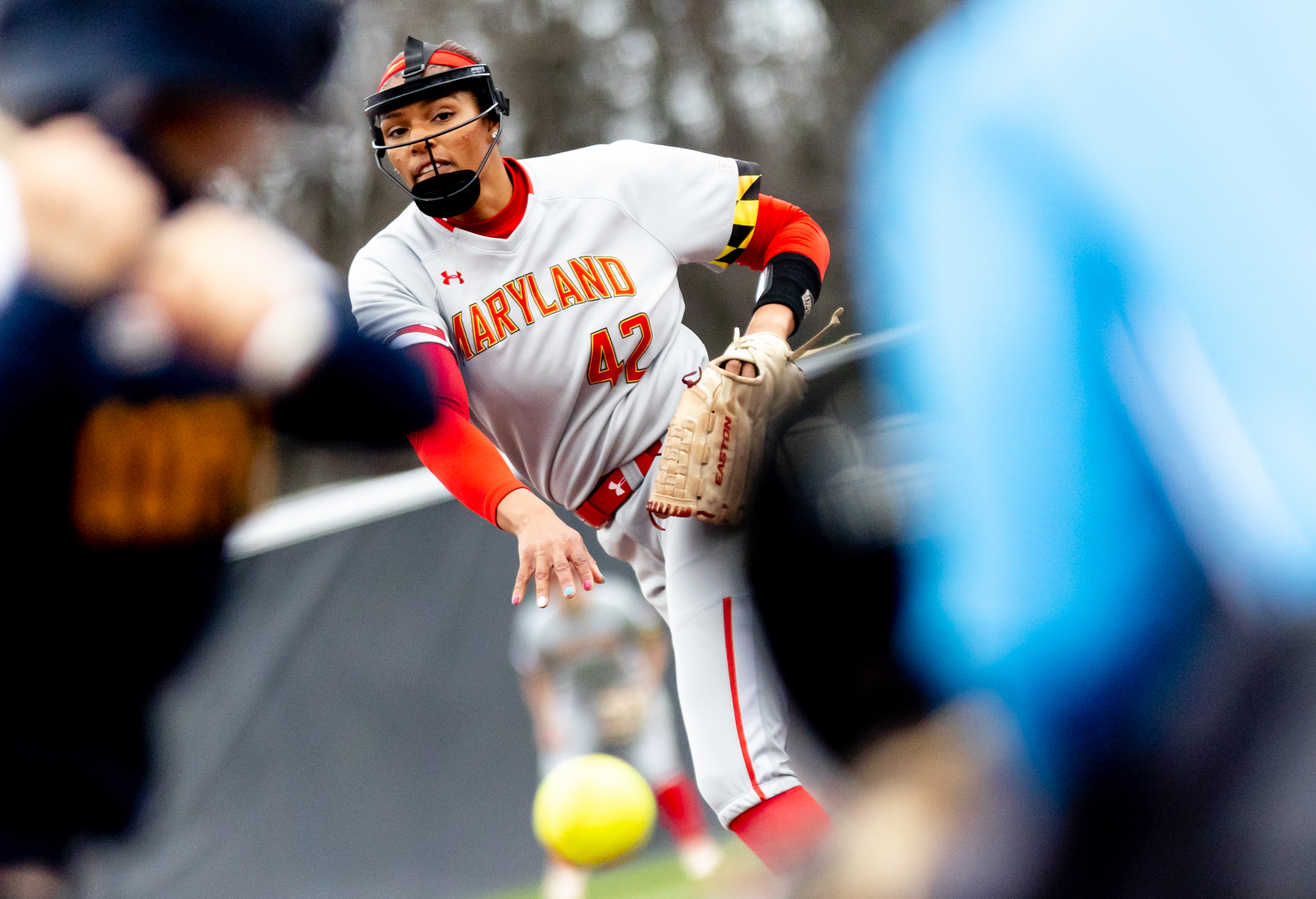 According to demographics from the NCAA, "From 2014 to 2019, Black players represented just 5% of collegiate softball," Hurd wrote.
"Obviously [women of color have] seen themselves in women's basketball or they've seen themselves in other sports, but it's not been prevalent as much in softball," Montgomery said. "So it's really awesome to be able to …  have our women of color be able to inspire young, female softball players."
Wyche's journey to College Park has not been easy, but she has used Robinson's fight as a guide to be successful as a Black athlete in a sport primarily played by non-Black people.
"Being able to still battle through mental and physical challenges while being called names or [having] things thrown at you … affected [Robinson] mentally and spiritually off the field," Wyche said. "So being able to battle through that, and knowing that he was able to go through all of those challenges and still get the job done … allows me to battle through ultimately any obstacle that's thrown my way."
[Maryland softball overcomes late deficit, ousts Minnesota for series victory, 4-3]
In the second game of Maryland's first conference series loss against then-No. 21 Michigan, Wyche pitched all eight innings. The matchup went into extra innings, where the Terps were dealt a tough defeat in a 5-3 loss to the Wolverines.
Despite the loss, it was fitting that Wyche pitched on April 15, the day referred to as "Jackie Robinson Day" in MLB. The pitcher epitomized Robinson's fight in College Park, fighting valiantly against Michigan on the field in an attempt to grab the victory.
"At this point, there's nothing that I will allow to break me down mentally because I know that he [was] able to do what he did, so I can do what I [need to] do," Wyche said.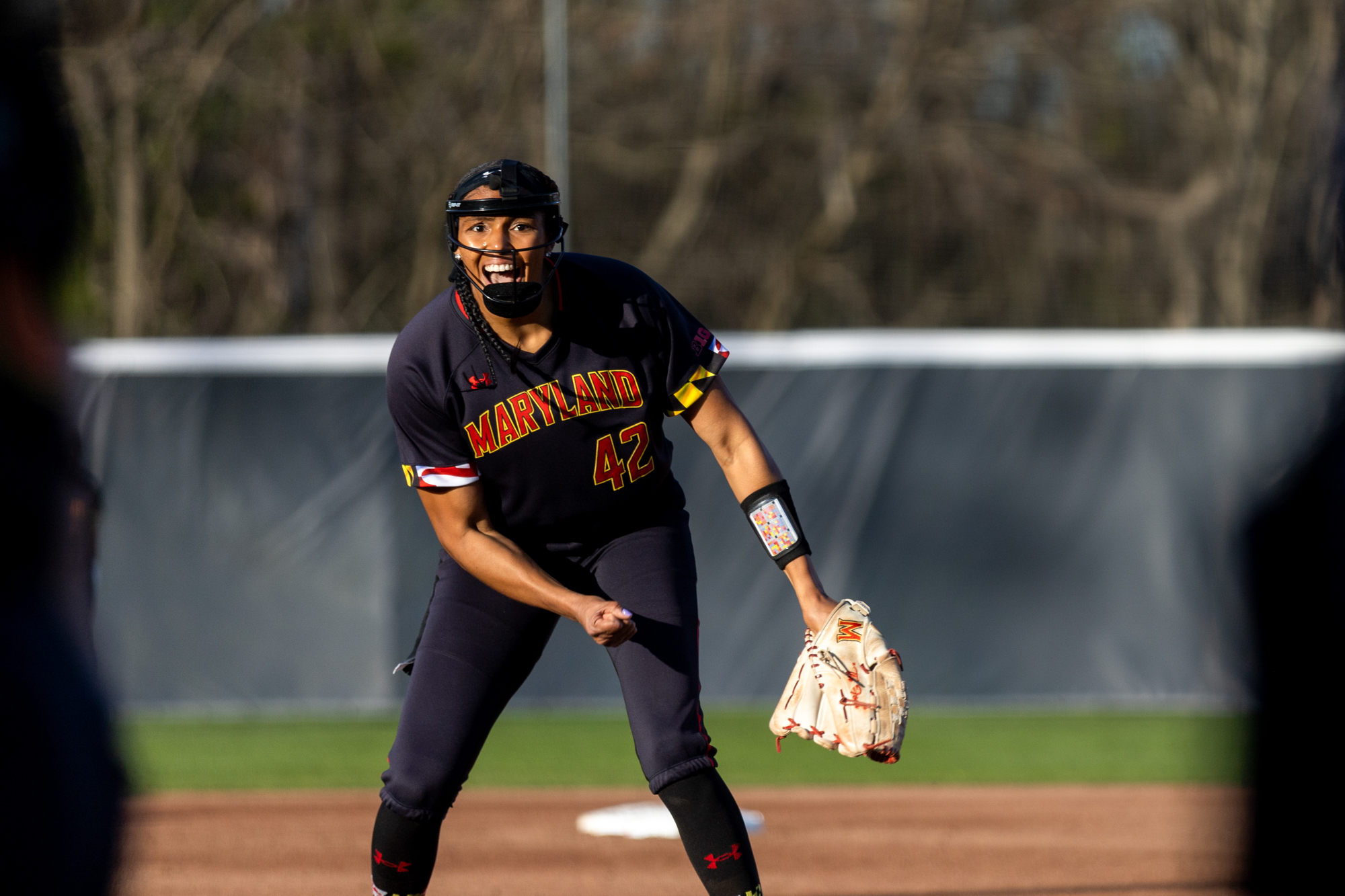 Forty-two is more than just a number for Wyche. She remembers Robinson as a trailblazer in baseball and softball, allowing Black athletes like herself to play the game without fear of backlash and hate. Robinson's desegregation of baseball set up Wyche to be the player and the person she is.
"I could not be more proud of a player than I am of Courtney Wyche," Montgomery said. "What she has done in terms of her growth and personal development in regards to … not just the player she's becoming, but the person she's becoming, it's amazing. It's so much fun to watch her growth and her empowerment that she is putting on the field."
Wyche has taken a step forward in the pitching circle this season, throwing four straight complete games, while leading the Terps in ERA, WHIP, strikeouts and batting average against.
And by wearing the number 42, she pays homage to a legendary athlete who has paved the way for her success.
"Part of everything she does is to inspire and to grow the game … she's being an inspiration to everybody that you can break barriers, and you can become excellent at whatever you pursue. It's fun to really see her growing into that role and doing it on such a big stage," Montgomery said.