Brenda Frese entered the Maryland locker room to raucous cheers. The Terps had just beat Florida Gulf Coast in the second round of the NCAA tournament, prompting a lively celebration. 
Maryland women's basketball's coach danced in a small crowd that included Shyanne Sellers, Katie Benzan and Angel Reese. Frese and Reese both sported wide smiles before the coach pulled the sophomore in for a hug.
After the initial festivities waned, Frese spoke to her team. She told them they made a statement with their last two victories, she was proud of them and the victory was just the beginning.
It turned out to be the end.
The mass exodus from the Terps' program began just 16 days later. Five players, including two of the program's stars, announced their intentions to leave the team. Reese, Ashley Owusu, Channise Lewis, Mimi Collins and Taisiya Kozlova each entered the transfer portal.
From the outside, the departures came as a shock, but Frese and her staff expected most of the transfers, the coach told The Diamondback. She and Benzan portrayed a squad that dealt with a myriad of internal struggles that led to what the coach called "one of the toughest" seasons of her career.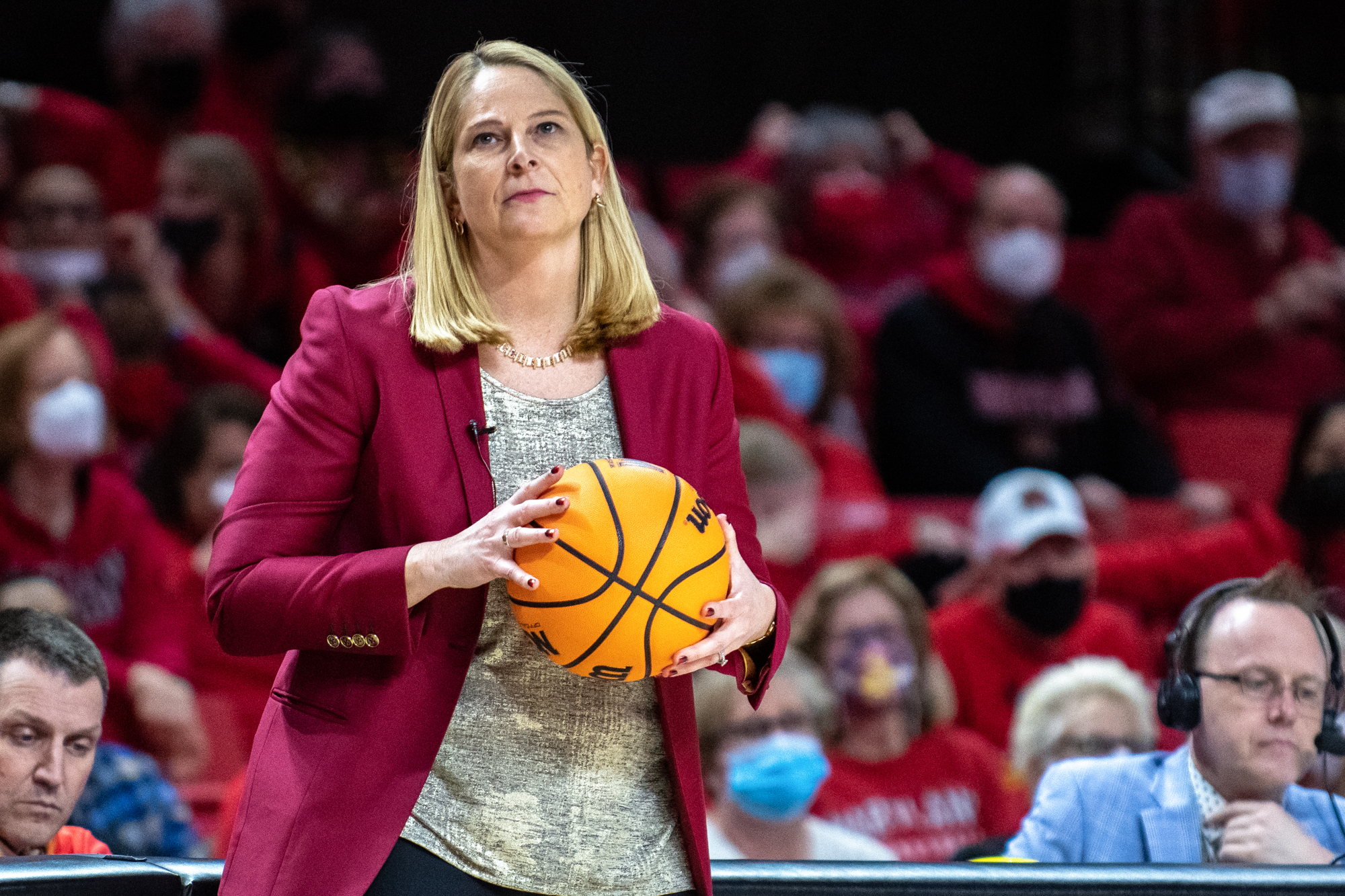 "We weren't surprised. We were fully prepared for a big chunk of the season. There's just things that continue to go on within your team and your family that you know where people lie," Frese said. "Our staff was already prepared and you saw that, we already knew we were gonna need to go get a point guard." 
Maryland landed four new players just more than a week later: two freshmen who decommitted from Texas A&M and a pair of transfers. The only transfer Frese said surprised her was Lewis, who the coach thought planned to graduate.
[Angel Reese enters transfer portal in major blow to Maryland women's basketball]
Collins and Kozlova declined to comment. Owusu, Reese and Lewis did not respond to multiple requests for comment. Collins is the only player who has landed at a new college, joining North Carolina State.
Frese declined to go into specifics about what happened during the year but noted she felt there was a lack of buy-in from players who she thought had their minds made up about transferring during the season. 
"I think any time you're having to coach effort, that's not a good thing," Frese said. 
Benzan, who played two years for the Terps as a sharpshooting guard, said there were moments when she could feel the lack of total buy-in from some of her teammates.
She and fellow graduate student Chloe Bibby, both team leaders, had conversations where they tried to right the ship and steer the Terps toward their goals. Benzan brought up the cancellation of Maryland's matchup with Illinois — which went 1-13 in the Big Ten — as a missed opportunity for the Terps to get better seeding in the Big Ten tournament.
Instead, the Terps were matched up with a strong Indiana team that dispatched them in the first round — just a year after Maryland won the conference's regular season and tournament championships. 
"There was a feeling, a vibe that, not necessarily that people had one foot out the door, but that it just wasn't last year," Benzan said. "Last year you could see, everybody wanted to be there, they were there to work hard, they were grinding, we were all on the same page toward our one goal, and this year it didn't have that same feeling."
That was a common feeling. After a dominant 2020-21 campaign where the Terps had the best offense in the nation, went 26-3 and won a litany of awards, Frese's squad regressed despite bringing back 10 of 11 players and 93 percent of the points scored from the 2020-21 team.
The coach identified the main issue with the offense and the primary effect of the lack of buy-in as a reduction in ball movement. Maryland's assists per game dropped from 20.3 per game in 2020-21 to 15.3 in 2021-22.
"I mean, it was two different teams with the same roster, almost," Frese said. "So the ball didn't move this year. It moved two years ago. We led the nation in scoring. We were unselfish."
During an in-season interview, Frese attributed that stagnation to her team's lack of continuity. Maryland only had three players who were able to attend every practice and game throughout the season, and the coach acknowledged after the year that the discontinuity blended with the occasional lack of engagement to create a difficult season.
[Riddled with obstacles, Maryland women's basketball's season ended in familiar spot]
"It didn't help having the lack of people here, people not here and then people mentally not here," Frese said.
Benzan referred to the season as a roller coaster and said she could sense a more drastic and notable unhappiness and discontentment in the down periods than in other seasons. She said she felt the team scored more in her first year as a Terp because they always found the open player.
"I think this year was a little bit different in the sense that the ball didn't move," Benzan said. "So we didn't find that open player to score and to take advantage of whatever the defense was giving us."
Frese did say she always held out hope that her team would get to the point they needed to be at — even as late as the first two rounds of the NCAA tournament where she felt her team looked like they were playing for each other. 
But it never truly coalesced. Maryland lost in the Sweet 16, ending a season Frese said was harder to coach. 
"I said two years ago it was the most enjoyable team, season I had ever had. This one might rank up as one of the toughest. Obviously, personally, I had my own stuff," Frese said, referring to her father's death in January. "But they didn't make it any easier."