INDIANAPOLIS — After falling into a 20-point deficit to Michigan State early in the second half of their second consecutive bout, Maryland men's basketball needed to respond to keep its season alive. 
While it took some time, the Terps fought their way back into the game. 
Hakim Hart flew over the heads of Spartan defenders and dunked the ball to put his team within 10 points — his dunk sparked a fierce recovery from his team. The Spartans committed four turnovers in under two minutes to set the Terps up to take the game. 
Maryland took off on an offensive attack. Fatts Russell made a three, a driving layup and a free throw to bring the Terps within two points. Hart drained a second-chance layup and Eric Ayala did the same off the press. With 15 seconds left, Maryland found itself down by two, 74-72.  
Hart fouled Max Christie on the ground. And Christie made both his free throws to push the game out of Maryland's reach. 
The Terps scratched in and out of competition for the final 20 minutes. But it wasn't enough to stop the Spartans from beating Maryland for a third time on the season. 
The Terps' first losing regular season since the 1992-93 campaign ended in the second round of the Big Ten tournament to Michigan State. A late rally wasn't enough to secure a victory and Maryland left Gainbridge Fieldhouse with a 76-72 loss. 
"We want to start off with a fast start. They got off on the second half to a good run, they were up 20 points, but we never stopped fighting," Russell said. "We got out and we told each other that we were going to give it all that we got for these last couple minutes and we almost pulled it off."
The matchup with the Spartans started just like the last between the two teams — the Terps lost the tip and Marcus Bingham Jr. scored the first points of the game.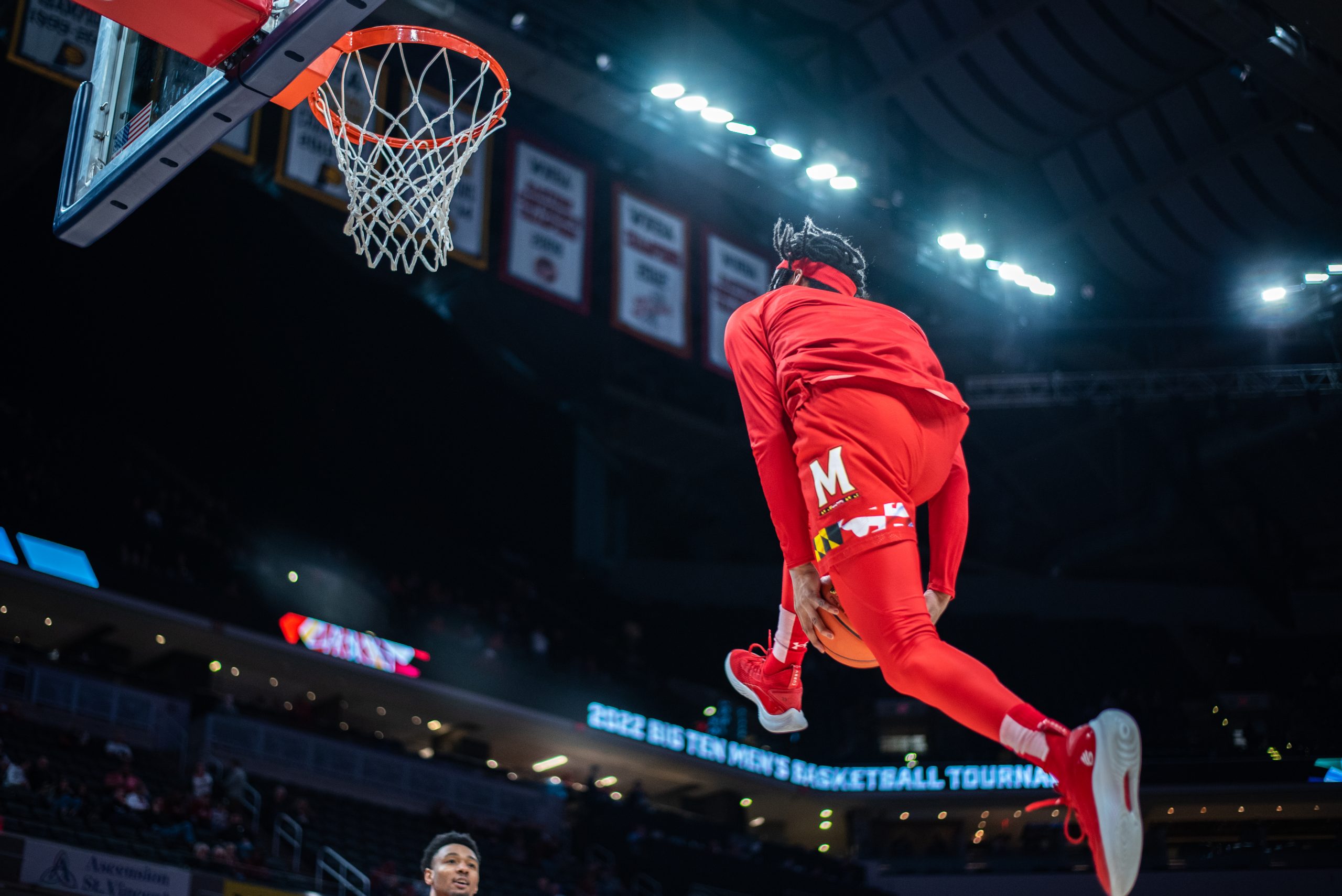 [Manning, Maryland men's basketball reach final stop in navigating Big Ten without a manual]
But this time, Maryland competed in the first half.
After Bingham hooked a jumper that effortlessly swished into the basket, Ayala quickly responded with a three on the next possession. And after Tyson Walker drained another jumper to take the lead back for the Spartans, Russell answered with another three for another advantage to the Terps. 
Maryland didn't maintain its hot streak from deep, though — threes from Donta Scott and Hart missed and kicked off an over three-minute field goal-scoring drought. 
During that scoreless streak, Hart almost stole the ball, but ended up tipping it to Joey Hauser who knocked down a shot. The Spartans took advantage of the Terps' dry spell and went on an 11-1 scoring run — Maryland went down, 15-7, early in the opening 20 minutes.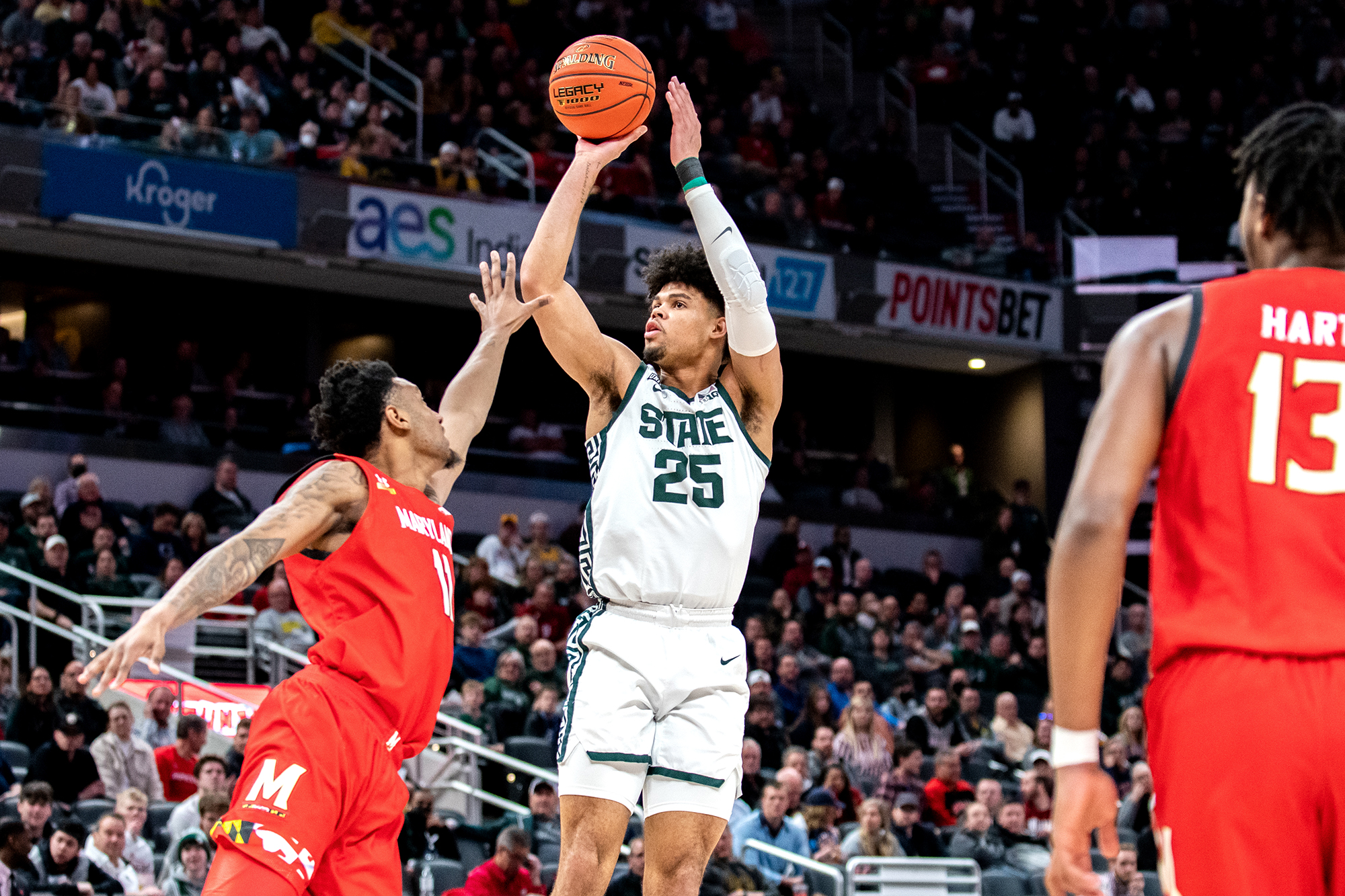 Both teams struggled with maintaining the ball, accumulating turnovers in the first half. Michigan State and Maryland also earned matching three-second violations. After Russell stripped the basketball from a shooting A.J. Hoggard, he passed the ball directly into Christie's hands to lose possession. 
The Spartans' awareness reigned supreme. Julian Reese attempted to take a charge but ended up giving free throws to Bingham. Ian Martinez fouled Malik Hall from behind the arc shortly after he entered the game for easy shots. 
But Martinez quickly made up for Hall's two made free throws with a driving layup.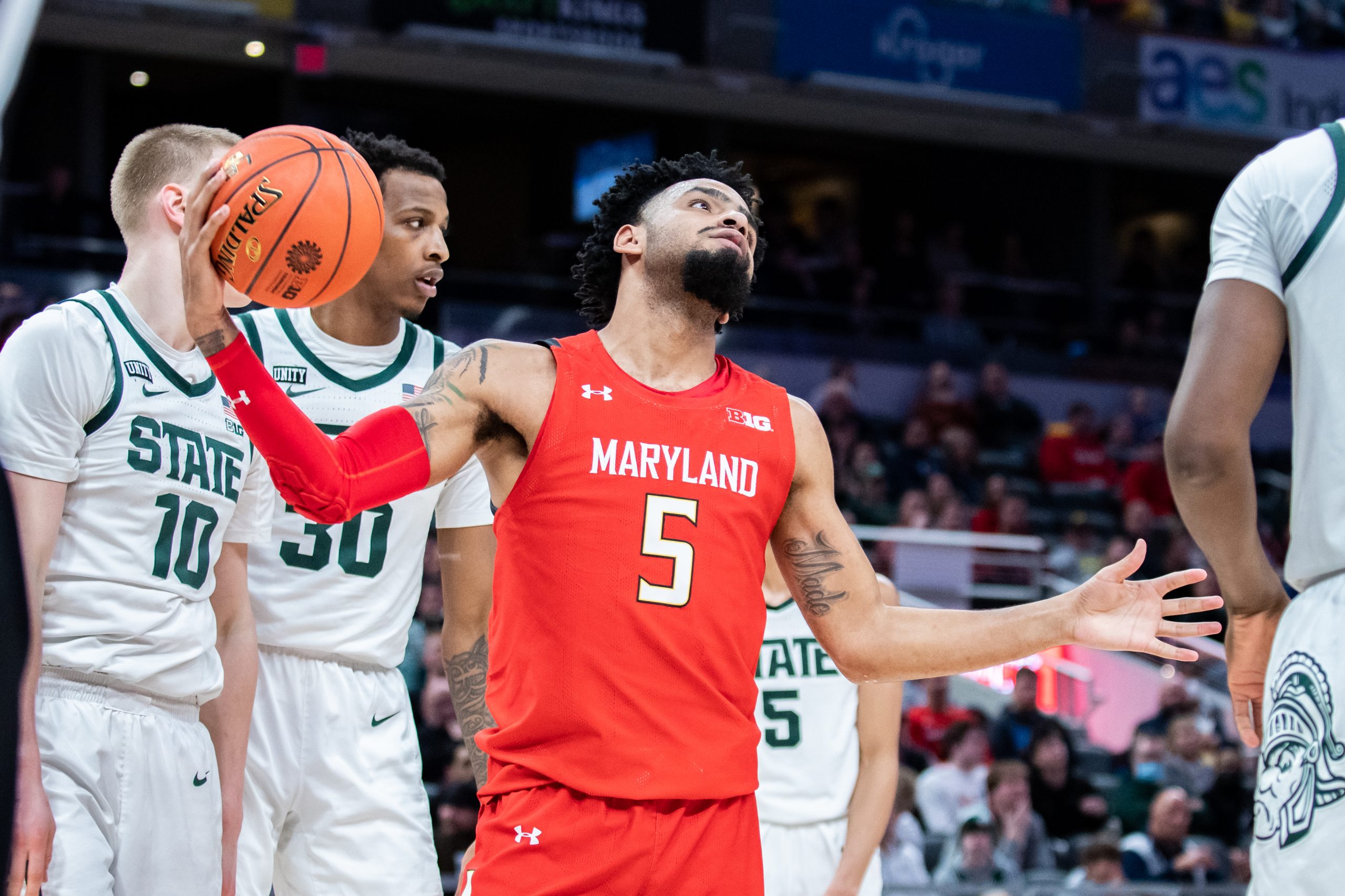 Each time Michigan State began to pull away, the Terps had an answer to stay within arm's reach. After Julius Marble hooked a layup over his head, Russell snagged a steal that resulted in a foul and two good free throws by Scott. 
Christie swished a three and Hart followed with a dunk to keep his squad within 10 points. 
But, a 10-point deficit eventually came for Maryland. Consecutive threes from Christie put his team ahead, 33-23, and challenged the Terps' dominance from behind the arc. 
Maryland clawed back with a three and a steal-and-score layup from Xavier Green, but Michigan State kept its foot on the pedal. 
Baskets from deep from Christie and Jaden Akins and a jumper from Bingham allowed the Spartans to head to the locker room up nine points, 43-34. 
The second half brought about the deficit Maryland hoped to avoid. 
After falling behind the Spartans just five days earlier, the Terps competed in the first half of their opening Big Ten tournament matchup. A 20-point Michigan State lead — largely credited to Bingham Jr. and Gabe Brown — left a steep climb for Maryland. 
"The second half we just tried to stay a little bit closer to shooters, do a better job of staying in front of the basketball and not having to help as much," interim head coach Danny Manning said. "Sometimes it's as a player and as a coach, sometimes you've just got to tip your hat to them."
But, in the middle of the final half, the Terps started to claw back.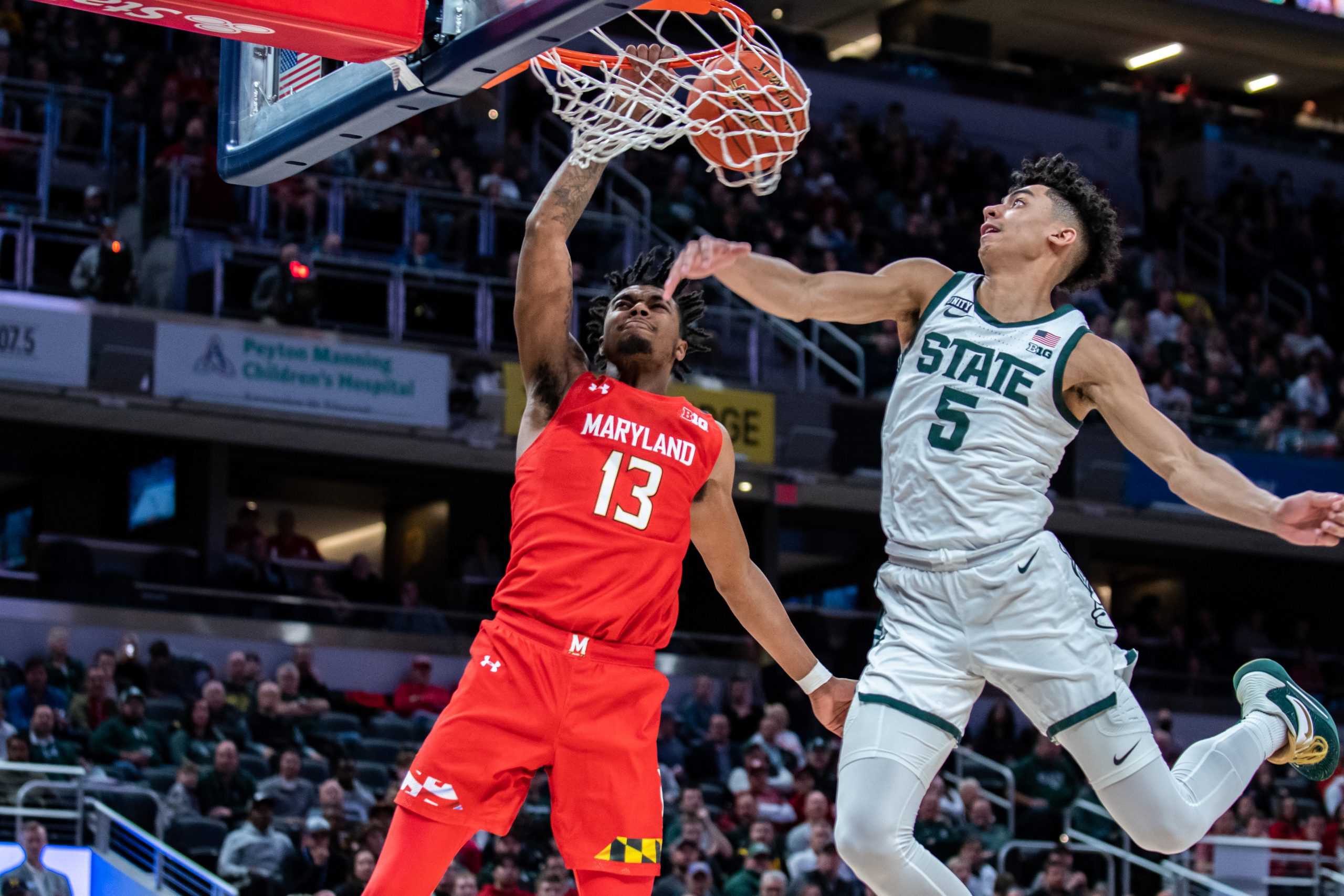 [Maryland men's basketball guards Russell, Ayala earn Big Ten honorable mentions]
A deep bucket and a dunk from Scott brought Maryland back toward Michigan State. Russell followed with a driving layup through traffic and two good free throws before Scott delivered a second chance three. The Terps were within 10 again. 
A huge dunk from Hart was another glimmer of hope with five minutes left in the game — Maryland found itself down just nine points. 
Maryland came back within striking distance multiple times, though. After leaving the court with a potential injury in the first half, Scott came alive for his team. He dropped 11 of his 15 points in the second half. 
"We was just playing with a sense of urgency at the end," Ayala said. "Our pressure gave us a chance to get back in the game and we just tried to make plays out of it, executing out of the steal. It definitely helped us a lot at the end."
Maryland didn't help itself from the free-throw line. The Terps missed four of their 12 second-half free throws. 
But, when it came down the final stretch, Maryland put the pressure on. The Terps came up with three steals in 30 seconds to quickly erase their disadvantage to just two points. 
But Maryland couldn't finish. A foul by Hart sent Christie to the free-throw line, where he lifted his team above the Terps. Maryland's season ended as much of its slate went — attempting to overcome deficits in a fight to the finish. 
"This team fights. We've been through a lot," Russell said. "Nobody ever quit, nobody ever put their head down. We have a team full of fighters in the locker room there and I'm just proud of everything."