Every now and then, Dunkin' comes out with a mysteriously colored beverage, such as 2020's Sugarplum Macchiato, that confuses the general public. 
In honor of Saint Patrick's Day, Dunkin' returned with their Shamrock Macchiato. The drink is described as, "espresso atop rich and creamy Irish Creme flavor, with notes of sweet cream and vanilla that capture the unmistakable flavor profile of Irish whiskey."
So before you go and drop the money to try the drink for yourself, we did so you don't have to. 
Ella Sherman, managing editor 
5/10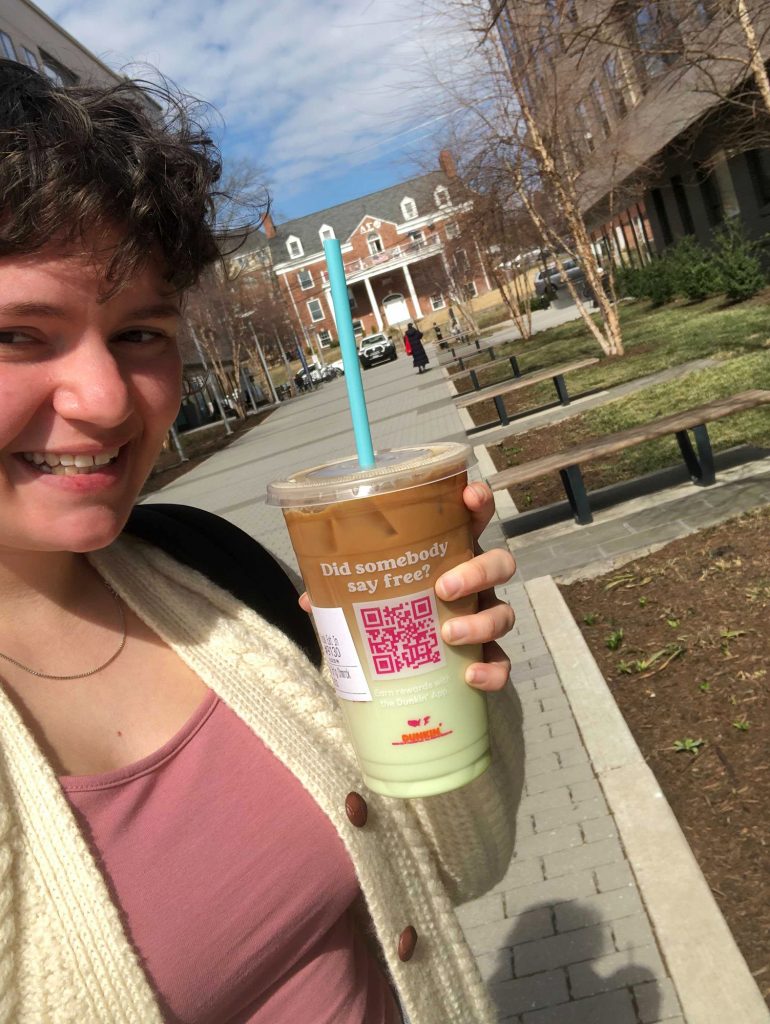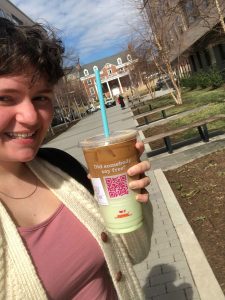 I would not expect ogre green and brown to be such an eye-catching combo, but I guess on a warm sunny day in College Park, any iced coffee concoction looks good. At first sip, the Shamrock Macchiato was sweet. I'm no sommelier, but I definitely got hints of marshmallow. Several sips later, after the green disappeared, it became increasingly bitter. Part of me wished I mixed up the drink before I started drinking but I also think it would've looked ugly … oh well. This drink is certainly not 'out of this world' good; it's simply a festive take on a macchiato. If you're in the St. Patrick's Day spirit, go for it — if not — don't bother. 
Evan Hecht, deputy diversions editor
4/10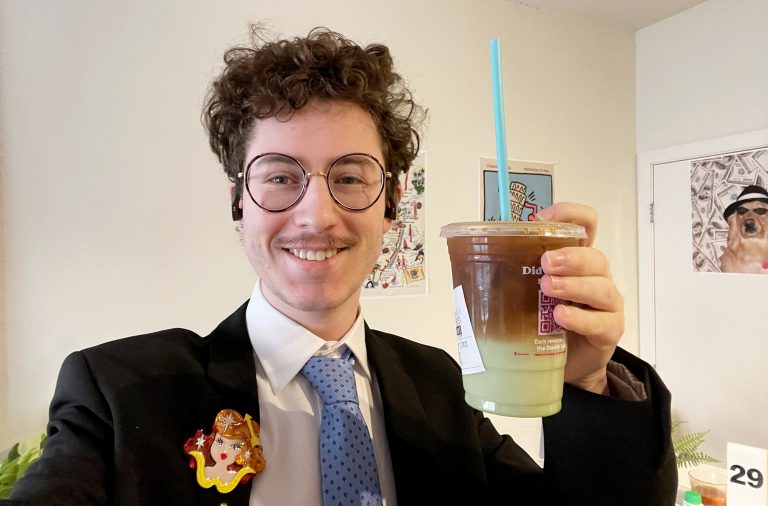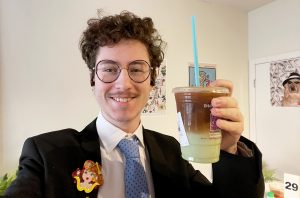 Do you ever see something and know it's going to hurt your stomach? If you've never felt that before, I suggest looking at the Shamrock Macchiato. Its bright green lower liquid half is a worrisome color, mixed with its dark brown upper liquid. Excuse my terminology as I'm not familiar with what a macchiato consists of. My initial sip, pre-mixing the layers, was fine. And that's exactly what the drink is, just fine. I felt like there was a subtle mint flavor, but it was as if someone yelled "mint," at the vat of green lower liquid.  When I then mixed the layers it wasn't any better, and it looked weird. I probably wouldn't order the drink again, not because it's bad, but it's just not worth straying from my usual. 
[The Diamond Drag: Episode 8, '60s Girl Groups of 'RuPaul's Drag Race']
Kyle Russo, engagement editor
5/10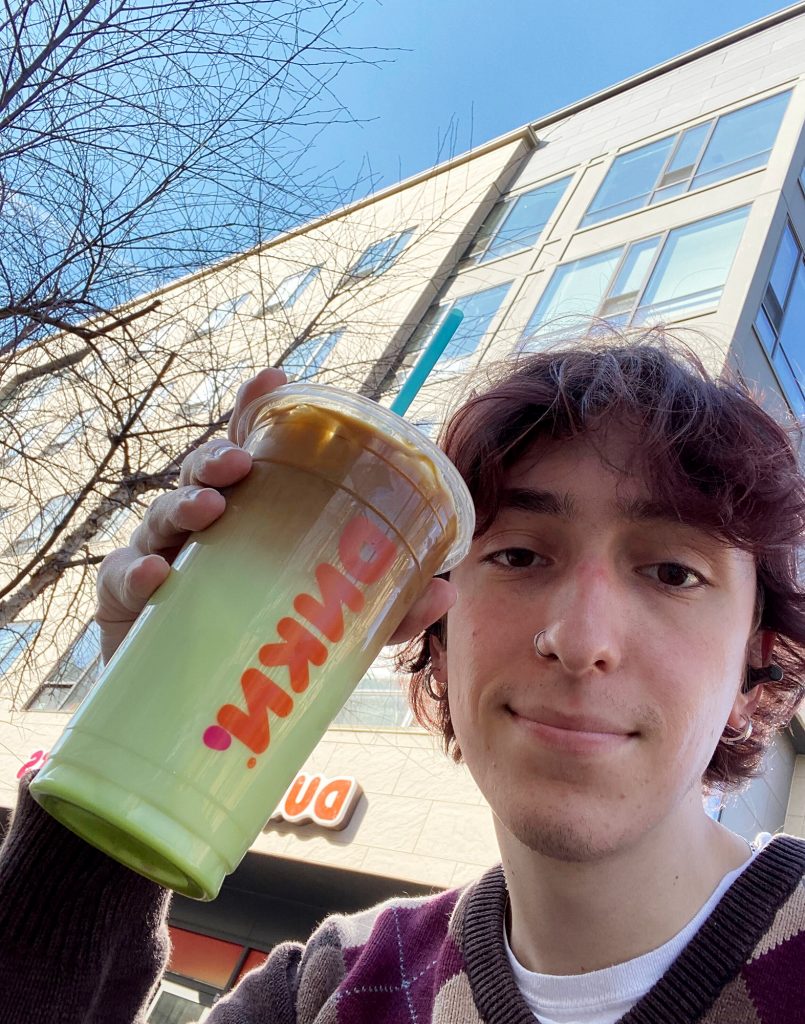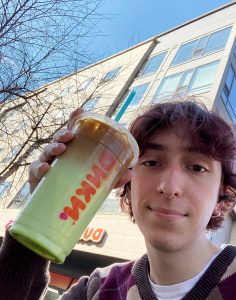 As a vocal advocate for McDonald's' Shamrock Shake, I have to say I had high expectations for this drink. You can imagine my distraught when, upon my first sip, I received not even a hint of minty flavor.
Apparently, it's supposed to be Irish creme flavored. I was indeed tricked, hoodwinked and bamboozled by marketing and bright colors.
Of course, the color is pretty eye-catching. But what started as a rich brown to luminescent green ombre faded into something resembling swamp water, as the colors inevitably mixed together. In the end, the taste was … fine. I'm always a fan of Irish cream, but the flavor gave way to bitterness pretty quickly.
Overall, I'd say it's a serviceable drink — as a macchiato, it gets the job done. But there's certainly more exciting flavors to choose from — or at least flavors that don't make it look like you scooped liquid straight from the pools of a water treatment plant.
Shreya Vuttaluru, assistant special projects editor
6/10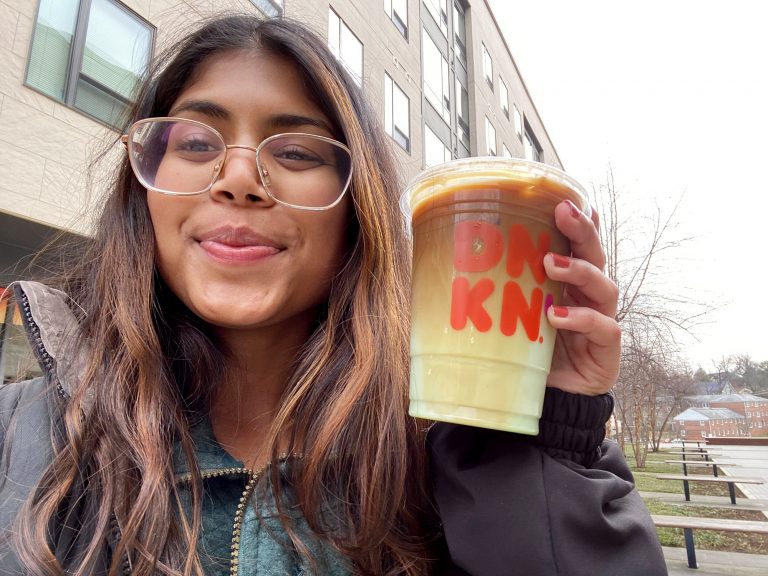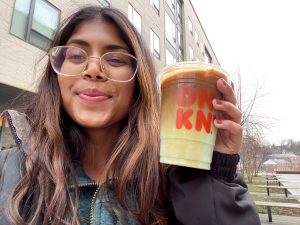 As a frequent iced macchiato consumer and lover of green things, I had pretty high expectations for this drink. I also need to caveat this review by saying I'm a firm believer that iced macchiatos should be mixed because I'm not a heathen.
I was simultaneously surprised and a little frightened by the macchiato's vibrant color. But, upon mixing my macchiato, the green color immediately dissipated, which was a little disappointing — why color something green if it's not going to stay that way?
The first sip was sweet and nutty, and the espresso also immediately overtook the artificial Irish Creme flavor, which I wasn't totally mad about. But as I kept drinking, it became clear to me that the drink literally just tasted like a hazelnut macchiato that was green at one point. Yes, I could taste the green. 
In the end, it was just okay — I expected a specialty drink to be more than just slightly different than my usual Dunkin' order. 
Zoe Pierce, editor in chief, and Rileigh Hallberg, roommate
6/10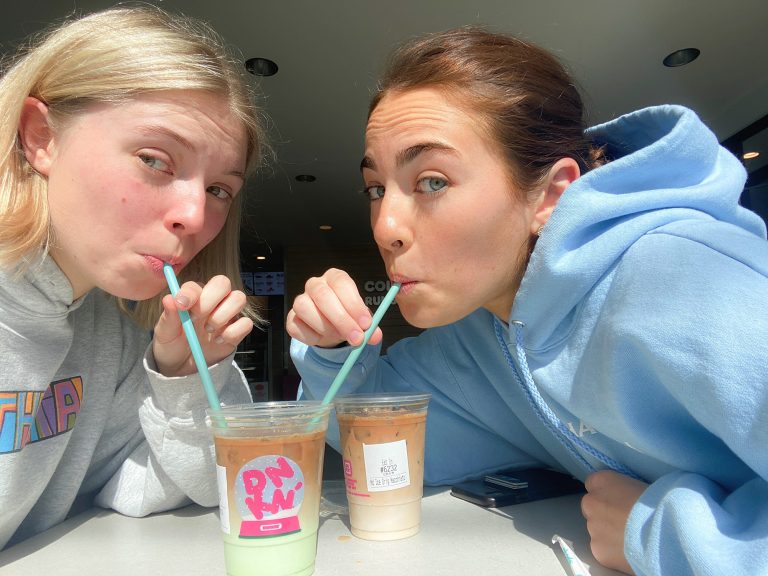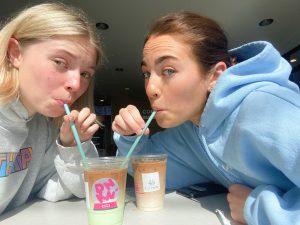 Ordering the Shamrock Macchiato in a crowded Dunkin' was easily one of the more humiliating moments of our week. Automatically, points off for having to say the name out loud. And more points off for the public judgment you receive once holding the green substance. 
But …
Although we could not determine what the flavor was supposed to be, nor find anything to compare it to, we were pleasantly surprised. The Shamrock Macchiato serves a purpose in this world. What that purpose is, I don't exactly know — but I can't condemn this drink. This drink earned our respect as we sat in the Landmark lobby. We have no plans to order it again, but if I see you walking around the campus with it, I won't judge you as harshly as I would have before trying it.  
[The face behind the facades: The story of famed architect Antoni Gaudí]
Parker Leipzig, staff writer
2/10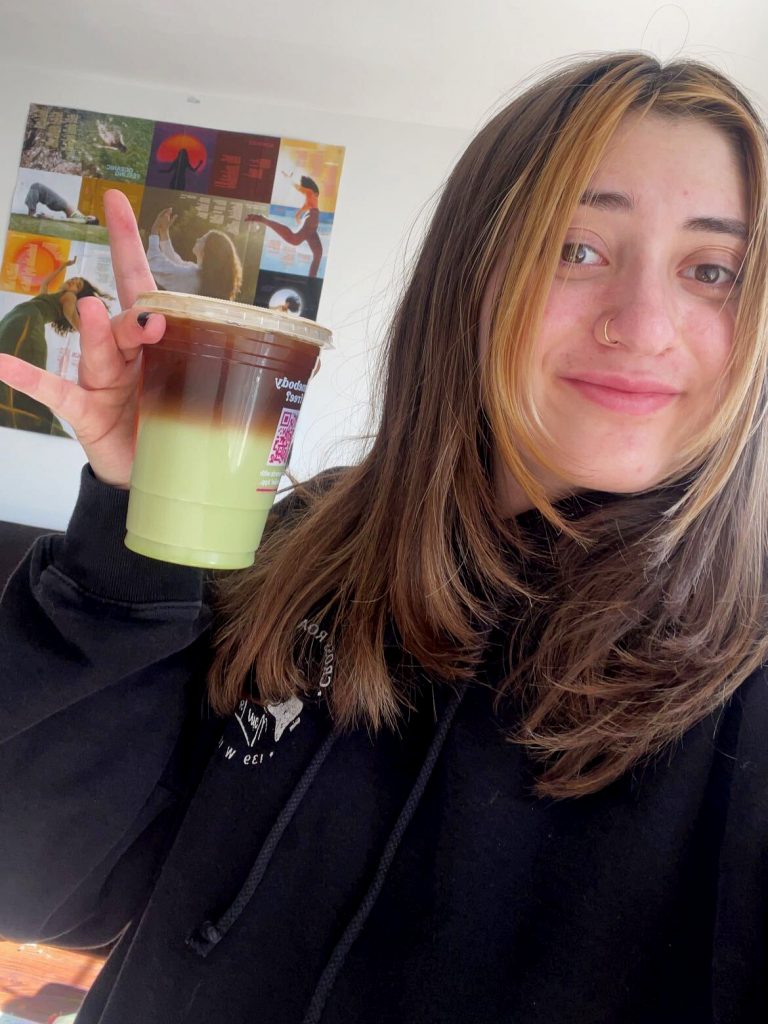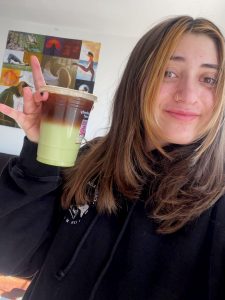 As a former Starbucks barista, simply the thought of this drink both terrified and disgusted me. However, as a lover of the color green I have to say, it intrigued me. Upon receiving the drink, I can confirm it is greener than you would think. From what obviously artificial source this drink gets its signature color from, I do NOT want to know. 
I did not have high hopes for the drink and while it was not as offensive as I thought it would be, it somehow gets worse as you drink. My roommate, Juliana Corn, said it has a "post-regurgatory" aftertaste. 
I would describe the flavor as if someone melted down Lucky Charms, only the marshmallows of course. I only recommend this to people who like sugary coffee, or simply hate coffee all together, but want to try something fun. Mixing the layers does help for those who want more coffee flavor, but that does not mean I think it tastes better.
Admittedly, it is a great photo op and can definitely be a conversation starter.
Christine Zhu, assistant news editor
1/10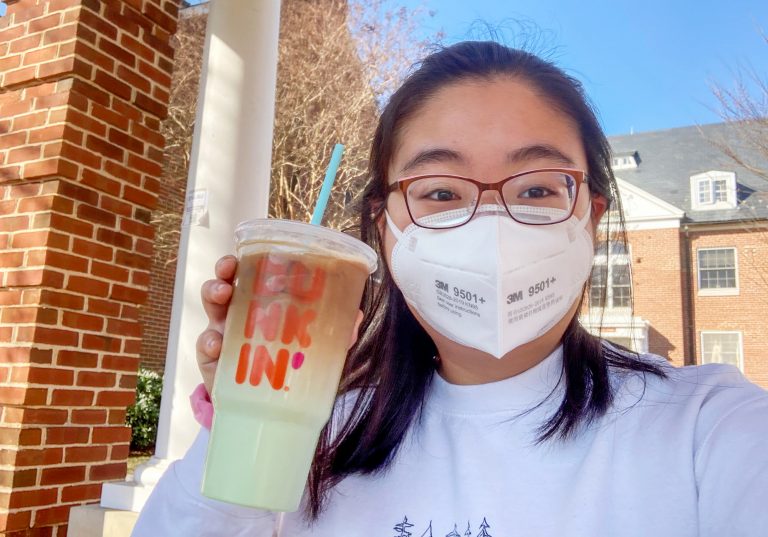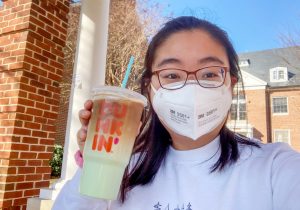 This drink made me think I had COVID.
I'd tried a fair share of seasonal Dunkin' macchiatos before: pink velvet, sugarplum and whatever the weird peanut butter one from the fall was. They were all, more or less, unmemorable.
On my first sip of this strange green concoction, I was utterly confused. I didn't taste anything. I took another sip, and still nothing. I started to panic and contemplated running back to my apartment to take a rapid test before my class.
I moved the straw around a bit and could thankfully tasted the coffee. I stirred the macchiato — I know you aren't supposed to, but a green macchiato is far more heinous than stirring one — and it was, to put it lightly, mediocre at best.
If you want to try this, I'd recommend sacrificing a free drink reward like I did. Otherwise, save yourself the hassle.
Dylan Shulman, diversions editor 
4/10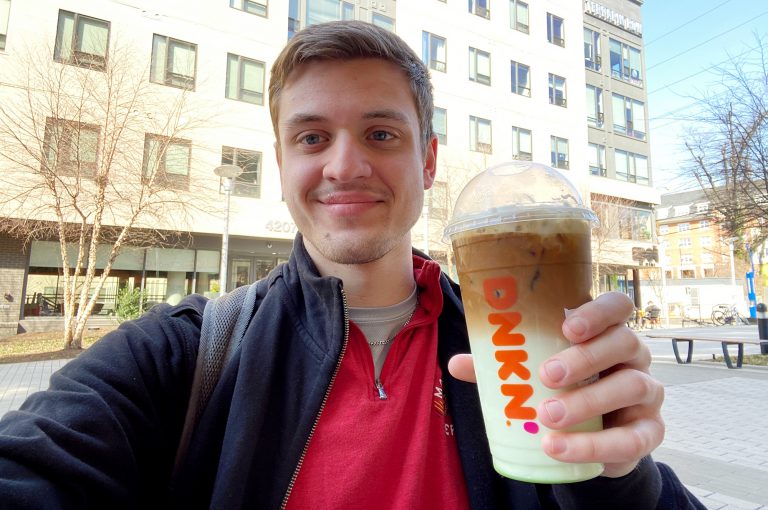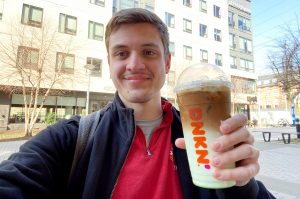 I went into this experience completely blind. I didn't even look at what was in the drink, and only afterward did I see a sign that mentioned it incorporates the Irish creme flavor. I thought it looked kind of interesting, with the green layering, though I stirred it up assuming the ambiguous green at the bottom tasted different than the brown coffee at the top. It could be that this was a mistaken, rash decision. Overall, I was pretty impressed with how mid this drink is. It's so profoundly not good, yet equally not bad. It was a fully mediocre experience, basically just sweetened iced coffee. As a former frappuccino addict, I'm not dissuaded by the sweetness, but it lacked any definitive "shamrock" flavor. I expected something minty along the lines of the rather extraordinary Shamrock Shake McDonald's makes and was met with a mere cash grab.