By Shreya Vuttaluru and Christine Zhu
Senior staff writers
WASHINGTON — Andrii Bezmen, a native of Ukraine, stood in front of the White House Sunday afternoon among a group of his friends, donning a black "Puck Futin" t-shirt and holding a sign that read "Russian warship go f*** yourself."
The senior at Hood College is frustrated with the Biden administration's initial inaction toward the Russia-Ukraine war. He demanded a no-fly zone above Ukraine, which will help protect innocent civilians, he said.
"My dad is holding a city right now — he's up on the front lines. My mom and my sister, they're in a bomb shelter," he said. "We're trying to evacuate them."
Bezmen was one of hundreds of people from across the country who gathered at a rally to support Ukraine in front of the White House, displaying handmade signs and singing traditional Ukrainian songs.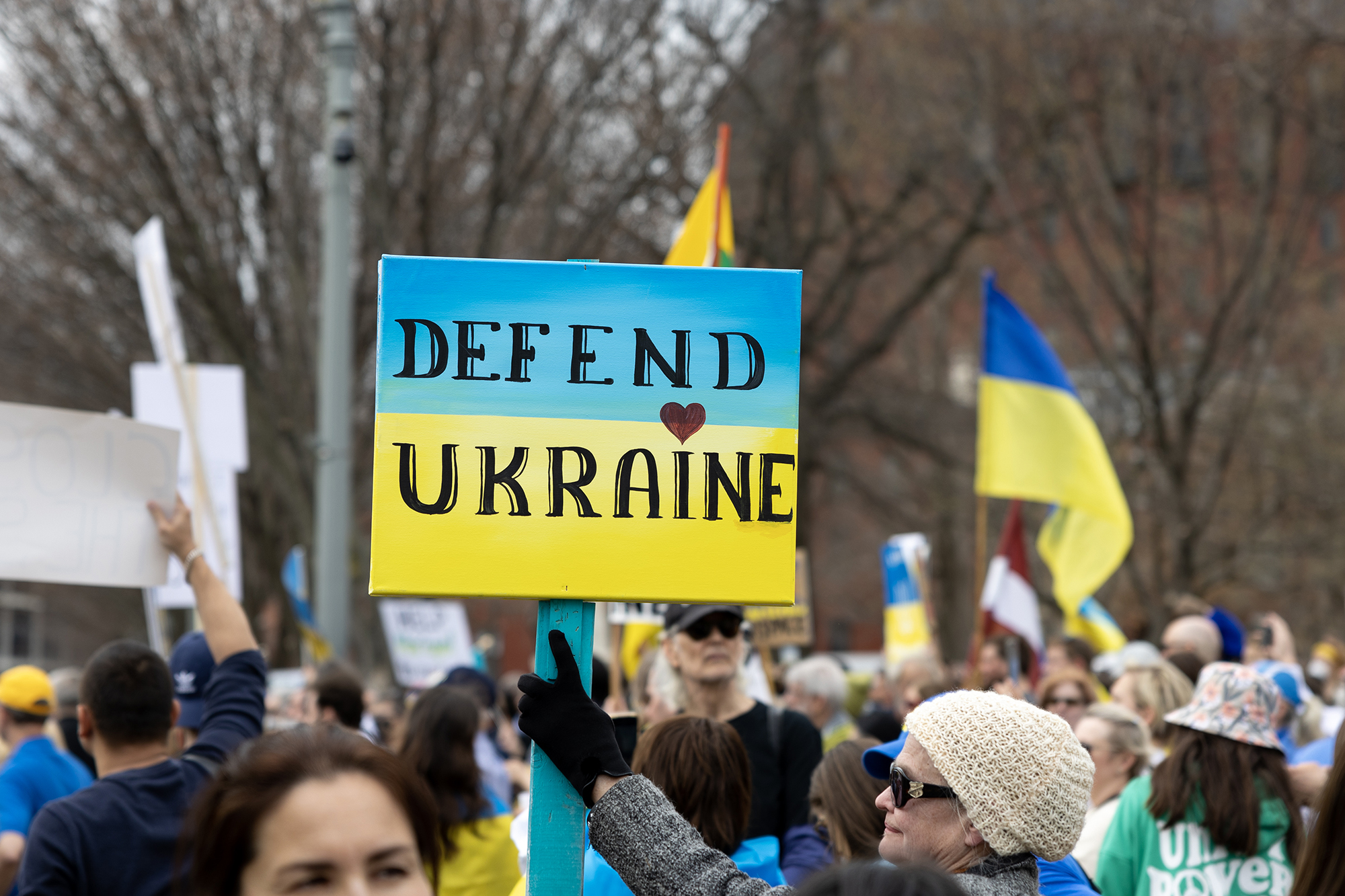 The speakers chanted "Slava Ukraini!" or "Glory to Ukraine!" in English.
"Heroiam slava!" the crowd echoed back, which translates to "Glory to the heroes!" in English.
Protesters also called for the U.S. government to place an embargo on Russian oil and gas.
Oleksandra Ustinova, a speaker at the protest and a member of the Ukrainian parliament, called for stricter sanctions on Russia and additional U.S. support through weaponry donation for Ukraine.
"I understand nobody wants to pay [an] extra 50 cents for a gallon of gas. Well, we have children dying every day," she said. "I think we can pay more here for the gas."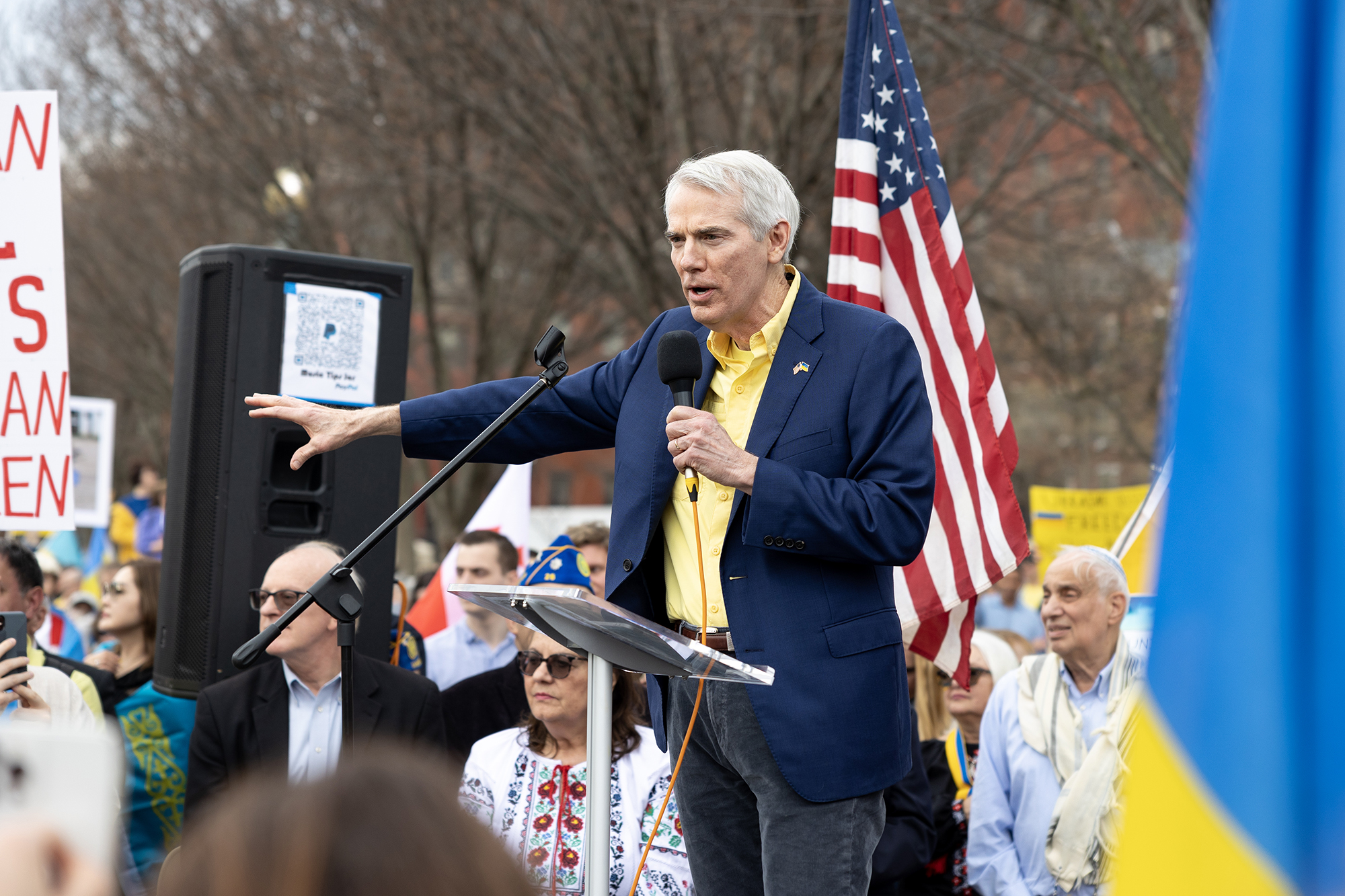 [After Russian invasion of Ukraine, UMD students hold vigil calling for peace]
U.S. Sen. Rob Portman (R-Ohio) co-founded and serves as the co-chair of the Senate Ukraine Caucus. He told the crowd that some of his colleagues have asked why he's been so concerned about Ukraine.
"Ukraine matters to America and to all freedom-loving countries and people of the world," Portman said. "Now is not the time to shirk our responsibilities. Now it's time to step forward and help the people of Ukraine, shoulder to shoulder."
Olga McGuinness, who was born in Kyiv but is now retired in Miami, explained her friends in Ukraine are desperate for help and are asking why the U.S. government won't support and protect them. One of her daughter's friends gave birth during a bombing, she said.
"They are not safe," she exclaimed. "It's awful, because we keep in touch and they call in every time [asking] 'What happened?'"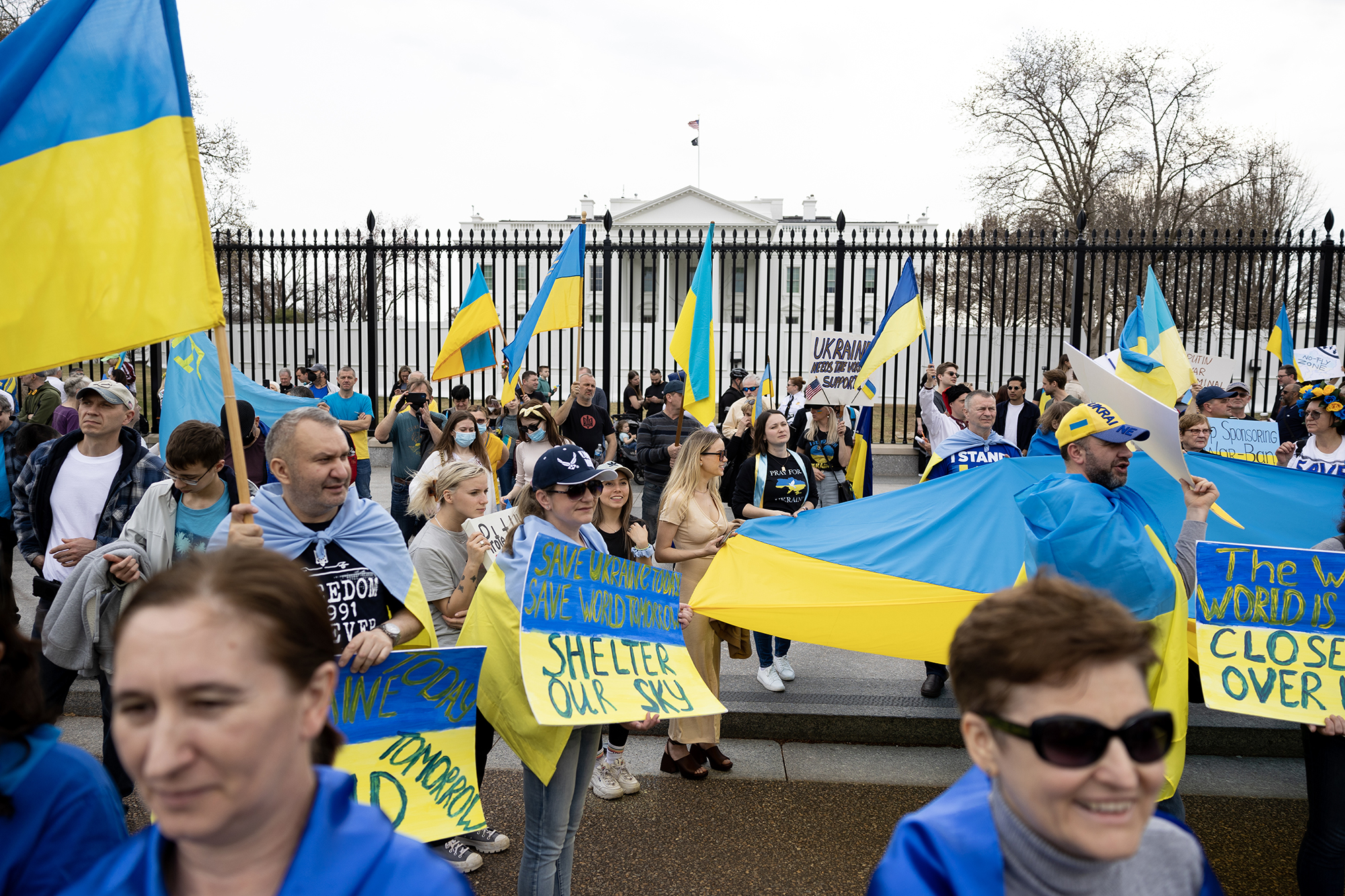 Sophia Smith, a New York resident, explained that Ukraine gave up its nuclear power due to pressure from the U.S., the United Kingdom and Russia in 2014.
"That could have been its defense," she said. "They gave up their nuclear arms. And Ukraine needs help … it doesn't have the military that Russia has."
Stefan Doboszczak, a lecturer in the department of mathematics at the University of Maryland, is in the process of helping students create an organization in support of Ukraine.
He said it's primarily students that are leading the planning, while he plays more of a side role as a faculty adviser.
"It is great that they're organizing this and rallying the Ukrainian community," Doboszczak said.
He said he wants to see the Biden administration do everything they can to help: financial support, sending over resources and speaking up.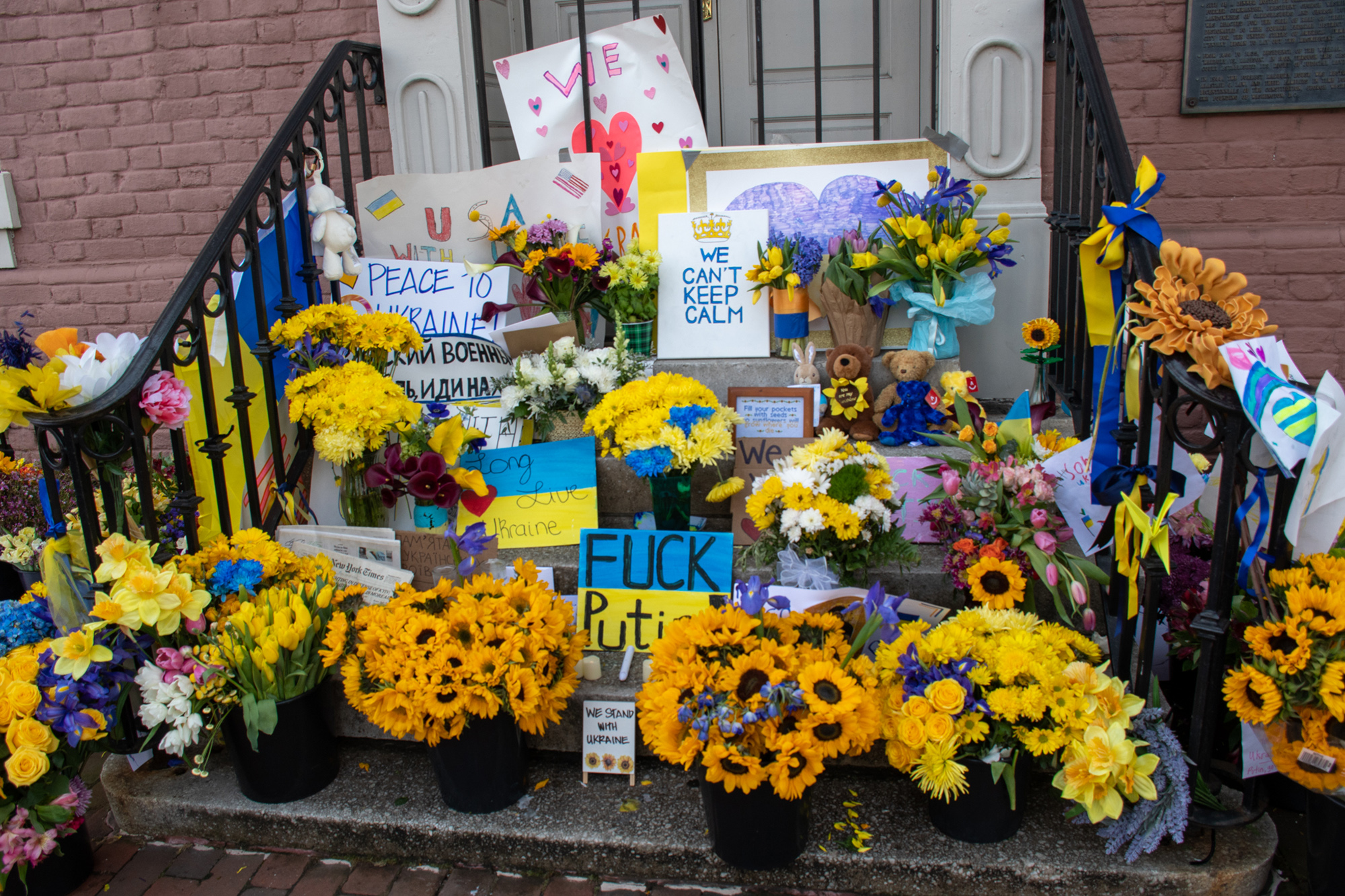 [UMD history professors examine Russia's invasion of Ukraine]
Two miles away from the protest, bouquets of yellow flowers lie across the entrance at the Ukrainian Embassy in Georgetown, Washington, D.C. Signs among the arrangements read "Fuck Putin," and "We Stand With Ukraine."
As people walk by, chatter in the street stops. They read signs and take pictures, admiring the arrangement.
Across the city, other stores don Ukrainian flags in support. For Bezmen, acts of support are incredibly important.
"We're here to show support and increase awareness. Some people, they're not aware of what's going on," Bezmen said.
CORRECTION: A previous version of one of the photo captions in this story stated that the protest took place on Feb. 6. The protest took place on March 6, not in February. The caption has been updated.