By Parker Leipzig and Victoria Stavish
Staff writers
A week after Russia invaded Ukraine, students at the University of Maryland shared support for Ukrainians at a vigil outside McKeldin Library on Thursday.
Ukrainian students at this university arranged the vigil and invited community members to attend and make statements. University President Darryll Pines attended the vigil and said he spoke with Congressman Steny Hoyer about needing diplomatic solutions to find peace.
Yana Chapailo, a graduate student in the international education policy program, said her family in Ukraine was suffering. During her speech to the crowd, she said she got a notification that her parents are in a bomb shelter. She said the conflict has taken a toll on her.
"I am not able to attend any classes," Chapailo said. "I just don't have time and emotional energy to study."
Chapailo assisted in putting together the event with her fellow Ukrainians and said she also wants to ensure the university has a "clear understanding" of the war because recent messages do not reflect what Chapailo knows due to her personal ties to the situation.
She said felt undervalued by the university calling the war a "crisis" and not individually addressing Ukrainians in an email sent out to this university's community in late February.
"This email doesn't condemn the war with the topic of 'global community,' it doesn't send a message," Chapailo said.
Chapailo said the Ukrainian community on campus has been supportive during this time. She also said the Polish and Georgian communities here, along with her classmates from around the world, have stepped up to stand with Ukraine.
[UMD Disability Day of Mourning honors victims of filicide]
One of the organizers of the vigil, Viktoriia Savchuk, spent half of her life living in Ukraine's capital of Kyiv, which is now being demolished by Russian forces, the communication doctoral student said.
"I wish I could do the thing that I meant to be doing right now … We had to pause our lives … Our loved ones are in danger," Savchuk said. "I honestly wish there was no reason to do all of this, and I would just do readings for my seminars, prepare for my classes and spend time with students."
Organizers wanted the vigil to commemorate the people who have died in Ukraine and to raise awareness about how students at this university can help, Savchuk said. She added she was packing a suitcase that will be hopefully delivered to Ukraine tomorrow.
"We need a lot of help," Savchuk said.
Senior government and politics major Anastasiia Gevel, who has family in Ukraine, said she felt "helpless" and "depressed" when she first heard about Russia's attack.
Some of Gevel's family — including her parents, grandparents and cousin — are still in Ukraine, where there's no safe place, she said.
Her cousin, who Gevel said lives two hours from the capital city, is choosing not to evacuate.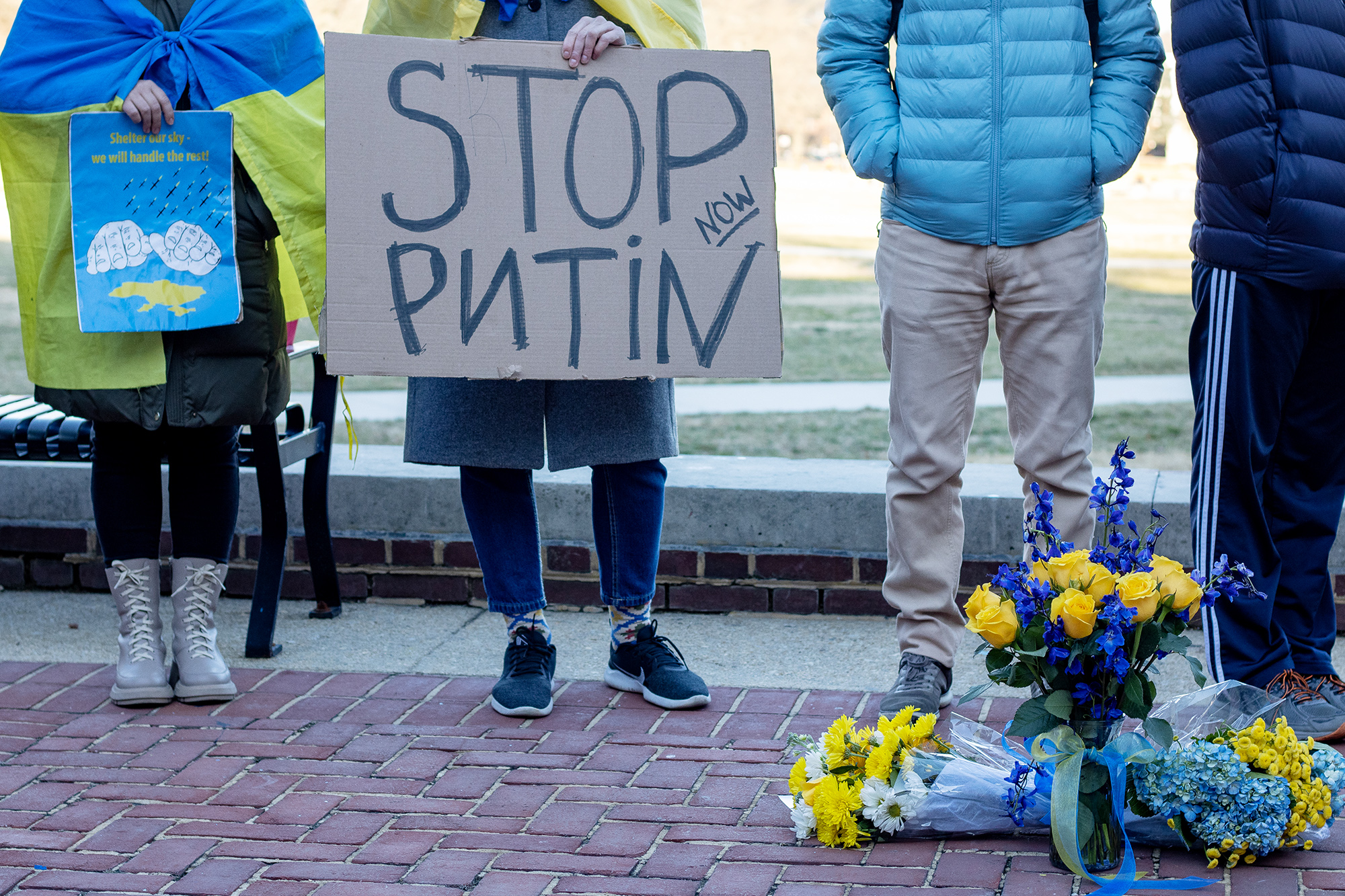 [UMD history professors examine Russia's invasion of Ukraine]
"He's very broken, and he says, 'I don't even want to evacuate. Because if I die, I'll just stay here,'" Gevel said.
Another organizer of the vigil, aerospace engineering doctoral student Jacek Garbulinski, is Polish. He said his parents live in Poland, just two hours away from the Ukrainian border.
"Every speech that was shared, especially that from Ukrainian students, it resonated to every fiber of myself," Garbulinski said.
While he's "completely terrified" Ukraine was invaded, Garbulinski said he hopes students make an effort to learn about what is happening in Ukraine — how it was an independent and democratic country and how Russia doesn't want it to be that way.
Students can support Ukraine by joining protests at the White House and calling on their legislators to support Ukranians, Garbulinski said.
"The city I spent half of my life, Kyiv, the capital of Ukraine … all the roads and bridges that they are destroying, we can rebuild that." Savchuk said. "But we cannot get back those people who already died or those people who are injured."
Chapailo said people standing together and reaching out to local representatives about the war is crucial.
"All efforts matter right now," she said. "We should not be silent and we must not be silent because the attack on Ukraine is the attack on the democracy around the world."
CORRECTION: A previous version of this story misstated Jacek Garbulinski identifies as Ukrainian and Polish. Garbulinski identifies as Polish only. This story has been updated.