It's easy to see the contributions Chloe Bibby and Katie Benzan have made for Maryland women's basketball. Just listen for the cheers every time one of them knocks down a three-pointer. The pair were two of the four Terps honored before Sunday's 80-65 home victory over Nebraska.
Benzan and Bibby received a standing ovation from the Xfinity Center crowd as they checked out for the last time late in the fourth quarter and hugged each member of the Terps' bench before they sat down.
 "To hear the love and support… I can really feel that I found a place where I belong and where I'm loved," Benzan said.
"We've gone through it all together," Bibby said. "We've hit a lot of adversity together, the COVID year really brought us closer."
While four Terps were honored, only two played on the court. The other two's additions to the team aren't as easy to see, but they've all stepped into important roles over the season. 
[No. 17 Maryland women's basketball knocks off Nebraska on senior day, 80-65]
Benzan and Bibby played integral roles in Maryland's Big Ten regular season and tournament championships. On Sunday against the Cornhuskers, Bibby scored a team-high 21 points, continuing a strong stretch where she's averaged over 16 points per game in the last eight matchups.
"She's a matchup nightmare," coach Brenda Frese said. "Her versatility obviously to stretch the floor for us, pick and pop, but then just her toughness when she goes inside… I think she's a really difficult matchup."
Benzan is on the short list of greatest Terp shooters of all time. In her first year at Maryland, she scored the third-most triples in the country and shot a blistering 50 percent from behind the arc. This season, she's continued that strong shooting and has been a reliable point guard option for Frese. 
The other two seniors, Channise Lewis and Zoe Young, rarely get standing ovations from the fans. Neither has played a game this season, but both remain key parts of the team.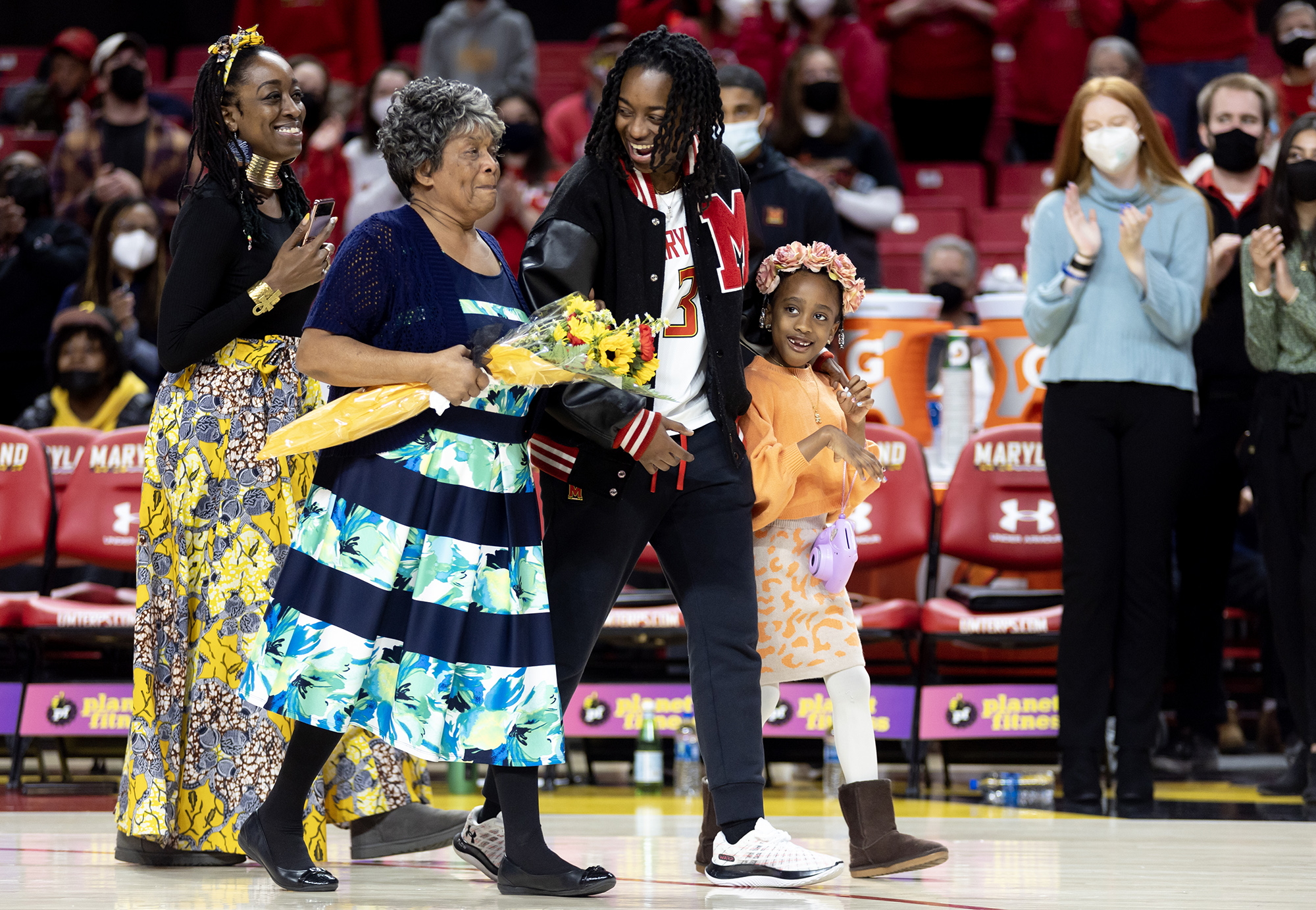 Both suffered torn ACLs that ended their Maryland careers. Young retired before the season to become a student assistant and Lewis announced that due to challenges in her rehab she would not return for her final year of eligibility. 
"Their journeys and their paths have not been easy," Frese said. "They've had a ton of adversity as they fought through injuries that tabled their careers."
It's harder to see the duo's contributions, simply because they haven't been able to suit up and play, but they're there. 
Frese praised Lewis's loyalty as a player who's been a Terp for five years, using up her extra year of eligibility to return for one last ride, just like Benzan and Bibby.
Although she no longer takes the court for her team, she's always there to give "great nuggets."
Those nuggets have been an integral aspect for the team, with Lewis using her knowledge of the game as a point guard even when she can't play.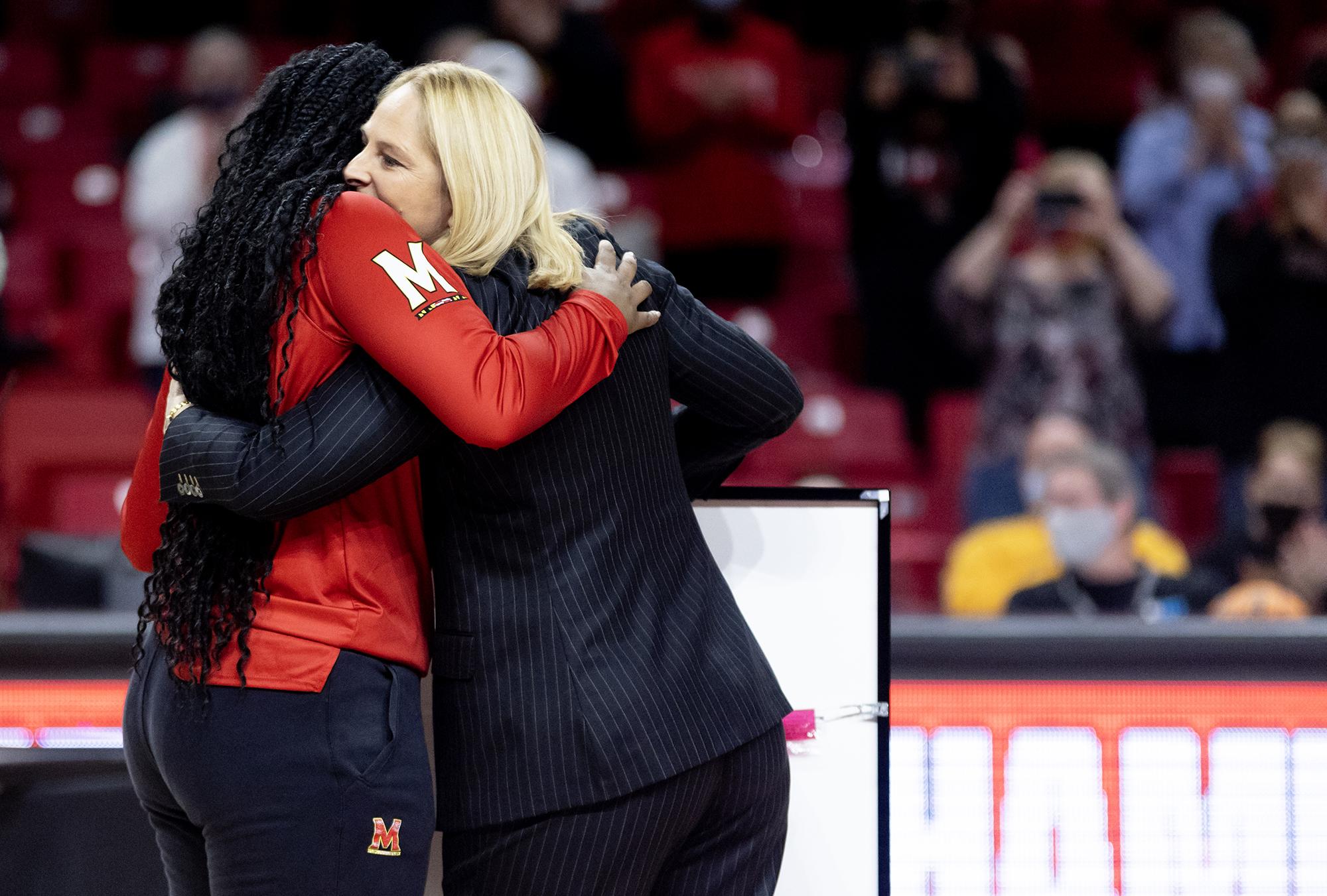 [Sellers fills in for Owusu, Maryland women's basketball edges out Michigan State, 67-62]
"It's like another coach, just her basketball IQ and her wisdom of the game," Bibby said. "It's all the time whether it's in practice or it's in games she's always there and it's a great asset to our team."
Young — also a former point guard — passes on her wisdom to the team as well. She's had a key role in practices as a student assistant, stepping in at times to play with the scout team to help Maryland prepare while using her platform to advocate for others. 
"She's been very active in a lot of causes that she's very passionate about," Frese said. "She uses her voice with our team, something that we really value."
The seniors were a part of the Big Ten's best team a season ago and although some have had their roles shifted, they continue to be important to their teammates, whether they were recruited and played here for five years like Lewis or came from Harvard a year and a half ago like Benzan.
"Through these two years being here all of them have become my sisters and I'm just so grateful for Coach B to bring me into this family," Benzan said. "I just can't thank her and my teammates, for the memories that we've made and for… the memories we're going to make."