By Timothy Dashiell and Varun Shankar
Zoe Young was in the NCAA tournament bubble in San Antonio when the idea of ending her on-court basketball career first entered her mind. She loved the Maryland women's basketball program, she loved her teammates but she wasn't satisfied when she played anymore.
It was a heartbreaking realization for the then-redshirt freshman — who lost her entire first year with the Terps due to a torn ACL in her third practice — and she began contemplating detaching herself from something she'd done and loved since she was five years old.
However, Young's story with basketball would not end in San Antonio. 
After many tearful conversations with her families — both at home and on her team — the former guard found a new role with Maryland, using her basketball knowledge as a student assistant and her social justice advocacy as the team's representative on the Big Ten Equality Coalition.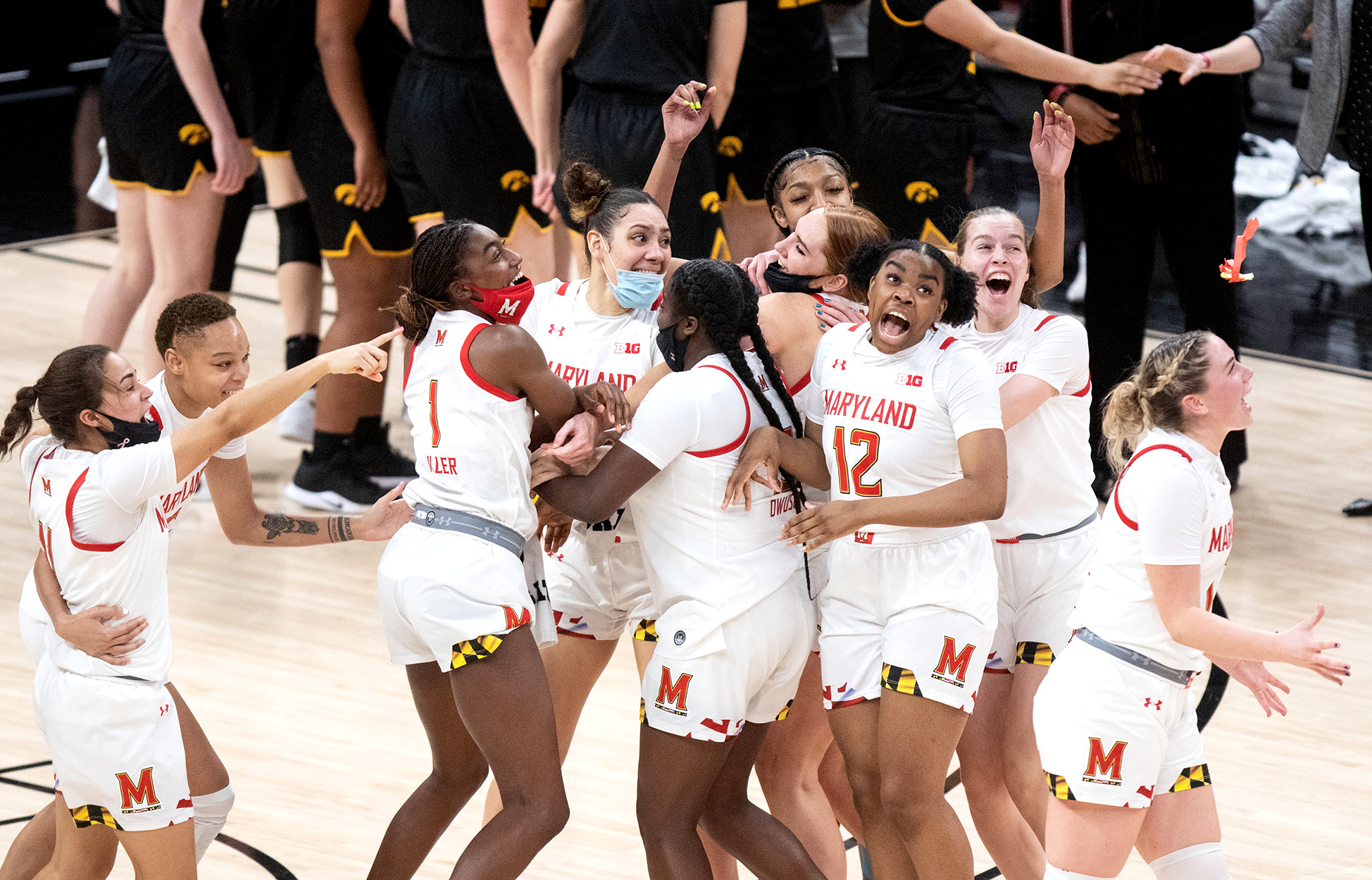 "I've seen the game for what it is on the sideline, and that's something I had to do a lot my freshman year because I'm not playing," Young said. "It's a role I'm used to and it's a role that I really embrace and I think the coaches and my teammates both value my input as an individual."
When the Terps lost to Texas in the Sweet 16, Young spoke to her parents, Helena Young and Edward Young, and told them she didn't know if she wanted to play basketball in the 2021-22 season. They decided to take the summer to see if her love for playing could be rekindled. 
But after that offseason and one preseason fall workout, Young made her decision. She could no longer play college basketball with the love and intensity it required. 
"At the end of it, I was like … I think it's time for me to step away because I'm not only hindering myself by not being able to give my 100 percent but I'm hindering my teammates, my coaching staff," Young said.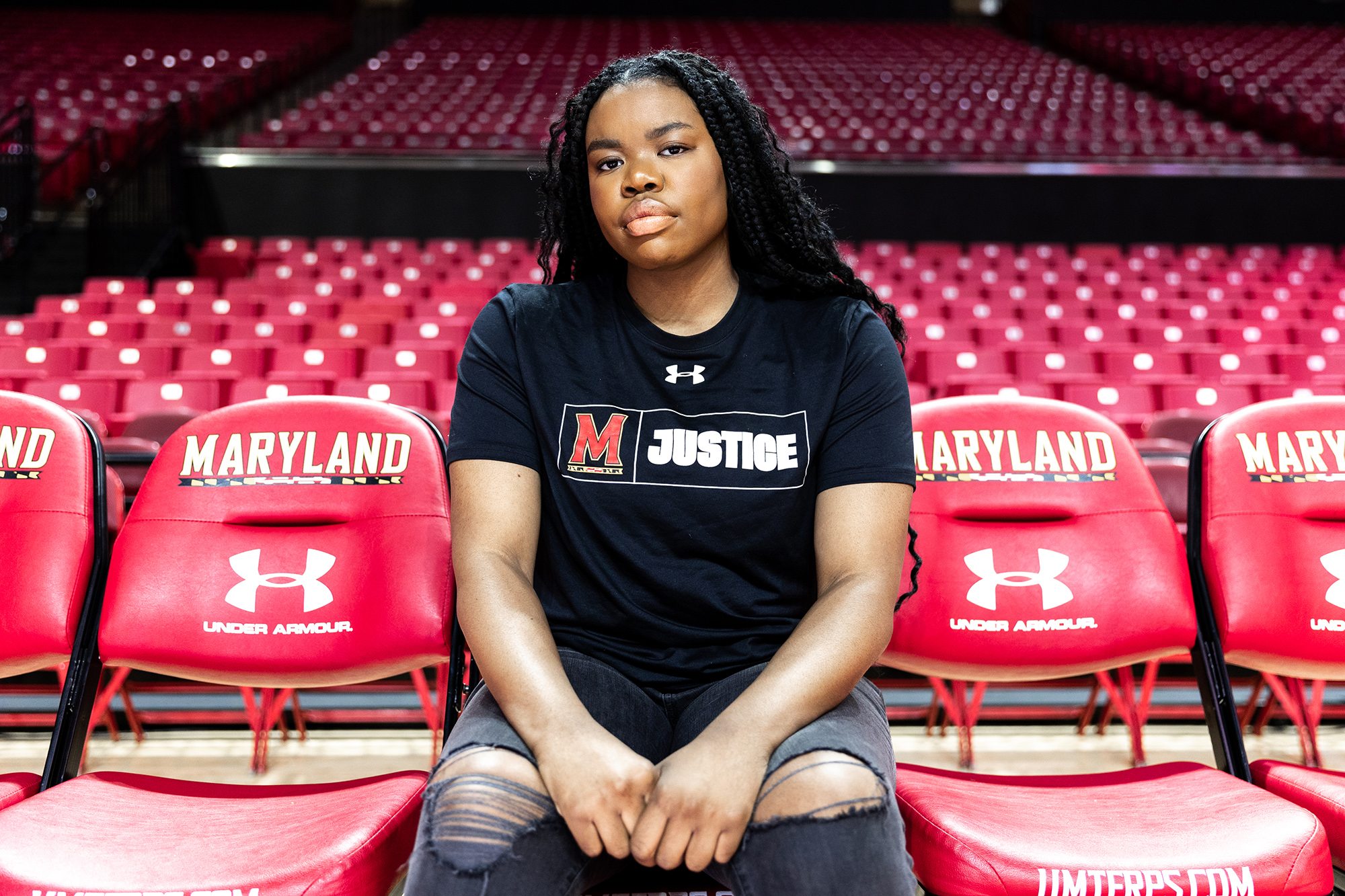 [Maryland women's basketball staves off losing streak, beats Northwestern, 87-59]
After telling her teammates, including an emotional conversation with Chloe Bibby, who's "kind of like a mother to us on the team," she needed to tell coach Brenda Frese. She knocked on her coach's office door, prepared in her mind with what she wanted to say. 
The second she went inside, she broke down crying. Frese reached across the desk and took Young's hand and asked her what was going on. Young told her and braced herself for the worst-case scenario — being told she couldn't be around the team if she wasn't playing.
Instead, Frese put everything in Young's hands, giving her the power to decide her involvement with the program that recruited her out of Valley High School in West Des Moines, Iowa. 
When she walked out of Frese's office, the now-former player felt lighter. Frese called Young's mother that night and told her it was the most adult conversation she'd ever had with a player.
"The biggest thing I walked away from there like, 'Wow, I really have control over this entire situation,'" Young said. "And for me, being in such a vulnerable state mentally and physically for the past two years, that was just the biggest breath of relief."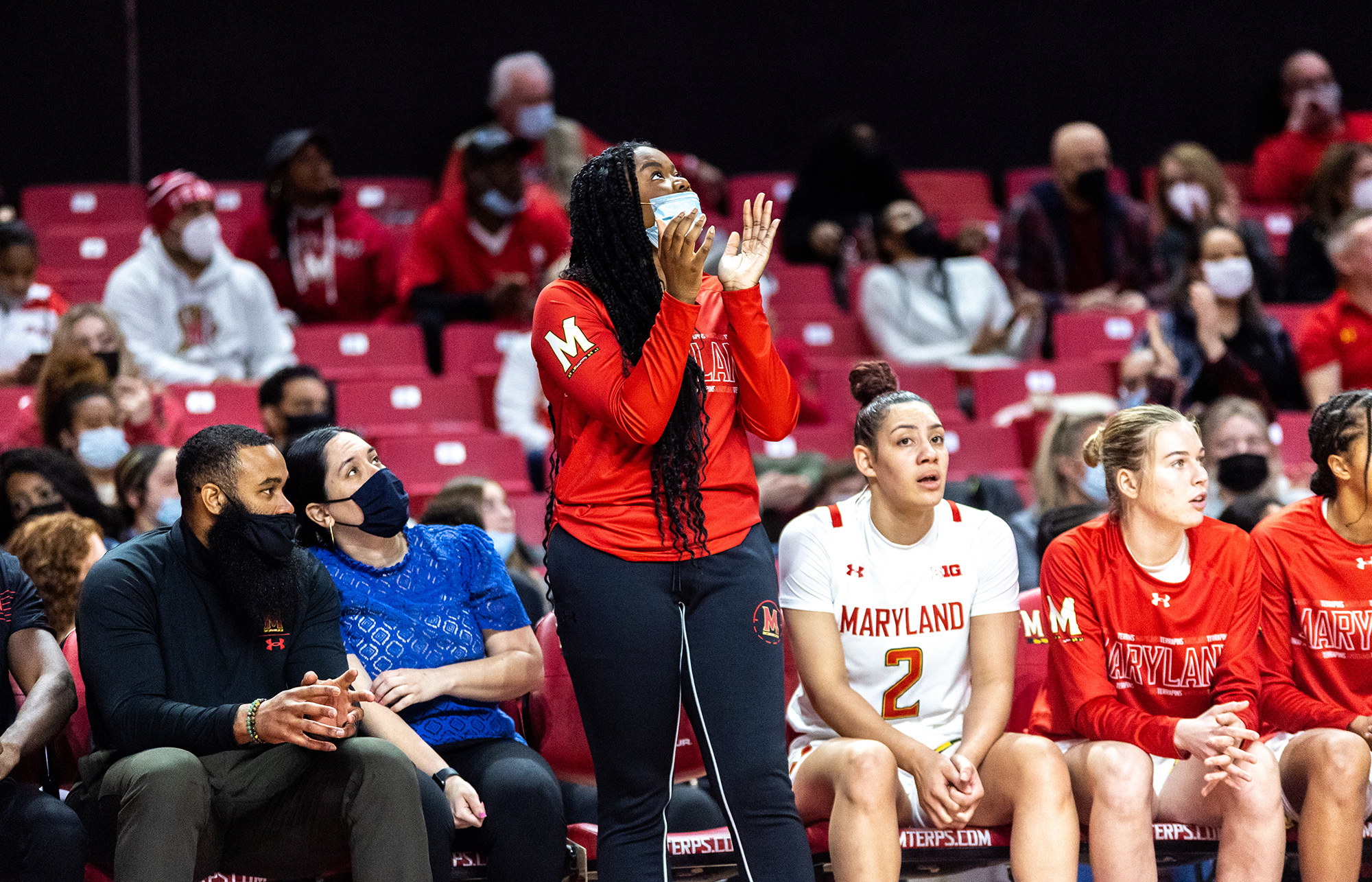 After one more conversation in front of the entire team, including players, coaches and staff that ended with a swarm of hugs and tears, it was time for her to figure out her role on the team. 
As a student assistant, Young also found herself playing on the scout team, filling in when needed and using her previous basketball experience and IQ to push teammates to compete and be the best versions of themselves. 
"She's able to get out there on the floor and actually put them through it," assistant coach Kaitlynn Fratz said. "Where I have to stand on the sidelines and trust that they hear my verbals where she can physically go help."
Her voice doesn't go unnoticed by those in the program.
"The coaches and my teammates both value my input as an individual," Young said.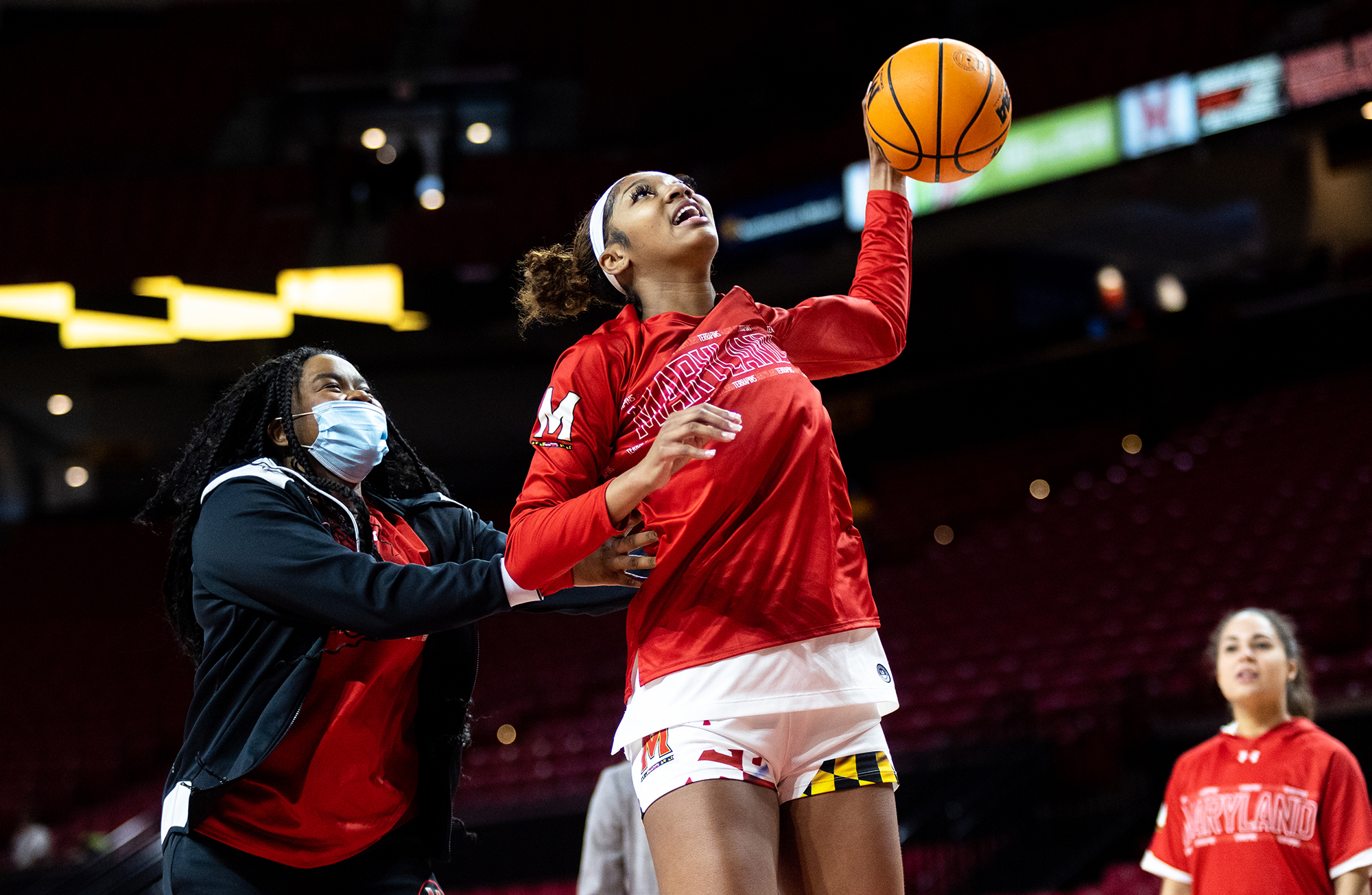 The respect Young commands from her peers led her to a new role following her retirement, when she was named to the Big Ten Equality Coalition with four other Maryland athletes. It offered a role that allowed Young to work on something she finds purpose and passion in: social justice.
According to the Big Ten website, "the goal of the coalition is to seek tangible ways to actively and constructively combat racism and hate around the world while also empowering student-athletes to express their rights to free speech and peaceful protest."
Protesting is just one of many ways Young chose to fight for equality and justice during the height of the social justice movement in summer 2020. The coalition was an opportunity for Young to expand on that work even more.
"I'm finding out what I can do. I'm sharing resources. I'm using my platform," Young said. "So this is just another opportunity for me to continue that passion." 
Young was deeply involved with the Des Moines chapter of Black Lives Matter, marching with them in an effort that eventually got Iowa's governor to sign an executive order that restored voting rights to thousands of Iowans who had felony convictions.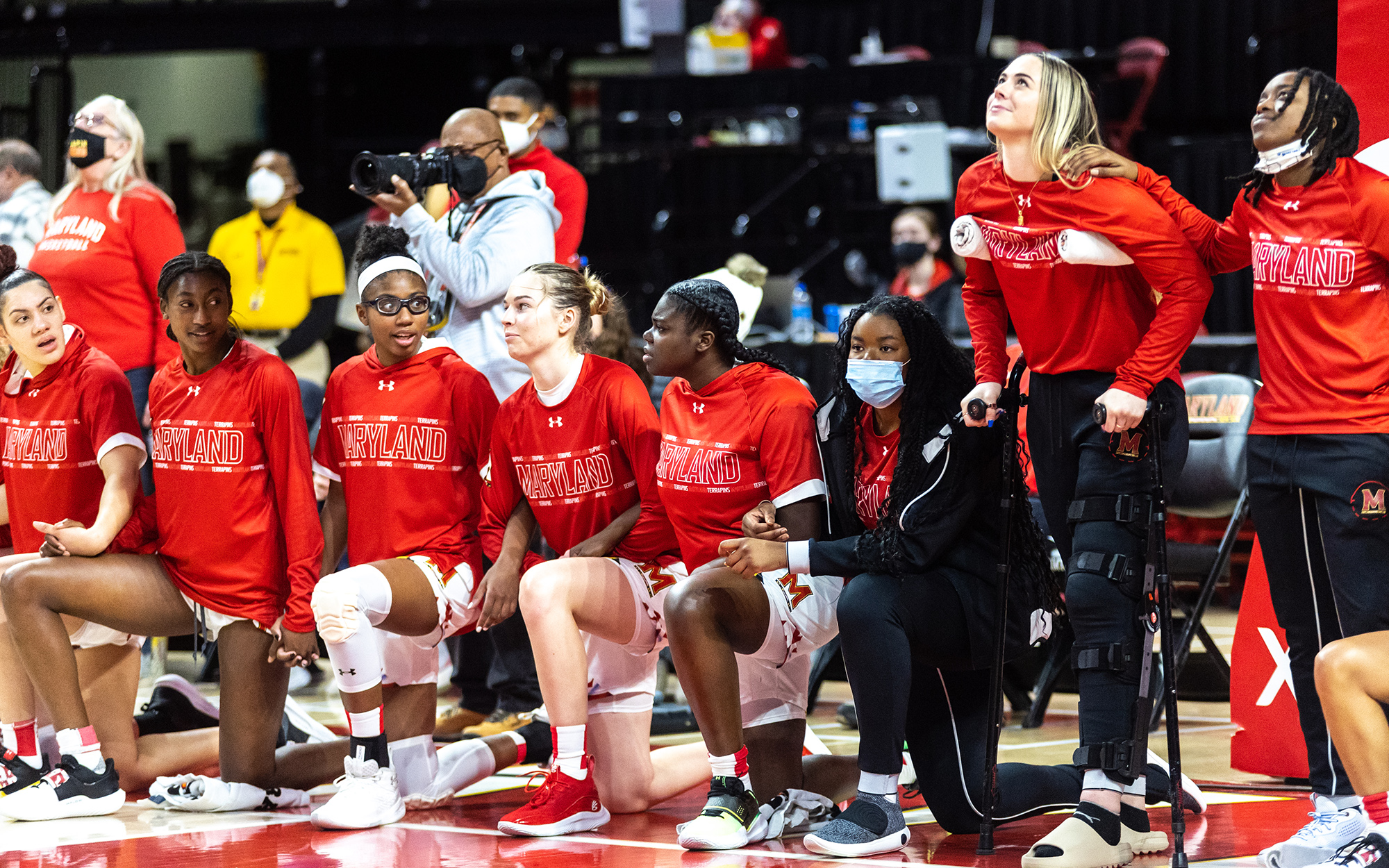 She led a prayer during a march in Iowa, an inclusive one that applied to all Black people, regardless of their religion. 
She bowed her head and began to pray, speaking with her hands as well as her words, gesturing and moving to the rhythm of her speech. 
She spoke confidently, moving through stutters and stumbles and picking up intensity in her speech with every word. 
Before ending her prayer with an amen — one echoed by the audience — she spoke about those who were against her and against the protesters. 
"For those who do not stand with us, for those who oppose us, for those who are in power," Young said. "We ask that you fill their hearts with the spirit of morality, with the spirit of love, with the spirit to generate change towards justice and equality."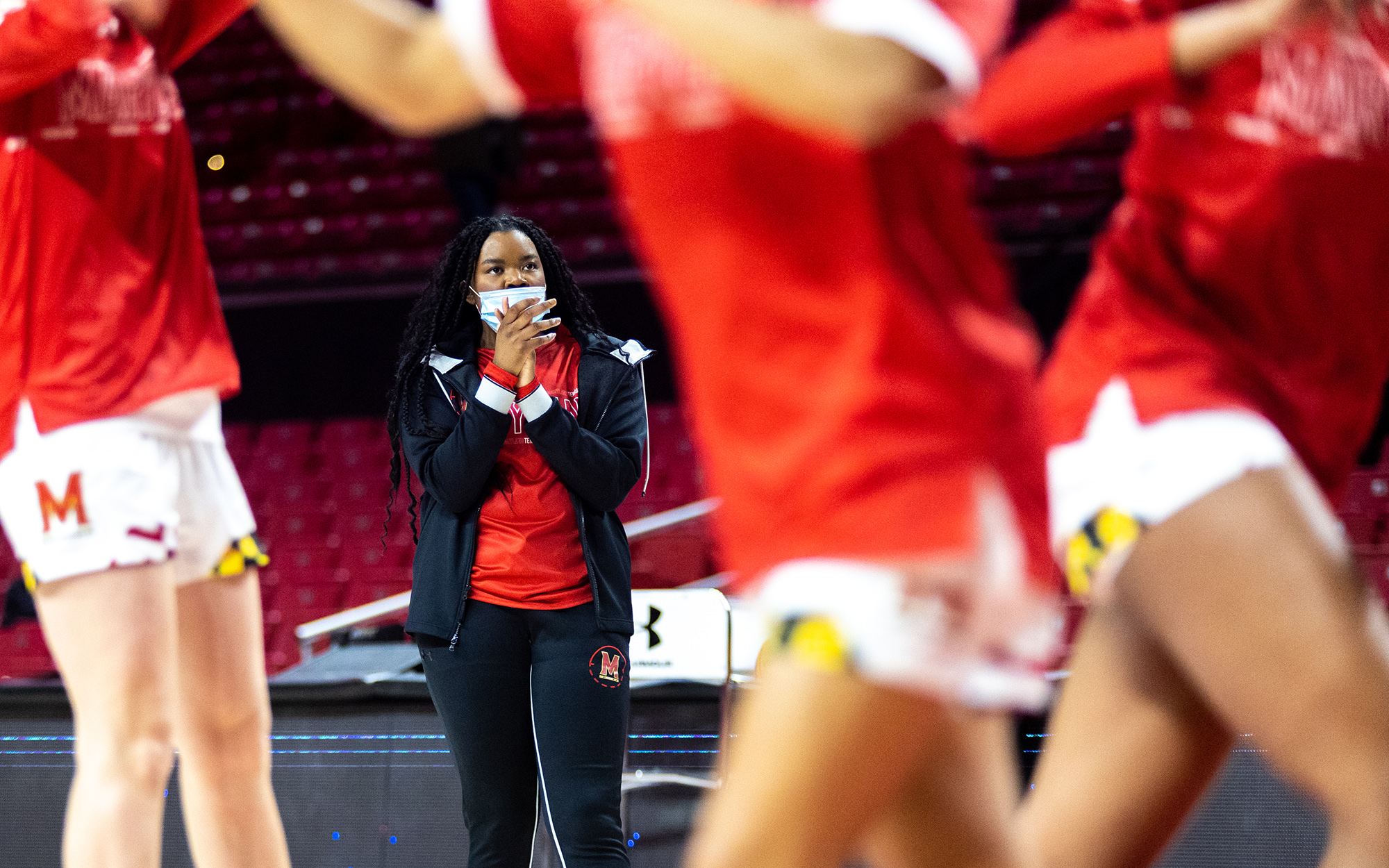 That's the spirit that has motivated Young, one to bring change and help those around her. It's something she hopes to do on the coalition and on the sidelines. 
She has spent the time since that summer educating herself, learning about Indigenous people's experiences, Asian Americans' experiences, issues the LGBTQ+ community experiences and understanding the intersectionality between those issues.
[Taylor Mikesell drops 33 in Maryland women's basketball's loss to Ohio State, 95-89]
Young's activism expands to those communities as well — she wants justice for all. 
"There's a lot of different things that in a lot of different systems of oppression that are happening in America," Young said in a 2020 interview.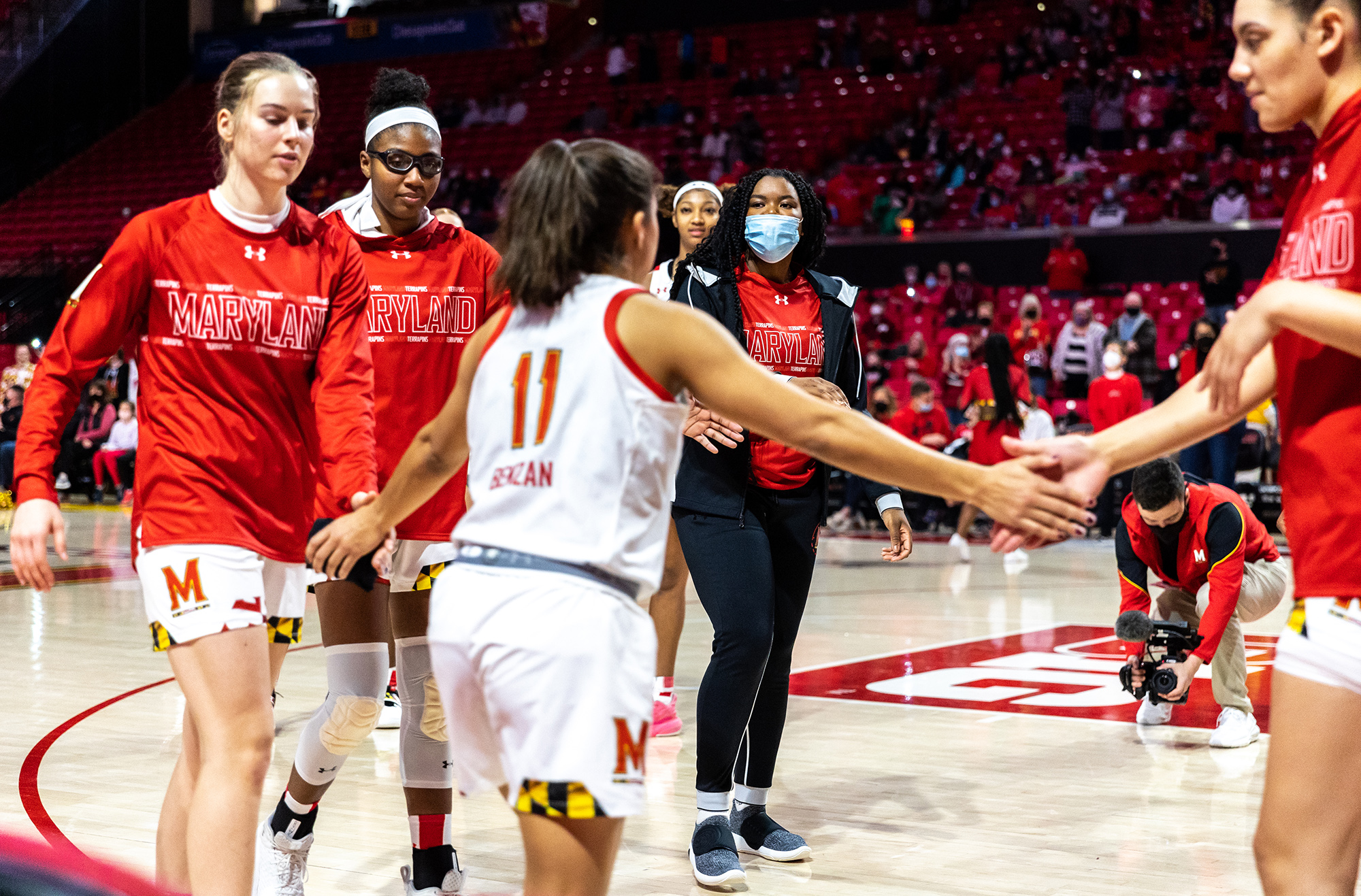 Young is still visible on the Maryland bench, talking to her teammates during the game, participating in team huddles and doing personalized handshakes with each of the starters when they're introduced. 
She will remain that way through her graduation this spring and from there the possibilities remain open for Young, who's looking into possible careers in athletic administration or coaching, Helena Young said. 
Young's decision to step away from the game gave her a measure of control over her own life that she felt she had lacked in the past. And her decision to step up onto the equality coalition has given her the opportunity to take the lessons she learned from Des Moines to continue to affect change.
"Part of the revolution is joy, so there were also equally as many celebrations [in the marches], like we're celebrating … life, the opportunity to march another day," Young said.