MINNEAPOLIS — As Frankie Burgess pursued Mar'Keise Irving, the Maryland linebacker attempted to do something his side had failed to pull off all game — stop Minnesota's run. But Irving easily fought off Burgess and steamrolled around the outside for another touchdown.
It was a common scene on a chilly Saturday afternoon at Huntington Bank Stadium. Despite missing star running back and Baltimore native Mohamed Ibrahim, the Golden Gophers carved up the Terps on the ground with a three-pronged attack.
Minnesota ran for 326 yards, and Maryland slumped off the field series after series, worn down by the incessant push. It added up to a 34-16 Gophers victory and the Terps' third straight loss.
"They have a culture up front that they're going to run the football," coach Mike Locksley said. "It's not a surprise that that's what they wanted to do."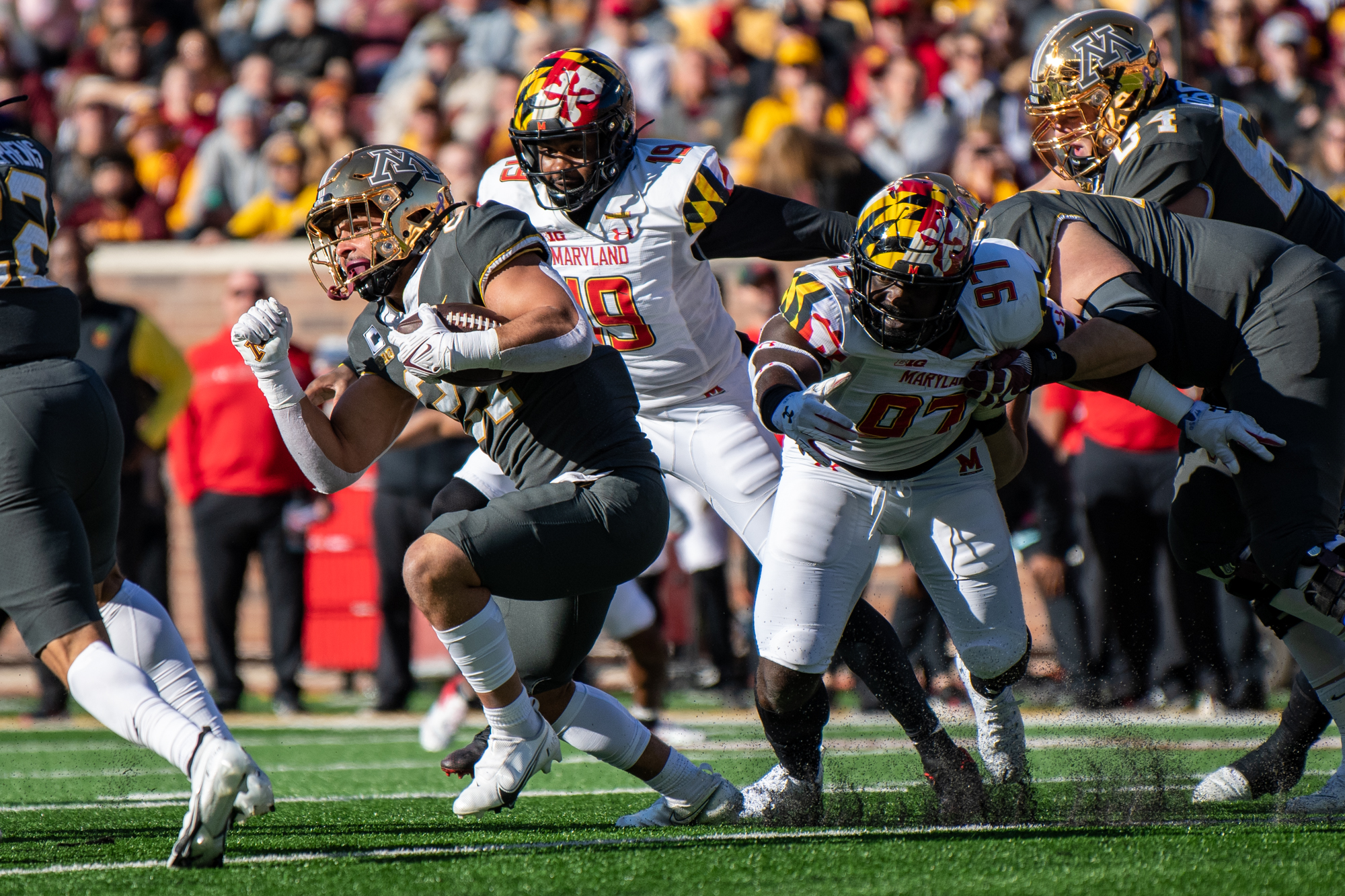 Maryland (4-3, 1-3 Big Ten) has not seen a slower, rush-first approach like Minnesota's for most of the season, and it showed. The Gophers, occasionally attacking with an unusual six-man offensive line, delivered on their intent to run it right at the Terps.
Irving's prance capped a 34-yard drive that sent his team up three scores. Every play on that series was a rush, which was the case for most of the day.
Minnesota went 86 yards, the final 73 of which came on the ground. Ky Thomas slashed left, Irving cut right and Cole Kramer pushed forward for a two-yard score and a 10-3 Gophers lead.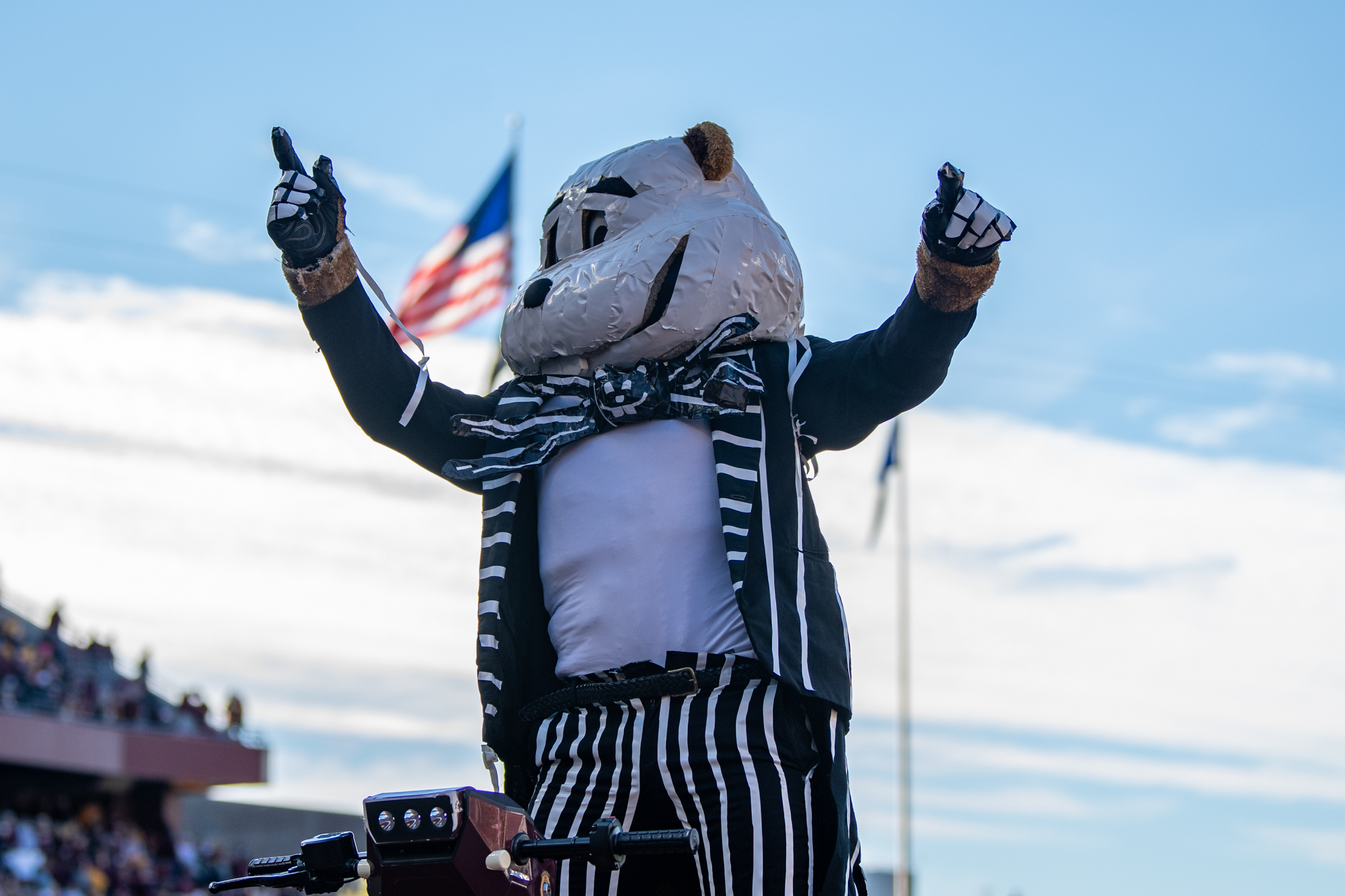 [Maryland football may be reliant on young defensive backs if starters remain sidelined]
Nearly every subsequent possession was a carbon copy. Minnesota (5-2, 3-1) didn't bring any surprises and just kept running, wearing out Maryland's front seven. On one of those drives, Thomas bulldozed his way down the field and ultimately found the end zone from 10 yards out, part of his game-high 139 rushing yards.
"We knew it was coming," linebacker Ruben Hyppolite said. "We just got to take pride in doing our jobs and executing. We've got to be more physical."
That series was aided by two costly Terp penalties, among eight on the day. One was due to an illegal uniform, one an illegal hands to the face. No matter the infraction, the Gophers took advantage.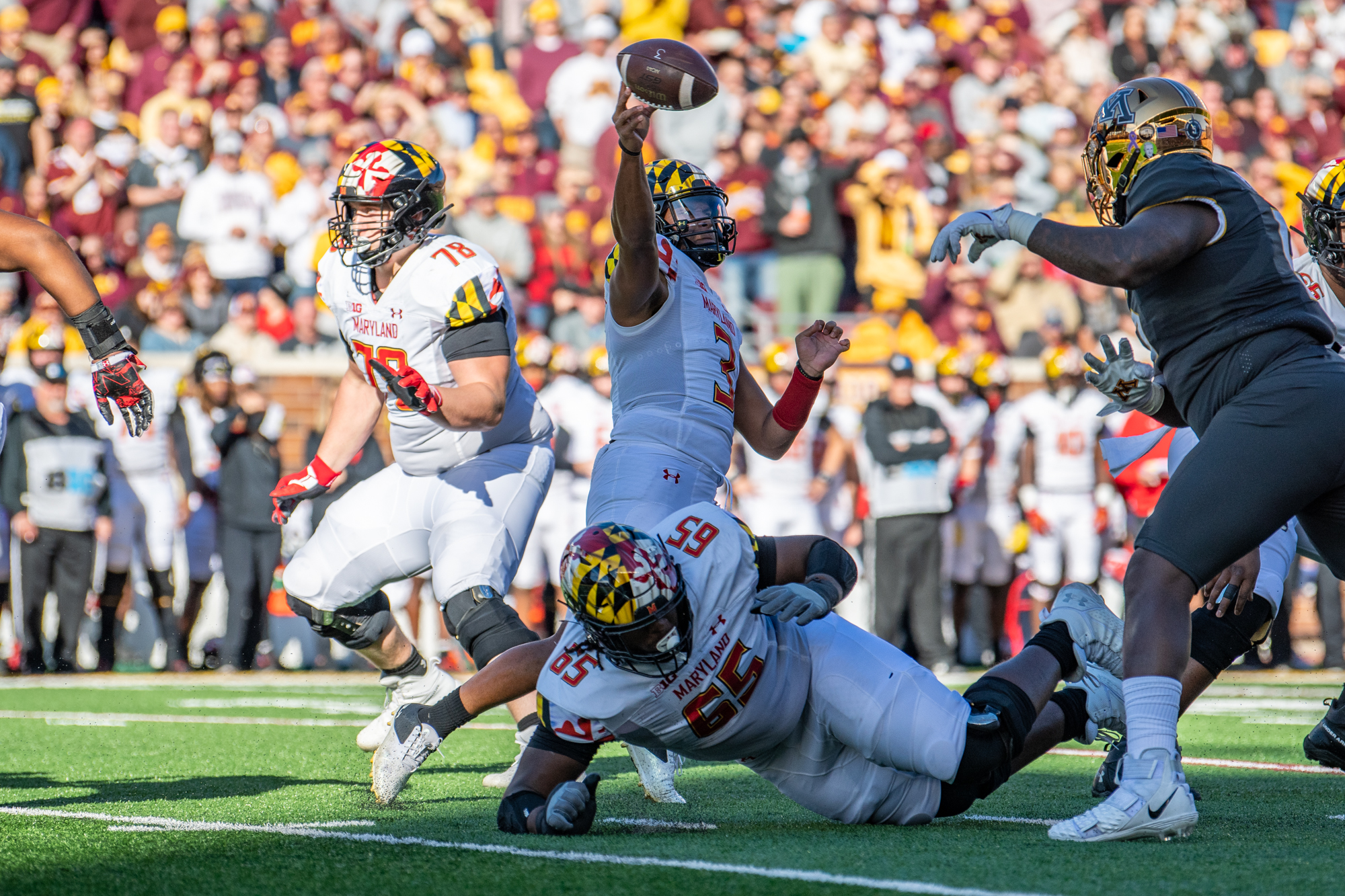 These are the petty fouls that coach Mike Locksley has wanted to minimize. He's harped on it all year, yet it's still an issue seven games deep.
"These guys are going to have to be held accountable for their actions, just like we will as coaches," Locksley said.
That extended to the offense, which also saw a handful of drives bogged down by infractions. But the sudden troubles on that side of the ball extended beyond the yellow flag.
Down two of their top three receivers, the once-formidable deep ball became something of an inconsistent liability for the Terps. Maryland broke just three plays of more than 20 yards, and Rakim Jarrett — its last reliable deep threat — was well-covered all game.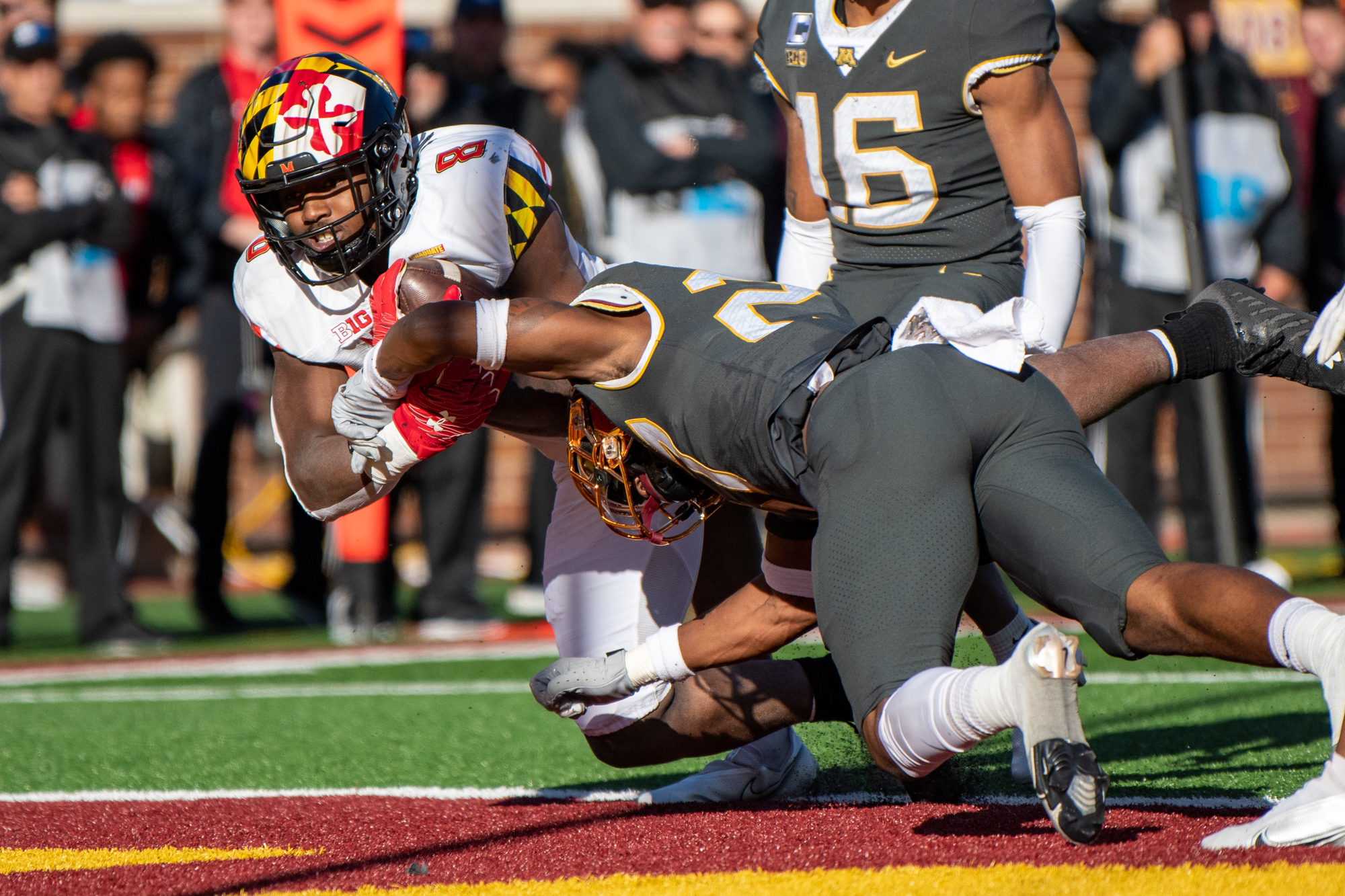 [Maryland football is at another crossroads as second half of season starts]
When the Terps did chunk off those larger gains, they scored twice — one a 47-yard field goal, one a 13-yard rushing touchdown by Tayon Fleet-Davis. Marcus Fleming also added a touchdown on a one-handed 17-yard catch late in the fourth quarter. But without multiple dangerous wideouts, those chances were scarce.
"The next man just has to step up," Jarrett said.
And so it fell to the defense to come through. Yet, Maryland couldn't hold down Minnesota's backfield, and the Gophers pulled away.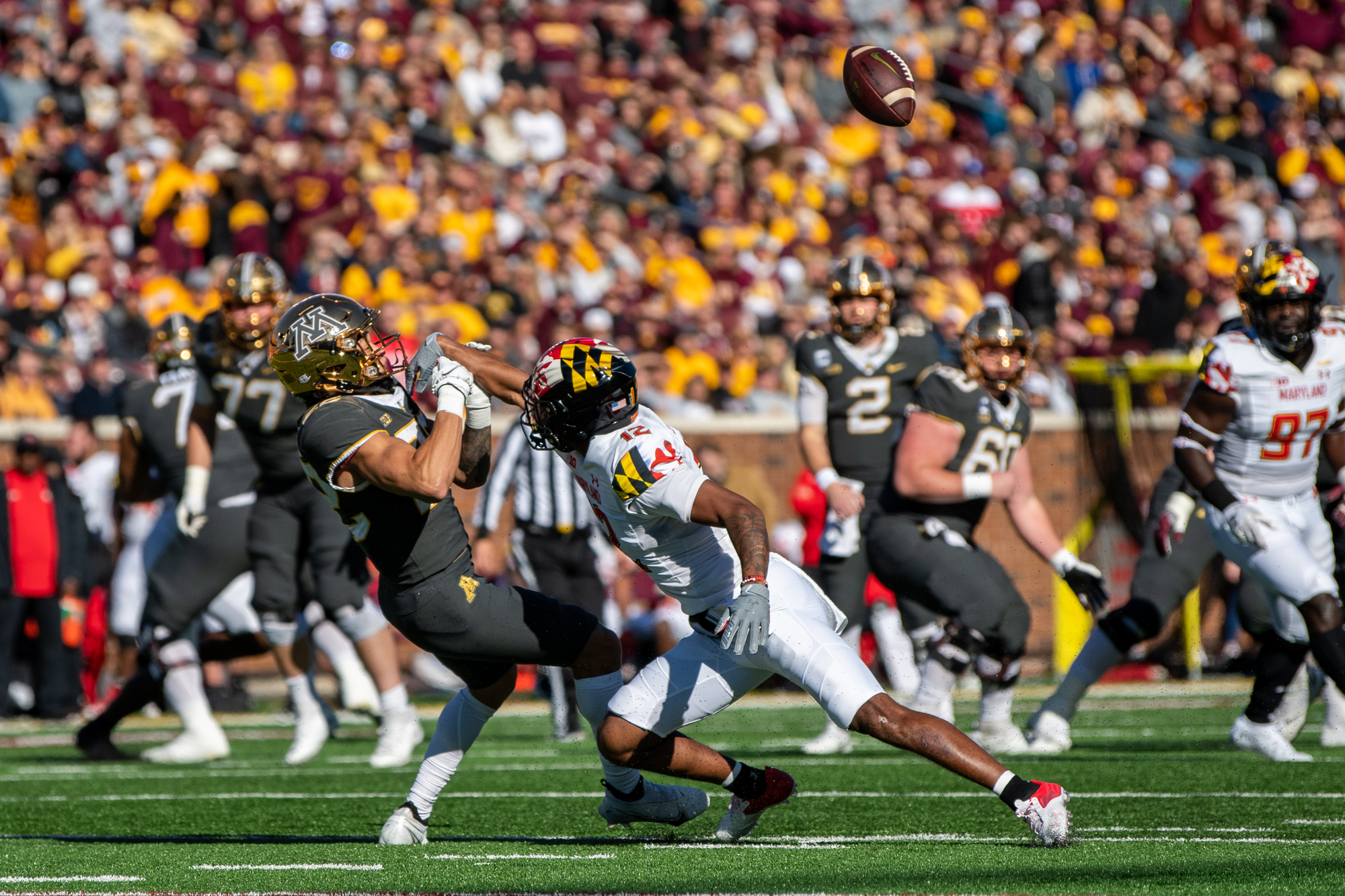 It was another concerning showing for that unit, which has hit a wall come Big Ten play. Injuries played a part, but even with Jakorian Bennett back in the fold, the Terps were outclassed by a Minnesota side intent on slogging out a convincing victory by any means necessary.
On Saturday, that was via the ground.
"We had two weeks to prepare, and it wasn't as if they did anything that we didn't expect," Locksley said. "We still didn't get it done."