As Dontay Demus laid on the ground, unable to move due to the pain, referee Jerry McGinn crackled over the loudspeaker to award Iowa the football. The star Maryland wideout's leg got twisted as he was going down on a kick return, and he fumbled the ball in the process.
The Hawkeyes pounced, and the Terps were left empty-handed and down their best receiver. Two plays later, Iowa scored, beginning the pile-on.
So went Maryland's latest Friday night home affair against a top-ranked opponent. While the Terps hung with the Hawkeyes for a quarter, Demus' injury sent his team spiraling.
And though Demus told his teammates as he was being carted off he'd come back, he never returned to the contest. It was far too late to reverse the damage, and No. 5 Iowa ran away with a 51-14 win over Maryland.
"Throw this game in the trash," tight end Chig Okonkwo said. "It happened. It's over."
On the Terps' possession following Demus' injury, Taulia Tagovailoa's pass over the middle was tipped and intercepted by Jack Koerner. The Hawkeyes (5-0, 2-0 Big Ten) soon scored.
The next series was much of the same. Tagovailoa tried to find Corey Dyches across the middle but badly underthrew him, the ball ending in Dane Belton's hands instead. Eight plays later, Iowa was in the end zone again.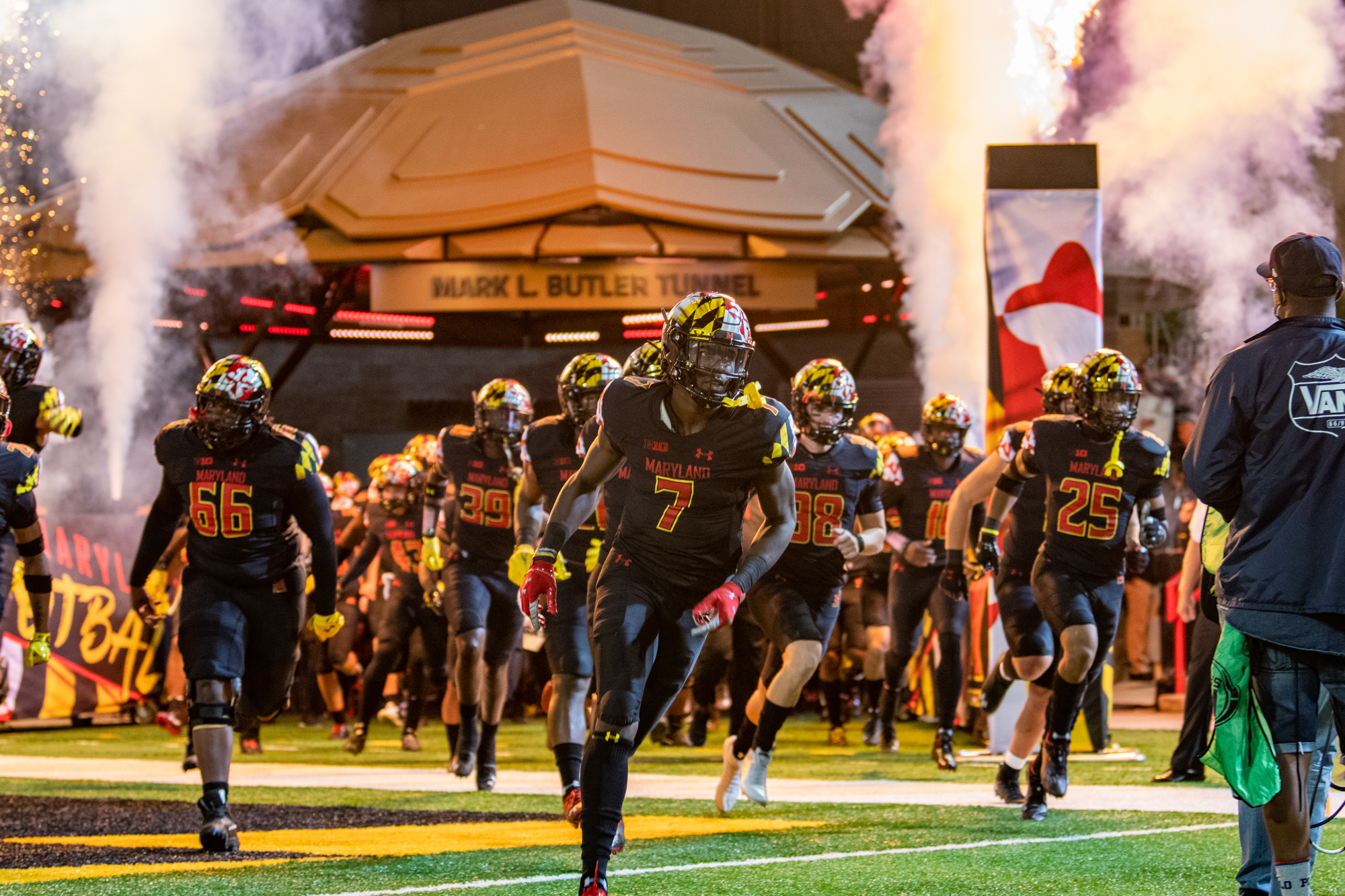 [Clashing styles will be on display when Maryland football meets No. 5 Iowa]
It was 31-7 at this point, Maryland's game coming undone by the Hawkeyes' vaunted defense. They panicked Tagovailoa, still reeling from the loss of his top target. His throws were off all night, and he never looked comfortable in the pocket.
Tagovailoa ended the day tossing five interceptions while only adding 157 yards through the air. It was his worst game by far.
So it went.
"He was pressing a little bit," coach Mike Locksley said. "He made some mistakes today, but it's not all on Lia. It's on us as coaches, it's on his teammates to be where they need to be."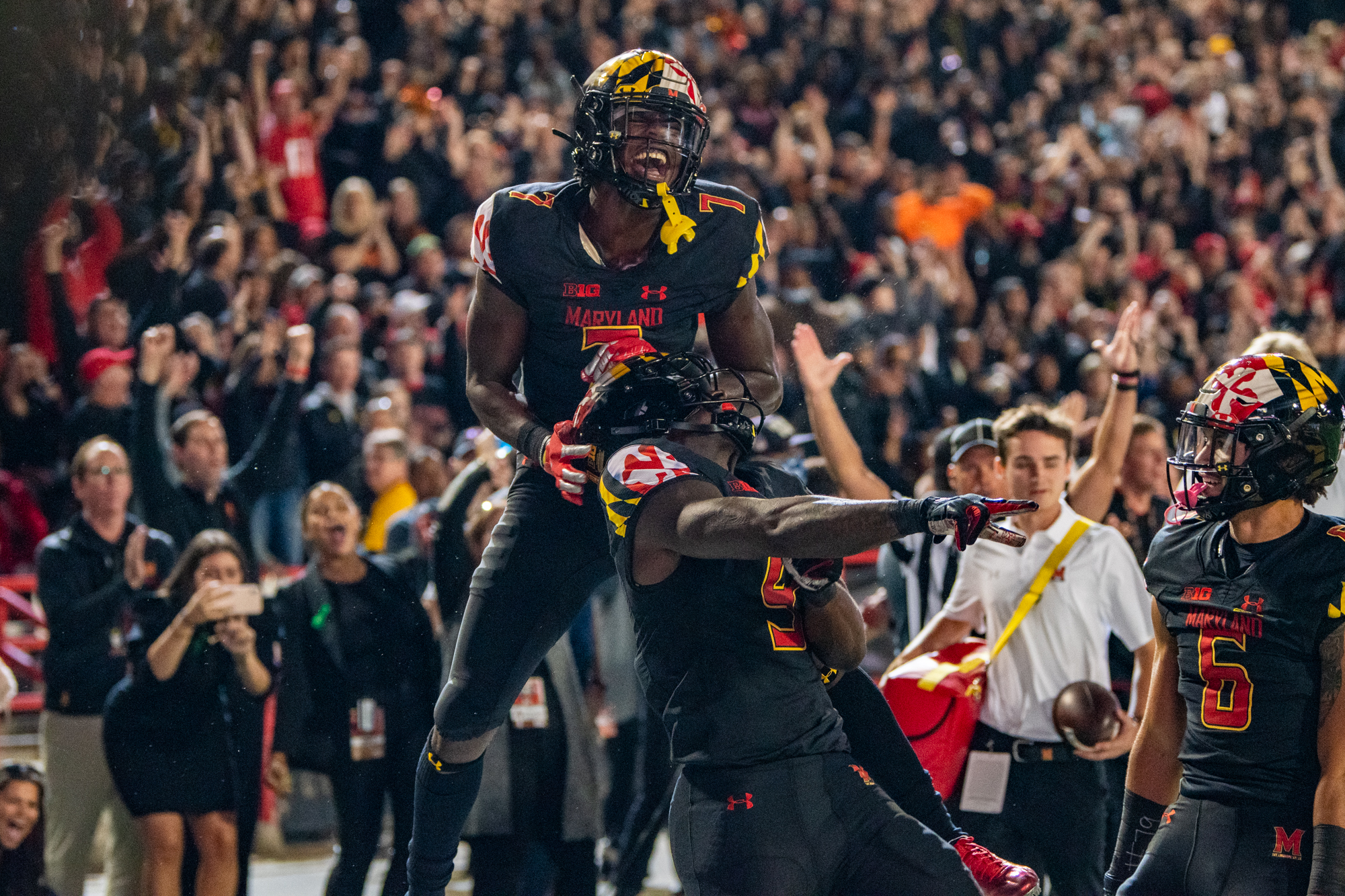 But the turnovers were only part of the problem for the Terps (4-1, 1-1).
The team also came undone due to penalties. The lack of discipline in the team's opening games has frustrated coach Mike Locksley, and Friday's contest was perhaps Maryland's most egregious effort on that front.
Early, it was three false starts, two of which killed the Terps' drives and turned into Iowa points. Later, as Maryland was attempting to make a stand and find any semblance of momentum, four penalties gave the game right back to the Hawkeyes.
First, Ami Finau hit Iowa quarterback Spencer Petras late, negating what would've been a third-and-long. Petras scored five plays later.
On the ensuing possession, a trio of errors gave the Hawkeyes more life. Jakorian Bennett and Finau each picked up a pass interference infraction on consecutive plays, and Lawtez Rogers committed an unsportsmanlike conduct after the play to set Iowa up two yards out. Once again, the Hawkeyes found a touchdown.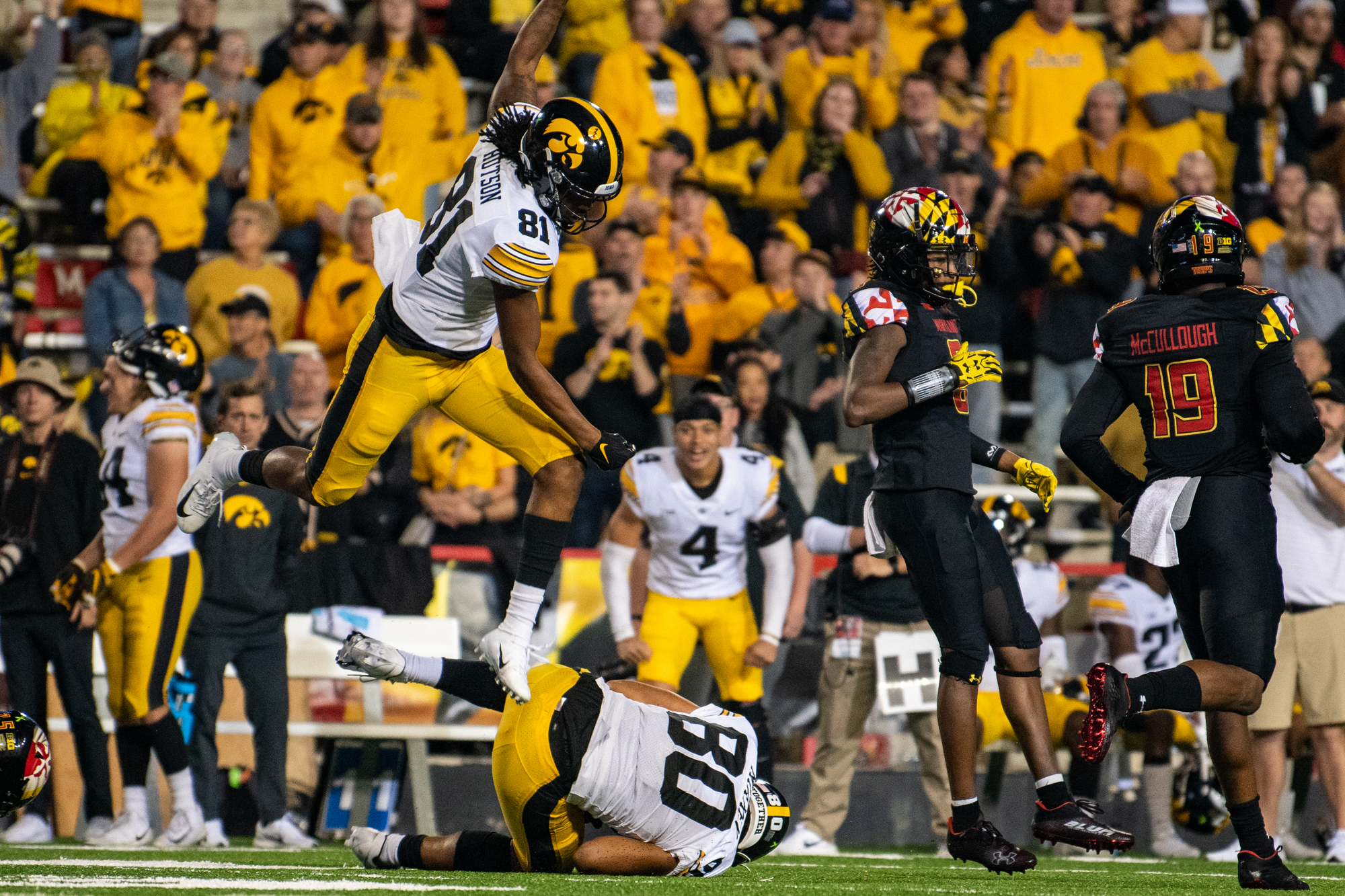 [Young safety Beau Brade is growing into his role for Maryland football]
For the evening, the Terps committed 10 penalties for 86 yards, most preventable.
So it went.
"We gotta stop beating ourselves and give ourselves a chance to win," cornerback Tarheeb Still said.
All that gave Iowa's offense a particularly breezy game. Petras and crew didn't do anything particularly special, but they didn't need to as long as the Hawkeyes' defense kept setting them up in prime territory.
Iowa began six drives in Maryland territory, capitalizing with points on nine straight series before the backups arrived.
So it went.
"You can't really win many games when you turn the ball over that many times, especially when they get the ball right there in the red area," Okonkwo said.
That points barrage made the Terps' typically lethal offensive attack look pedestrian. While Maryland put together a solid first quarter — even leading after 15 minutes — the Hawkeyes' clamped down and gave no inch.
Demus' injury only made matters worse, as the Terps were thoroughly outplayed from that point forward. A second-half score by Rakim Jarrett didn't bring up the mood, and Iowa only furthered its edge.
When the clock hit zero for the final time, Maryland trudged off the field 37-point losers. It was yet another discouraging primetime beatdown by a vastly superior opponent, something all too familiar for the Terps.
So it went.
"One game shouldn't and can't define us," Locksley said. "We can't let one game playing poorly lead to a second one."