Rick Court, the former strength and conditioning coach under University of Maryland former head football coach DJ Durkin, was hired to a similar role in a high school athletics program in Greenville, Michigan, the school district announced last week.
Court resigned from this university in August 2018 after media reports stated he had helped foster a toxic team environment. He was the first member of the Maryland football staff to lose his job after the death of Jordan McNair, a 19-year-old offensive lineman who died 15 days after suffering heatstroke at a team workout. This past Sunday marked the third anniversary of McNair's death.
Years after Court parted ways with Maryland football, his name resurfaced miles away in Greenville, Michigan — a small city of about 8,000 people northeast of Grand Rapids. Since Greenville Senior High School announced his role as strength and conditioning coordinator, community members have been sorting through details of Court's history at this university and evaluating what this could mean for their school district. 
In 2018, former university President Wallace Loh launched an independent investigation that found Court was regularly abusive to players. The eight investigators spoke with 165 people — including college athletes, parents, players and members of the athletic department — over the course of hundreds of hours before releasing a 192-page report.
[Report finds Rick Court terrorized Maryland football players and wasn't held accountable]
Members of Greenville Public Schools' Board of Education raised opposing views at a meeting Monday night, each referencing the findings of this investigation. The majority of the board supports the administration's decision to hire Court, according to a statement released by the body after the meeting. The statement also cited the "mitigating process in place," including the supervision plan.
The plan, according to a school district document obtained by The Diamondback, included "a 60 working day probationary period." Court will report to athletic director Brian Zdanowski for weekly, often daily, check-ins and progress reports, according to the document.
"Mr. Court has addressed his responsibility for past incidents and has expressed learning and growth from these experiences," the document read.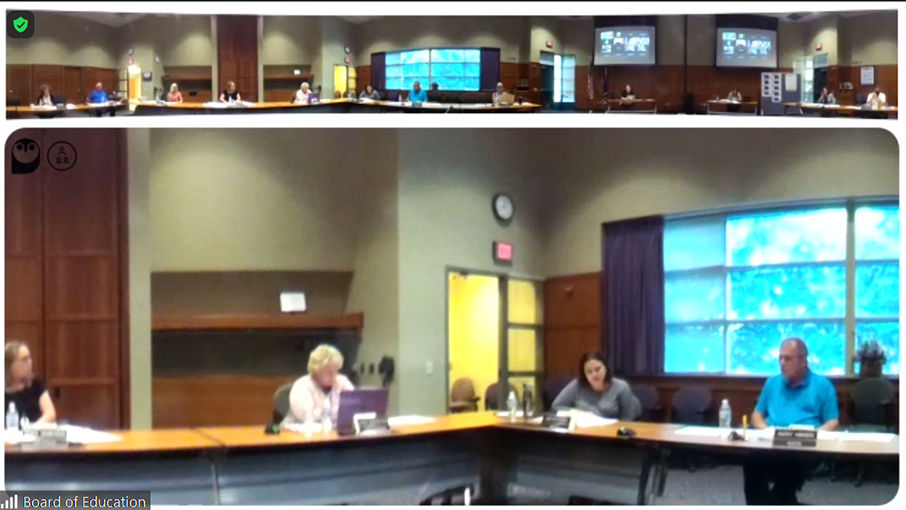 Court and the Greenville Senior High Athletics Department did not respond to multiple requests for comment. The superintendent declined to comment before Monday's school board meeting.
Board trustee Jodi Petersen raised concerns about Court's hiring, which she clarified was the school administration's decision, rather than the board's. 
Petersen described Court's behavior as outlined in the investigation. During workouts, Court threw weights, food and, in one instance, a trash can full of vomit, according to the report. He also called students homophobic and misogynistic slurs, players recounted, and one former athlete recalled Court telling a player to kill himself, the report stated.
During the investigation, Durkin, whom the university fired in November 2018, told the commision that he heard Court use the phrases "pussy faggot" and "pussy bitch," but that he had never heard such language directed at individuals. 
Gus Little, a former inside linebacker for Maryland football, told investigators that Court called him a "pussy bitch" while he was undergoing IV treatment after he sustained full body cramping. Court denied ever addressing a player receiving medical treatment in this way, according to the report.
As part of the district's supervision plan, Court will also attend sensitivity training "to ensure appropriate language is used."
Petersen said she understands that Court denies many of these incidents, but she pointed to the investigation's identification of a "pattern of aggressiveness that is Mr. Court's approach to motivation." 
[Report finds DJ Durkin struggled to lead Maryland football, didn't rein in abusive coach]
"The investigation into this behavior at Maryland concluded that Mr. Court engaged in this behavior while having the best interest of the players at heart," Petersen said. "If Mr. Court felt this behavior was in the best interest of student athletes, I am concerned about his ability to discern what is best for our students."
Charlie Mahar, another board trustee, spoke in support of Court's hiring. Mahar pointed to the investigation, which included comment from one player who called the strength and conditioning staff "the best hire ever!" Mahar also referenced a team survey included in the report that rated the adequacy of the strength and conditioning head coaching staff at 4.46 on a scale of 1 to 5.
Mahar told the school board that he had spoken with Court's ex-wife and former employers, including Durkin. Mahar said that Durkin, who currently serves as an assistant football coach at the University of Mississippi, told him that he would hire Court again "in a heartbeat and that he was the best strength and conditioning coach he ever worked with."
Durkin did not immediately respond to request for comment. 
"I could not find anybody who had anything but praise for Rick Court," Mahar said. "I have talked to the coaches at the high school that have already had contact with him and they all seem to be extremely impressed and extremely excited."
Petersen told The Diamondback that "it's probably inappropriate for board members individually to be recruiting or vetting" candidates. 
A release on the high school athletic department website lauded the hiring of Court as a checkmark towards the number one goal identified in the school system's athletic strategic plan: "establishing an enhanced and unified strength and conditioning program." 
Petersen told the school board that she believed that Court can help produce winning teams, but Court's documented history of abuse doesn't match up with Greenville Public School's Athletic Code, which is built on teamwork, self-discipline and respect for others, among other values.
Petersen said that she's heard positive things about Court and has spoken to him on the phone, but she said that her interactions with him were not enough to alter her position. 
"Mr. Court's reputation precedes him, and that reputation has a damaging effect on the integrity of this district," Petersen said.
Senior staff writer Eric Neugeboren contributed to this report.
This story's headline has been updated.