By Angela Roberts, Christine Zhu, Jack Hogan and Eric Neugeboren
Staff writers
The images dominated last week's news cycle: Long lines stretching for blocks outside of voting centers as people waited for hours to cast their ballots. At the Bowie Gymnasium, lines spiraled into the parking lot one morning, with some toting lawn chairs for the wait, WTOP News reported.
But the polling spot located inside of Xfinity Center at the University of Maryland has avoided the long lines seen in other parts of the county. Instead, some early voters reported they were able to drop their ballots off in 15 minutes flat and head home.
College Park residents and Maryland students alike turned out to cast their ballots in person for the 2020 elections last week. On Thursday, as rain pounded down from overhead, about a dozen people waited in their cars until 7 a.m. sharp before rushing into the center to vote.
Throughout the past week, The Diamondback dispatched photographers and reporters to Xfinity to talk with early voters. Here's what they heard and saw.
Day three of early voting at the University of Maryland's Xfinity Center @thedbk pic.twitter.com/SIH6Clj8oh

— Jack Hogan (@jckhogan) October 28, 2020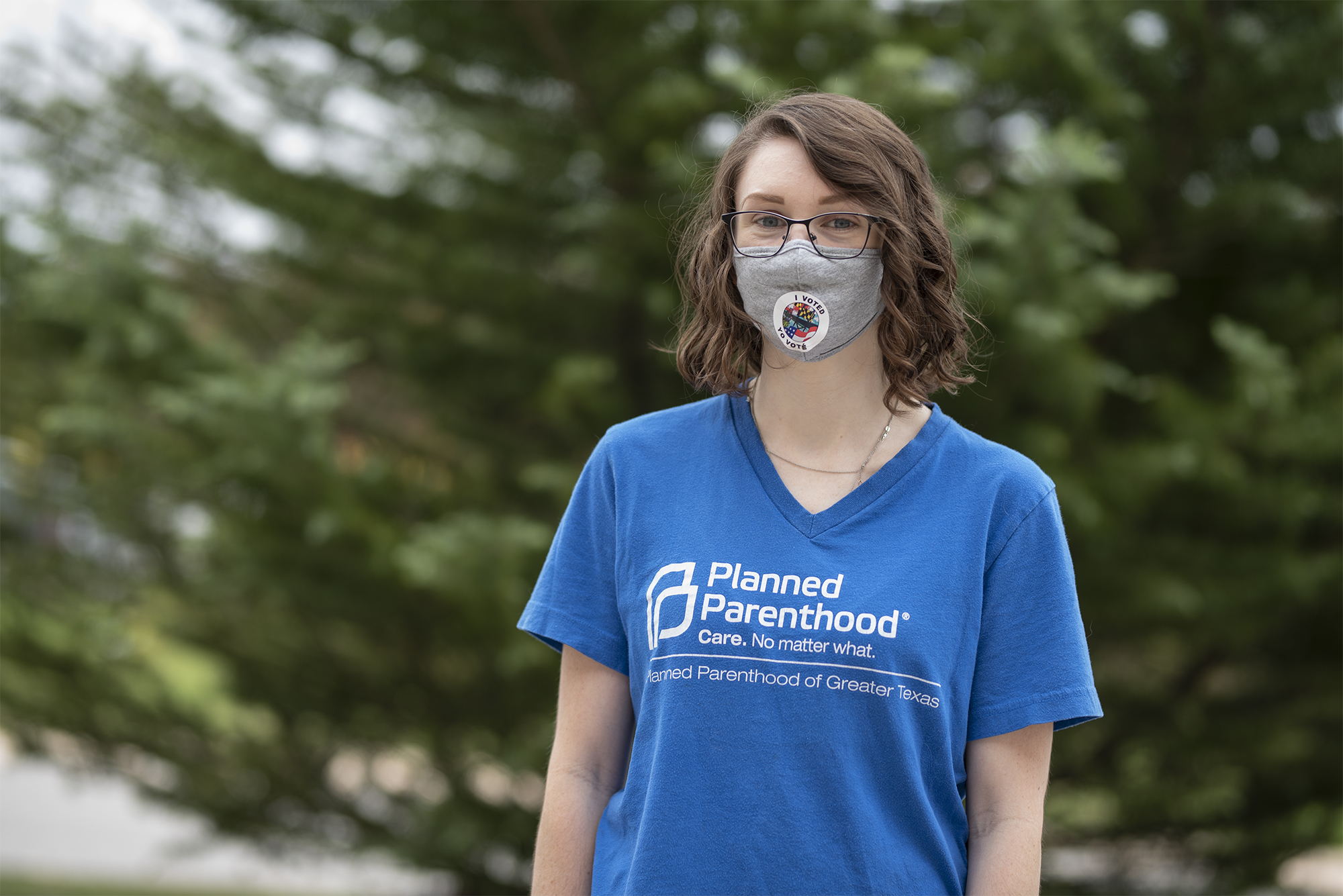 Natalie McGartland, a graduate student at this university, showed up at the center in her Planned Parenthood T-shirt Tuesday afternoon, excited to cast her ballot for Joe Biden and Kamala Harris.
That day, reproductive rights were at the top of her mind, she said. Throughout President Donald Trump's tenure, he has faced criticism from around the world for rolling back reproductive health services funded by the federal government. 
Though every Republican president since Ronald Reagan has worked to implement some sort of a ban on U.S. funding for non-governmental organizations that conduct abortions or provide information about abortion-related services, Trump expanded the ban in 2017 and again in 2019.
And with the recent confirmation of Judge Amy Coney Barrett to the U.S. Supreme Court, the future of the Affordable Care Act — which mandates coverage for pregnancy, labor and delivery — is in jeopardy.
[UMD students volunteer as poll workers during early voting at Xfinity Center]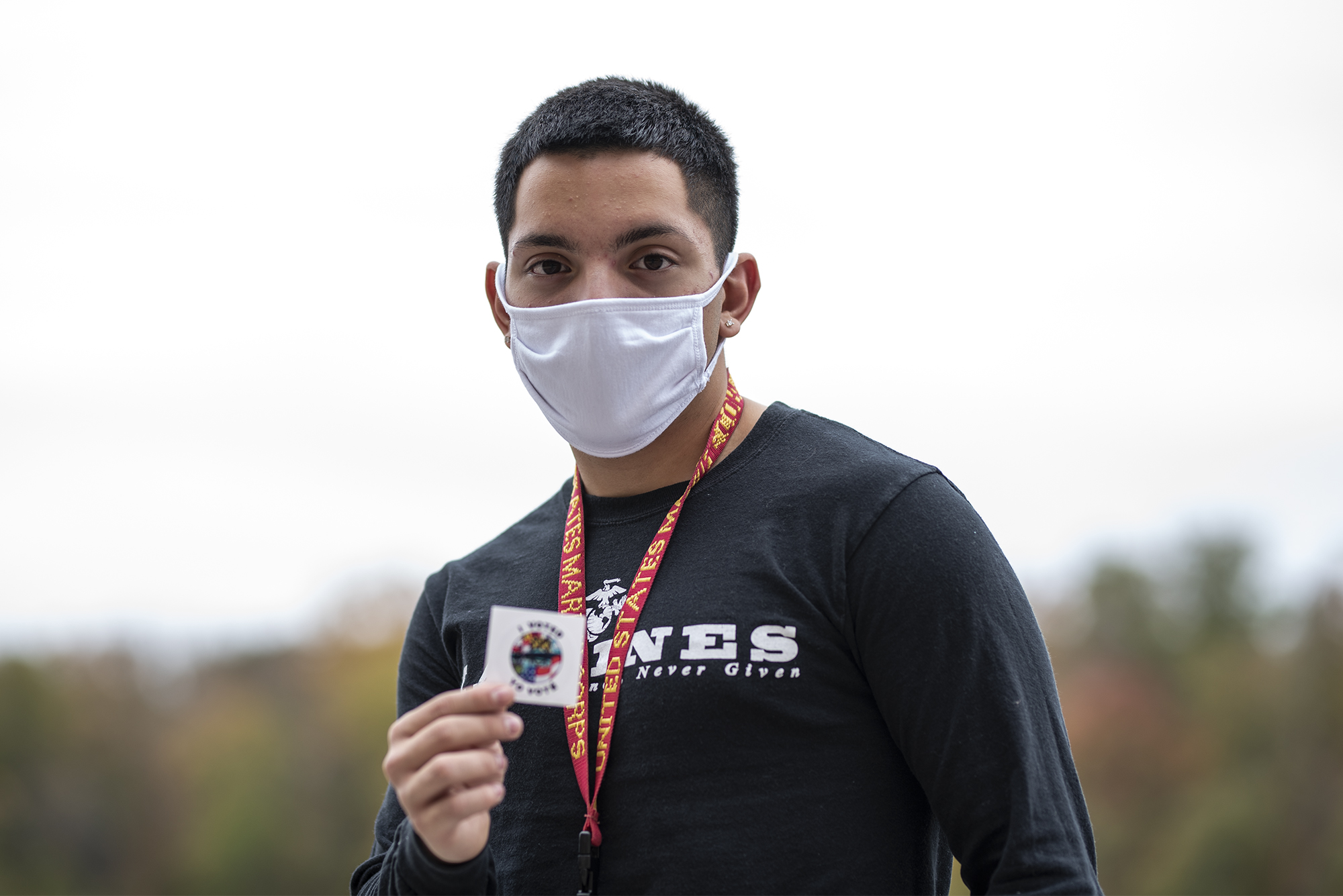 That same afternoon, Wilmur Rubi, a Marine in the uniformed services, came out to vote with the hope of making a change in his home state and across the county.
For Rubi, one of the biggest issues is the novel coronavirus pandemic, which continues to ravage the United States, killing hundreds by the day. According to Johns Hopkins University's coronavirus resource center, America has seen more than 9 million confirmed cases of COVID-19. More than 200,000 Americans have died.
Signs of the pandemic were everywhere at the polling center on Tuesday. Inside the center, early voters and poll workers wore masks. Throughout the afternoon, as voters filtered in and out, volunteers sprayed down booths with disinfectant and wiped them clean.
Another issue at the forefront of his thoughts, Rubi said, was immigration. His parents are immigrants, he said, and he has "immigrants all around [him]."
While Trump plans to forge ahead in constructing a border wall between Mexico and the United States, as well as continuing to restrict immigration, Biden plans to undo the Trump administration's policies and provide a roadmap to citizenship for those living without the proper documentation in the county.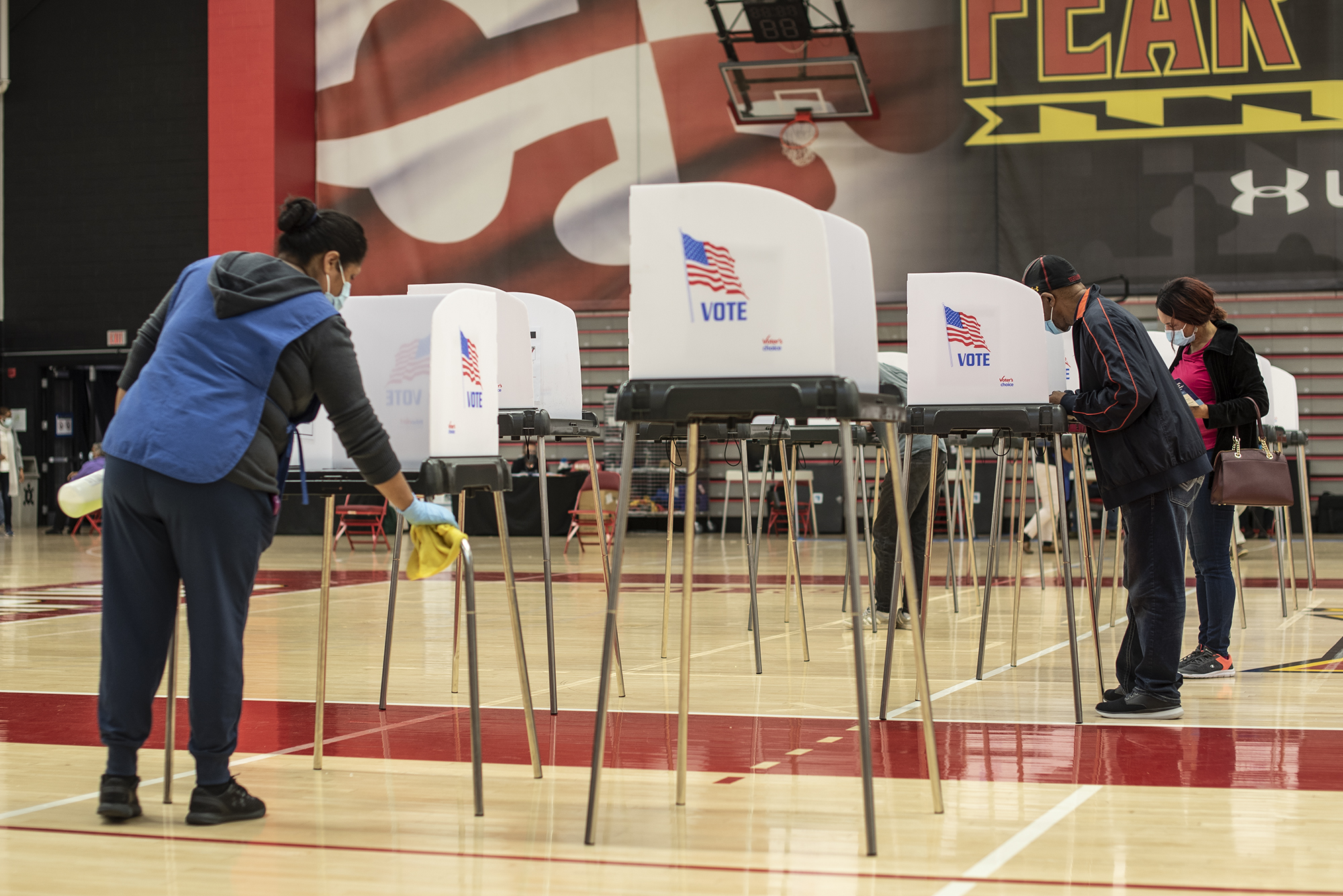 Also stationed at Xfinity Center on Tuesday was university President Darryll Pines. While volunteering at the polling center, Pines told reporters that athletes at the university had led the effort to make Xfinity Center a first-time polling site. They collaborated with athletic director Damon Evans and county officials to spearhead the idea, Pines said.
"We were super excited that we could actually do this for our student-athletes, which was their original idea, represent our university partner with Prince George's County, educate our students about voting and their right to voice and having their voices heard," Pines said.
[Your guide to the candidates in the 2020 presidential and Maryland congressional elections]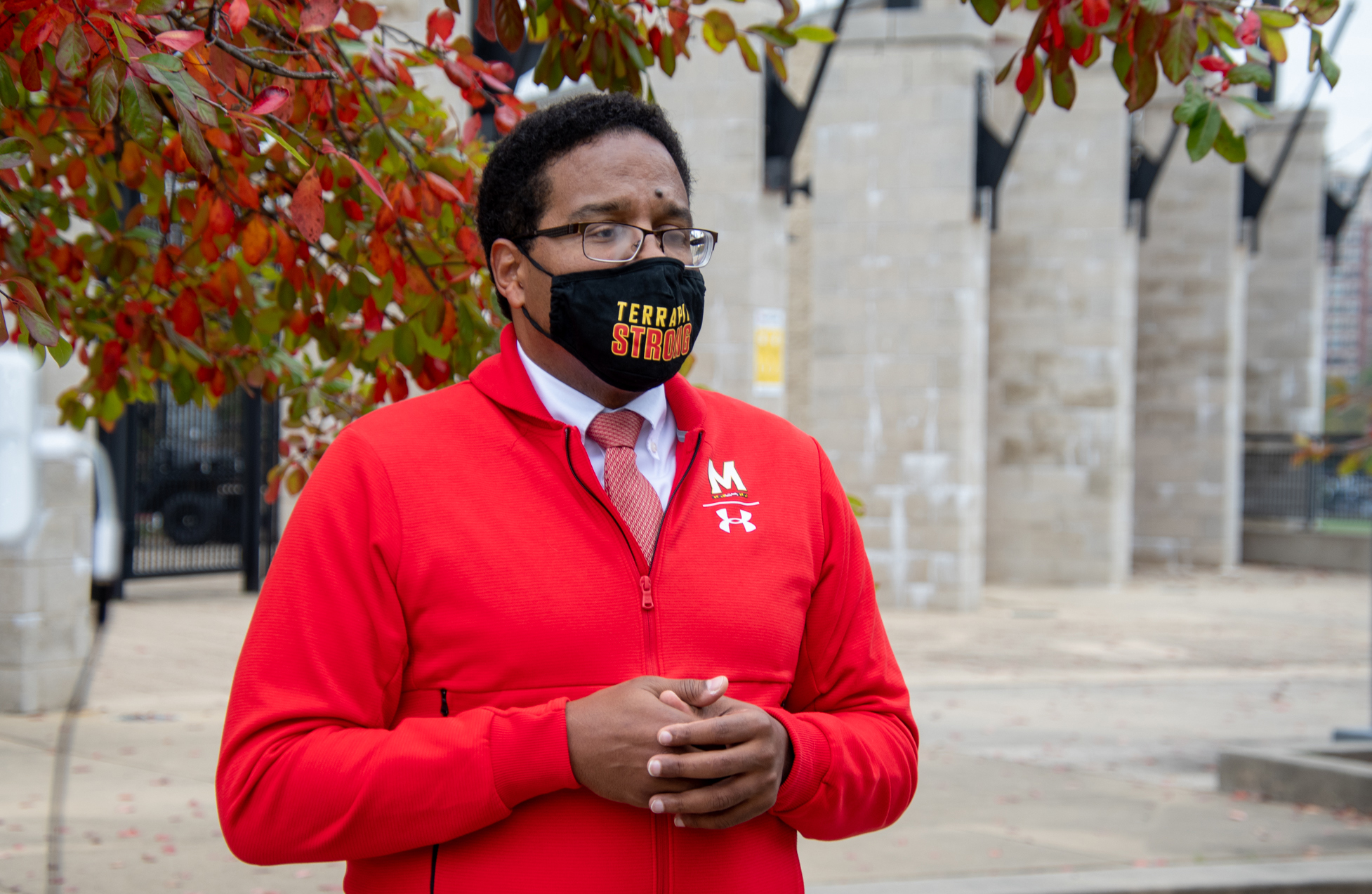 The following day, light lines persisted at the voting center. Alannah Hensley, a third-year master of fine arts student, stopped by to vote with Anna Morrison, a second-year graduate student studying library and information science. The pair said the process took less than 15 minutes.
"I always vote early," Hensley said. "It's faster, it's easier."
County resident and volunteer Lisa Speas said she hasn't seen long lines at the center since she started volunteering on Monday, but she expects that to change on Election Day. 
No lines Wednesday, but Xfinity is prepared for droves on Election Day. pic.twitter.com/UUBMRVFjpS

— Jack Hogan (@jckhogan) October 28, 2020
Monday is the last day of early voting, and Xfinity will be open from 7 a.m. to 8 p.m. On Election Day, polls at Xfinity Center will also open on 7 a.m. and close at 8 p.m. A ballot drop-off box is located near the arena in Lot 4b and will be available until 8 p.m. on Nov. 3.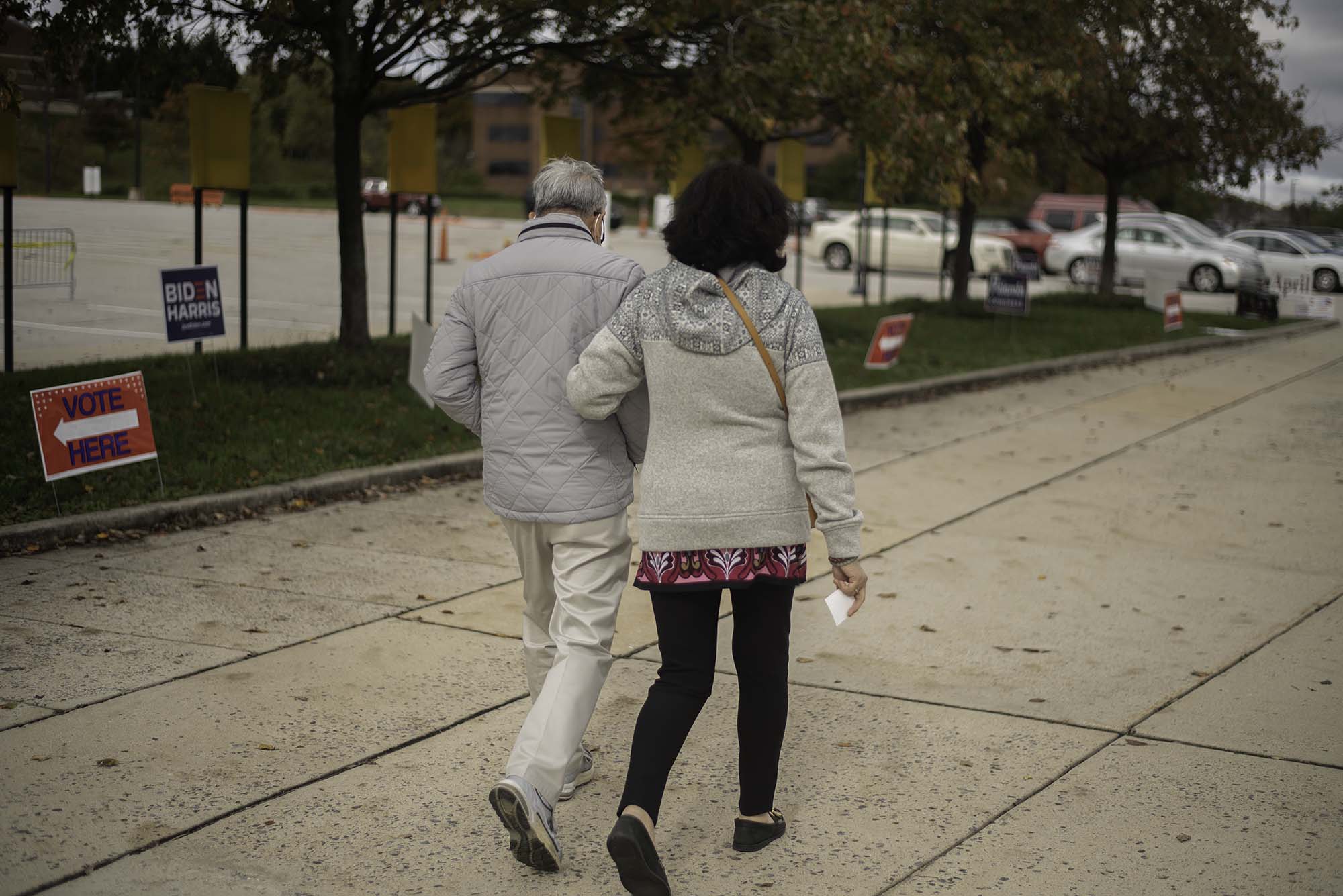 Click here to read The DBK's guide for Maryland voters on the backgrounds and political stances of the presidential and House of Representatives candidates.