Much of what I write for this esteemed student newspaper is passed by with little more than a ripple of notice — even when there are actual games going on.
Maryland men's basketball and Purdue are "eerily similar" in play style — except down low? Yeah, nobody clicked that. Maryland men's basketball needs Ricky Lindo to play a role — no matter how small? Sorry, Ricky, but this didn't move the needle one bit. Road struggles are rife in Big Ten basketball. How does this season compare to the past? For how few eyes this one got, why did I even bother?
So here I am in suburbia, idleness sinking in, contemplating how to spend my extra week of spring break without any sports to cover — the Big Ten and NCAA tournaments have both been canceled due to the coronavirus pandemic. 
While there was a shiny PlayStation 4 with lifelike graphics sitting in front of me, my eyes were instead drawn to the stunted silver machine pushed out of the way and forgotten. I plugged the PS2 into the wall and then to the television, forgetting how the RCA cables even work. I picked up the remote, opened the drive and stuck in NCAA Football 09. I turned it on, only to discover the system turned grayscale and grainy some time ago.
Then I loaded up the Terps, the Ralph Friedgen-led squad that wound up winning the illustrious Roady's Humanitarian Bowl on Dec. 30, 2008. Let the record be clear — I didn't grow up as a Maryland fan, and I'm still certainly not one. My affinity for the school's athletic teams goes as far as hoping for a better story to write that day.
But with time on my hands and my parents wondering how I'll ever get a paying job doing this kind of thing, I began playing in dynasty mode with the Terps, planning to chronicle how this simulation matches up with the real thing — an 8-5 season in which Da'Rel Scott rushed for 1,133 yards and Darrius Heyward-Bey pulled in 42 receptions.
If you've read this far, I'm flattered. Please, do not feel the need to continue — but maybe click a few ads on this page; help out a dying industry. 
If you somehow do feel compelled to keep scrolling, however, below is a sampling of how in-game Maryland compared to the actual squad, according to NCAA Football 09 — one way for a bored sports writer to get his daily fix while the sports world stands still.
Dive in with me.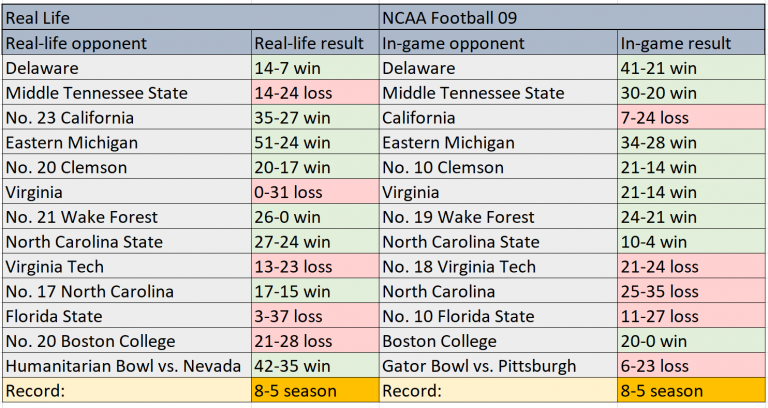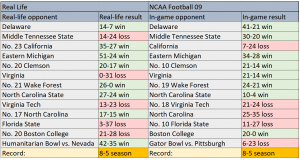 Game 2: Middle Tennessee State, 30-20 win.
It can be said about so many Maryland quarterbacks throughout the years: "If only."
If only Kasim Hill had stayed healthy, or Tyrrell Pigrome, or Perry Hills, or Danny O'Brien, or C.J. Brown or Max Bortenschlager.
Or Jordan Steffy.
Steffy played all of 15 games during his Terps career, throwing two touchdown passes in that time. But who knows how good he might've been — or what kind of impact he would've had on the team — if he had been healthy. 
In real life, Steffy started the 2008 season opener (a 14-7 win over Delaware) and never appeared again. Chris Turner — whom Steffy beat out in training camp — took over the reins and struggled in the Terps' 24-14 loss to the Blue Raiders on Sept. 6, 2008.
In fake life, however, Steffy was still the starter, building off a 41-21 victory in the faux-season opener. And Steffy balled out to lead Maryland to a 30-20 dub in Week 2, completing 17 of his 22 attempts for 210 yards and a touchdown while also scrambling for a 13-yard score in the first quarter, part of his 45 rushing yards.
Game 4: Eastern Michigan, 34-28 win.
Offensive coordinator James Franklin had a masterstroke when preparing to face the Eagles — in real life and in the video game version. He got the ball to wide receiver Darrius Heyward-Bey in as many ways as possible.
In the Sept. 20, 2008, win, Heyward-Bey reeled in a 32-yard touchdown catch and carried the ball for 81 yards. In the March 14, 2020 version, Jordan Steffy just kept chucking the ball up for Heyward-Bey to run down. And Heyward-Bey just kept running them down.
He finished with eight catches and three touchdowns for 229 receiving yards — which would stand as the third-most in a single game in Maryland history — carrying a Terps team that couldn't figure out how to run against Eastern Michigan. 
Watching a sustained passing attack lead Maryland to victory? This must really be a video game.
Game 6: Virginia, 21-14 win.
Some things never change, and Maryland football qualifies as "some things."
After that upset over Clemson in the week prior, 20-17, nothing seemed more predictable than a stunning letdown the following week — take 2019 as an example. A 63-20 rout over then-No. 21 Syracuse, waking a sleeping fanbase of football fans. And then, bam, a dismal 20-17 loss to Temple.
History repeats itself and the Terps are no exception to that maxim. So, it wasn't tremendously shocking for Maryland to put up an absolute stinker in Charlottesville on Oct. 4, 2008, not even managing a point in the 31-0 real-life defeat.
That's where video games come in handy, though. They can be an escape from the shockingly believable, the amazingly common. After the faux-Terps also knocked off Clemson, Da'Rel Scott received handoff after handoff in the Virginia rematch taking place on a basement television some 11 years later, Scott made the most of a second opportunity that doesn't exist except in digital format.
First, he returned a kickoff 97 yards. Then, with his team trailing by one in the third quarter, he took a pitch to the outside and broke into the second level, stiff-arming the safety to break him free for a 31-yard touchdown scamper.
Then with just over two minutes remaining, Scott showed his pure speed. He took a counter and shimmied to the outside before bursting for a 53-yard score. The tailback also punched in the two-point conversion — part of his 220 yards on the ground, the would-be 11th-best mark in a single game for Maryland — to avoid what's now so common in Maryland Stadium on the pixelated stage.
Game 8: North Carolina State, 10-4 win.
In all of my 22 years of watching football, and all 15-or-so years of actually understanding it, this was the most bizarre game I've ever witnessed. In real life, Obi Egekeze knocked the game-winning field goal through the uprights with six seconds remaining for the Terps, capturing a 27-24 homecoming win.
In fake life, though, unfolding with a controller in my hands, I was left befuddled. When North Carolina State's Antoine Holmes burst through the line for his first safety? Sure. Yeah. That happens.
When Holmes burst through the line to drag down Jordan Steffy in the end zone for the second time, putting the Wolfpack ahead 4-3 in the third quarter? Nah. Come on now. 4-3? That's an incredible scoreline, and it made me want to give up and play FIFA 20 on PlayStation 4 instead.
But if there's anything in life I can live by, I'm committed, sometimes to a fault.
So with Chris Turner under center — it wouldn't be Maryland without an injury to a quarterback — James Franklin dialed in the 2008 special: throw it to Darrius Heyward-Bey and see what happens. First, Turner found the wideout for 20 yards. Then 43 yards. Then seven yards on a curl route in the end zone, capping Heyward-Bey's game-saving drive.
Game 9: No. 18 Virginia Tech, 24-21 loss.
Welcome to the Josh Jackson bowl — only a decade early — for a ranked matchup between the No. 24 Terps and No. 18 Hokies in Blacksburg. All those earlier wins? They led to this, a 7-1 record and a battle for ACC supremacy. 
It didn't turn out well for Maryland in real life, with Darren Evans running for a school-record 253 yards in that 23-13 victory for Virginia Tech, with 66,233 people finding nothing better to do in the middle of nowhere besides watch a Thursday night football game.
At the digitized Lane Stadium some 11 years later, Da'Rel Scott sprained his elbow on the first possession, ruling him out for four weeks — a major blow for Maryland, losing its top runner. Without Scott, though, Jordan Steffy — back from a minor injury himself — took to the air often, completing 23 of his 39 attempts for 229 yards and sending the game to overtime.
But Obi Egekeze picked a bad time to miss a field goal, shanking one in the second overtime period to hand Virginia Tech a win.
Game 10: North Carolina, 35-25 loss.
By the time Kendric Burney reached the 10-yard line, he looked back at the trailing Maryland football players and held the ball back, egging them on the futile chase toward the end zone.
In this day and age, that would be a taunting penalty and that pick-six wouldn't have counted. No such luck on NCAA Football 09, apparently. Burney's interception set the tone for a snooze fest, with one basketball school absolutely trouncing another basketball school for the bulk of the time before garbage-time points made it respectable, 35-25.
Maryland's pass defense showed glimpses of its future self, allowing a sophomore T.J. Yates to pepper the field en route to 16 completions for 251 yards and three touchdowns. 
In real life, the Terps stumbled as the season wound to an end, losing three of its last four contests ahead of a bowl game. (Gee, does that sound familiar? The 2018 and 2019 campaigns both ended on four- and seven-game losing streaks.) But it had knocked off No. 17 North Carolina, 17-15, one of four ranked teams Ralph Friedgen's squad beat that year.
Through 10 games, the 2008 crew and the 2020 throwback gang both held 7-3 records, chasing relevance in the ACC championship conversation. But with Florida State next on the schedule, a loss such as the imaginary 35-25 one to the Tar Heels put a major damper in those aspirations.
Game 11: No. 10 Florida State, 27-11 loss.
The expectations were there, that's for sure. The product on the field wasn't.
"It just boggles my mind," coach Ralph Friedgen said at the time. "We just didn't have it."
If there's anything that encapsulates the 2008 Maryland football team — the real one — it's an inability to find a semblance of consistency. There was that win against North Carolina, plus three more over ranked foes. But the losses — looking at Virginia most severely — tempered what could've been a more special year.
Florida State put the hurt on Maryland at Byrd Stadium on Nov. 22, 2008, knocking the Terps around in a 37-3 defeat that ended their ACC title chances.
And somehow, the video game version of that 2008 Maryland football had its fair share of letdowns, too. Against an undefeated Seminoles squad in the game, the Terps fell, 27-11, for their third straight loss — and third game without Da'Rel Scott running the ball.
Gator Bowl: Pittsburgh, 23-6 loss.
There are only so many player and coach reactions NCAA Football 09 includes in a game, and if you sit and play one — or 13 games, as I wound up doing — you'll just about see them all, at least once.
So here's a scene lede for this mini-gamer anyway:
Jordan Steffy rested on his hands and knees near Maryland football's own 25-yard line and pounded the turf. A few yards away from him, Pittsburgh linebacker Shane Murray leapt up from the ground with the ball in his hands — and with it, a golden opportunity for the Panthers to put the Terps even further behind.
Steffy had tried to pitch the ball on an option to Da'Rel Scott, but it never reached his running back. Instead, Murray landed on the bumbling ball, and Pittsburgh cashed in with a field goal moments later to add to an early hole the Terps dug with their own mistakes.
Forcing six turnovers, the Panthers rolled past Maryland at Jacksonville Municipal Stadium, 23-6, ending coach Ralph Friedgen's squad's imaginary season at 8-5.
There's something oddly satisfying with how that result worked out. In real life, the Terps toppled Nevada at the Roady's Humanitarian Bowl. With that win, they finished the campaign at 8-5. So here we are, over 11 years later, an entire Saturday wasted, and both the real and fake come together with the same record.
Maybe video games mirror reality after all.


Have you actually scrolled this far?
If you've made it to this point and you're not obligated to read this as my editor, you deserve a knighthood or a damehood. I suppose you must be in self-quarantine — otherwise, you simply have too much free time on your hands.
Anyway, there are a few takeaways from this pointless exercise. For one, video games can actually be pretty accurate at times. Second, if there was any way to bring back the NCAA Football series, I'd pay the kind of money I don't have as a journalist to get it. And third, video games are an outlet.
The last lesson stands out most, particularly now. With life as we know it turned sideways — sports disrupted, online classes, a society practicing "social distancing" — sometimes sinking into another world is a better place to hang. Even if that other world is the 2008 Maryland football season.