Outside Stamp Student Union's Grand Ballroom Tuesday night, passersby felt a rhythmic pounding on the ground that nearly shook the walls. It wasn't a stampede or another Maryland flash mob but, believe it or not, it was the reaction to boy band Big Time Rush.
Made up of members Kendall Schmidt, James Maslow, Logan Henderson and Carlos PenaVega, the group was performing an acoustic set presented by Student Entertainment Events.  The Nickelodeon alumni had been on a touring hiatus for almost 10 years before a short run of reunion shows in late 2021 and their eventual 2022 breakthrough tour, the Forever Tour, last summer. Their stop in College Park was the first of three special fan events after announcing another post-break tour, the Can't Get Enough Tour named after the single the band released Monday.
"It's so cool to come back," Maslow said. "A lot of our fans have kind of grown up now. Seeing them older, we're like, 'wow, you were 8 when we last saw you, now you're 18, this is crazy.'"
Since its return in 2021, Big Time Rush has put out a handful of releases, including both new songs and acoustic re-releases of hit tracks such as "Worldwide" and "I Know You Know."
"We want to bring this nostalgia, these good memories, back to the world, and this band has always been the kind of band that does that, through the TV show and through our music," Maslow said.
The pop quartet took the stage first sitting on stools, performing acoustic versions of "Music Sounds Better," "Any Kind of Guy" and "Worldwide" with accompaniment from their guitarist, Dustin Belt.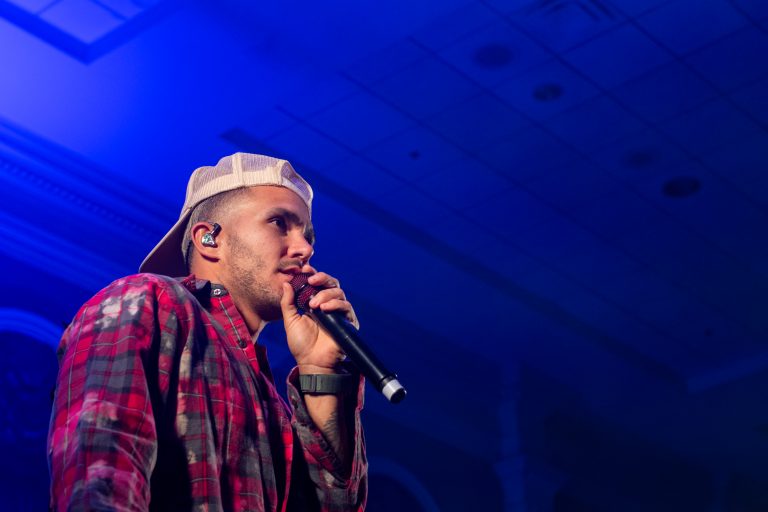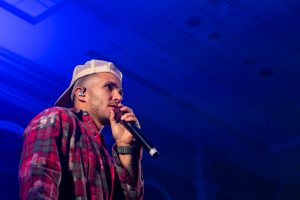 The Grammys honored genres and artists through performances and historical wins]
Much to the joy of the nostalgia-seekers in the audience, the boys quickly hopped to their feet, transitioning to a more upbeat performance with their hits like "Boyfriend" as well as some new singles, including their tour namesake. Despite nearly a decade passing since the band's last fame era, attendees would hardly be able to tell as the show took them right back to the 2010s with delightfully boy band-esque choreography.  The concert was rife with crowd participation.
Senior accounting major Liliyana Lam, who has been a fan since she first saw BTR on TV, was one of the people brought on stage during "Worldwide." It was her first time seeing the band live and she said it felt like her wildest dreams had come true.
"It was amazing, hands down, literally, one of the best experiences of my life," Lam said.
Concert attendance was limited, and many who sought tickets were unable to get them. Some students were confused by the venue choice, arguing it should have been held at the Xfinity Center.  According to SEE Concerts Director Jenna Prasad, this was never a possibility for the event. 
Unfortunate as it may have been to those who weren't able to get tickets, some attendees loved the more up-close and personal vibe the Grand Ballroom provided. 
[Red, rainbow and everything in between at the 2023 Grammys]
"The concert size was perfect, I loved where it was," senior community health major Kalinah Nyanplu said. "It felt real intimate. It felt like I was making friends with the girls next to me just by being there."
Nyanplu and her friends, senior international business and Chinese major Monae Kerney and senior family science major Michelle Chigbu, are excited to see BTR on the Can't Get Enough Tour at Merriweather Post Pavilion in Columbia July 14.
In addition to their 2023 tour, the BTR boys also have plans to release an album in the near future that will show fans a whole new band.  Schmidt described the album so far as a mashup of each member's individual tastes, including songs that draw inspiration from disco, '90s pop, 2000s boy band music and other genres.
"We're different. The music we want to make and the music we listen to is different. It's been really exciting so far. I think there's so much more room to grow even still," he said.