Crowds of excited students flocked to Stamp Student Union Tuesday evening to hear Jennette McCurdy speak about her recently published memoir, I'm Glad My Mom Died. McCurdy, who played Sam Puckett in Nickelodeon's iCarly and Sam & Cat, has been open about her traumatic experiences as a young celebrity. Her book unwaveringly peels back the layers on the dark realities of child stardom. 
The "Back to School Lecture," hosted by Student Entertainment Events, had two shows, both of which sold out almost immediately after tickets became available. 
Before the first talk began, the Grand Ballroom buzzed with anticipation as excited students waited for McCurdy to appear from backstage. McCurdy started the lecture with a selected vignette from her memoir. The audience's cheering instantly subsided into rapt attention as she began to read. 
With every pause, the silence in the ballroom was enough to hear a pin drop. The vignette, a brutally honest and darkly humorous anecdote of McCurdy's struggle with bulimia and grief after her mother's death, set the tone for the rest of the event.
[Review: 'Blonde' is a triggering, pitiful rewrite of Marilyn Monroe's private life]
As the talk transitioned to the Q&A section, McCurdy spoke openly about the process of writing her memoir, a very personal work that describes her childhood of parental abuse, child exploitation, mental health struggles, eating disorders, grief and substance abuse with unflinching honesty and a touch of humor. 
"Life is never just one shade," McCurdy said, explaining her choice to use humor as a coping mechanism for her trauma.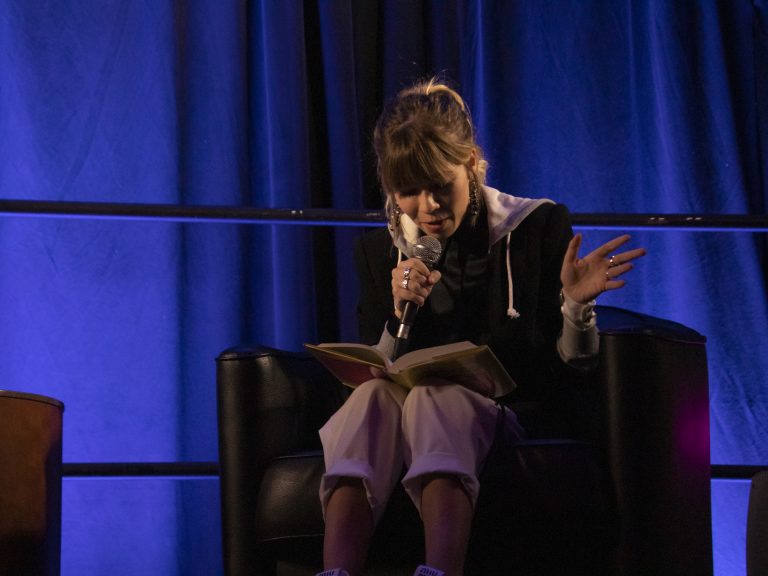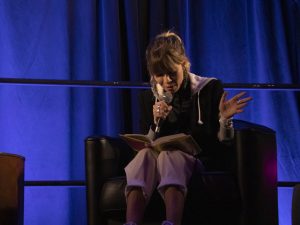 She also spoke about her book's blunt — even callous — title and how the book gives context to the complex feelings to which the title alludes. McCurdy explained the heart of the book is about her complicated childhood relationship with her abusive mother, the trauma of losing her mother, how that affected her life and her ability to discover her identity apart from her mother's overbearing influence.
"Fame is such a psychologically confusing experience," she said.
McCurdy has experienced plenty of time in the limelight lately due to the extremely personal experiences in her book and the concerns they brought to light about the protection of children in Hollywood.
['Come to Daddy' art exhibit prompts a critical look at pop(ulist) culture]
It's not so often public figures are willing to be so candid about such intimate and often stigmatized personal topics, but McCurdy was unapologetic about her desire for openness. McCurdy emphasized her desire to help others who are struggling like she used to. 
McCurdy also answered questions about her break from the acting industry and her redirection into writing and directing. 
"I didn't feel acting was creative at all," she explained, elaborating on her decision to leave the acting industry once away from the influence of her mother and pursue her own dreams. She shared plans of working on other writing projects, including a novel and an essay collection. 
If the turnout on Tuesday is any indication, it seems the world is ready to embrace whatever McCurdy offers next. She remains a self-defined and strong woman role model for a generation still coming into its own.