The University of Maryland community gathered at the dedication of the Lt. Richard Collins III Plaza located in front of Annapolis Hall Monday.
The plaza overlooks the bus stop where Collins III was killed nearly five years ago. It features a seating area, three plaques depicting Collins III and a mural showing messages of unity.
Construction of the memorial started in March.
This is the latest in a series of commemorative actions to honor Collins III. This university and Bowie State University launched the BSU-UMD Social Justice Alliance in October of 2020, designed to generate conversation about social justice initiatives.
Rashawn Ray, co-lead of the alliance and a sociology professor at this university, delivered the opening remarks to a packed tent.
One of the themes of the plaza's dedication ceremony was "forward with hope," Ray said. That phrase is also printed on one of the plaques in the plaza.
"[The plaza is] designed to help all of us remember and reflect. Reflect not only on what happened here in College Park, but to also reflect on Buffalo, Charlottesville, Charleston, Atlanta, Jasper, Texas, Laramie, Wyoming … " Ray said, referring to acts of racial violence that occurred in those cities. "So we never forget and hope not to repeat."
['The 1619 Project' author shares Black contributions to American history at UMD lecture]
Richard Collins Jr. and Dawn Collins, the parents of Collins III, called on everyone to stop these acts of violence.
"We must resolve as a civilized nation to take a stance of zero tolerance toward perpetrators of domestic violent extremism," Collins Jr. said.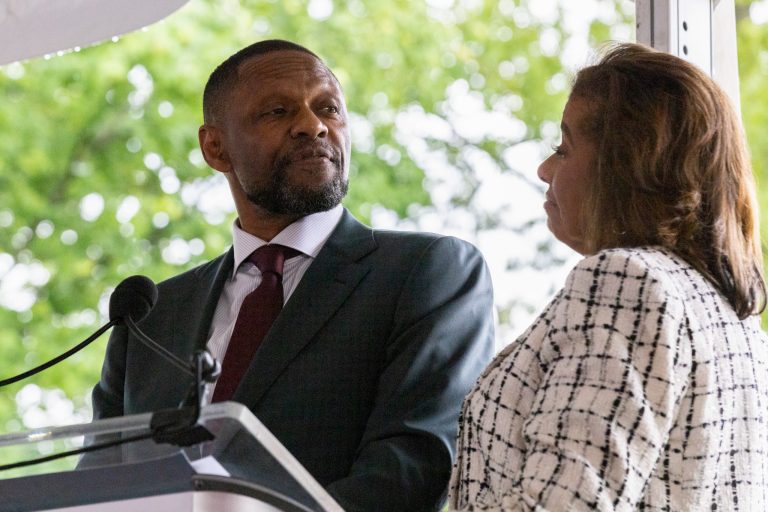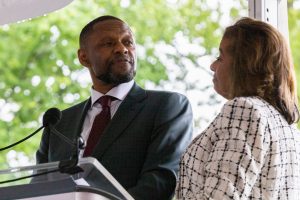 University President Darryll Pines and Aminta Breaux, president of Bowie State University, also gave remarks.
Pines thanked Collins III's parents for their work to create a more equitable society and called on members of the community to do the same.
"Each of us in this tent today has an obligation to redouble our efforts to build an anti-racist, inclusive culture at our university and in our entire society," Pines said.
Nearly a dozen other guest speakers spoke about the importance of the memorial and honoring Collins III's legacy.
Several said they were proud to be a part of the effort to pass laws changing hate crime statutes in Maryland, including Prince George's County State's Attorney Aisha Braveboy and Reps. Anthony Brown (D-MD-4) and Steny Hoyer (D-MD-5).
The Maryland State Legislature passed legislation in March of 2020 named after Collins III that changed hate crime statutes in the state. Under the new laws, hate doesn't have to be the sole reason for a hate crime — only a substantial motivating factor. The new legislation took effect in October 2020.
[UNEQUAL: the significance of memory]
Many speakers referenced the mass shooting that occurred in Buffalo, New York, on Saturday as a reminder that the fight to end racism is not over.
Rev. William Lamar IV of the Metropolitan African Methodist Episcopal Church said empty promises from both pastors and politicians will not be enough to end violent racism.
"We must stop congratulating ourselves and get about the work of truly building democracy which has yet to take root even now," Lamar said. "A plaza is not enough."
Damon Hewitt, president and executive director of the Lawyers' Committee for Civil Rights Under Law, agreed with Lamar, adding that a plaza can be the start of a larger mission to end racism by creating a "sense of belonging."
Dawn Collins emphasized in her closing remarks that community members need to support people fighting racism and breaking down racial barriers between Bowie State University and this university.
"Let's go and get in some good trouble," she said.