University of Maryland students participated in Preventing Sexual Assault's first in-person Occupy McKeldin event since 2019 Friday afternoon.
Amanda Sherman, one of the co-events coordinators for PSA, said the seven-hour event — from 10 a.m. to 5 p.m. — involved her and her co-events coordinator Lily Meeks organizing raffles, speakers, including sexual assault survivors, and therapy dogs.
"It's basically to show the student body that we stand up to rape culture, and we are here for the education and awareness of the prevalence of sexual assault on campus," Sherman, a junior marketing major, said.
The annual Occupy McKeldin event is always the group's largest of the year. They also hold a Slut Walk and "Real Talk" events throughout the academic year.
Hailey Chaikin, a senior communication major and PSA co-president, said the main goal of the all-day event is to raise awareness — not only among people who already know about the group's presence but to get through to those who have less knowledge about the topic.
This year's theme of "every 68 seconds" is broader than the past themes because PSA co-President Rachel Salem said the group wants to get through to the student body the urgency of this issue, especially during Sexual Assault Awareness Month.
[UMD students share experiences dealing with imposter syndrome]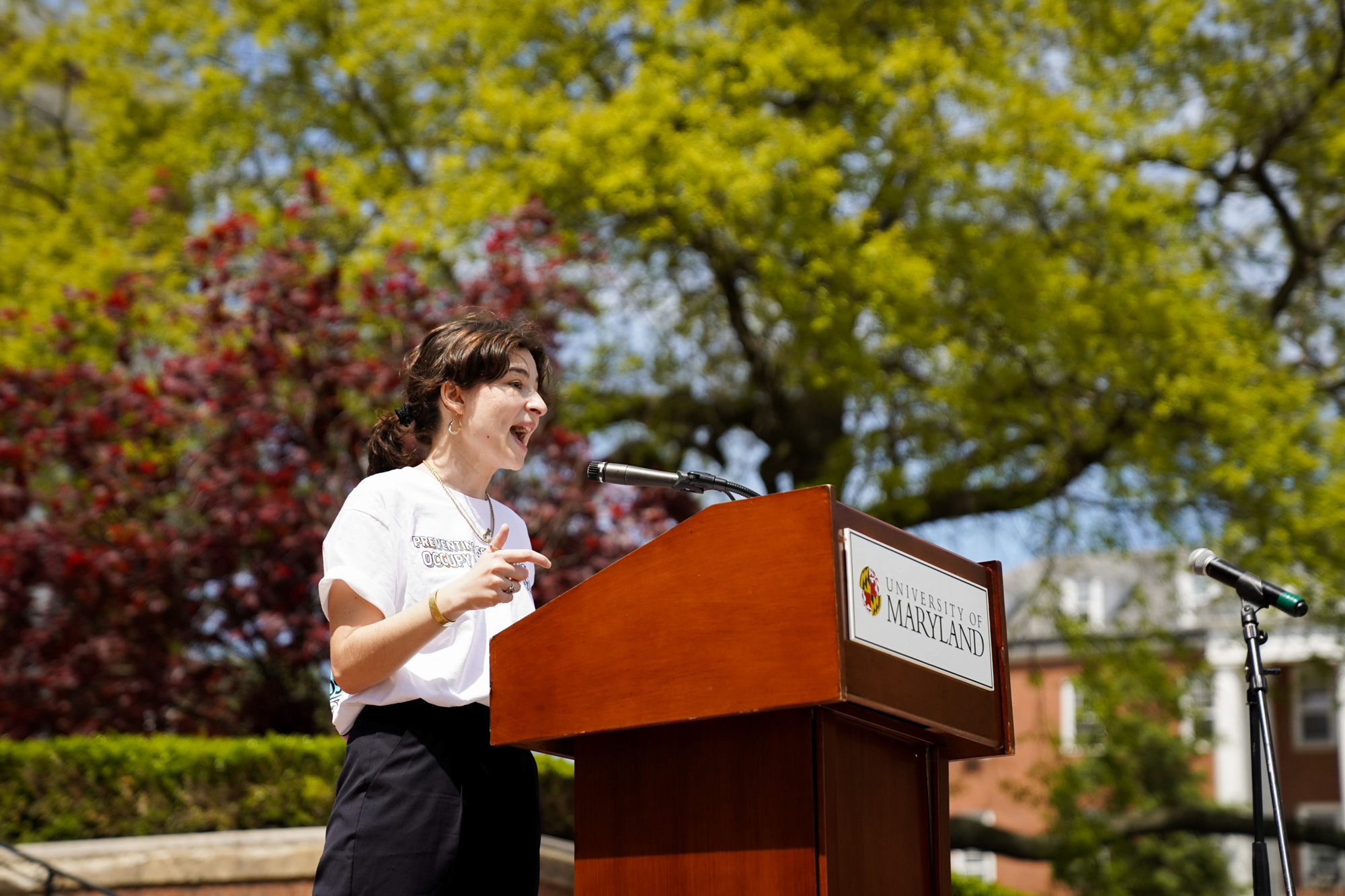 "To bring a statistic like that to everybody's attention is something that we really wanted to do as an attention grabber," Salem, a senior management major, said. "Finding one that is so vague really allowed us to … ensure that we were providing diverse perspectives … because everyone has something different to share in the realm of sexual assault."
Sophie Sandberg, the founder of Catcalls of NYC, spoke at the event and highlighted the importance of standing up against catcalling as it is also a form of power-based violence and intertwined with the harmfulness of the patriarchy.
Sandberg's organization is a street art initiative against this kind of harassment. Members of Catcalls of NYC go around the city and write down in chalk on the sidewalk the phrases people have shouted at unsuspecting women or female-presenting people.
After her speech, she invited people to write down different catcalling phrases people have either yelled at them or that they have witnessed to bring attention to this issue. She said college students are in a powerful position where they might be able to "denormalize" something such as catcalling.
"I do think college students, they have the power to be like, 'No this is not okay, these are not just words, and I'm going to stand up for others facing this,'" Sandberg said.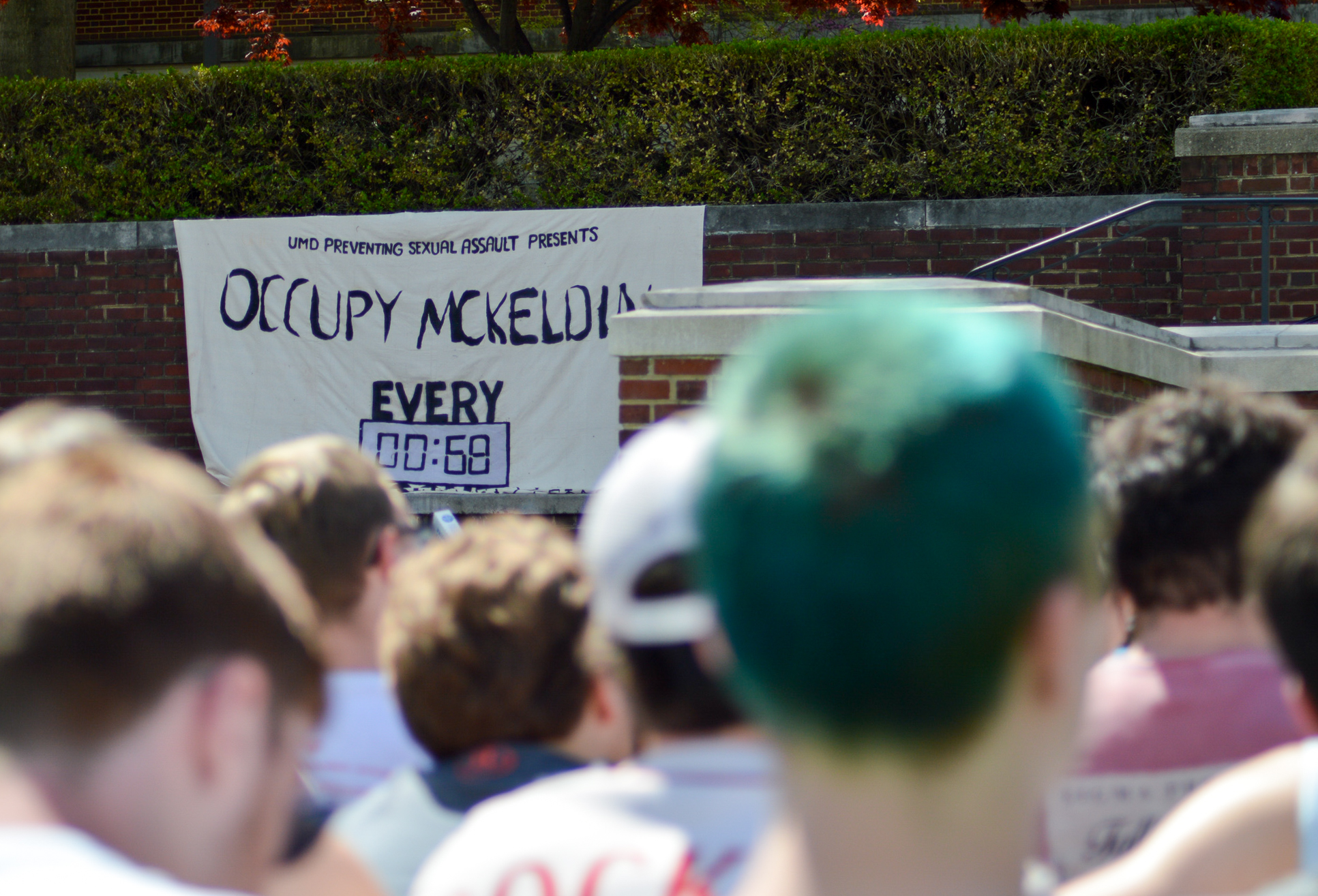 [Black student leaders and UMD admin discuss 25 demands at town hall]
Kelsey Flavin, a sophomore marketing major who attended the event, said talking about these problems is important as well as sharing resources for those who need them. She said she has been catcalled in Washington, D.C., and in Laurel, Maryland, among other places, and actually having a conversation about it and drawing attention to it is something she wishes to see more often.
"It's good information to have actual resources and ways to combat it rather than most of the time like the speaker was saying, I walk with my head down and pretend it's not happening," Flavin said.
The stories and empowerment shared made junior computer science major Alec Pool think about how sexual assault can affect people close to him such as his mom, sister and friends.
Pool said walking around and reading the quotes in chalk and hearing people's anecdotes really struck a chord with him and made him more aware of the pervasiveness of this issue and had him think about how to support people going forward.
"It's so sad, and it's so frequent that it is almost devalued," Pool said. "This is such a small fraction too, like maybe one person came here and wrote one thing you know, like if every single person wrote down every single time this happened to them, it would cover the whole campus."
One of the biggest takeaways Chaikin wanted people to have after attending this event is to end the stigma of silence around talking about these issues.
"Having people leave that conversation saying, 'I don't care what people are thinking of me, I want to do the right thing' is just really, really valuable," she said.
CORRECTION: A previous version of this story and its subhead misstated the Occupy McKeldin event was 10 hours long. The event lasted seven hours. This story has been updated.