Urban Desi, Ermina Khan's business focusing on streetwear and beauty, was inspired by her grandfather.
After her grandfather's passing, a water well was built in a refugee camp in Bangladesh using funds he had been saving for this purpose. The well provided water to the Rohingya people, which was his last wish, according to Khan. 
Learning this, Khan realized all her grandfather had done in his lifetime. He moved away from his home, spending the latter part of his life in Canada, and had saved up money to send back to South Asia and help those who could not leave. Khan said she realized how lucky she was to get an education and live comfortably in the U.S., as opposed to the extreme poverty many people struggle to escape from in South Asia. 
Khan is a sophomore at the University of Maryland. Her business, Urban Desi, has a powerful message. Khan said the company is designed to be a way for South Asians to express their ethnicity through minimalist clothing and streetwear.
[Six-shooters meet sorcery: UMD students craft weekly WMUC audio adventure]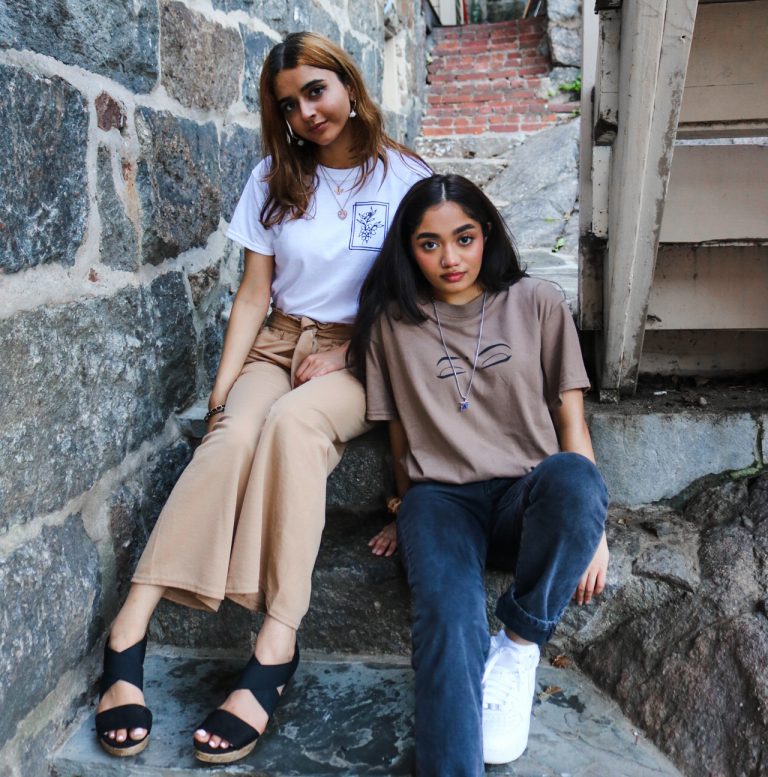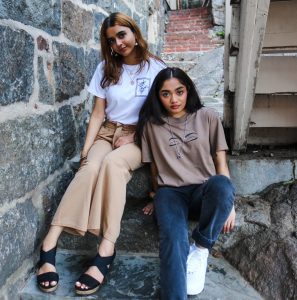 "I feel like there's a lot of misrepresentation or underrepresentation of South Asian culture in the West and predominantly urban environments," she said. "So my mission is to fix that."
Khan started planning the business about a year and a half ago. She's created a website and released her first series of products.
When her business started, Khan made and shipped everything herself. She is now moving away from this method and is finding U.S.-based manufacturers to make the clothing for her and ship them to customers.
Khan's first business launch, series01, consisted of minimalist streetwear designs. Almost everything from this launch is sold out. Her second launch, series02, will feature beauty products, such as skincare and makeup products. 
Introducing skincare into her business is a whole new ballgame. Khan wants to incorporate unique ingredients – such as turmeric – into her products, so she's done a lot of research on skincare ingredients and what works with sensitive skin. She said the process involves her contacting manufacturers and telling them what she wants in the products, and then ordering samples to test out and see if she wants to sell them.
Another part of the new launch will be a podcast, Urban Desi Unfolded, which will focus on the voices of South Asian youth. The podcast, hosted by her and UMD sophomore Farheen Ahmed, will feature South Asian youths as guest speakers to talk about a variety of topics. 
"I want my brand to also be a community, not just a brand," Khan said about the addition of the podcast.
Part of growing a community involved hiring brand ambassadors and models to show off her clothing. Riya Mehra (@riya.mehraa on Instagram), a brand ambassador for Urban Desi, found Khan's company through TikTok.
"I think growing up, I wasn't ever really seeing a lot of clothing brands that were directed at South Asian representation," she said. "And I think in the past year or two years, I've seen a lot of brands pop up that have specialized designs."
Khan credits her father, who owns an automotive business, for her entrepreneurial spirit.
"[His business is] different from apparel and fashion, of course, but I feel like seeing him being so business-driven helped me want to have this entrepreneurial mindset," she said.  "And honestly, I dedicate all of my mindset on him because he is an amazing businessman. And I would just like to follow his footsteps and have my own business."
Although the business was started by Khan more than a year ago, her sister has been heavily involved in the process. Khan focuses more on the business side of things while her sister helps with design work. 
['White Hot: The Rise & Fall of Abercrombie & Fitch' dives into the brand's toxic history]
"She has a very, very strong initiative," her sister Warda Khan said. "I don't say that as a sister, but you can see so many strong qualities, and her strongest quality is initiative and organization, which is something I feel like any business owner would need." 
Khan has received a lot of traffic to her website through social media. Urban Desi has a Spotify account for its podcast, an Instagram account and TikTok. Although most of her traffic is from TikTok, she also has a few influencers involved with wearing her apparel and showing it off on their social media profiles.
Eventually, Khan would like to see the business expand and be able to open a storefront for it. She hopes to use Urban Desi as a way to give back to South Asian communities as well. Khan plans to pursue a career in medicine and hopes to go on mission trips to perform sanitation work, which is another passion of hers. 
"I'm really hoping it's like a one-stop-shop, like apparel, beauty and lifestyle," Khan said. "Is it specifically for South Asians? No, because, of course, there's a lot of stuff that anyone can use and anyone can wear as long as they kind of are more educated on where it's coming from."
Khan isn't the only one who pictures a big future for Urban Desi.
"I think the brand itself stands for something really, really good," Mehra said. "And I really hope to see it flourish."
CORRECTION: A previous version of this story misstated Warda Khan would cohost the Urban Desi Unfolded podcast. Farheen Ahmed will cohost. This story has been updated.