More than 100 students, professors and activists from across the country gathered in front of the U.S. education department building in Washington, D.C., Monday to demand student debt cancellation.
Organized by the Debt Collective, a debtor's union, the protest happened as the pause on federal student loan payments is set to expire May 1. 
Joining the crowd in a rallying cry of "pick up the pen, Joe!" protest attendee Natasha Averbukh told President Joe Biden to pick up the pen and sign an executive order to cancel the more than a trillion dollars owed in student loans.
Biden's ability to cancel all student debt with a single executive order is disputed by some, but higher education expert Mark Kantrowitz from the College Investor argued in late March that the White House could do "broad cancellation" by issuing regulatory changes.
Averbukh, who is studying to be a social worker at the University of Akron in Ohio, said she is already thousands of dollars in debt as a freshman.
"It's actually my 19th birthday today, and on my 19th birthday, I'm currently $15,000 in debt," Averbukh said. "It's kind of all on me."
Averbukh explained she has to take out her own loans for school because her mom is still paying off her own student debt. To be able to pay her loans back, she works multiple jobs while juggling schoolwork.
"I work on campus and then in the summer, when I'm at home, I work two jobs," Averbukh said. "I work 12-hour days, about six hours at each job, about five to six days a week."
[UMD commuter students express worry for their wallets as gas prices stay high]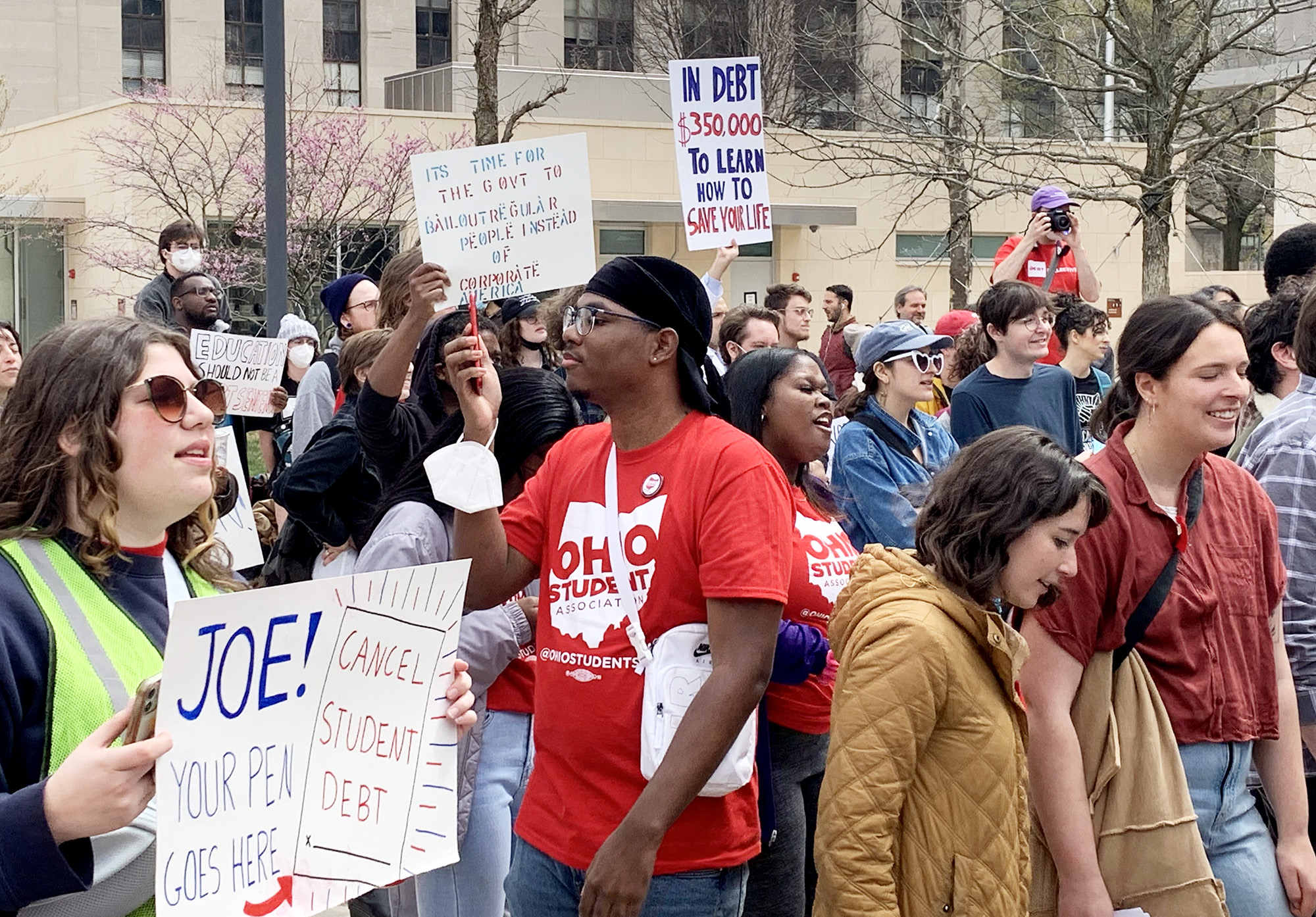 Jason Wozniak, a professor at a university in Pennsylvania and an organizer with the Debt Collective, said it's "terrible" that many college students have to take on multiple jobs just to pay back student loans. 
"They have no time to study, and students don't get to be students," Wozniak said.
Wozniak added that because some students know they're going to rack up large amounts of debt, many don't end up following their academic interests. Instead, he said students resign themselves to higher paying majors they're not necessarily passionate about.
"They say, 'What's going to be the return on my investment?' rather than 'What's going to make me a more complete, fuller, happier human being?'" Wozniak said.
Raina Newsome, a senior anthropology major at the University of Maryland, considers herself lucky. Because her dad works at this university, Newsome gets tuition remission. 
But that doesn't make Newsome any less frustrated about student debt.
"I hate to see other people who are saddled with this debt," Newsome said. "I just want to show up for everyone else who isn't as well off as me because of my position."
Multiple speakers at the demonstration stressed the importance of solidarity, telling fellow protesters they should stand and fight with one another regardless of how much they owe in student loans.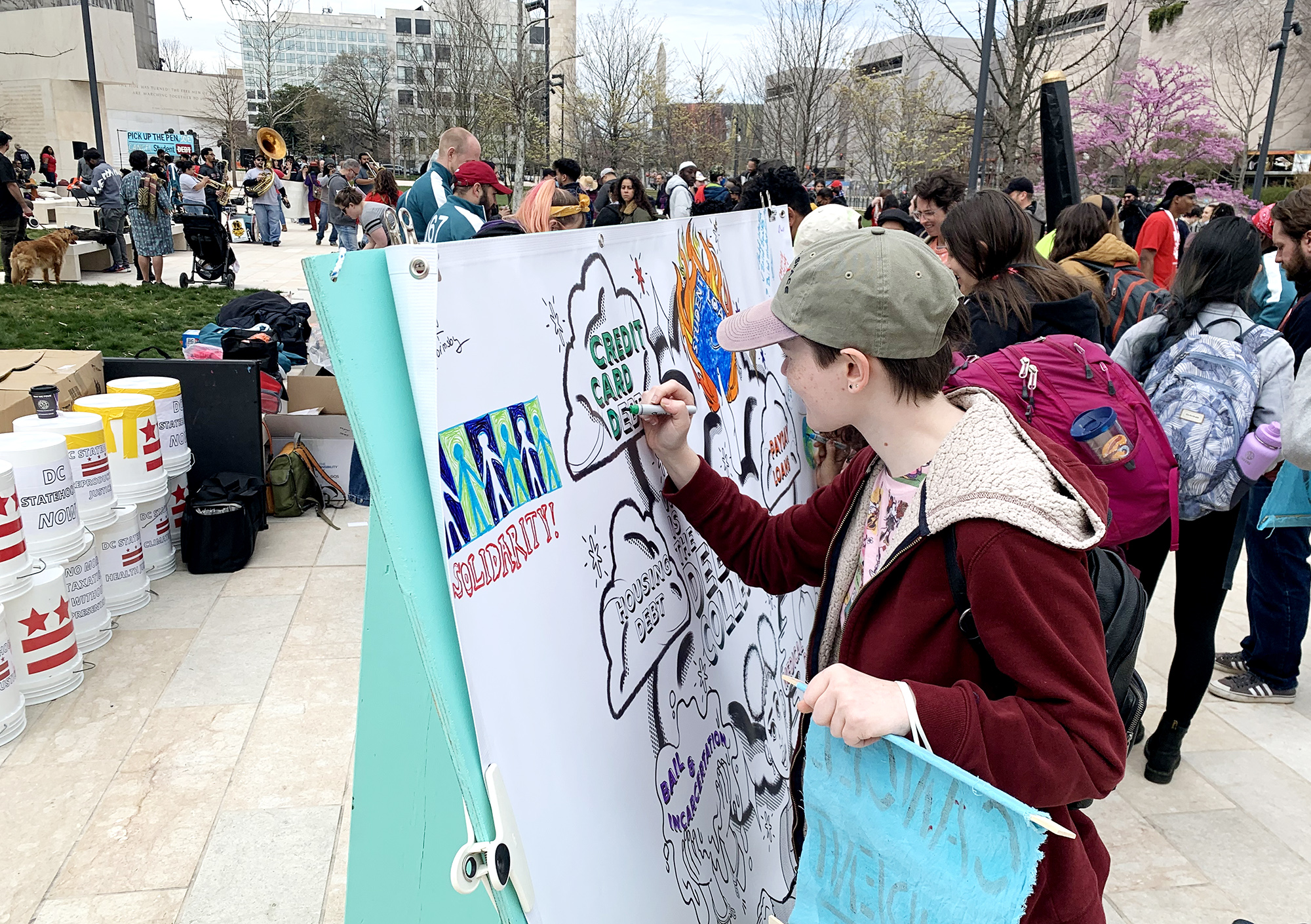 [Maryland lawmakers pass climate solutions bill]
Dr. Richelle Brooks, a principal at the Matrix for Success Academy in Los Angeles focused on how the student debt crisis affects families of color. Brooks said at the protest that student debt affects Black families disproportionately.
"The inaccessibility to higher education is keeping us in poverty," Brooks, a co-founder of the Debt Collective's Los Angeles chapter, said. "Over time, indebtedness grows over generations in Black families."
In her speech, Brooks referenced information from a 2019 report from Demos, a U.K.-based think tank, that said 12 years after starting college, a typical white male borrower has paid off 44 percent of his loans. Meanwhile, a typical Black female borrower saw her loan balance increase by 13 percent.
While the Debt Collective is calling for a change in federal policy, the union has also worked to help people erase their debt. Partnered with the Rolling Jubilee Fund, a debt cancellation nonprofit, the Debt Collective has bought and erased over $31 million in student, medical, probation and other types of debt. 
Now the Debt Collective is demanding the federal government do the same with all student debt.
"We are not asking for forgiveness," said Astra Taylor, a co-director of the Debt Collective, at the protest Monday. "We're demanding justice."