The stage of The Anthem in Washington, D.C., has been transformed by an eclectic selection of props: palm trees, neon lights, a basketball hoop and a central, massive rounded screen with a thick border, reminiscent of obsolete CPUs. It's March 29, the first night of two sold-out shows as a part of Glass Animals' Dreamland tour, and the venue is busy, bustling and boisterous.  
An old Windows-themed loading bar flicks onto the oversized computer screen, and the night begins.
Opening for the popular, London indie alternative band is Sad Night Dynamite, a duo of schoolmates Josh Greacen and Archie Blagden, also hailing from the United Kingdom. Their 2021 eponymous debut album is a lesson in musical worldbuilding, compounded by surreal music videos, earning them fans in Gorillaz and FKA Twigs.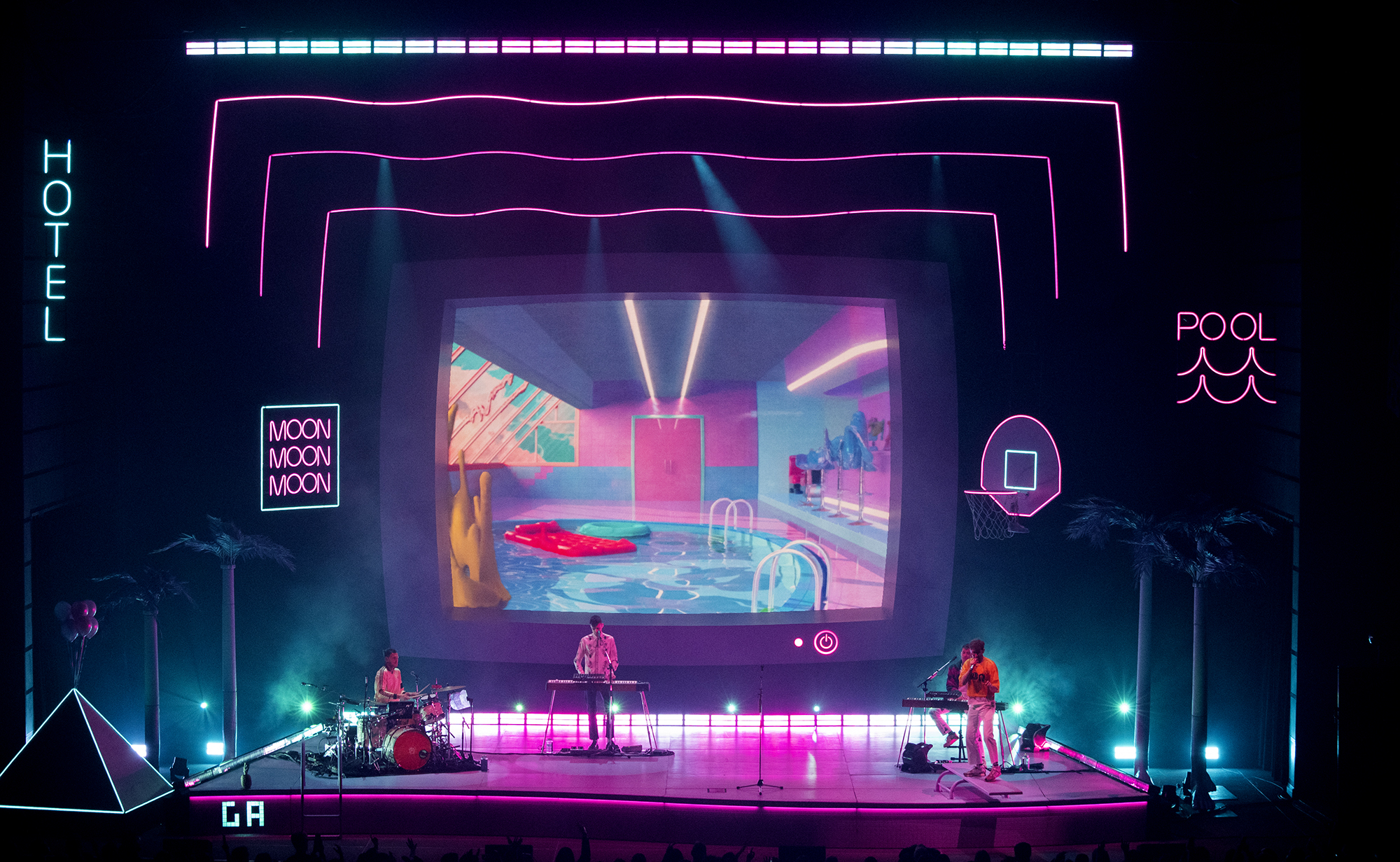 Greacen and Blagden brought an uncontained ambition to the stage, illuminated by moody floor lights that casted ominous shadows over their faces. They moved like devils, embodying their dusky, gloomy sound. Confidence dripped from the pair's duets, trading between expressive autotuned singing and mercilessly rapped verses. 
Sad Night Dynamite produces all its own music, and its instrumental talents were on full display as the two played guitar and even the keys all while dominating the vocals. During some parts of the show, Greacen even whipped out a bullhorn to distort his voice, holding a microphone in front of the device instead of using digital vocal effects.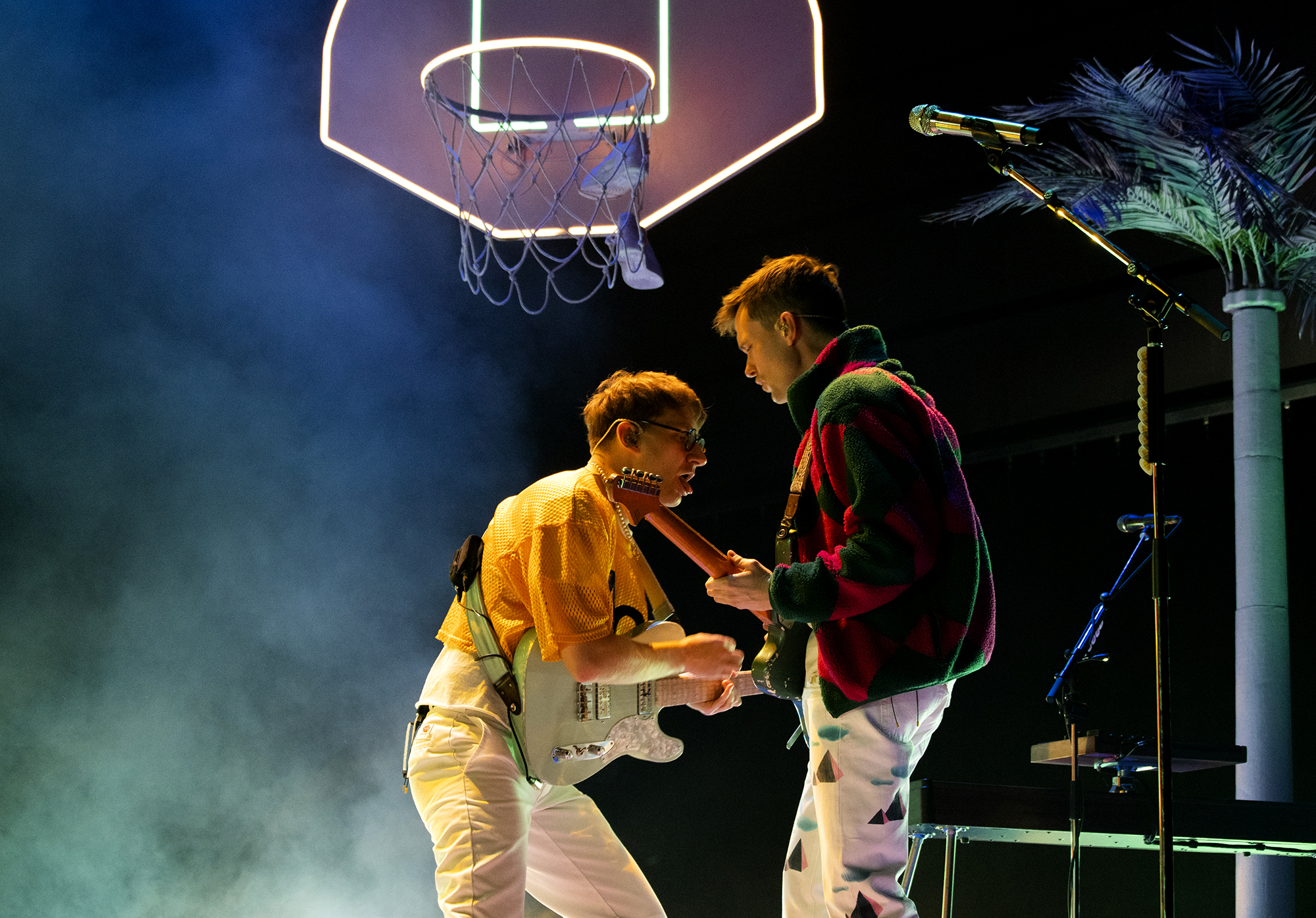 [Musician Austin Weber makes grand return to DC's Pie Shop]
The two paraded about the stage working through their discography, performing "Mountain Jack," a favorite of mine, and "Demon," one of their dancier recent singles. I was also amazed to hear a breakbeat rendition of "Crying Over Nothing," a track off their first EP SND001. 
The duo also provided some context for certain tracks. 
"Some rats had died under the floorboards of this pub, and it inspired the next song," Greacen explained simply before "Psychedelic Views" blared through the venue. 
After Sad Night Dynamite cleared the stage, another loading screen promised Glass Animals' arrival. As the four band members walked out before the crowd, the set erupted into being as the neon lights ignited and a whimsical atmosphere reigned. 
After the "Dreamland" intro instrumental, rumbling drums ensued and the band jumped right into "Life Itself." Just before the third track, frontman Dave Bayley complimented the crowd's energy. 
"I think this is already the loudest crowd of the tour!" he said. The soft synths of "Tangerine" grew louder and the next track began.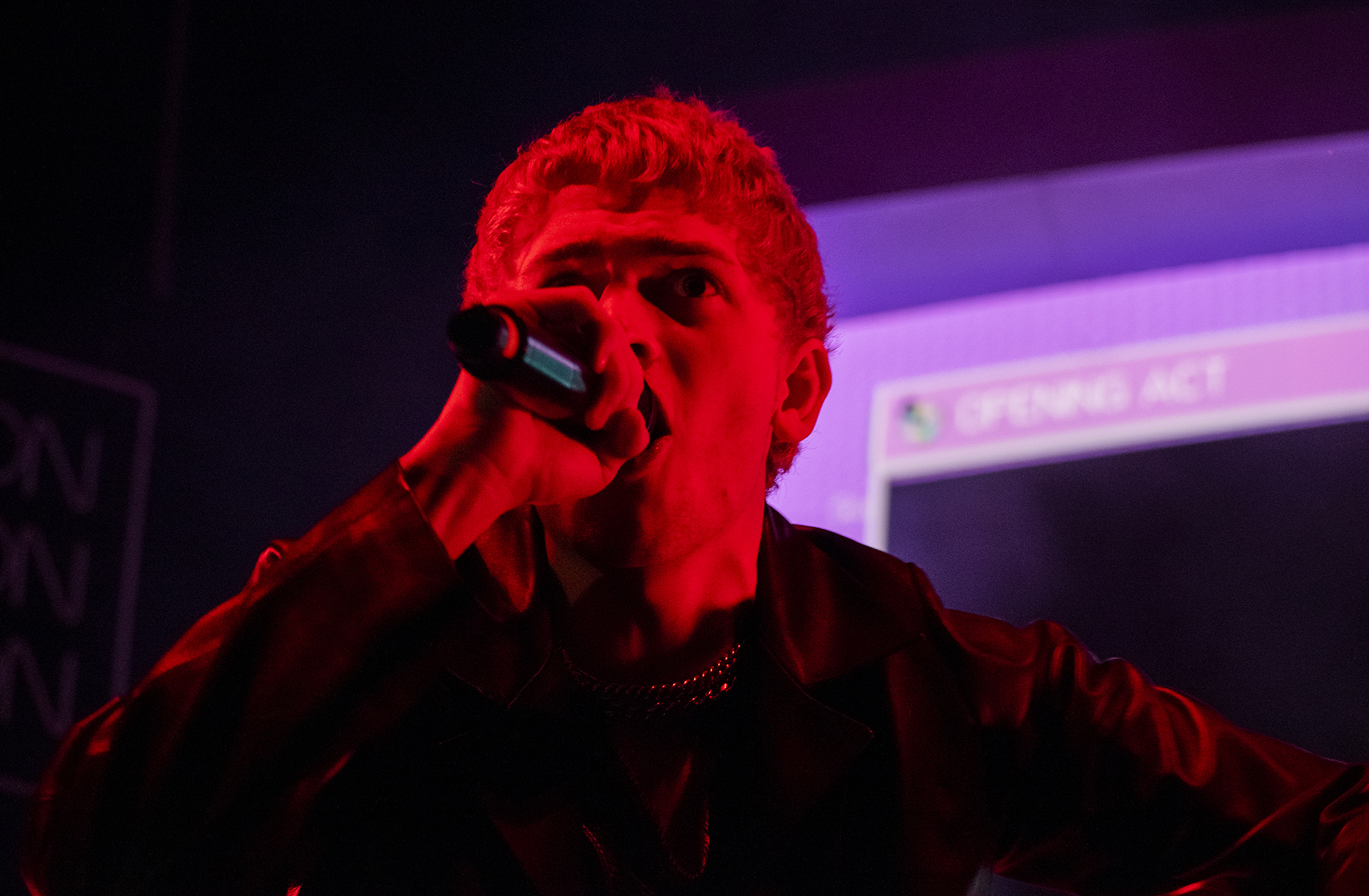 The band's idiosyncratic brand of indie alternative music has garnered nearly 40 million monthly listeners on Spotify, much in part to Bayley's genius. The singer, songwriter and producer curates the group's sound and lyrics, including its iconic, percussive hollow tones that can be heard throughout their discography.
Bayley's clearly the star of the show on stage as much as he is in the studio, jumping and dancing in a physically demanding performance. Throughout the entire show, Bayley seemed absolutely thrilled by the crowd, exhibiting a grinning euphoria akin to his performance at the Firefly Music Festival last year.  
Glass Animals brought to life an auditorily colorful world somewhere between a tropical paradise and a pixelated video game, as emphasized by their set design. While some tracks glistened with a playful tone such as "I Don't Wanna Talk (I Just Wanna Dance)," others didn't hesitate to strike deep with thoughtful melodies that explore authentic human emotion on tracks such as "Your Love (Déjà Vu)."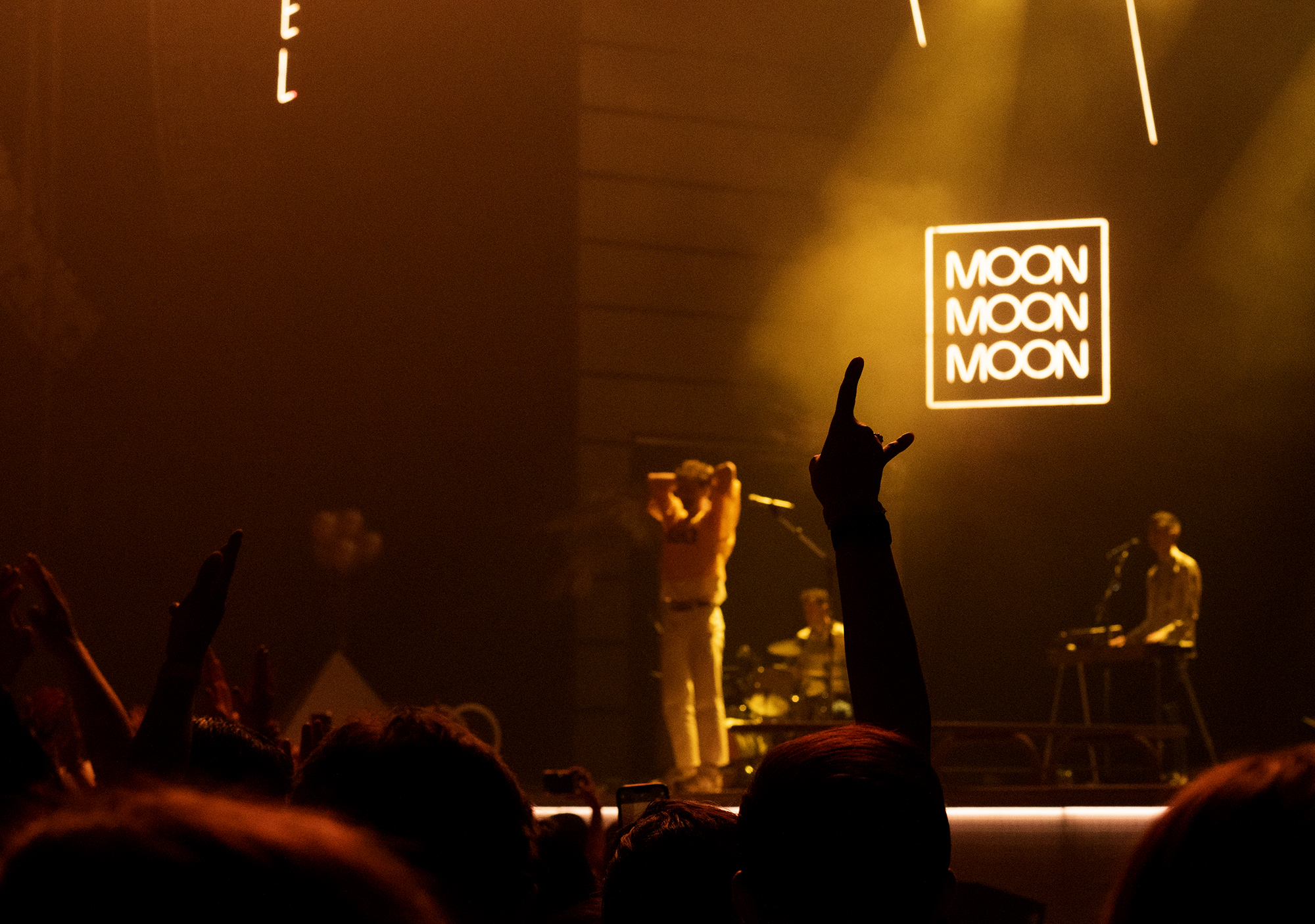 I felt chills when the sweet melody of "It's All So Incredibly Loud" sounded, and Bayley harmonized flawlessly with one long, drawn out note. A similar emotional resonance reached me during "Youth," an endearing track that featured childhood home videos on the big screen.
Yet I wanted nothing more than to dance during "Gooey," which opened with Bayley standing on the edge of a diving board with a single blue spotlight trained on him, as if he could dive into an imaginary pool at any moment. Toward the end of the song, Bayley delivered an excellent, bluesy guitar solo overtop the instrumental. I always appreciate when artists make an effort to bring something that differs from studio recordings to their live performances, and the solo was just one of many special moments from the show.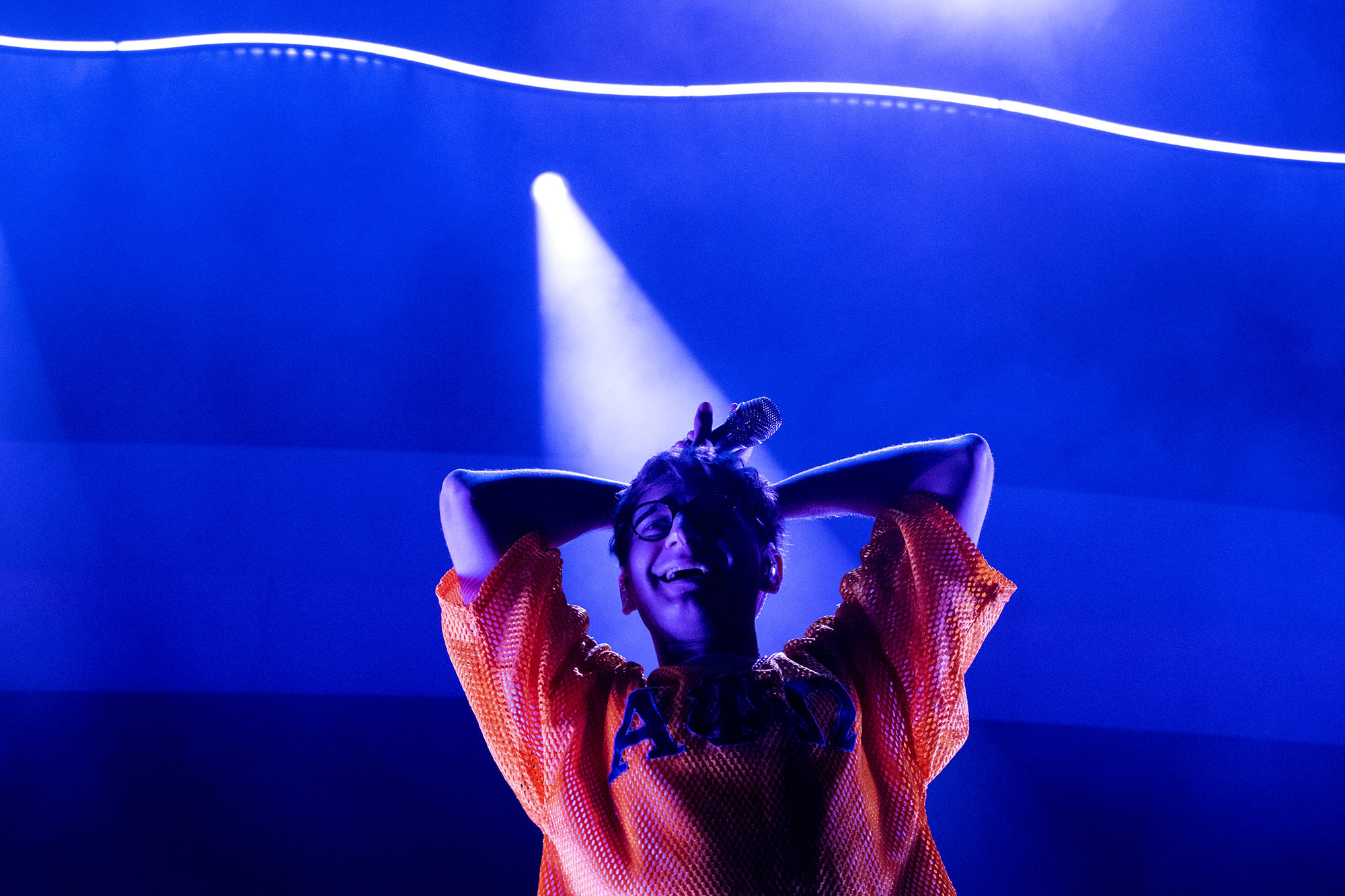 Another was during the outro of "Tokyo Drifting," when only for a few measures the band played a completely different rendition of the track. Instead of the hard-hitting, hip-hop influenced beat, Glass Animals showcased a slower, jazzy take on the song that was simply a joy to hear. 
[SEE comedy competition brings student stand ups together for a night of laughs]
One of the last songs was "Pork Soda," the first track I ever heard by the group while I was in high school. During the intro's "pineapples are in my head" refrain, Bayley literally held up a pineapple above his head. To finish out the song, Bayley performed another rocking, earth-shattering guitar solo.
"This venue is a little bit legendary and I can see why, I think," Bayley said of The Anthem. "It's been bloody amazing, thank you guys so much."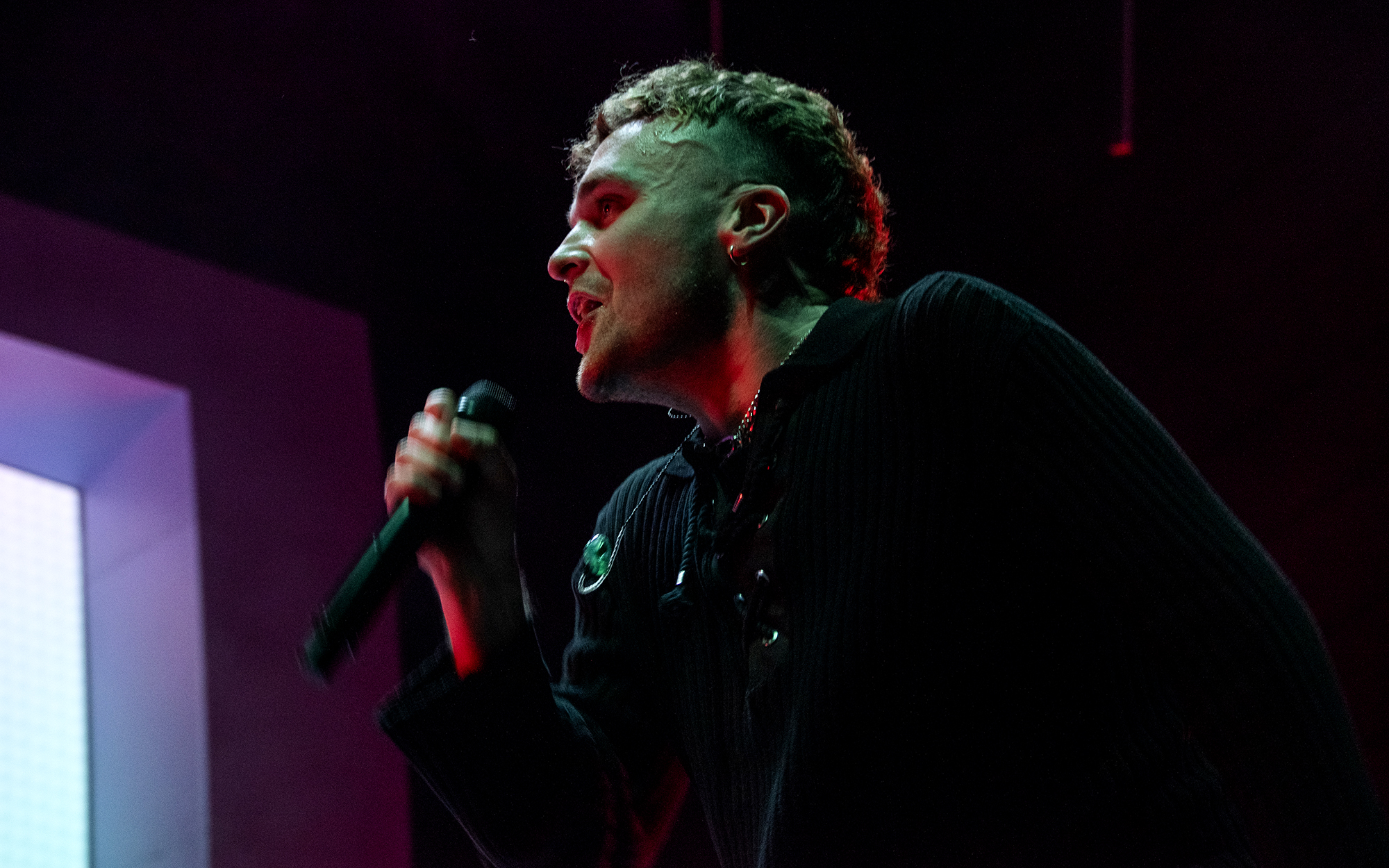 A glitching graphic shined on the computer screen as the crowd waited desperately for an encore, when finally a pop-up appeared. 
"This will install Glass Animals Encore 2.0 service pack. Do you wish to continue?" the screen read. The crowd roared, and a mouse clicked on the "Yes" response. Rounding out the spectacular show with their hit "Heat Waves," Glass Animals closed out the venue with a bang. 
If Glass Animals produced a dreamscape through their music, Sad Night Dynamite's electronic pop created a perfect nightmarish antithesis. The two groups put on one hell of a show at The Anthem, and I'm more than grateful for my chance to catch such talent live.