In the sport of wrestling, intermission is a chance for athletes to regroup and recover before the action picks back up in the second half.
But for Dominic Solis and Kyle Cochran, the intermission period began a routine of warming up together on the mat before their respective bouts at 174 and 184.
The routine started during Maryland wrestling's dual against Indiana, when Solis felt like he wasn't properly warming up beforehand for his bouts. Cochran — a superstitious person himself — was all about having a routine to get his heart and lungs warmed up before competition.
After Solis and Cochran both put up solid performances in wins against the Hoosiers, their intermission warm up session became a ritual.
"Right after we finished warming up on the mat at intermission, we both looked at each other and were like, wow, that was that felt really good, I feel really loose now," Cochran said. "Ever since then I was like let's do it, let's stick with this … it's great having somebody to rely on before your match to get ready."
The duo of Solis and Cochran has been a constant 1-2 punch at 174 and 184 this season for the Terps. 
Solis is 12-13 on the season, while Cochran — Maryland's top wrestler —  is 22-6 and ranked eighth in the latest InterMat rankings.
Together, the duo has won back-to-back in eight of the Terps 19 duals on the season. Each has played a large factor in Maryland's improvement, as coach Alex Clemsen's squad takes another step toward becoming an elite program in the Big Ten.
"I think the way [Solis] fights sets the tone for [Cochran]," Clemsen said. "I think the success [Cochran] had elevates [Solis] level and I think helps him compete at a higher level."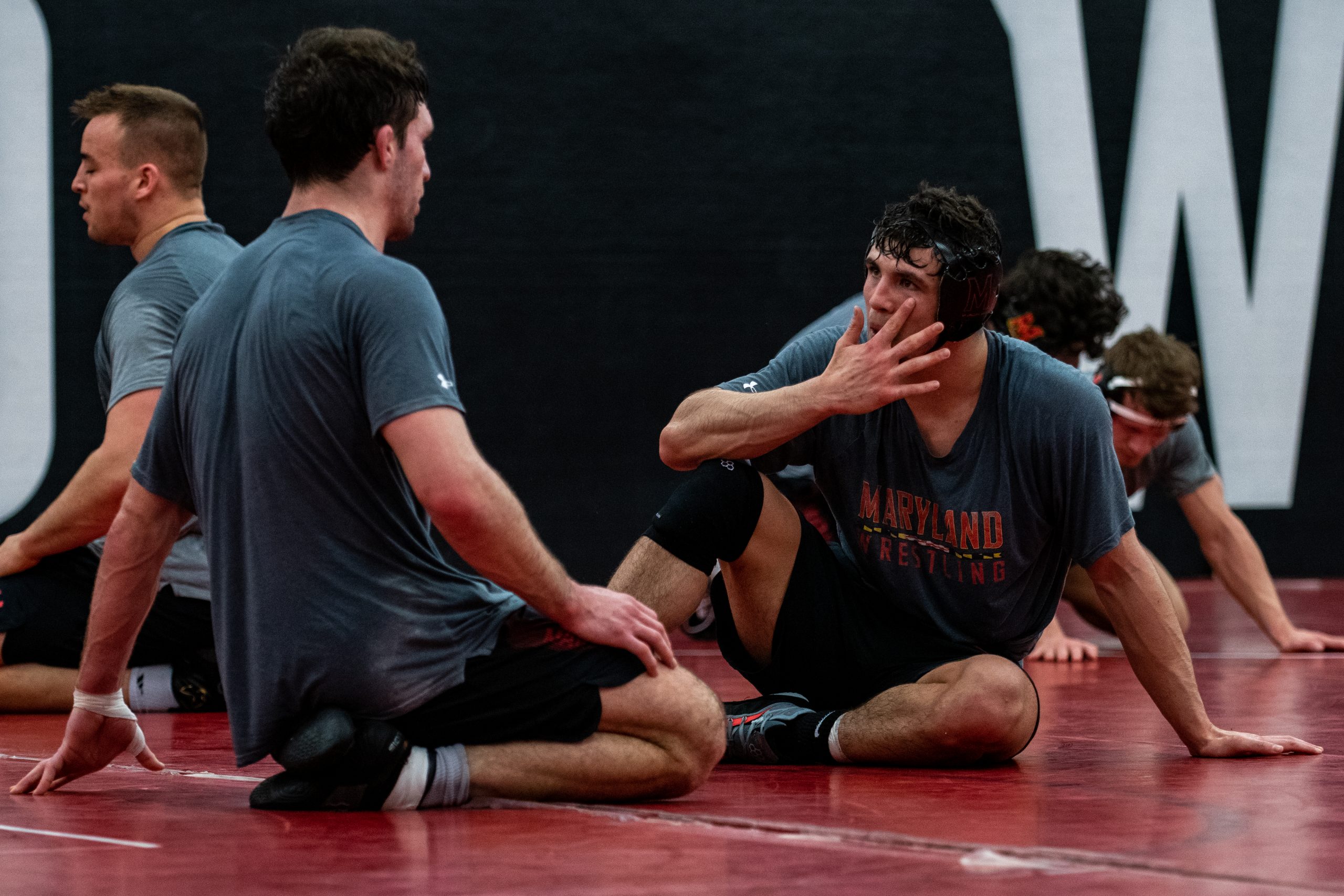 [Maryland wrestling's seniors showed out during last bouts before Big Ten tournament]
The success the duo has achieved can be traced back to being practice partners together.
Training together since the summer, Solis said the biggest thing Cochran taught him was to commit more and to always give full effort when taking his shots. 
For Cochran, Solis has helped him with pushing him in the practice room when he's not having his best day on the mat.  
As partners, the two are always looking to make sure they're on top of their game and holding each other accountable.  
"We hold each other to a standard," Solis said. "It's not like he just lets me do the move … If I'm not doing it right he's gonna shut me down like 'no we have to do that again.'"
Of course, the duo have other practice partners they both work with when they're not together. But when Solis and Cochran link up for a practice, it's a special treat for Clemsen to witness.
"They come into the room, they try to kill each other because they know that's what's going to help them get better when it counts," Clemsen said. "It's fun to watch, that's for sure."
In both the wrestling room and during their intermission routine, Cochran and Solis feel that intensity come to fruition.
With both being captains and leaders of the program, Cochran and Solis both play a major role in how the practices go and setting the tone. They know their competitive fires in practice can rub off on the other wrestlers within the room.  
"Every time I wrestle him in the wrestling room, we definitely have the most drenched shirts and sweat, from how hard we wrestle," Cochran said.
[Maryland wrestling ends regular season with convincing win over American, 31-12]
Even when they're not competing, the two gel together.
According to Solis, Cochran has been a huge help in dealing with the pressure that comes with wrestling in the Big Ten.
"Something about [Cochran] is he can always lighten the mood … he can always make everyone laugh and not take it so serious," Solis said. "You want to have a nice balance between being serious and joking around." 
Solis said he will continue the intermission routine next season despite Cochran possibly hanging up his singlet at season's end. Cochran has one year of eligibility left if he decides to use it. But if this season is the final time the two wrestlers compete together, Solis is thankful for what Cochran has done for him.
"I'm gonna miss him, especially as a friend and a practice partner," Solis said. "It's amazing to see and to watch him compete, but I'm also really excited to see what he does afterwards because I just know he'll be really, really successful."
The feeling is mutual for Cochran.
"[Solis] being my practice partner it's just probably one of the best things that's happened to me since being at Maryland," Cochran said. "I'm just beyond grateful for him." 
Their practice partnership has turned into not just a friendship off the mat, but a brotherhood.
"He's not just a good friend, he's not just a practice partner, he's not just a teammate," Cochran said. "I truly consider him — just like everybody else on the team — a brother."