The University of Maryland's local chapter of United Students Against Sweatshops held its semester kickoff meeting Thursday in Hornbake Library.
USAS is a student labor organization that has chapters at over 150 campuses in the United States, including this university. Their goal is to improve the lives of workers at this university.
This meeting came two months after the University System of Maryland Board of Regents approved an increase in the hourly wage to $15 for union-represented workers. Sophomore immersive media design major and co-chair of the USAS student worker organizing committee Grace Orellana said the organization is now fighting for student workers, non-student workers and contract workers who weren't included in that wage raise.
Senior agricultural and resource economics major Sushanth Gupta, who is also a co-chair of the student worker organizing committee, added that USAS doesn't just fight for students.
"We recognize that it's very important for our goal to work with people like FSE, the grad student group, AAUP which represents professors, and even with the contract workers too because we all have a shared struggle," Gupta said.
Todd Holden, president of AFSCME Local 1072 — the union that represents workers at this university — explained contract workers and student workers have the shared struggle of being unable to unionize.
"[Contract workers] are at-will employees with minimal rights who are unable to unionize under state law," Holden wrote in a message. "Student workers are in the same boat."
At the meeting, attendees were introduced to the various committees at USAS. One such committee, the union committee, works directly with AFSCME and phone banks every week to try to get more campus workers to join the union. Sophomore criminology and criminal justice major Grace Magori, a co-chair of the union committee, described just how apprehensive some workers are to even talk to her.
"They're like, 'Wait, who's doing this interview? Is my boss gonna find out? What if I join the union and I get fired?'" Magori said.
[Contract Dining Services employees want to see better benefits]
USAS member and junior materials science and engineering major Akash Lujan said he's talked to university employees that work up to 80 hours a week across multiple jobs.
"It's almost incomprehensible. When do you sleep? When do you eat?" Lujan asked.
But even though student workers cannot unionize, Magori said students have a unique position of power over the university when it comes to labor struggles.
"Students have leverage over UMD that non-student staff don't," Magori said. "A lot of these workers are on a contract, they do not have the type of protections that we do and plus we pay tuition to the university."
USAS' major goal is getting a $15 minimum wage for all workers on the campus, regardless of their employee designation.
Orellana mentioned a town hall USAS put on last semester to advocate for a $15 minimum wage and said, "We invited the administration, and they declined to visit."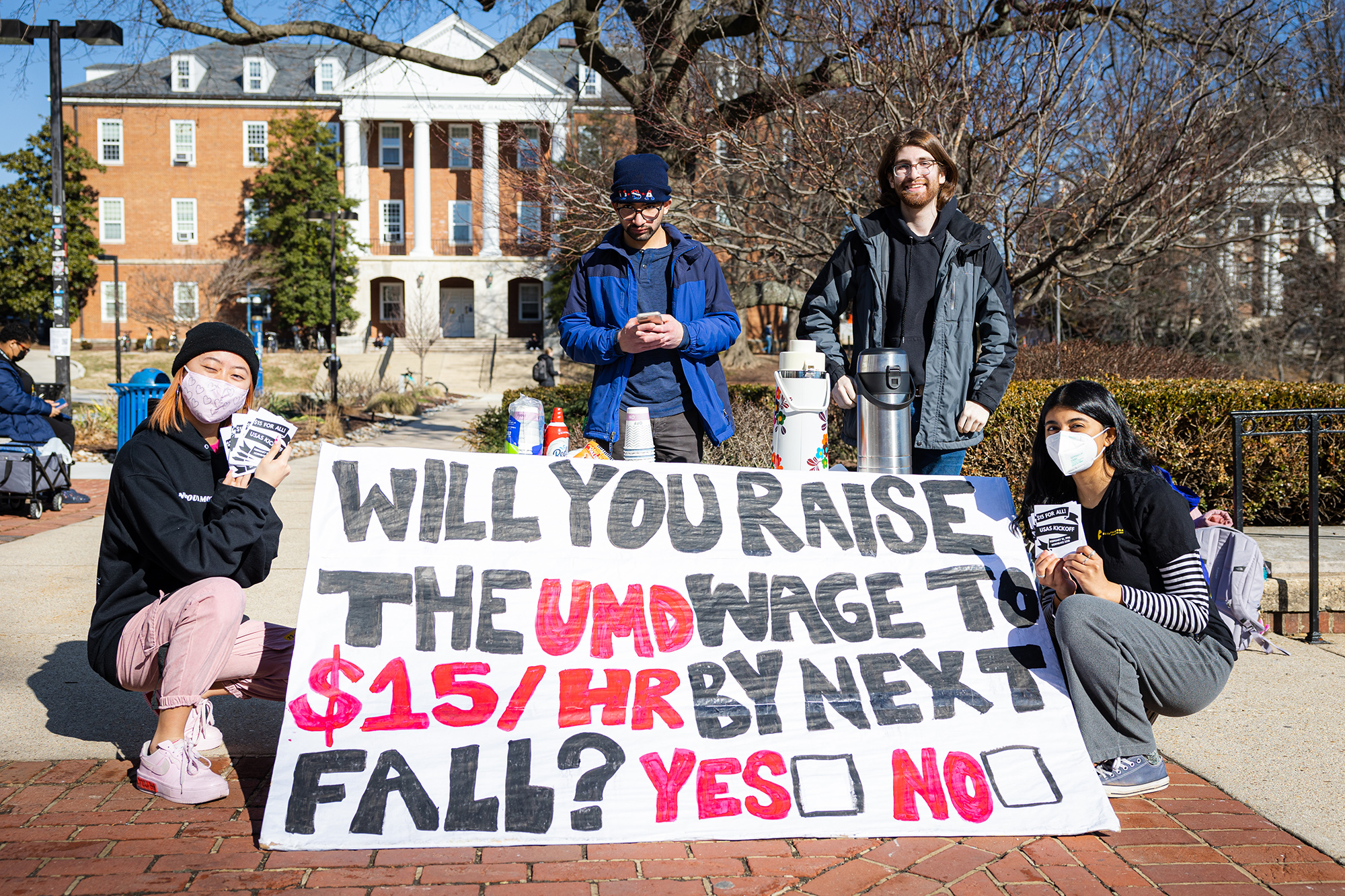 In email exchanges obtained by The Diamondback, Student Affairs Vice President Patty Perillo declined to attend the town hall, citing a scheduling conflict.
Lujan added that the term "living wage" doesn't just mean enough money to pay your bills. For him, a living wage means enough money to live your life and have leisure time.
USAS is also making an effort to educate its members on intersectionality and class consciousness by having the collective liberation committee. Sophomore international relations major Carmen Metoyer, who is also a co-chair of the collective liberation committee, said she's focused on teaching people at this university about history and how it connects to workers today.
"We realized that a lot of the work that goes into uplifting workers and the working class in particular is super intersectional," Metoyer said. "There's different plights that affect different identities, and there's different historical reasons for that."
[UMD RHA votes in support of $15 minimum wage for student workers]
The collective liberation committee also has a strong focus on prison labor. Metoyer railed against the partnership between this university and Maryland Correctional Enterprises, wherein prisoners work to build the desks and other furniture that go in dorm rooms. She called it "modern day slave labor."
Metoyer also talked about her committee's jail support program. As part of the program, USAS members go to jails — including one in Upper Marlboro — and provide support to recently released inmates. They offer rides, phone chargers, toiletries and resources for legal services if they need it.
"We literally wait for people to leave … right as they're being released," Metoyer said. "It's a really cool experience."
USAS is in the process of setting up a meeting with Perillo and Senior Associate Vice President for Health & Well-Being Warren Kelley to discuss its campaign to get a $15 minimum wage. The meeting is tentatively planned for March 4. The student labor organization stipulated that a Diamondback reporter be present for transparency.
The university didn't immediately comment on a meeting with USAS.
But in the meantime, USAS members such as Lujan feel this university should be ashamed of how it treats workers.
"It's sad that it's come to students … It's come to us to say, 'Hey, this isn't right,'" Lujan said. "And it's shameful on the administration that they don't have a backbone, they don't have the morals. And we know they have the money."