In a competitive conference like the Big Ten, there is little relief from January to March.
After a disheartening loss to Indiana at home, Maryland men's basketball has a challenging matchup on the horizon. Interim head coach Danny Manning said his team needs to have a "short memory" to prepare for its contest with No. 13 Michigan State Tuesday night. 
After a high production showing against Rutgers, the Terps' praised backcourt — Eric Ayala and Fatts Russell — were stifled by the Hoosiers' defense. After a 45-point game from Maryland's guards in Piscataway, New Jersey, the two finished with just 18 points against Indiana. 
Donta Scott, another high scorer for Manning's squad, clocked just seven points at the final whistle. He had an even less successful night in the score column against the Scarlet Knights — scoring three points all game. 
Even when his players don't deliver on the scoreboard, Manning expects something else from the Terps — positive movements in the game that he calls energy generating behaviors. 
[Handshakes and Gatorade: Brett Karkus' impact on Maryland men's basketball]
"The last game we played at Rutgers, Donta, it wasn't his night offensively. But he led us in energy generating behaviors that game," Manning said. "That's what we need from Donta. We need more of those energy generating behaviors, and his size and skill set across the board have an impact on the game."
Manning defines those energy generating behaviors as "things that bring us energy and juice outside of the traditional stats." Seeing shots and points next to a player's name on the stat sheet are tangible measures of their impact on the game, but are far from the only contributions they can make. 
To Manning, a basket isn't the only example of "a winning play." He considers deflections, winning 50/50 balls, boxing out, offensive rebounds, "hockey assists" and many other positive moves as winning plays. 
"Donta and Fatts do a lot of those things that kinda affect the game that you don't really see on the stat sheet," Ayala said. "Whether it's like getting a loose ball or checking a guy when they cut or getting the team involved with energy." 
While he didn't sink a field goal against Rutgers, Scott contributed in other ways. He pulled down six rebounds, dished two assists and blocked a shot — he was one of the two starters who did so that evening, the other being Qudus Wahab. 
Maryland struggled to make winning plays against Indiana. One of Manning's most emphasized EGBs is paint touches. The Hoosiers' defense stood strong in the paint and forced the Terps to settle for shots that just weren't falling. Maryland finished that game at 16-for-56 from the field, a 28.6 percent shooting success rate. 
Maryland has a list of energy generating behaviors to consider during games. But the list changes frequently to accommodate the needs of the team for each game. And the Terps are on board with Manning's philosophy.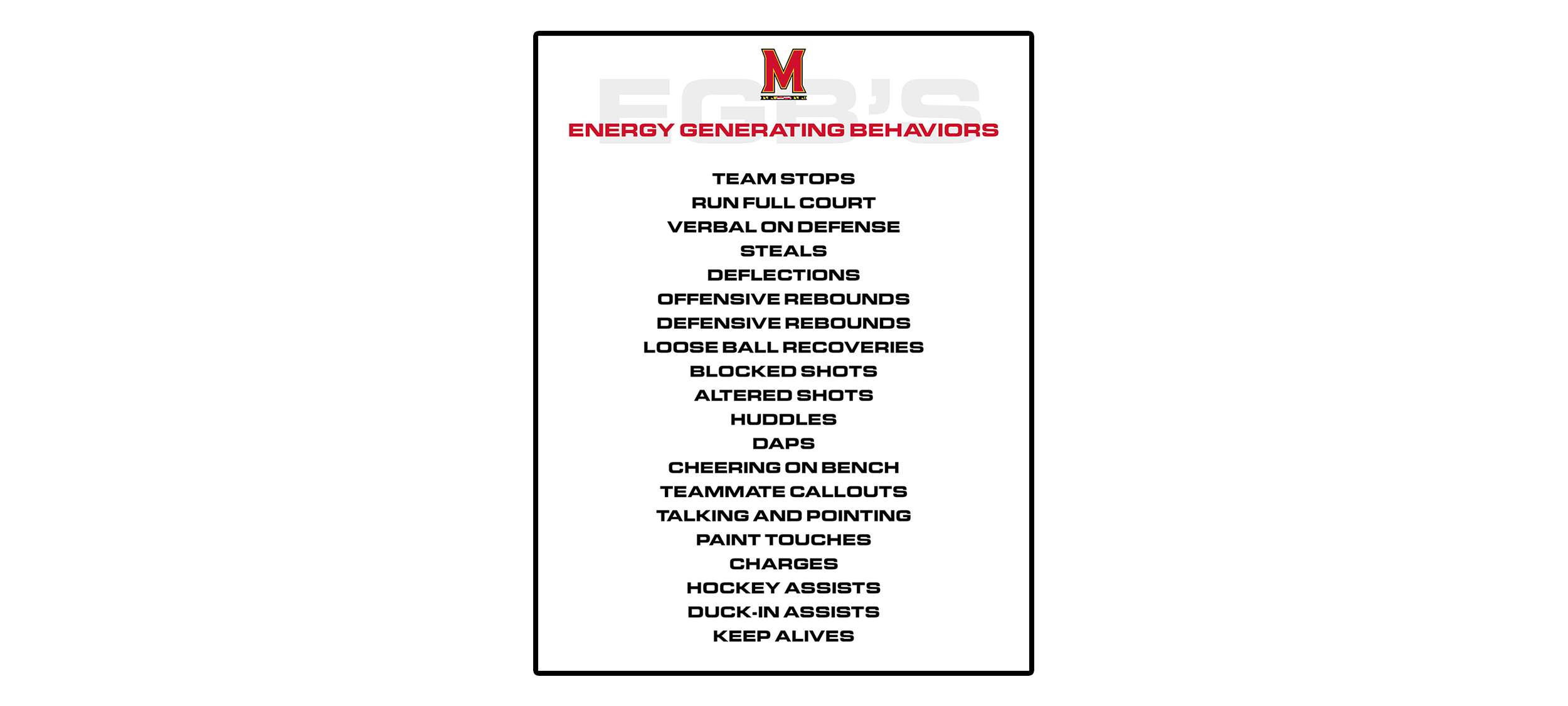 "In our locker room, we signed a sheet that has a list of things that we will try to do on the court," Scott said. "And everybody signs it willingly, and basically just tries to bring those efforts … and those EGBs on the court." 
['Fine line': Maryland men's basketball struggles with shooting balance against Indiana]
Ayala credits EGBs with breaking down the game. Asking for smaller, positive plays gives players something to focus on beyond what's on the scoreboard. 
With a highly ranked opponent coming to town Tuesday night after such a poor shooting performance against Indiana, players focusing on smaller aspects of the game could bring the Terps success. 
And with a potential injury to Russell's wrist that could impact his ability to play against the Spartans, another player may have to step into his shoes. Matching Russell's skill at making winning plays may be difficult for someone else. But the guidance provided by Manning's list of energy generating behaviors may make the transition a bit easier. 
"It makes you simplify the game rather than making it about points and offense and defense," Ayala said. "It's the little stuff that can change the impact of the game."