All heads turn to the Maryland bench as the starting five are announced to a raucous Xfinity Center.
Those first five each get a moment in the spotlight, faces unflinching before an upcoming contest. 
Fatts Russell raises his hands above his head and rubs his thumb and index fingers together, as does the rest of the line of teammates that build a tunnel toward center court. As Russell walks down the pathway, he reaches Brett Karkus. 
Karkus pats him down and sends him off to go in hopes of him earning a win for the Terps.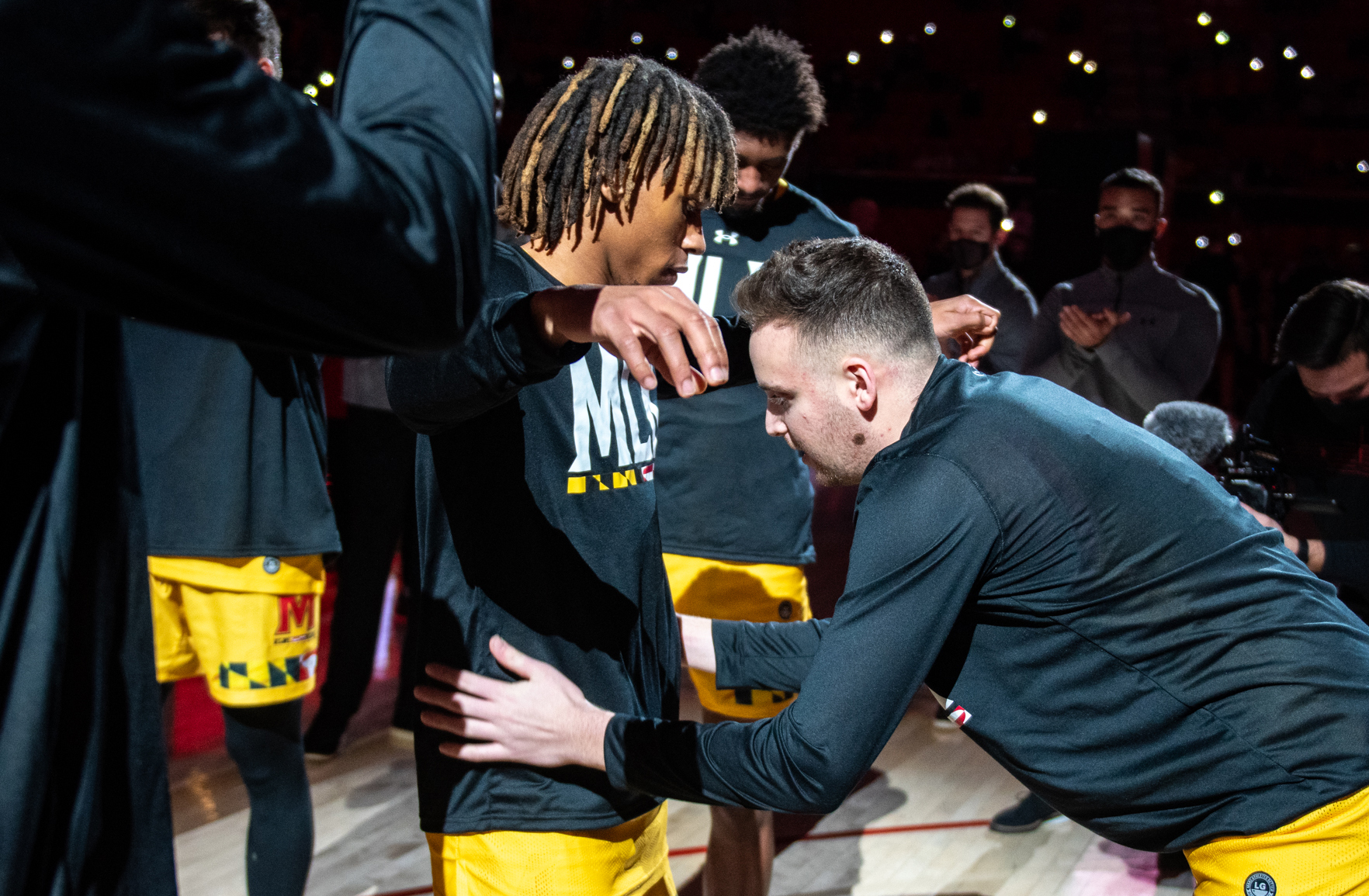 Every player that graces that starting five meets Karkus at the end of the line for a personalized handshake before the start of every game. 
"I think handshakes are cool," Karkus said with a smile. "It's cool to have a role like that before the games, get the guys hyped up."
Karkus — a freshman walk-on — rarely sees the floor after being the center of energy for Maryland's pregame announcements.
But it rarely matters in what capacity it's in, Karkus stirs his teammates. 
"Everybody loves Brett," Russell said. "He just has a personality that just attracts you. He comes up to you just always positive, always uplifting. Guys like that you've just gotta keep 'em around."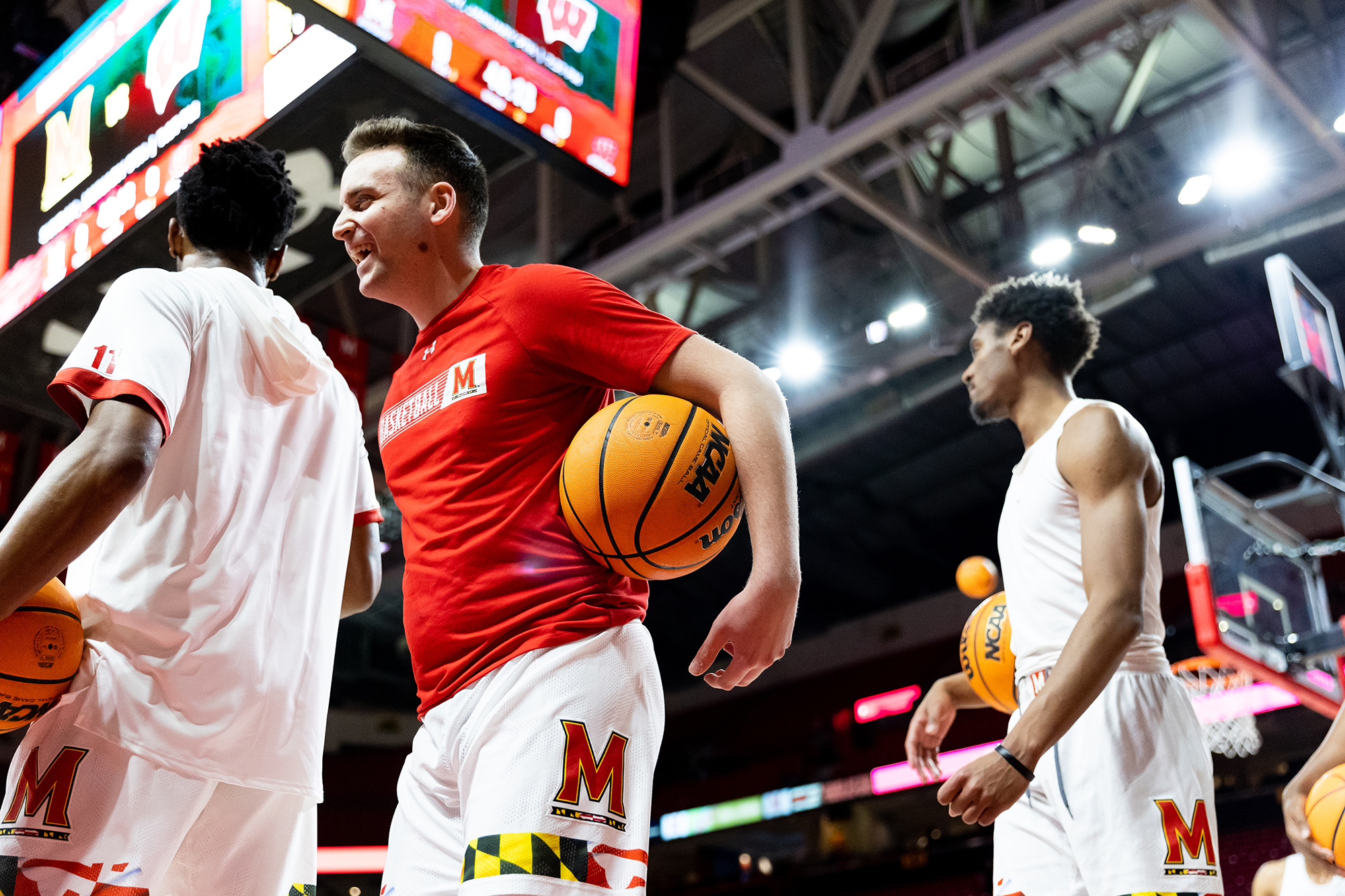 In only a matter of months Karkus has become a crucial member of Maryland men's basketball. 
"He's definitely one of those guys that hands out confidence in people and uplifts everybody," Eric Ayala said. 
Karkus joined the Terps in summer 2021, fresh out of a year at Berkshire School, a preparatory boarding school in Sheffield, Massachusetts. 
He said he took a gap between four years at his hometown Hewlett High School in New York and made his way to Maryland after playing under a new coach in Jeff Depelteau.
Depelteau — who has frequently worked with USA Basketball — prepared him for the jump to the next level.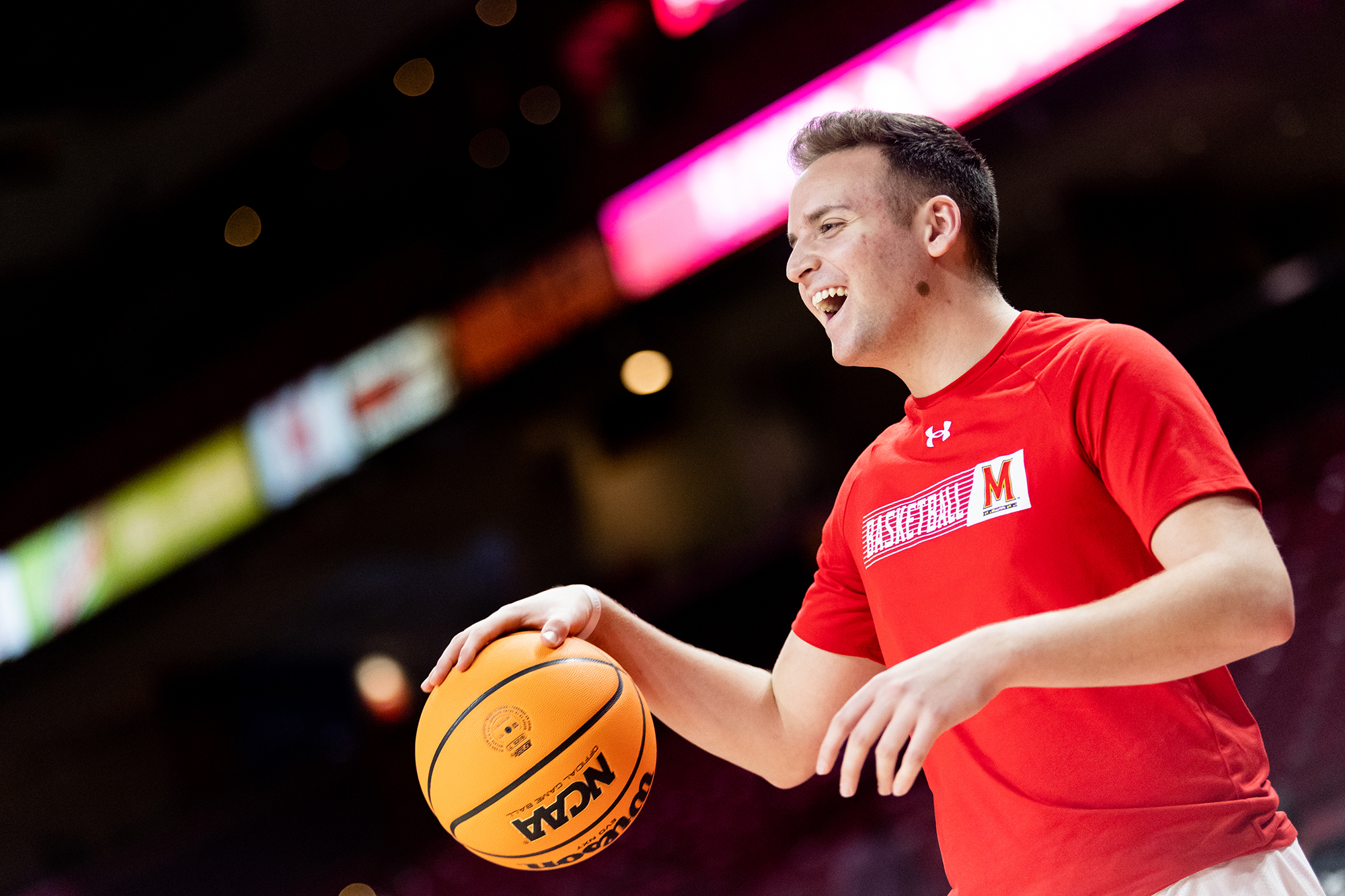 The Terps were always a top-option for Karkus, getting to experience the atmosphere while his brother was a student at the University of Maryland. At the end of the day, he said he wanted a place where he could be himself.
So he landed at a top program as a walk-on guard. 
Interim head coach Danny Manning speaks highly of all of his walk-ons. He said walk-on players are important to him, knowing first-hand what they can bring to the table from both of his children being former walk-ons for Kansas basketball and volleyball.
"At the end of the day, walk-ons are your only true student athletes," Manning said in a Dec. 2021 media availability. "They're paying to go to school here. They're the only true ones."
Between playing on scout teams in practices, providing enthusiasm for his teammates in games and working hard in the weight room, Manning appreciates that Karkus is "all in."
"Brett has done a tremendous job for us as a freshman," Manning said. "We feel very fortunate and blessed to have the walk-ons that we do have because they love Maryland and this is where they want to be."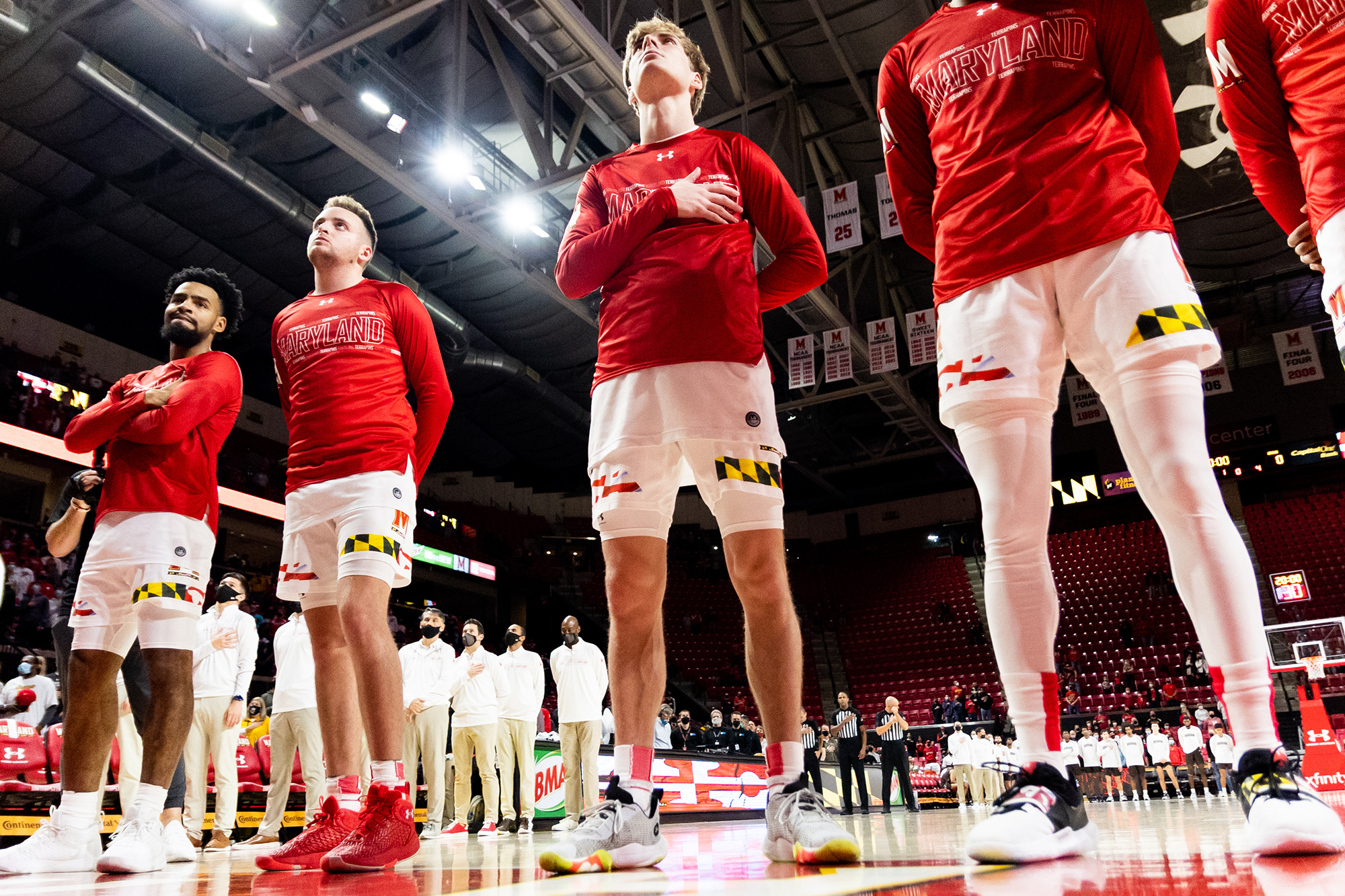 [Eric Ayala and Fatts Russell shot Maryland men's basketball to victory over Rutgers]
His teammates and coaches praise the young guard, but perhaps one of his closest friends is one of the most veteran players on the team: Ayala.
The pair bonded over a mutual friend in Peter Littman — a former manager on the team Karkus knew from home — and trips to Chipotle. 
"Obviously a guy like Eric, he's a senior, he's a star, big man on campus," Karkus said. "I didn't know what my relationship would be. And we just clicked from day one, like, he took me under his wing."
Ayala said what struck him initially was how mature Karkus was. 
From casual conversation to demeanor during games and in the locker room, Ayala found someone he respected greatly. For a freshman, Karkus doesn't quite fit the same mold as his teammates.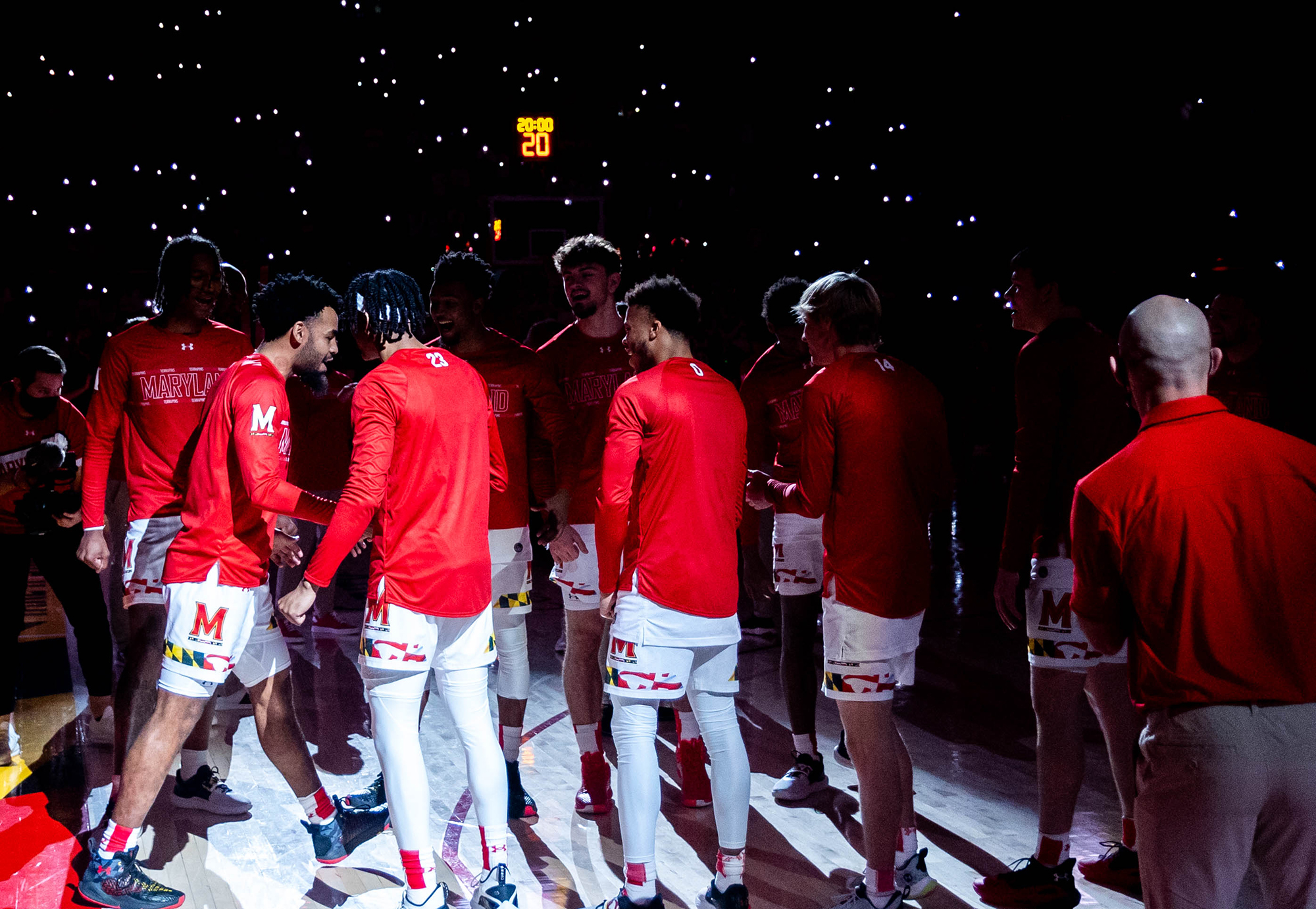 "First thing [Julian Reese] does when he comes in the locker room is turn the music up loud as he can," Ayala said. "As a freshman you can do stuff like that, but Brett, he's just chill. He acts like one of the veterans. He can hang with the younger guys, he can hang with the older guys."
Karkus, in the same vein, said he likes to surround himself with people who hold themselves to a high standard — and he didn't have to look far toward NBA-hopeful Ayala.
But even as a potential pro player, Karkus gives Ayala all he can handle when they're practicing together.
Ayala says Karkus is a high-level shooter and that he's "gotta chase him around." 
"You can never really sleep," Ayala said on defending the 6-foot-4 guard. "Sometimes [there's] that stigma with walk-ons, people think that they're not that good or that they can't compete at the high level that we compete at. But with Brett, you can never really relax."
Karkus has accumulated just one minute of playing time this season, subbing in for the final 31 seconds of the Terps' 76-55 win over Lehigh.
But after months of having an up-close look at his game, Ayala has been very impressed with his confidence and basketball-IQ for a player just foraying into the collegiate level.
It's two-fold for Karkus, who thinks he has come a long way in his first season with Maryland.
"To come in here and play with an entire team of high-level Division I guys who dominated at the high school level and are dominating at this level, it's just very different," Karkus said. "And being able to play with them just picks my game up, and I've gotten a lot better just since I've been here over the past few months, just playing with them every day."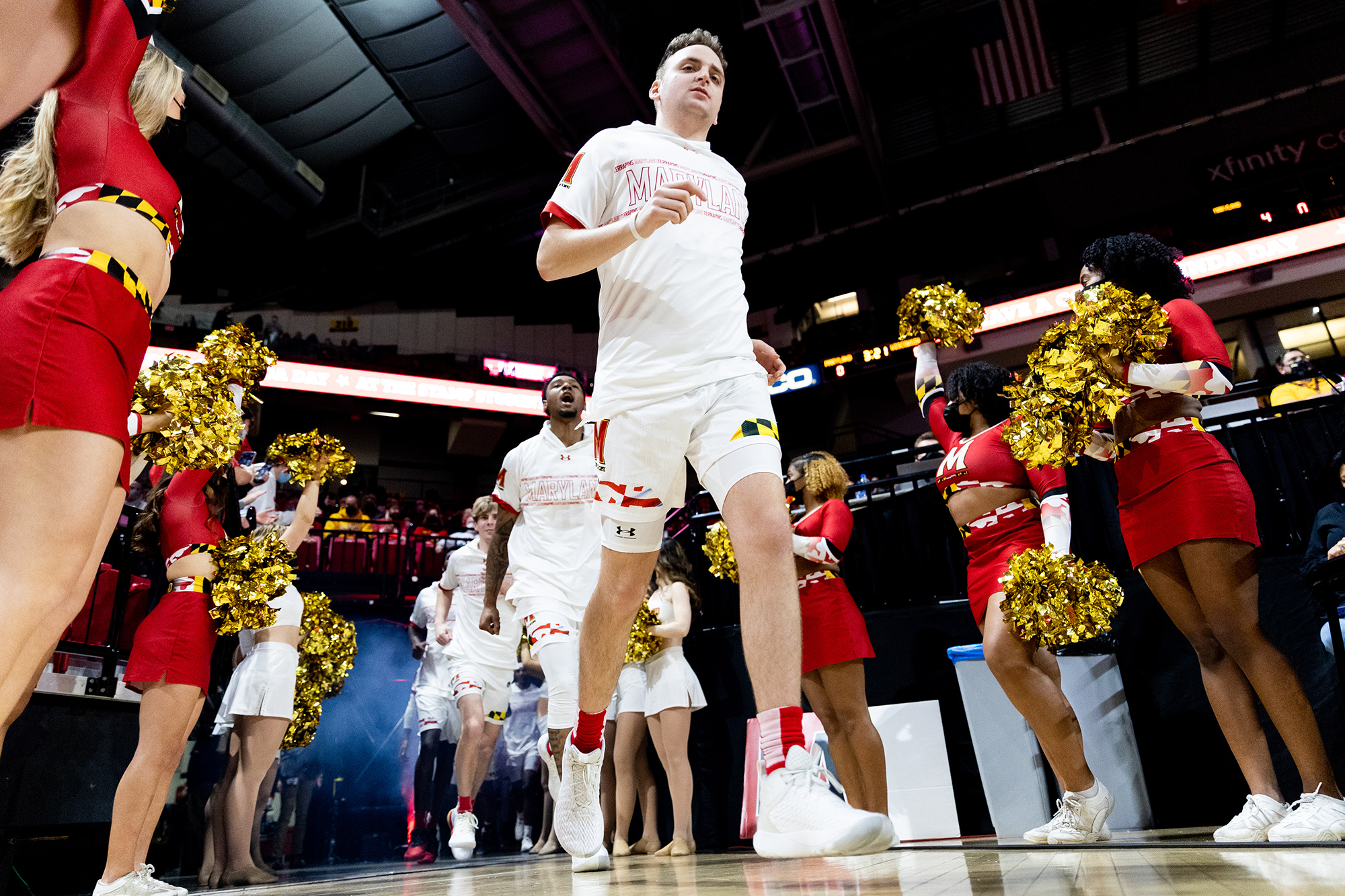 But Karkus' time to shine for the Terps has come on gamedays. 
He's a sparkplug for Maryland and its bench throughout matchups. And of course he owns the all-important time before the game as the final stop for his teammates before chaos ensues on the court.
His constant excitement in the locker room led him to take over from former-Terp Reese Mona in doling out handshakes. It's a responsibility he enjoys and puts the creative freedom and meaning in the hands of his teammates.
[Maryland men's basketball delivered in yet another Big Ten-rematch win]
"I wanted to let them showcase," Karkus said. "Everything's unique for each guy."
Even as Maryland changed up its lineup in recent games, Karkus is ready for it. 
Reese got his first start on Jan. 15: original handshake was ready to go. Simon Wright made a surprise appearance in the starting five: simple fist bump ready to go. 
As the only player who has started every game this season, it's likely you'll see Ayala and Karkus doing their best E.T. impression when their index fingers meet to thunderous applause on their home court.
The "handshake" came about with time ticking away before the first game of the season. The two had frequently discussed it, trying to find the right thing to get the star guard hyped up.
"It was probably like five minutes before the starting lineup was called and I just said, let's do that. And [Brett] was like 'I like that, I like that,'" Ayala said. "I told him it was going to be an instinct."
And without fail, Karkus is there to deliver the boost for his friend and Maryland. 
He knew joining the Terps meant a new role — one he hadn't held on past teams. He'd rarely see the court among the talent of a major D-I team, but they'd rely on him for just about everything else.
"You gotta be really unselfish to sit on the bench and just cheer all the time and do whatever the coaches want from them," Russell said. "Guys like that just mean everything to teams."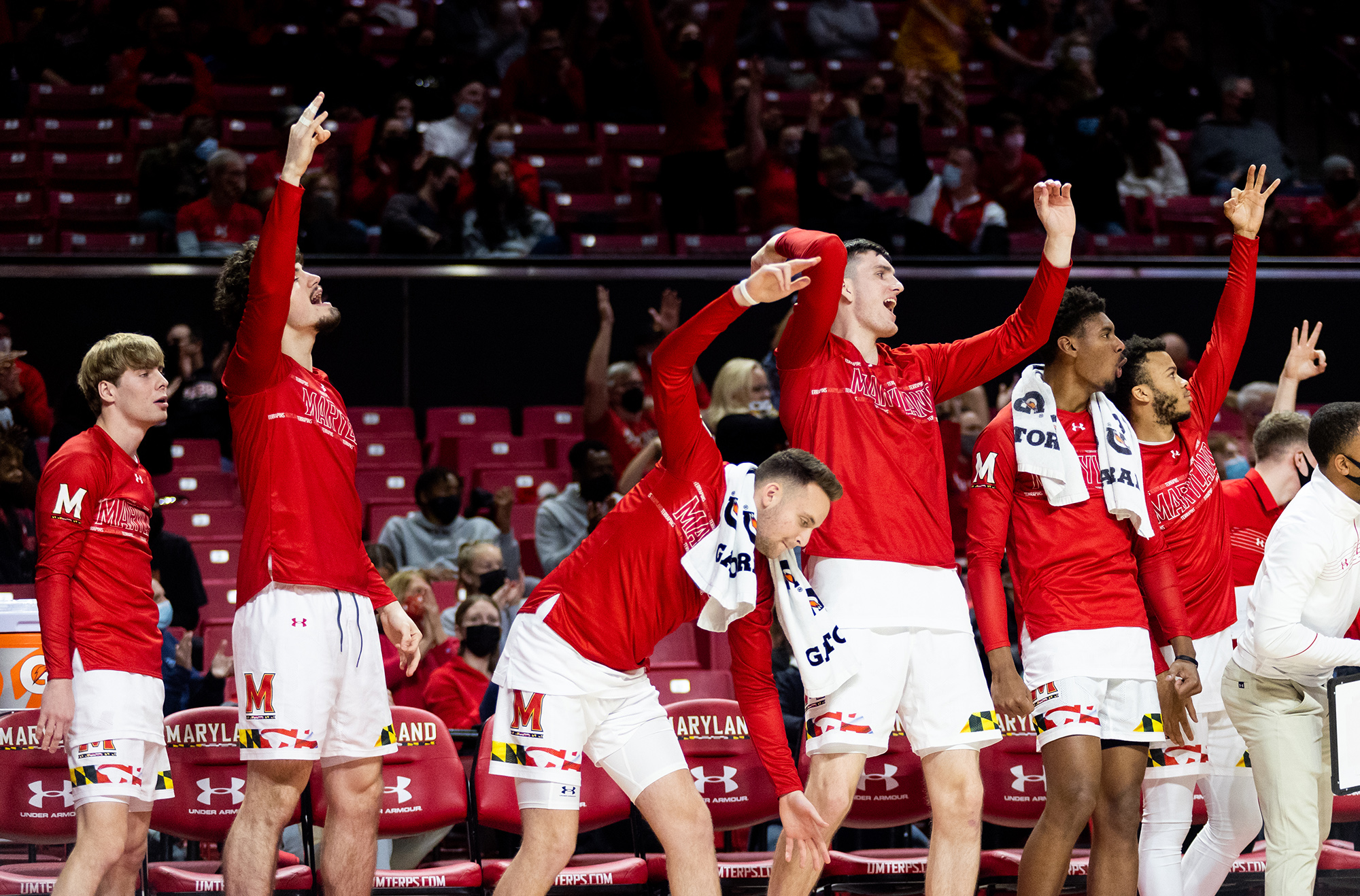 Amid all the turmoil in the Maryland program this season — a midseason coaching change and a slow start in the Big Ten — a player like Karkus has been invaluable.
"Coach Manning talks about how when you come to the bench it should be like a fueling station," Ayala said. "Kind of like we drink Gatorade, we should come to the bench and guys should give each other energy."
Karkus is the guy that his teammates can go to for inspiration and life when a daunting season looms over them. The handshakes keep coming and the spirit stays high.
People may underestimate a walk-on player, but his team never does. Ayala just about summed it up.
"His input, it matters."