Chloe Bibby doesn't look at her parents in the crowd when she plays basketball. It's been that way since she was young, her way of locking in to the task at hand.
Even when Leigh-Anne and Adrian Bibby saw their daughter play in person for the first time as a Terp, Bibby remained focused and didn't look up into the stands to meet their gaze.
It was only with under a minute left in Maryland women's basketball's 72-55 victory over Rutgers that Bibby looked in their direction to point them out to a team video coordinator and received a clap of acknowledgement from her parents.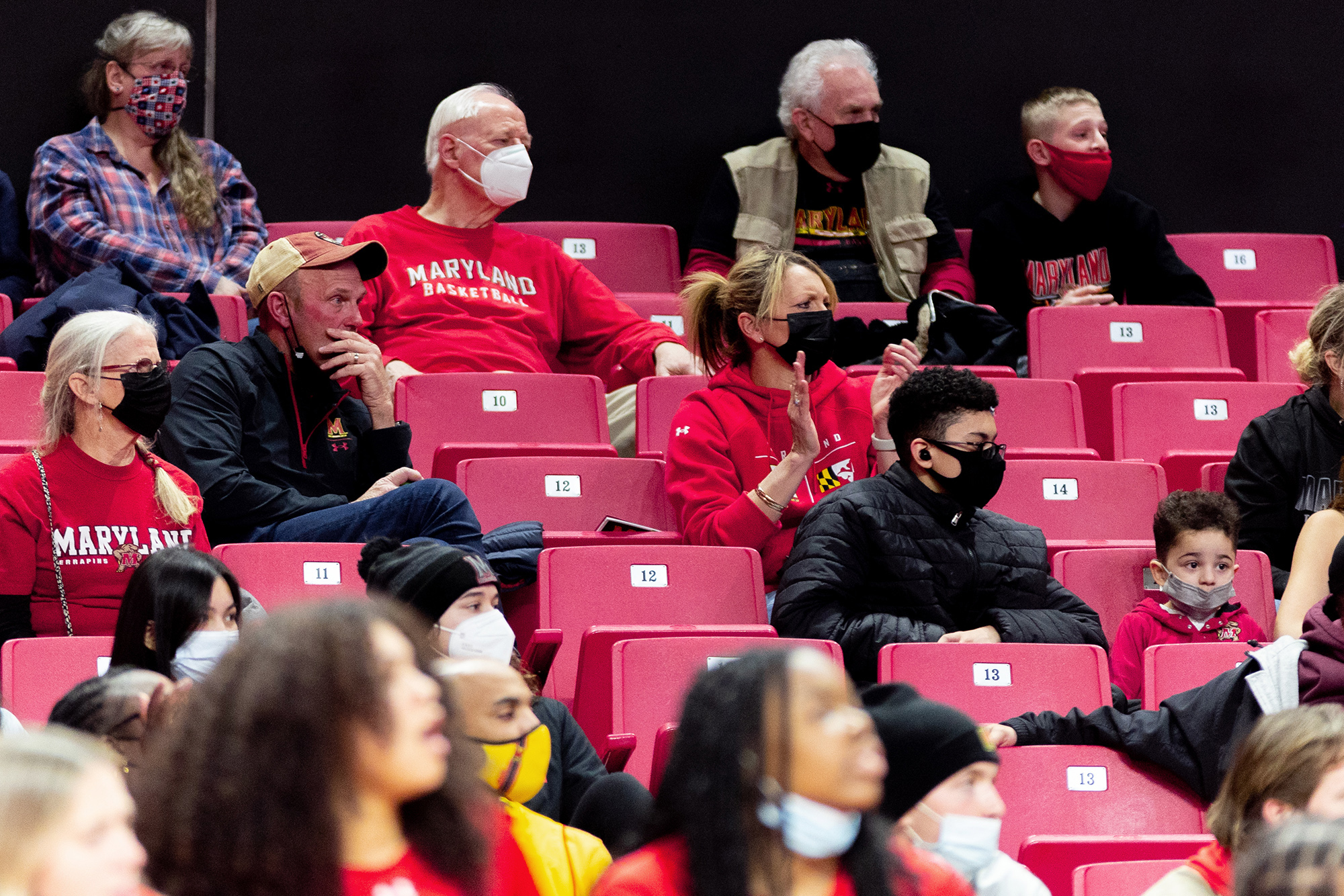 The senior's performance warranted the admiration, leading the Terps with 22 points and adding seven rebounds on the same night certain Maryland fans received Chloe Bibby bobbleheads.
"I got to do what I have to do on the court regardless of who's watching me," Bibby said. "I mean, it's great that they're here and I love that but you know, I can see them after," she joked. 
[Four players reach double-digits as Maryland women's basketball downs Rutgers, 72-55]
Sunday's home matinee against Northwestern was the first time Bibby's parents attended one of her games since March 2020, when she played for Mississippi State in the SEC tournament. After the Bulldogs loss to South Carolina on March 8 and the rash of cancellations that ensued, the family returned home to Australia.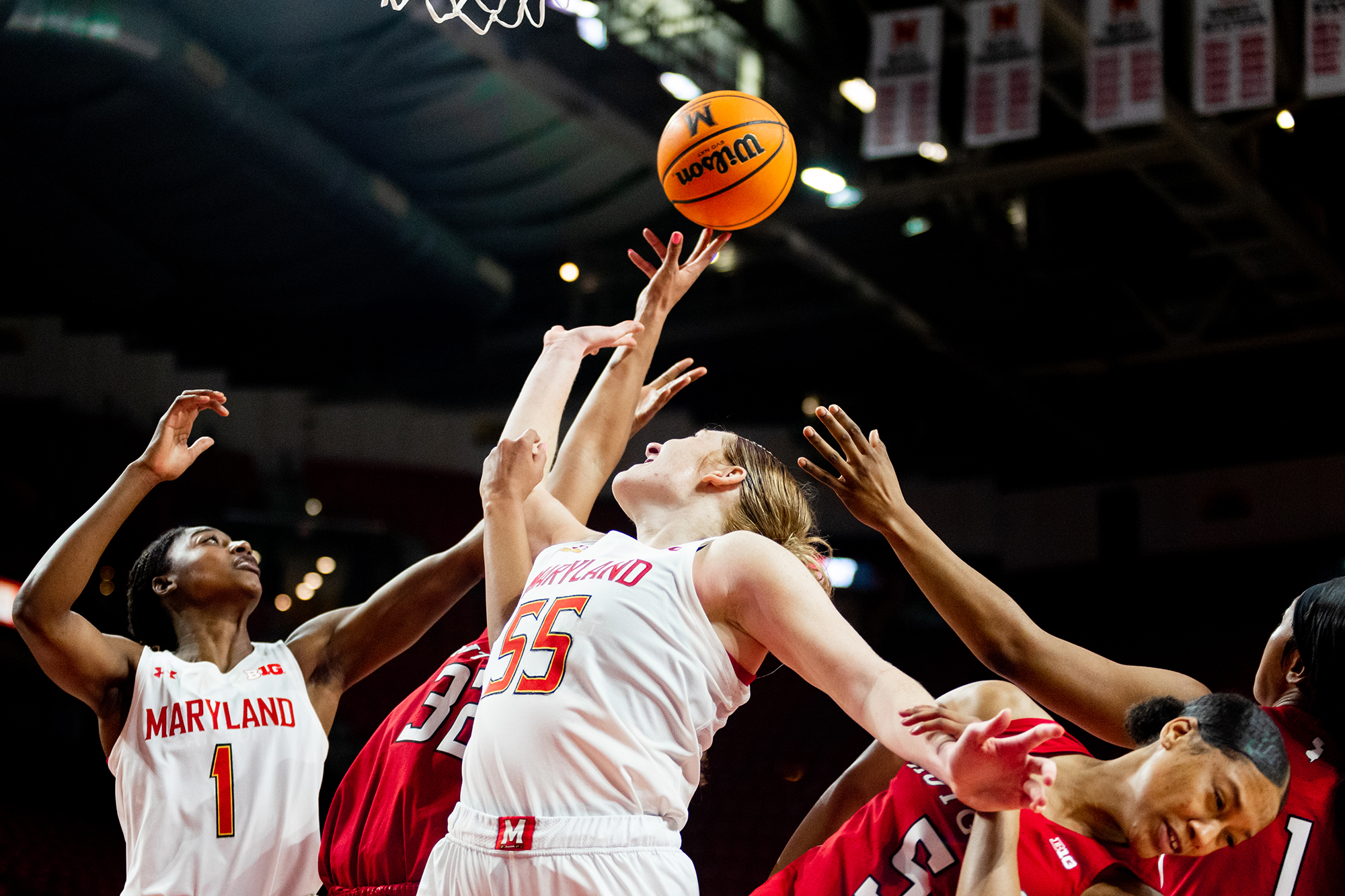 This month's trip, which Bibby's parents finalized in mid-December, didn't feel like a sure thing until they left home. The continuation of the COVID-19 pandemic and the resulting strict travel guidelines from Australia meant the pair isolated until their voyage.
"We weren't sure if we were going to be able to get over here or not," Adrian said. "So yeah, we consider ourselves pretty lucky."
All that uncertainty meant the Xfinity Center was home to visitors from Evanston and from Australia, the latter who found themselves in a special and emotional moment. 
"I probably cried," Leigh-Anne said.
"It's just so much different being able to see in person obviously," Adrian said. "And then just to see the whole team play, it was great."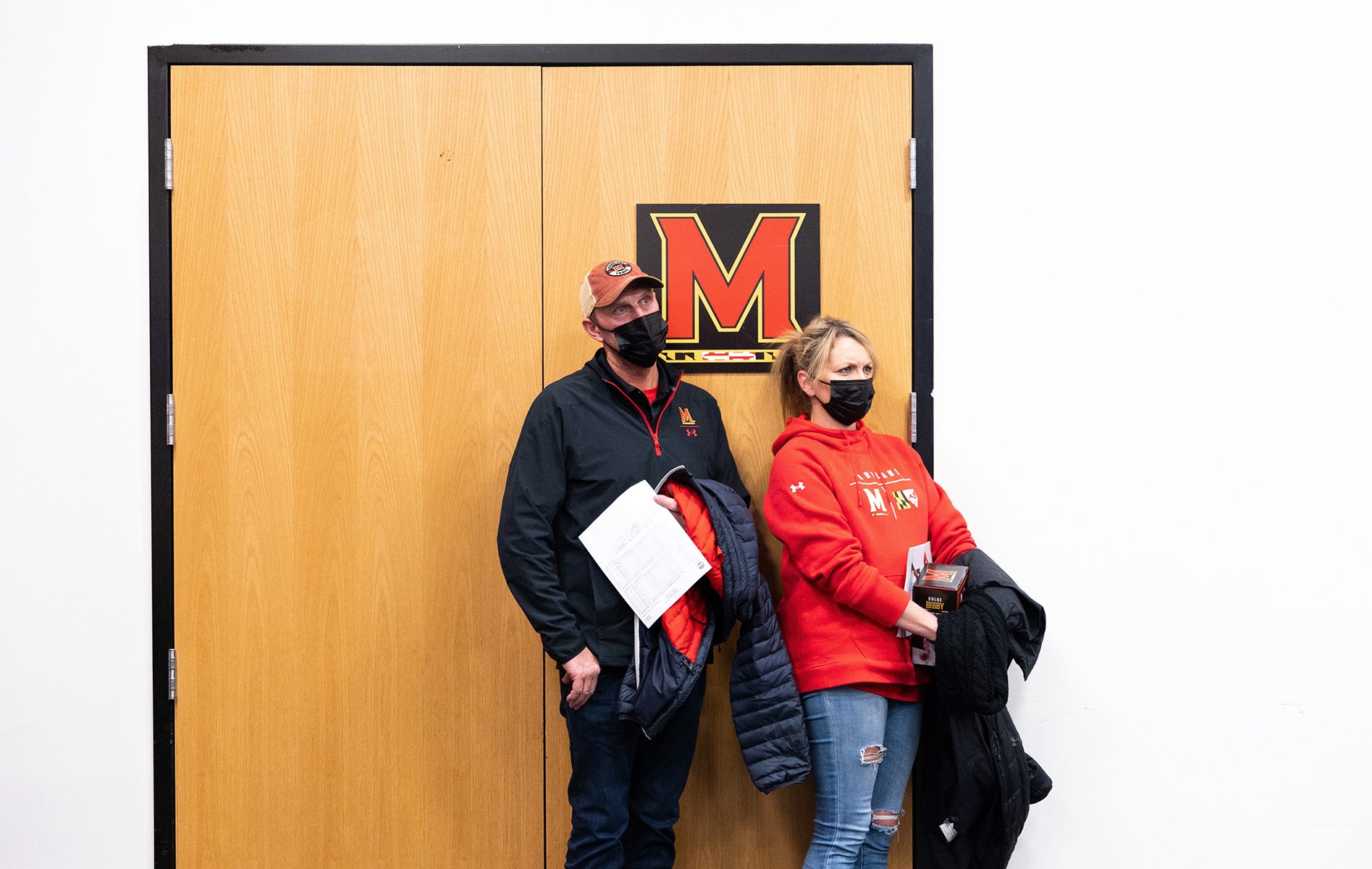 Leigh-Anne and Adrian downed many coffees in the time between that Mississippi State loss to South Carolina and Maryland's win over Northwestern, trying desperately to stave off sleep as they navigated a daunting time difference and a litany of streaming services to watch their daughter's games. 
"We all sit there with bleary eyes, we pick the game to pieces and pick her game to pieces and yell at each other and yell at the television," Adrian said. "It's great."
They watched last year's Big Ten tournament championship game from a hotel in the "middle of nowhere" at a friend's 50th birthday, hunched over a laptop in the lobby as Bibby and the Terps defeated Iowa, 104-84.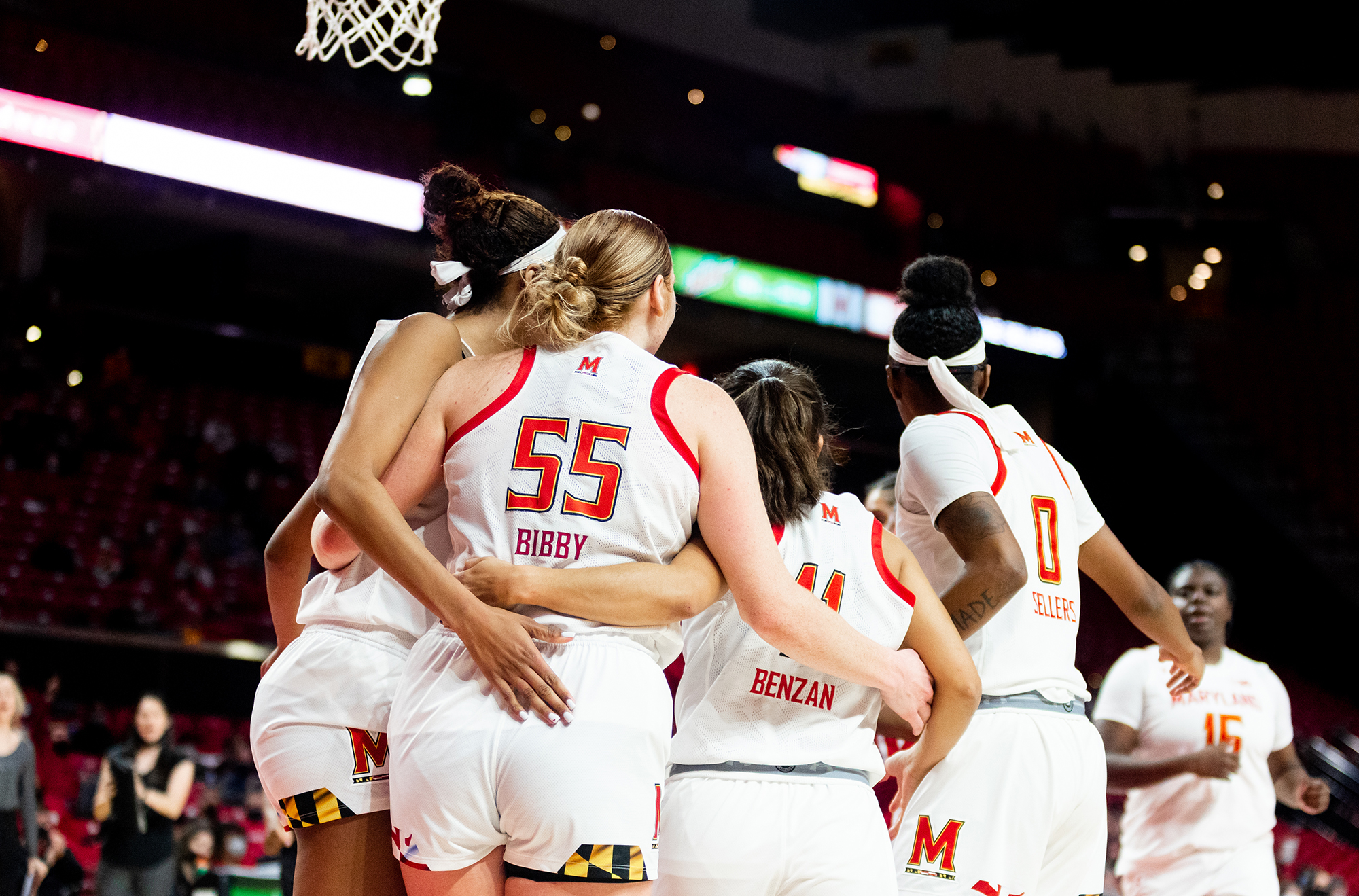 It had been about eight months since Bibby and her parents had seen each other, but even after Leigh-Anne and Adrian landed at Reagan National Airport, the trio couldn't reunite just yet. 
In fact, Bibby wasn't even there to pick up her parents, something the pair made sure to mockingly note. 
"I told her that we play on the 20th … and I think she thought we were playing Ohio State at home," Bibby said, defending herself. "So she booked a flight to land at Reagan at 4:30 on the 20th. Meanwhile, I was already in Ohio State getting ready to play at six."
"I got the time difference wrong," Leigh-Anne said, laughing.
Bibby came home with the team late that night and didn't see her parents until the next morning, noting that their postponed reunion probably saved all parties involved tears that likely would have been shed if they'd met at the airport. 
Other than that one slip-up, the timing worked near-perfectly for Bibby and her parents — who will stay through Maryland's Feb. 9 matchup against Wisconsin — giving them a dense stretch where the Terps play six games in about two-and-a-half weeks, with two holding extra weight.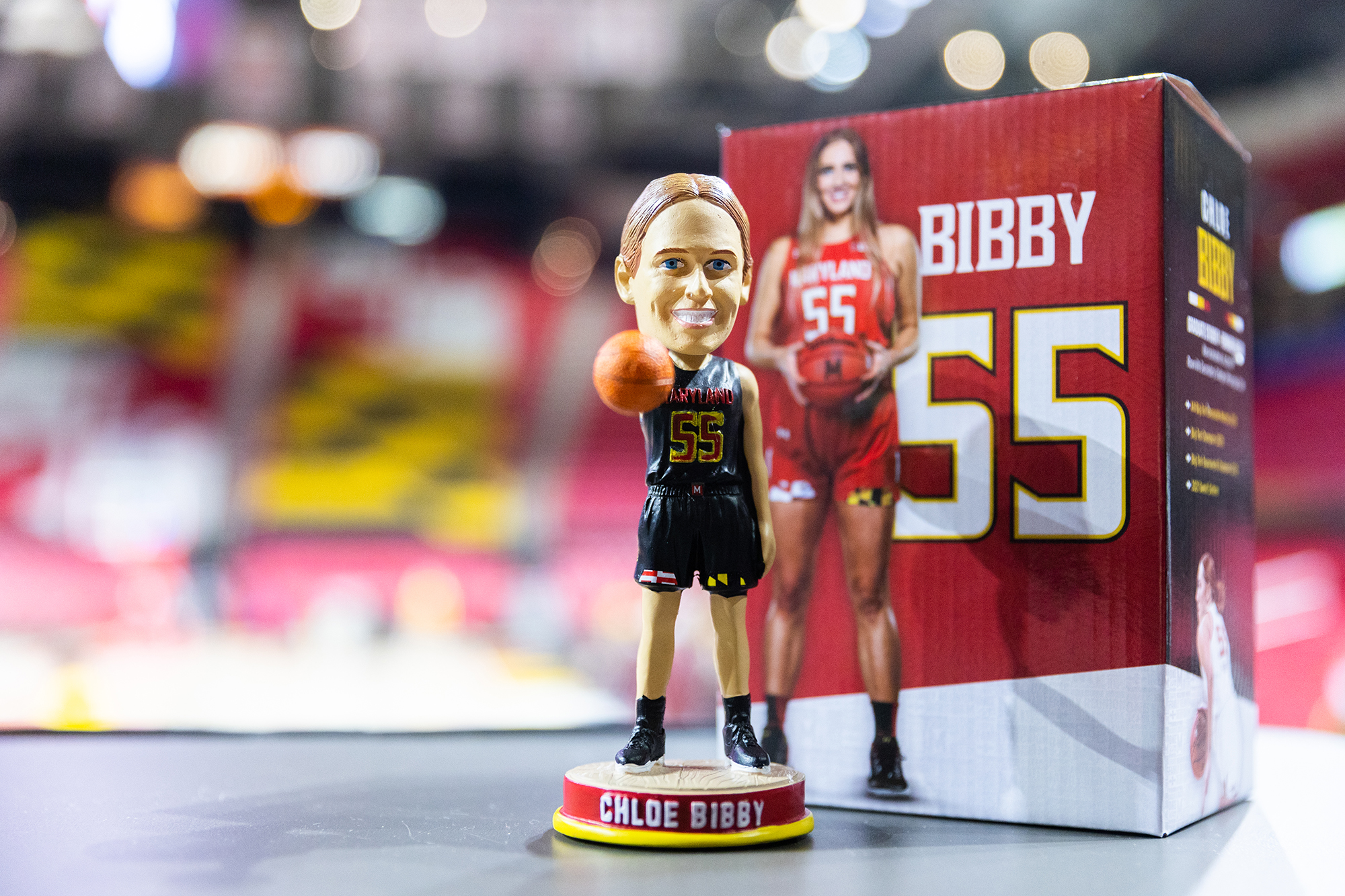 The first was bobblehead night, and while Bibby wished her loose-headed likeness had more freckles, she ultimately thought the creators did a great job. 
"We've got many people back home wanting one," Leigh-Anne said, prompting Bibby to quip that they'll need a whole suitcase to fulfill all the requests. 
More importantly, the Bibby's will be together for senior night Feb. 6 when Maryland hosts Nebraska, giving the family the chance to celebrate that occasion together. 
"We're able to pack a lot in in the couple weeks they're here," Bibby said.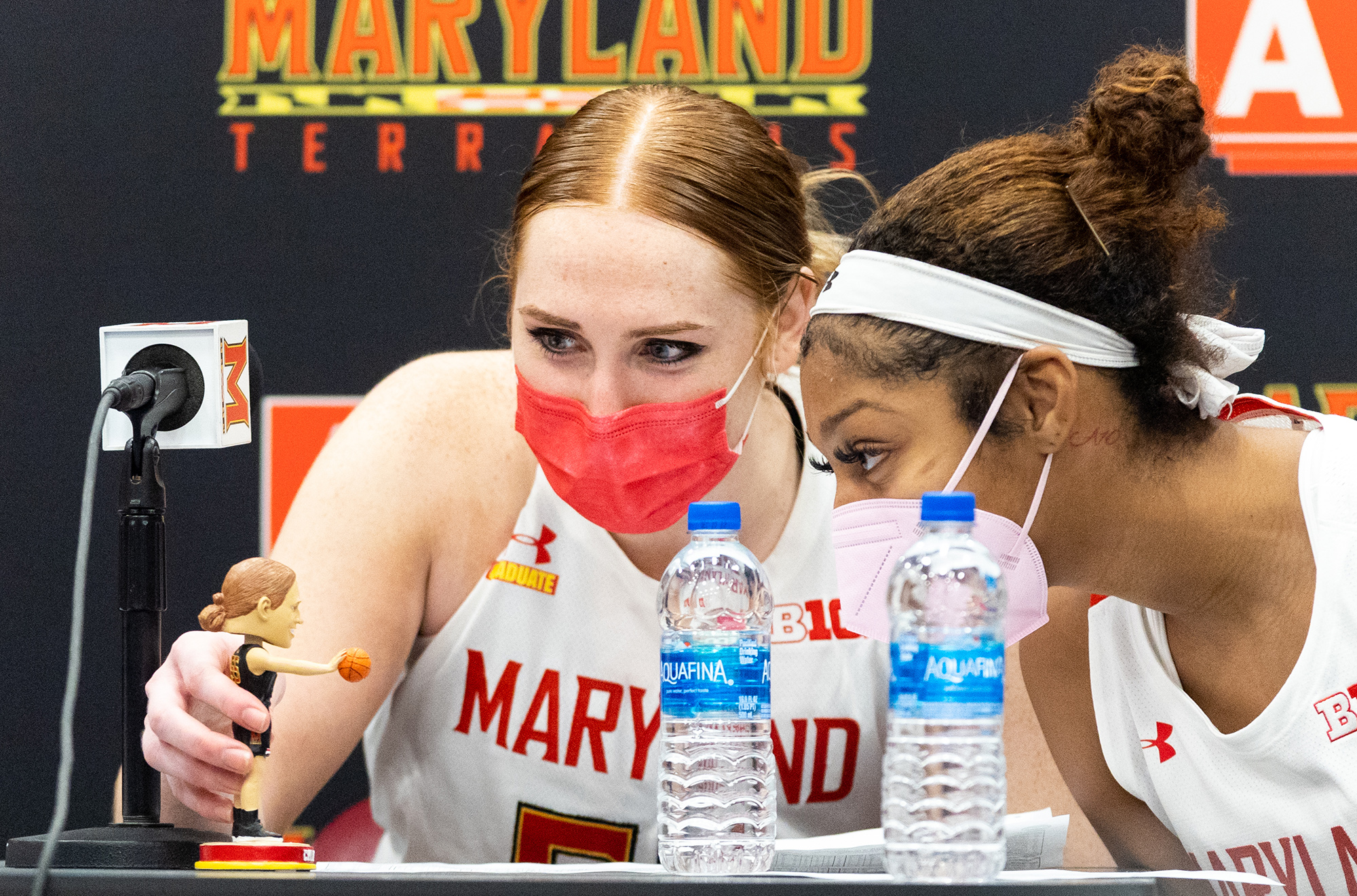 [Maryland women's basketball hopes to reestablish itself in final Big Ten games]
Her parents' visit also coincides with what might be the best stretch of Bibby's career. Since Diamond Miller returned to the starting lineup against Penn State and moved Bibby back to the power forward position, she's thrived.
In the six games since, she's averaged 16.3 points and 5.5 rebounds per game and is shooting over 39 percent from behind the three-point arc, where she'd struggled from earlier this season. Her 15 second-half points against Rutgers blew the game open and left her just two points shy of her career high of 24. 
"I thought she just played with a ton of energy," coach Brenda Frese said. "We need her parents to come out more often."
They'll be in College Park for the next few games, but even as Leigh-Anne and Adrian look on proudly, they won't expect a glance back from their daughter when she's on the court.