Maryland women's basketball had every excuse they needed. 
Its sharpshooter, Katie Benzan, was sidelined with an illness. Their dynamic junior guard, Diamond Miller, left the game in the third quarter with an injury. 
Their sophomore forward and answer to Baylor star NaLyssa Smith, Angel Reese, played just under nine minutes in the first half and was limited by foul trouble. 
But every time Baylor made a run back into the game the Terps had a response. Maryland kept them at bay until the final buzzer when Sarah Andrews missed a wide-open three to secure a 79-76 victory.
"A lot of teams would have folded with the adversity right now that we've been faced with," coach Brenda Frese said. "But this locker room is one of the most competitive locker rooms I've ever coached."
The Bears cut the Terps' lead to three with a minute and a half remaining when Reese drove through Smith for an and-one. Reese made the free throw for crucial points that ended up being the margin in the game. 
Smith and Reese battled throughout the match. Reese was off the floor for the first five minutes of the quarter and only played 19 minutes overall, limited by foul trouble. Smith scored 22 of her 30 points with Reese off the floor. In her limited minutes, the sophomore had 17 points and nine rebounds along with a pair of steals.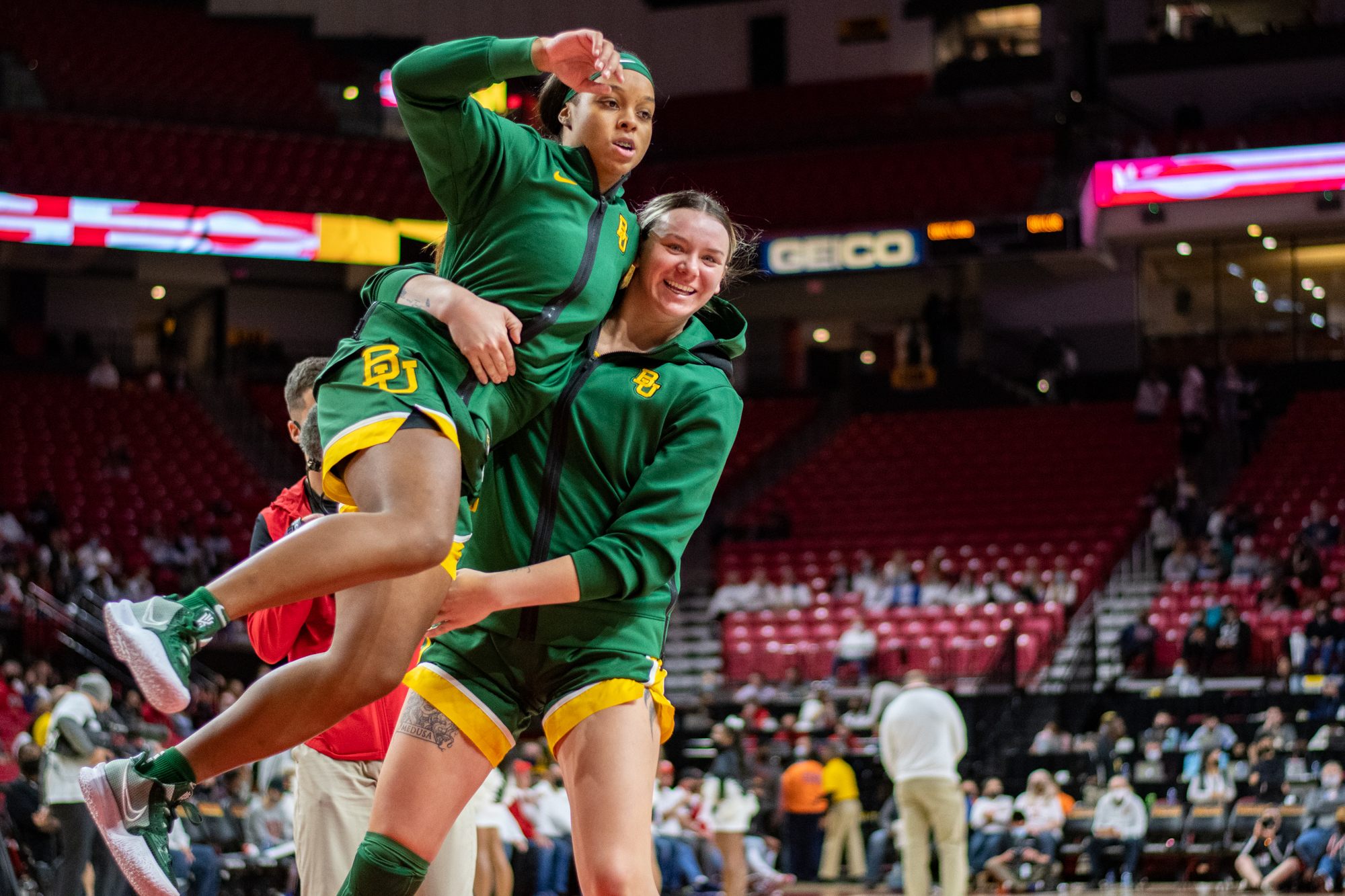 [Maryland women's basketball eases past UNC Wilmington on big night from Angel Reese, 108-66]
"I wanted to stay out of foul trouble… I think she can play better and she knows she can," Frese said. "She brings so much to the table when you talk about her length and defensively… the matchup that she had tonight."
Maryland took a 13-11 first-quarter lead after Ashley Owusu knocked down a pair of free throws with just under three minutes left in the opening quarter. But Baylor soon responded with a run that included a pair of threes from Smith and Andrews, giving the Bears a four-point lead to end the first. 
Frese's squad built its lead off a second quarter where they outscored Baylor 25-14. 
In that frame, Owusu hesitated to force her defender to pause before accelerating to the rim — she moved the ball to her right hand and laid it in. She finished with a team-high 24 points and scored her 1000th point during the game.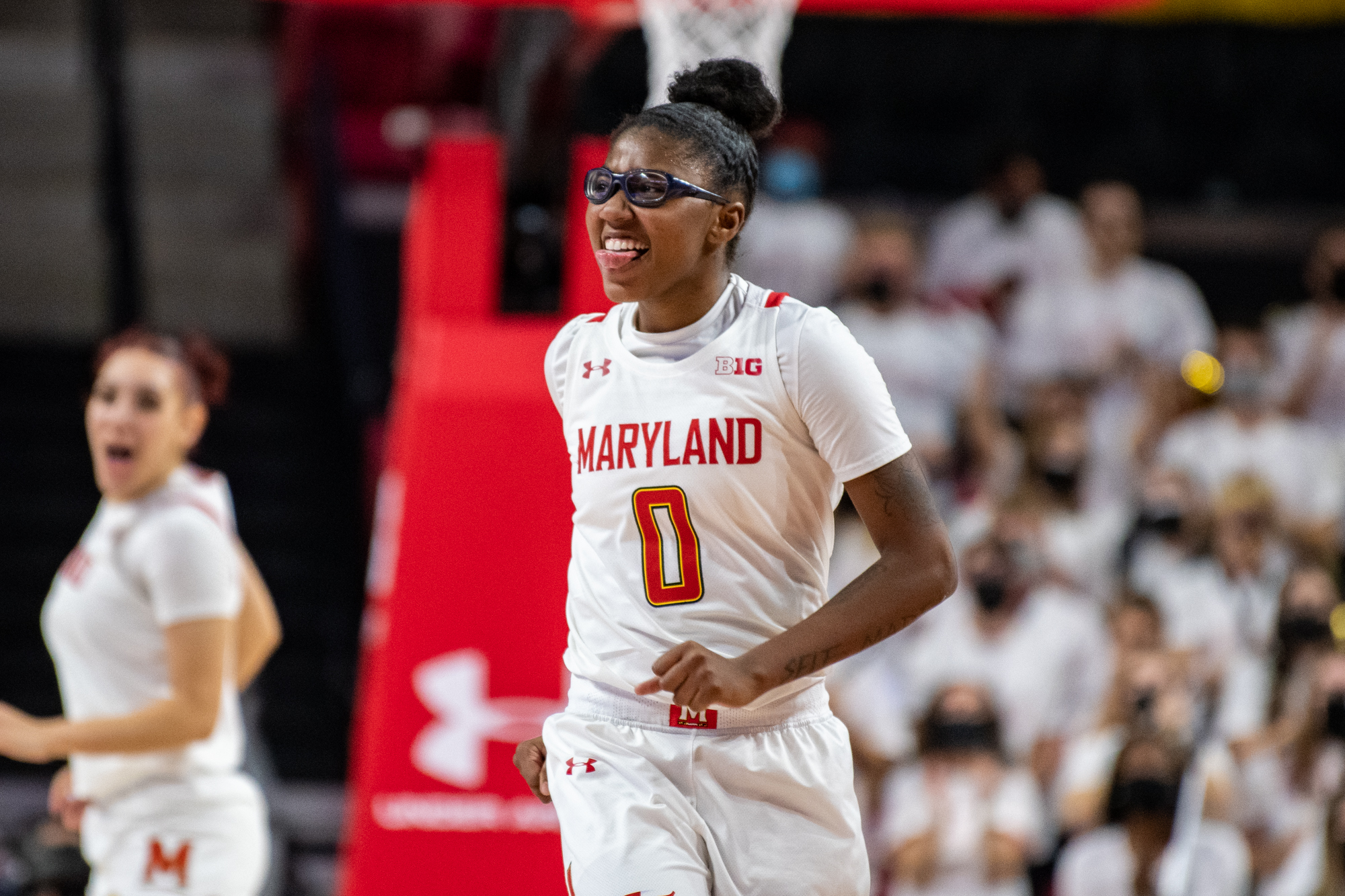 "I know they were trying to take charges, so being able to slow down and play with more pace," Owusu said. 
Sellers, who was in the starting lineup due to Benzan's illness, did her best impression of the senior as she settled into the three before draining it to raucous cheers from the white-clad Xfinity Center crowd.   
"I thank my teammates for just having trust in me that I could step up in those big moments," Sellers said. "It's a lot of hard work and dedication, especially from summer to now. I just bought in and trusted the process so it kind of just led me here."
Midway through the second quarter, the freshman grabbed the offensive rebound after a missed shot by Miller, dishing it to Mimi Collins, who missed as well. Miller grabbed the ball and went right at Smith, finishing with her left hand for an and-one.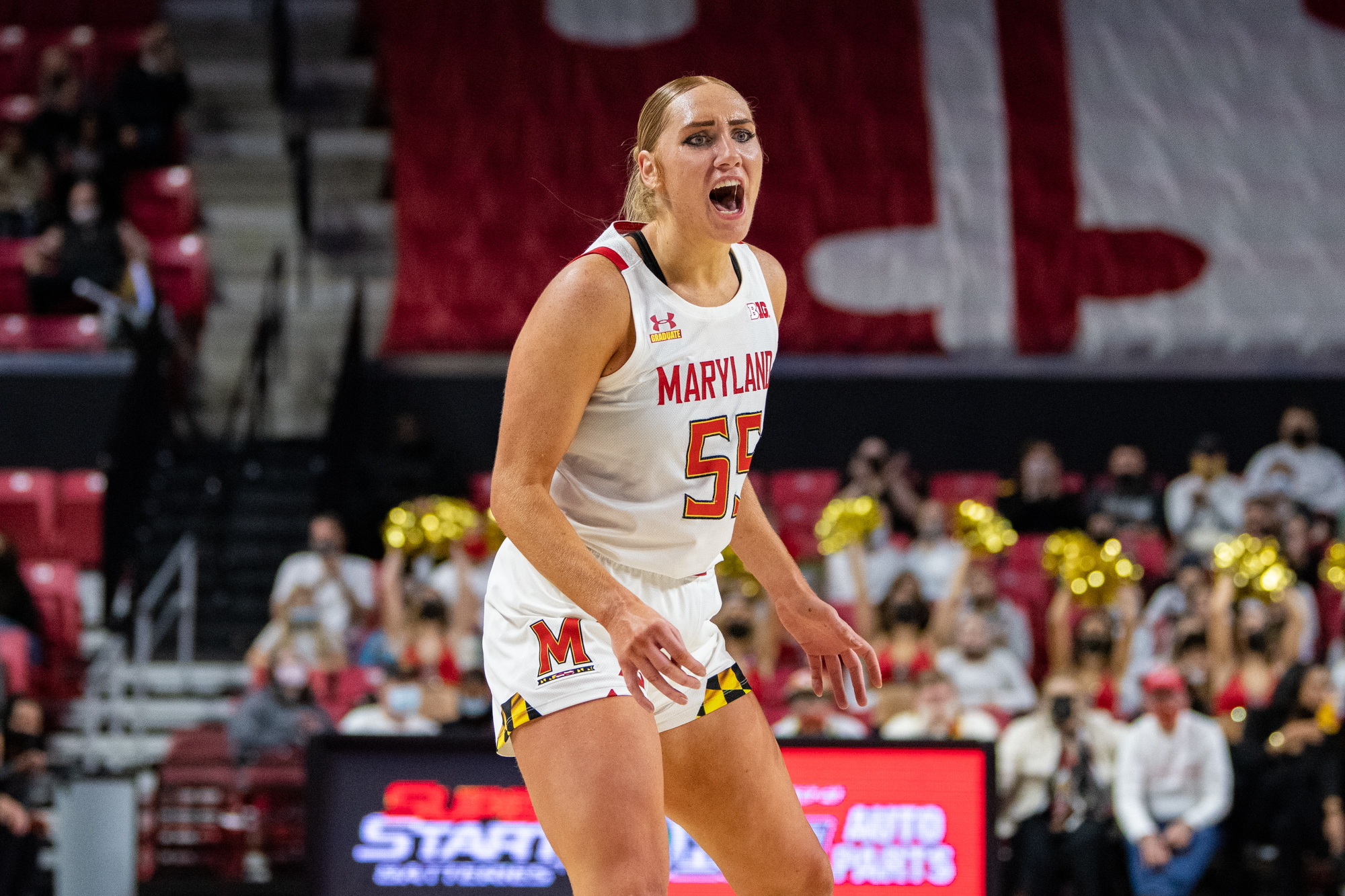 [A pair of double-doubles let Maryland women's basketball peek into its future]
Miller left the game in the third after she came up hobbling on a missed layup after playing 11 minutes. Frese said the injury was nothing serious and that the junior remains day-to-day.
She hit the free throw and snagged yet another offensive rebound just a minute later, finding Chloe Bibby on the right wing for a made three. 
Owusu tore through the defense early in the second with a behind-the-back dribble to lose her first defender before splitting another pair of Bears. She whipped a pass to Bibby in the corner, who drained a wide-open three.
Bibby was one of two players along with Collins that played all 40 minutes of the game. The senior made three shots from beyond the arc, each of them coming at crucial points in the game that gave the Terps some separation.
"I mean they were timely," Frese said, stressing the last word. "That's the leadership for her, the toughness, she's been in these big games and these environments."
The win against Baylor is the first of three other games the Terps will play against currently-ranked teams. And while Frese didn't anticipate them having to play shorthanded, she scheduled these games to build her team's resolve. 
"I think in an eerie sort of way [with the injuries], what an opportunity to grow us up," Frese said. "What an opportunity for our freshmen to play in this game, which is just going to make this better for what lies ahead."