Maryland women's basketball has had half a year to stew over its loss to Texas in last year's Sweet Sixteen. Now, for the first time since that fateful day in San Antonio, it will play a game that counts when they tip off against Longwood on Tuesday.
The Terps played a pair of exhibition games against Division II opponents, and while those games weren't a challenge — the Terps won by a combined score of 245-100 — they did give some notable insights that are worth unpacking.
Shyanne Sellers will be in the rotation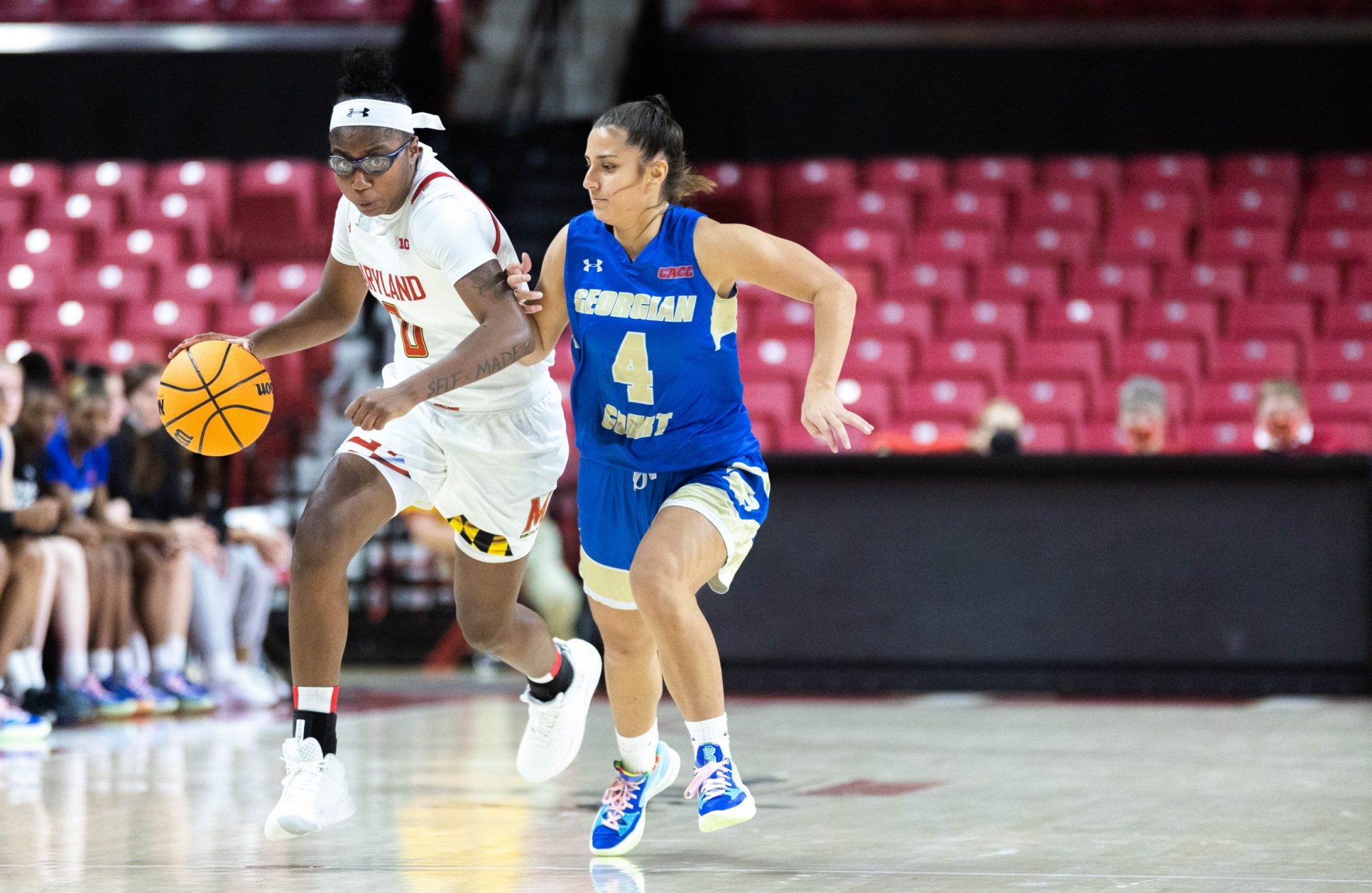 Coach Brenda Frese has a defined top seven in her rotation — some combination of Katie Benzan, Ashley Owusu, Diamond Miller, Chloe Bibby, Mimi Collins, Angel Reese and Faith Masonius. 
After that, it gets a bit murkier. 
Channise Lewis is still recovering from an ACL tear, and while Frese said she could be back as early as this month, she acknowledged it could be a longer process to get her back in shape and into the rotation.
That's where Shyanne Sellers comes in. The freshman has received rave reviews from the coaching staff, with Frese saying she already has a fearlessness beyond her years.
[Despite returning its starters, Maryland women's basketball's first five is uncertain]
She showed that in her two preseason games, averaging 17.5 points and 5.5 assists in the two matchups. While she had some turnover issues, that's largely because she was tasked with running the entire offense in the second halves of games, a responsibility that won't be hers when the games begin to matter.
"My role is usually just to come and do what I do: Bring energy off the bench, get a couple stops, get a couple points, couple assists," Sellers said. "So I'm just here to do my role."
Maryland's current starting lineup is HUGE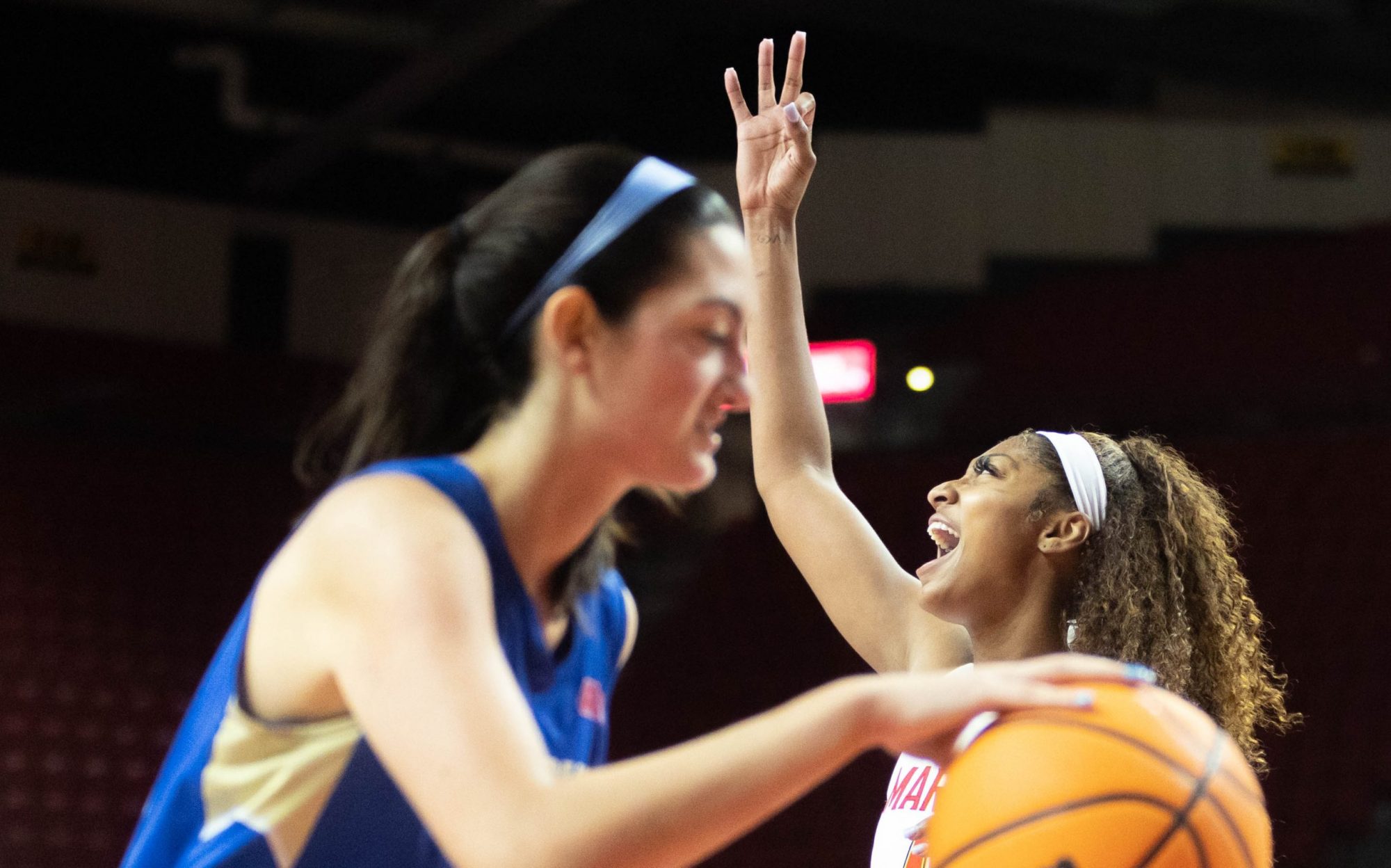 Miller's status is unclear for the season opener after she didn't play in either exhibition game due to a knee injury. Without Miller, the Terps' starting lineup featured three bigs: Bibby, Collins and Reese. 
Those lineups, while a bit short on shooting, had size, allowing them to dominate defensively and on the glass. The Terps outrebounded Georgian Court 58-21. 
"It helps to have that much size," Benzan said. "We really crashed and get offensive rebounds and it's tough to guard … I'm bringing [the average height] down, but playing with those big people, we have a lot of threats."
[Maryland women's basketball is looking for a leader to follow in Chloe Bibby's footsteps]
After a tumultuous freshman year, Reese had an impressive first two games, with a pair of double-doubles. She was effective against Fairmont State with 21 points and 11 rebounds and continued that against Georgian Court with 16 points and 11 rebounds. 
She was also impactful defensively, switching onto smaller players and holding her own. She finished the two games with four blocks and two steals.
"I have fun guarding guards, I want to be the best defender. Seeing somebody come at them at six three, my wingspan. I mean, that's scary," Reese said. "I know that's scary for anybody around me."
Defense picked up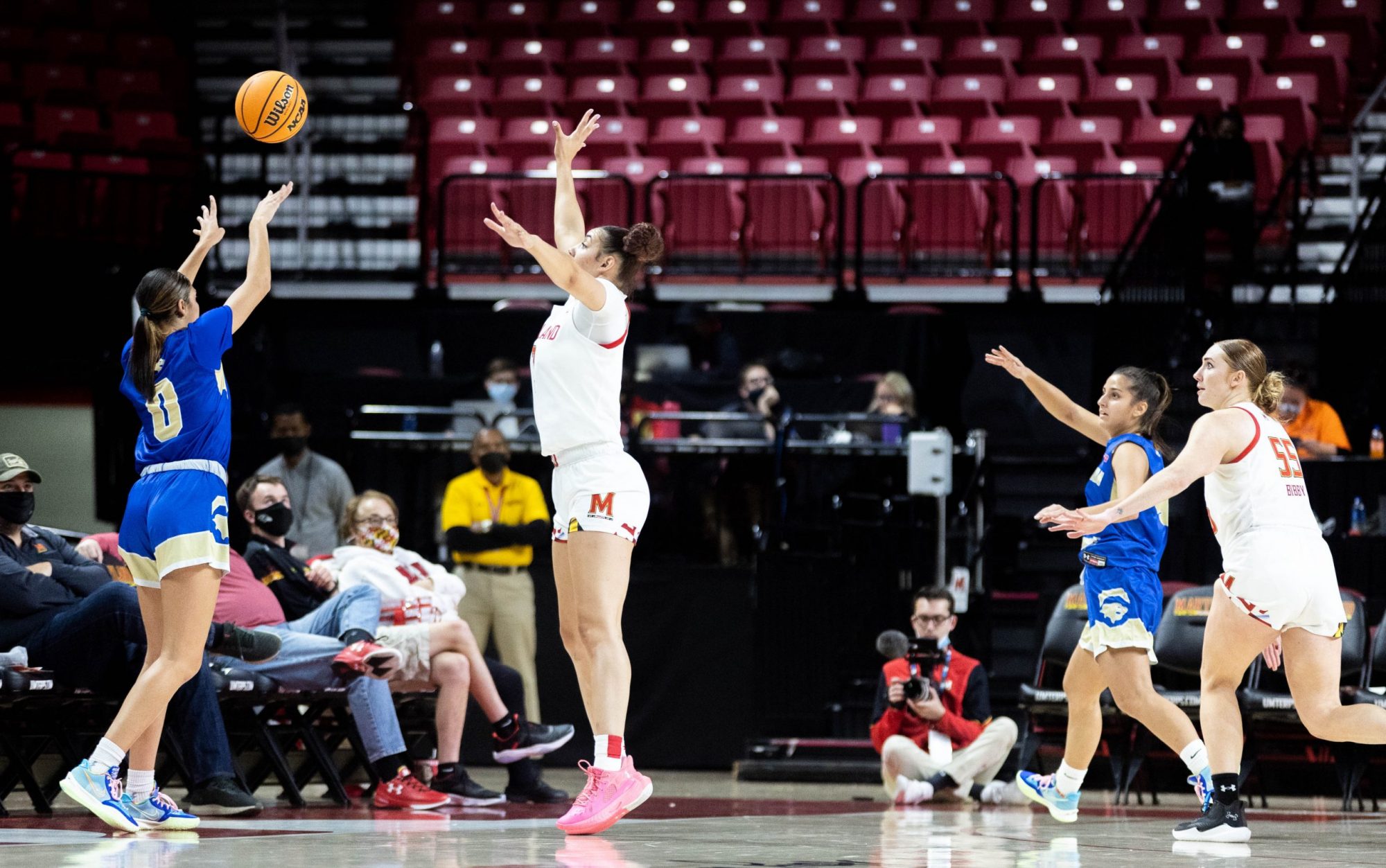 Frese was not happy with the Terps' defense in the first exhibition game. While Maryland held Fairmont State to just 67 points and 35 percent shooting, it also gave up 14 three-pointers to a Division II squad. 
"[We've talked about] defensively what kind of team we're going to be," Frese asked. "When we fall into nights where we're not scoring the basketball, are we going to be able to defend?"
The second game gave a strong hint as to the Terps' defensive potential. With all the caveats of the opponents in mind, Maryland held Georgian Court to 33 points on 22.7 percent shooting.