By Ryan White and Clara Niel
Staff writers
An anti-abortion advocacy group filled Hornbake Plaza Tuesday afternoon with gory images on signs and a jumbotron. Students from the University of Maryland paused at the sight, taking time between class to debate the demonstrators.
The group was from Created Equal, a nonprofit organization aiming to spread the word of the "ageism of abortion." Since 2011, some of the organization's members have bused to various locations, bringing their graphic abortion signs and in 2012, started bringing the jumbotron with video footage. Before reaching the university, they also traveled to Ohio, Pennsylvania, Indiana and Missouri. 
"We're just here to create dialogue with people about the topic of abortion," said Evangeline Abaffy, who joined Created Equal after high school and has been a full-time member for three years. 
The energy at Hornbake Plaza came in waves. At times, only some members of the organization were debating with students, but as students were released from class, the energy escalated. One person began knocking down the organization's signs while onlookers cheered. 
[At Slut Walk, hundreds of students blast UMD on handling of sexual assault on campus]
A University of Maryland Police officer arrived at the plaza during the demonstration. The officer declined to provide comment. The department did not respond to multiple requests for comment.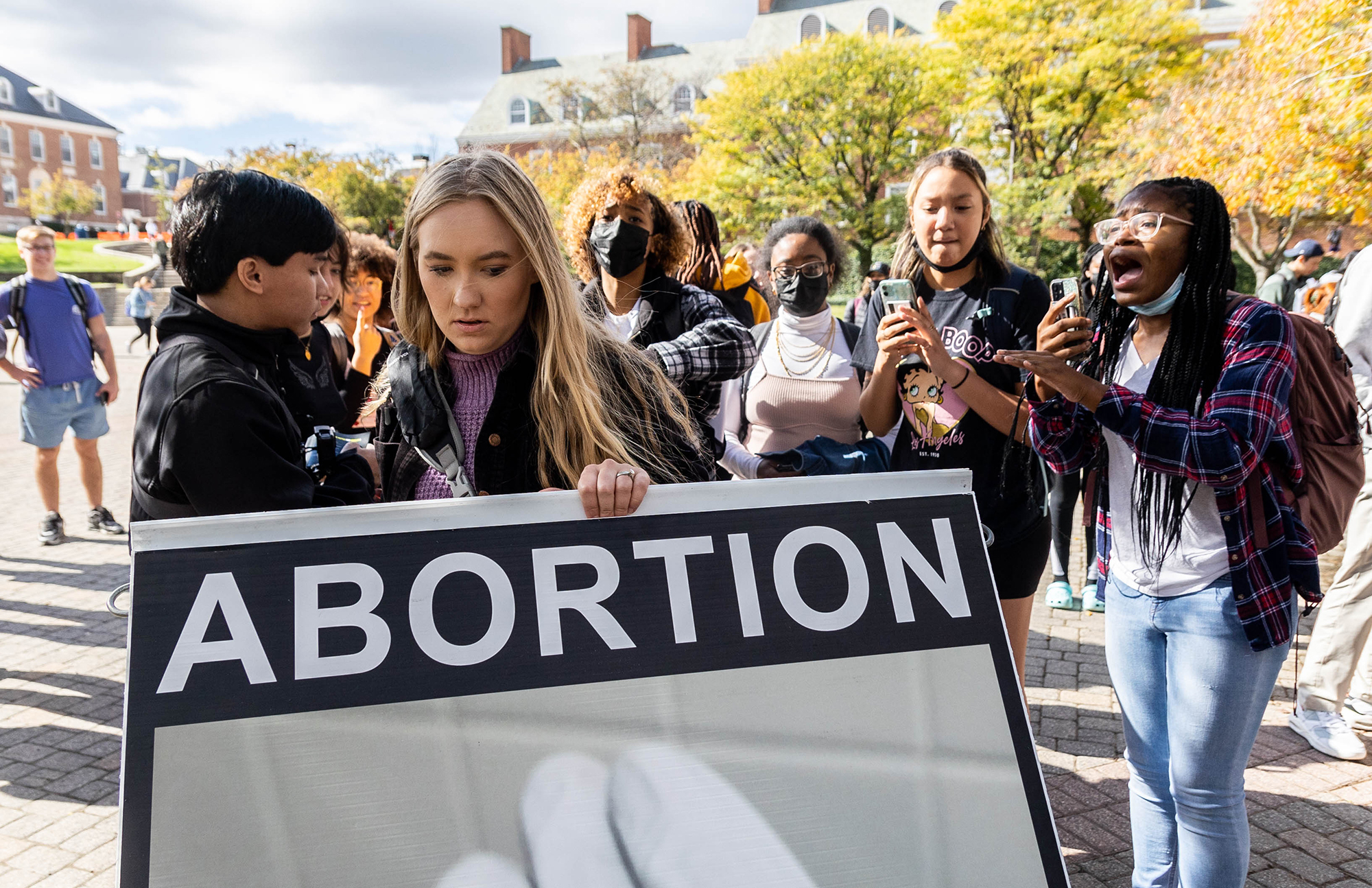 Of the eight members of Created Equal who hosted the demonstration, almost all of them wore cameras on chest harnesses, recording the event. Lisbeth McCulfor, the group's executive assistant, said it was for their own safety should the event turn violent. McCulfor said in general, the footage is deleted but sometimes clips that favor their viewpoint are posted online.
According to Stamp Student Union director Dr. Marsha Guenzler-Stevens, the group reserved Hornbake Plaza for their demonstration over the summer. Created Equal reserved the plaza for another demonstration Wednesday, Guenzler-Stevens said.
Khadija Ndiaye, a freshman criminology and criminal justice major and Hawa Keita, a freshman enrolled in letters and sciences, watched the scene unfold between classes. They found the whole scene "concerning" and noted a lack of warning signs for the graphic imagery.
One poster that made them particularly upset was one that read, "Unborn Black Lives Matter." The Black Lives Matter movement was completely separate from the issue the group was presenting, Ndiaye and Keita said.
"If you want to fight [against] abortion that's fine, but don't involve other situations that have literally gone on for consecutive decades and then expect people to be okay with it," Ndiaye said.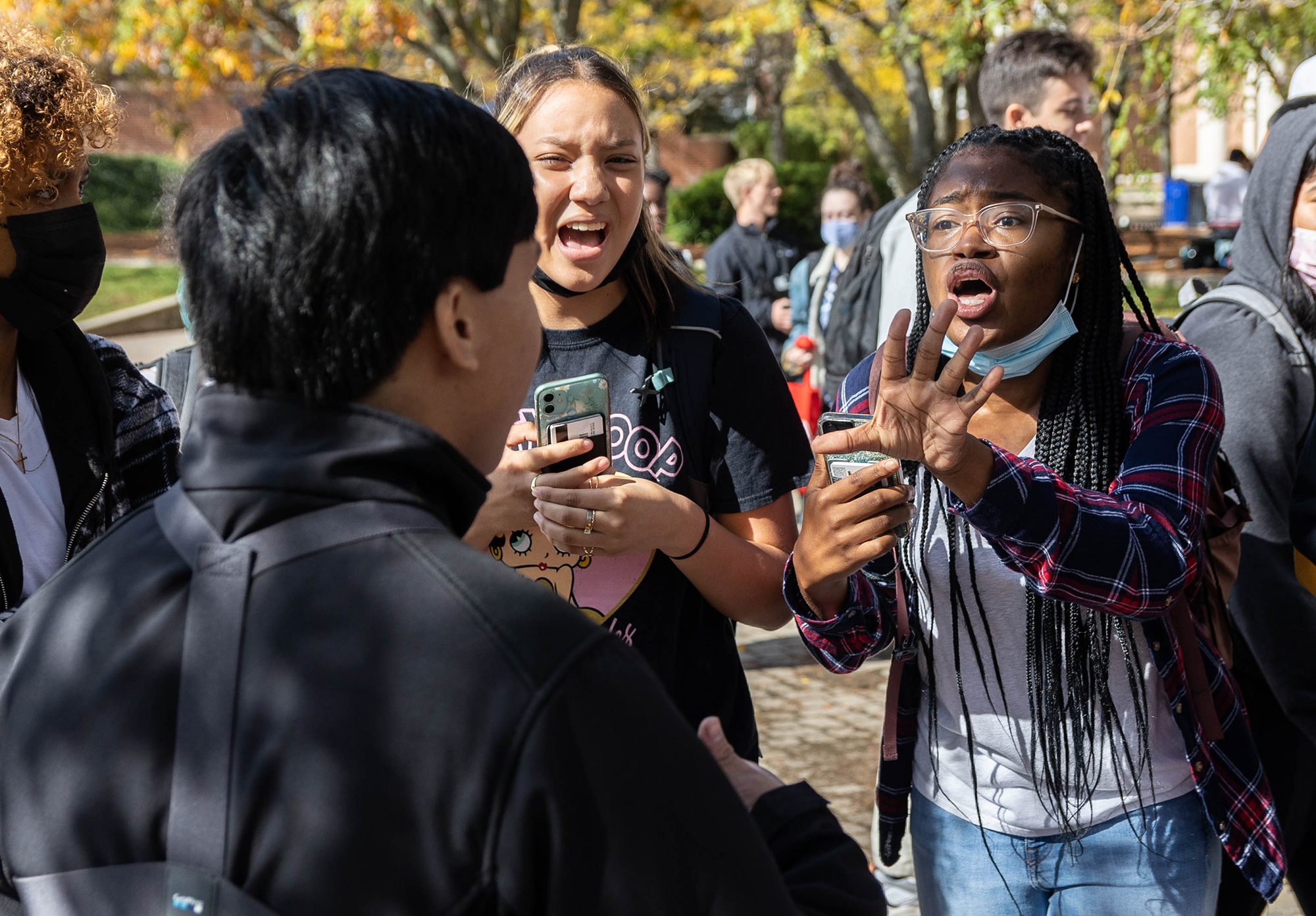 Olivia Ryder, a freshman public policy major, grew up Catholic and learned the word "abortion" at age 12 during a Bible study class. 
[Weeks after antisemitic pamphlets were strewn across Old Town, Pines condemns hate]
Between classes, Ryder stopped to debate one of the group's demonstrators. Ryder was frustrated by Created Equal's message and believes that if they want to stop abortions, they should promote "preventative care." 
"He was not prepared to back up his statements," Ryder said. "He needed to understand more about what he can do as a so-called 'pro-lifer' to actually value life, which includes providing contraception to low-income areas and providing real sex education that promotes not just abstinence." 
Sophomore general biology major Aidan Appelson tapped into his major to strike up a debate. 
To counter a point made by Created Equal that the human cell formed by the fusion of an egg and sperm cell matters because it has unique DNA, Appelson asked a demonstrator if they had showered that morning. Because by doing so, the demonstrator had killed the bacteria on him, all of which have unique DNA as well.
"There's a lot of hypocrisy here," Appelson said. "It just pisses me off … This is really over the top and just terrible."