By Ethan Vanorden
For The Diamondback
Content warning: This article contains mention of domestic violence.
With tie-dying and pumpkin painting under a sunny fall sky, Thursday's Purple Lights Night at McKeldin Mall almost felt like a fairground event.
Beneath the fun, however, was a serious message.
Purple Lights Night, a joint effort by Campus Advocates Respond and Educate to Stop Violence and the Sexual Assault Prevention Committee's Raise Your Voice campaign, is an annual event to raise awareness of relationship violence among college students.
Purple Lights Night has been taking place at the University of Maryland every October, which is Domestic Violence Awareness Month, for years. The event used activities to get students talking about healthy relationships and informing them of resources for support. The event concluded with a moment of silence for past and present victims of relationship violence.
According to the National Coalition Against Domestic Violence, one in three women and one in four men have experienced some form of physical violence by an intimate partner.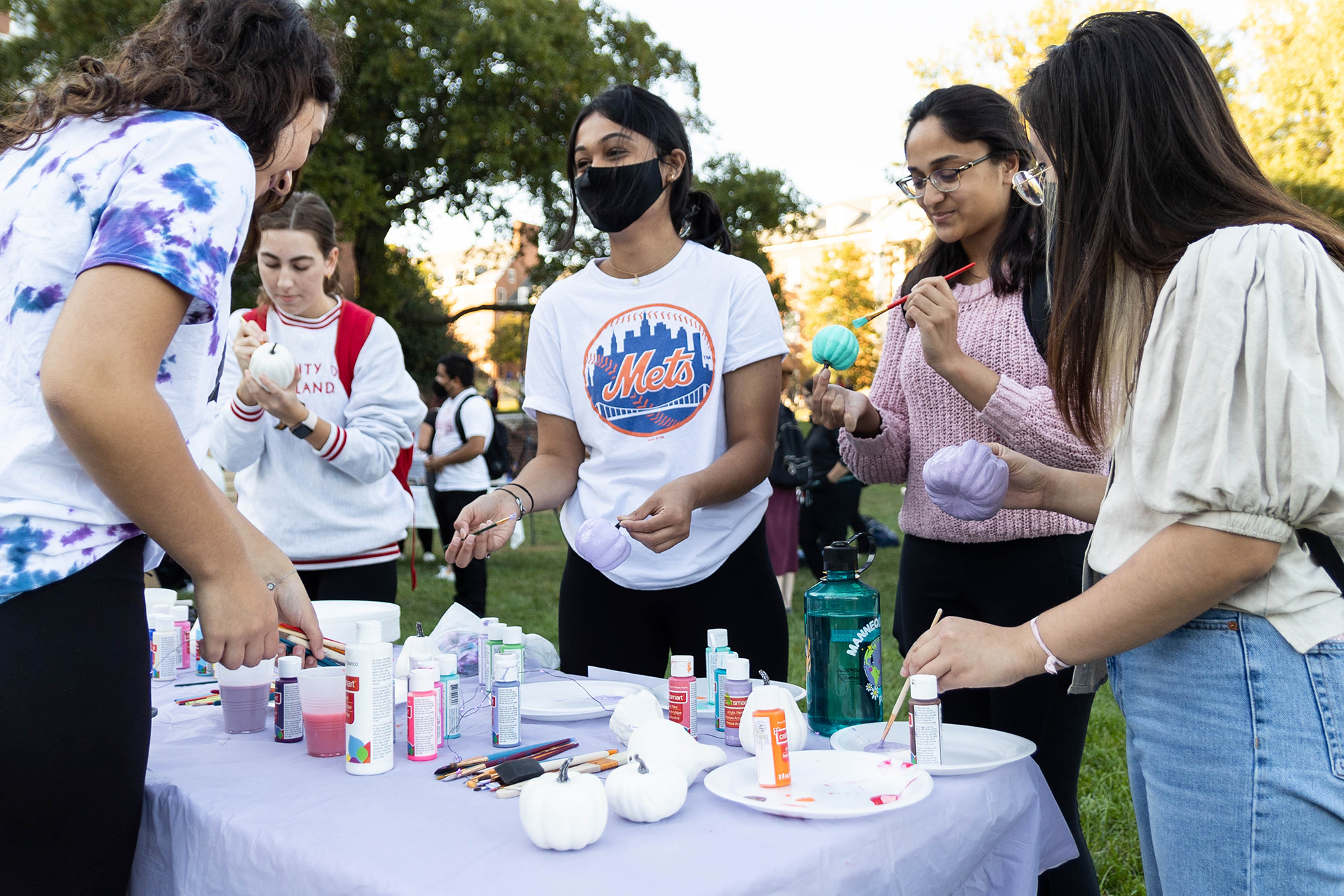 [UMD SGA discusses crime, mental health survey at general body meeting]
Grace Boudreau, CARE's outreach and assessment coordinator and lead organizer for Purple Lights Night, said a 2010 study found more than half of all college students couldn't identify relationship violence.
"We wanted to have this event to promote healthy relationships, promote what characteristics there are of a healthy relationship," Boudreau said. "All of the different activities that we have, it's a way you know to draw people in, to create a space to have a conversation, socialize with fellow Terps, socialize with the CARE office, and also learn you know some good information about healthy relationships."
The event — Boudreau's second Purple Lights Night since she joined CARE in May 2020 — drew a strong crowd, with many students stopping by to eat, get shirts or just talk to organizers about the event.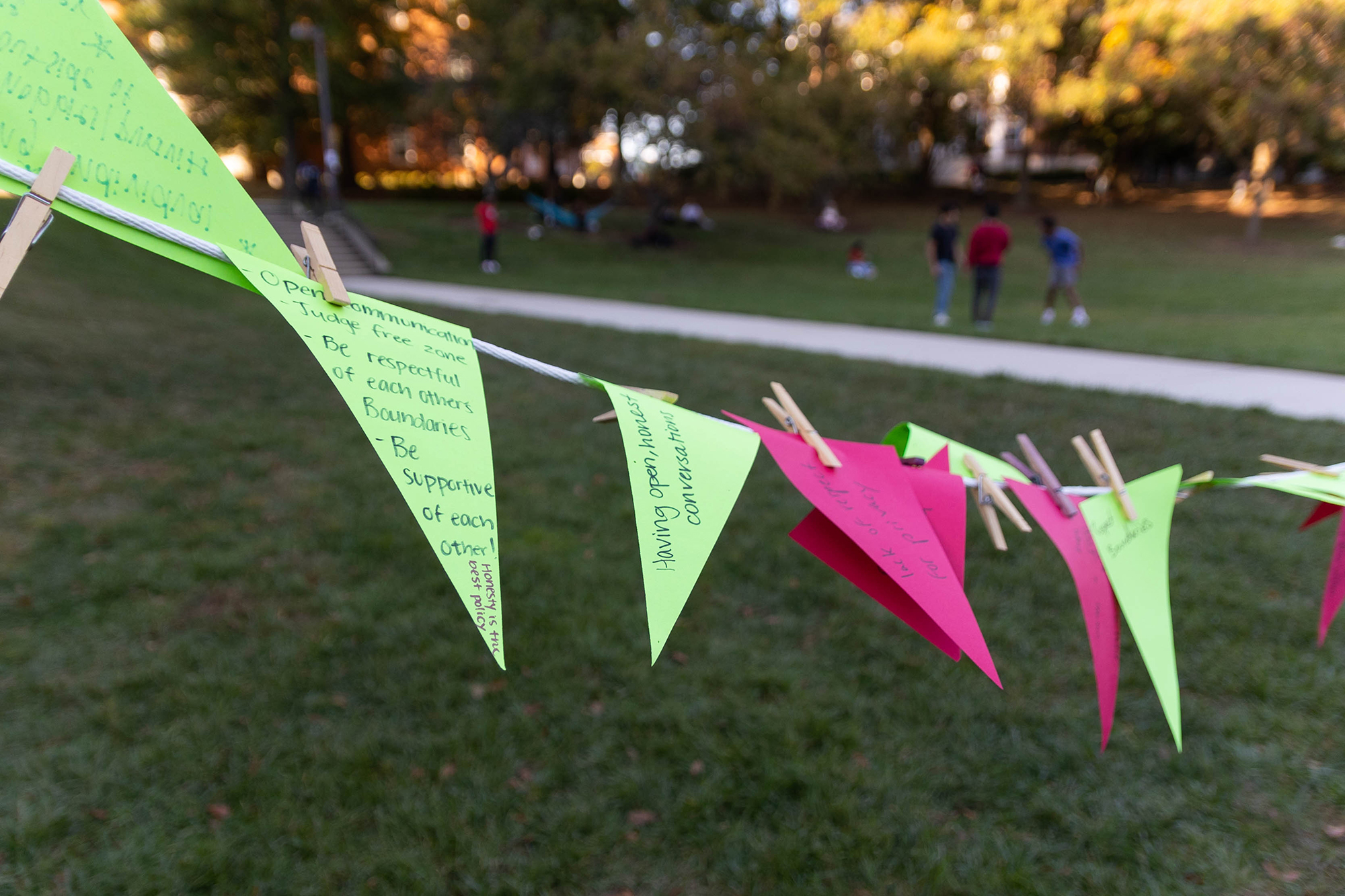 Several students and community members attended, including university President Darryll Pines. Some students that attended the fair emphasized the importance of the topic and said they were glad to see it getting attention.
"The fact that Maryland is willing to have something of this magnitude in the middle of the main part of campus is really incredible," said Madison Fischman, a senior civil and environmental engineering major.
[UMD Honors initiatives aim to support first-generation, underrepresented students]
Senior community health major Munaal Qureshi, a CARE outreach peer who helped organize the event, emphasized the more knowledgeable the campus community is about domestic violence, the safer the community will be.
"It's just important for everyone to know that ending power-based violence, ending rape culture and being a bystander is everyone's job. It's really the role of the community," Qureshi said. "The more knowledge there is on the topic, the more of you'll be able to join together to hopefully put an end to it."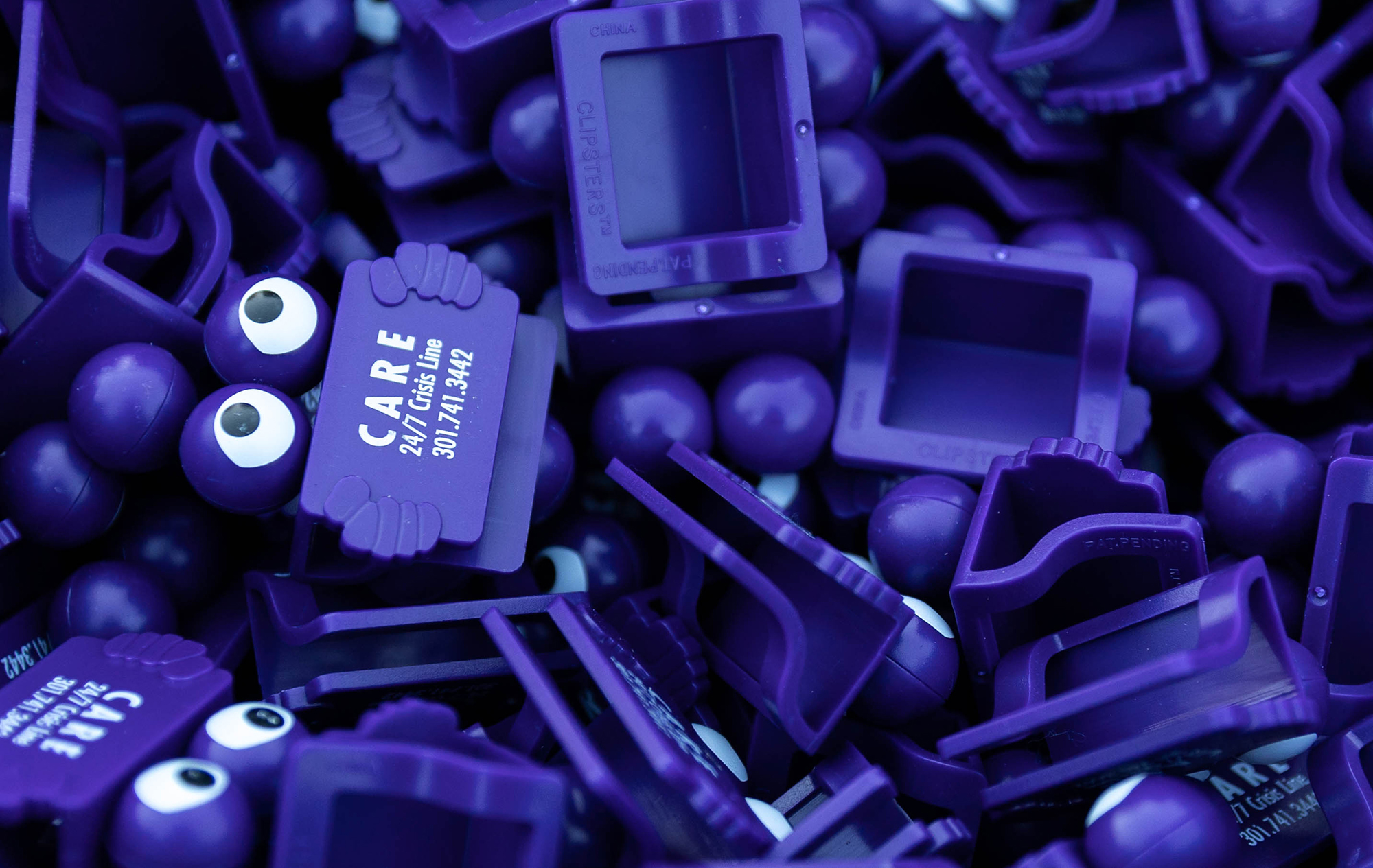 Charlotte Sheffield, CARE's assistant coordinator, echoed Qureshi's emphasis on awareness and education.
Sheffield, who ran the T-shirt quiz station held at the event, said students were thoughtful and supportive in their responses.
"It's not going to be a one-time conversation, it doesn't stop here, but it is something that I hope we can continue to talk about and that I believe our campus wants to talk about," she said.