By Katherine Mahoney
For The Diamondback
The University of Maryland Art Gallery's triennial installation 'Faculty Exhibition' lets students peer into the creative side of their teachers as individual artists.
The faculty art exhibit, which is open from Sept. 15 to Dec. 3, is a way for students to see the work professors do outside of teaching. The gallery displays the work of 20 current faculty members as well as an In Memoriam section dedicated to the work of former faculty members David C. Driskell, who died in 2020, and James Thorpe who died this year.
The gallery showcases a variety of pieces ranging from videos and virtual reality to paintings and prints.
[UMD professor hosts podcast about Latinx experiences in higher education ]
The exhibit is put together by Taras Matla, associate director of the Art Gallery alongside doctoral students, Patricia Ortega-Miranda and Melanie Nguyen.
Toward the end of spring 2021 semester, Matla requested that faculty members submit one or two pieces they had created in the past five years. Then, he narrowed down the artwork and started planning their placement.
"I literally just sit down with a pencil and paper and sketch out the environment where I'm planning on placing things," Matla said. "I meet with my students, we go over different types of color combinations, what wall colors would relate best to specific artworks and the overall feel of the show. And then once we make those decisions, we hit the ground running."
The exhibition has been a recurring event because the gallery likes to honor the work of faculty members and show that they are artists too, Matla said. It allows faculty members to see the work their colleagues are doing.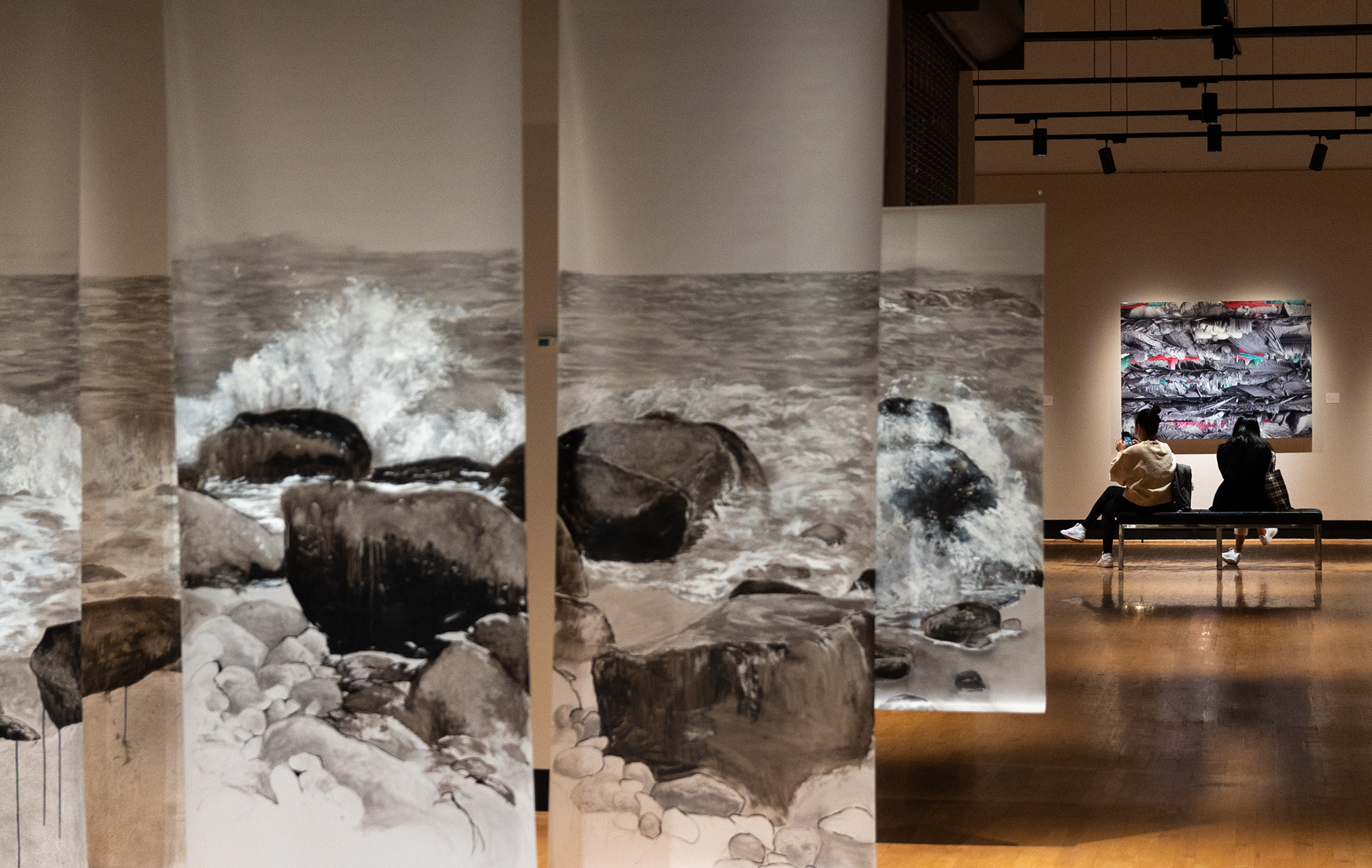 [Two UMD professors research how to use AI to make cardiac monitoring more accessible ]
"As much as we're around each other while we're teaching we don't always get to have that time to go to each other's studios and talk about work and see what's happening," said Matthew McLaughlin, a professor and one of this year's participating faculty members.
The exhibit allows students to see past the classroom and into their professors' background in art. Students are also exposed to different forms of art they may not have seen their professors create before.
"Sometimes they'll show you their own personal work or their own practice and knowledge, but it's really nice to see them in the clean space," said Alyssa Imes, a graduate assistant and a third year graduate student working toward her masters in studio art. "It kind of gives you a good scope of where you can go and where you can strive to be."
Because of COVID-19, this is the first in-person art exhibit held at the Art Gallery since it was forced to close in March of 2020. Up until this event, the gallery has been showing its exhibits online, following in the footsteps of many galleries worldwide.
Next semester, the Art Gallery will showcase a solo exhibition of a Mexico City-born and Germany-based artist, Daniela Libertad, whose art focuses on the exploration of the environment of personal isolation, said Matla.