To Footage Society co-owner Nichole Verdejo, the Laurel sneaker boutique is like a barbershop.
"We have a lot of customers that have been with us since the beginning," said Verdejo, who opened the sneaker shop with her son, Tyler Copeland, in 2015. 
Footage Society is a sneaker boutique just off of Route 1 that resells upscale sneakers both in-store and online through its website and Instagram. The store, which is owned and operated by people of color, stands out for its commitment to culture and its customers.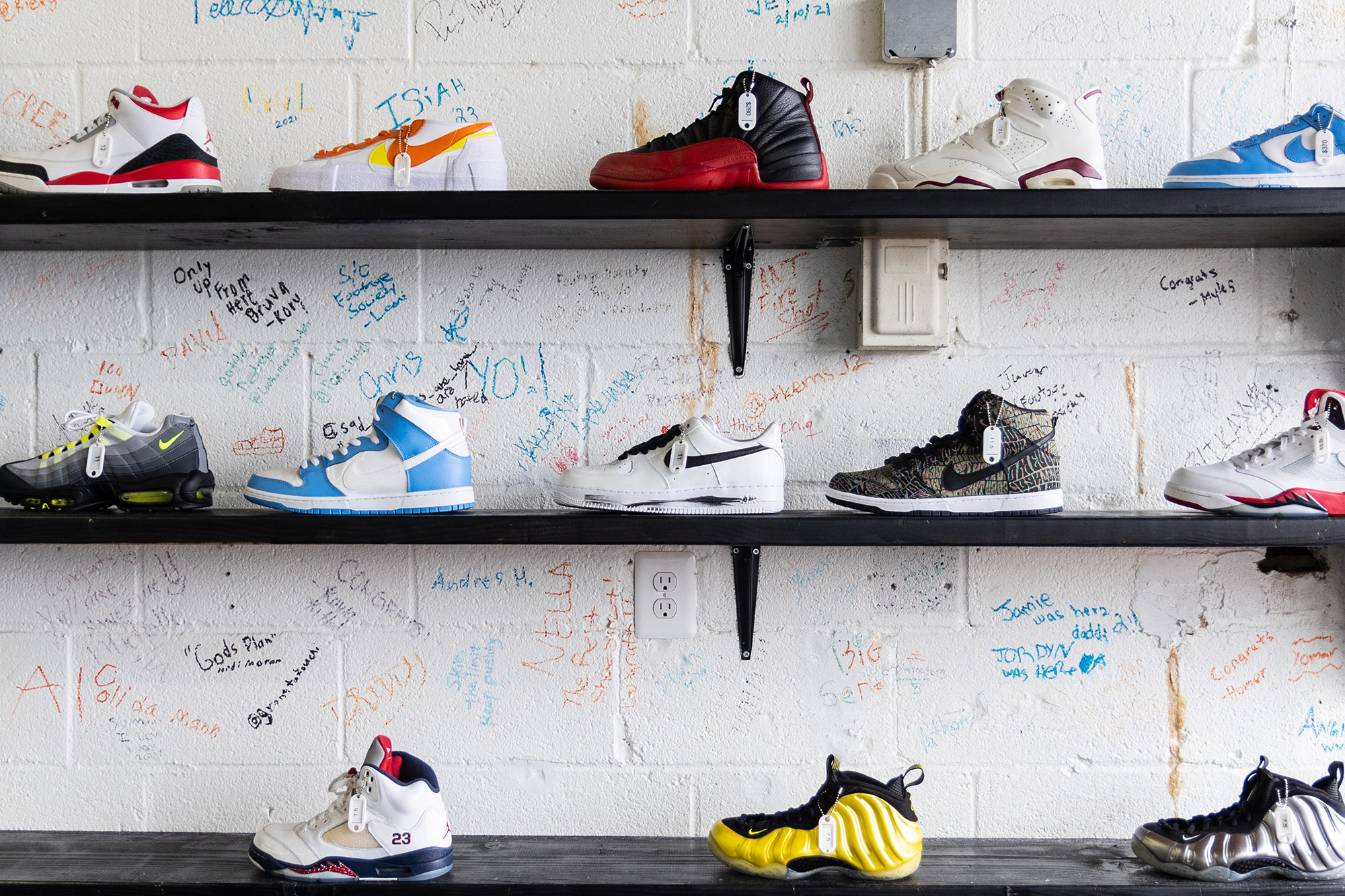 The Laurel store, which has been around for about six years, stemmed from Copeland's interest in the sneaker world. He introduced Verdejo and business partner, David Louie, to the industry. The team also launched a sister business called Sole Wash in March 2019, based in Washington, D.C., that offers cleaning services for sneakers. 
From changing colorways to retrofitting styles, Copeland looks for what's popular and in-demand based on current trends when selecting shoes to buy for resale.
[Family-owned pupuseria in Langley Park hopes to "bounce back" from the pandemic]

The business owners use their expertise to find a reasonable price for customers while also making a profit, which they determine by gauging sales on other sneaker reselling sites like StockX and Goat. 
While independent entrepreneurs often sell their sneakers above the retail price, it doesn't necessarily mean it is ridiculously above the retail price, Louie said. 
"Resell shops also keep the culture alive … that's the beauty of resell shops, like ourselves," Verdejo said.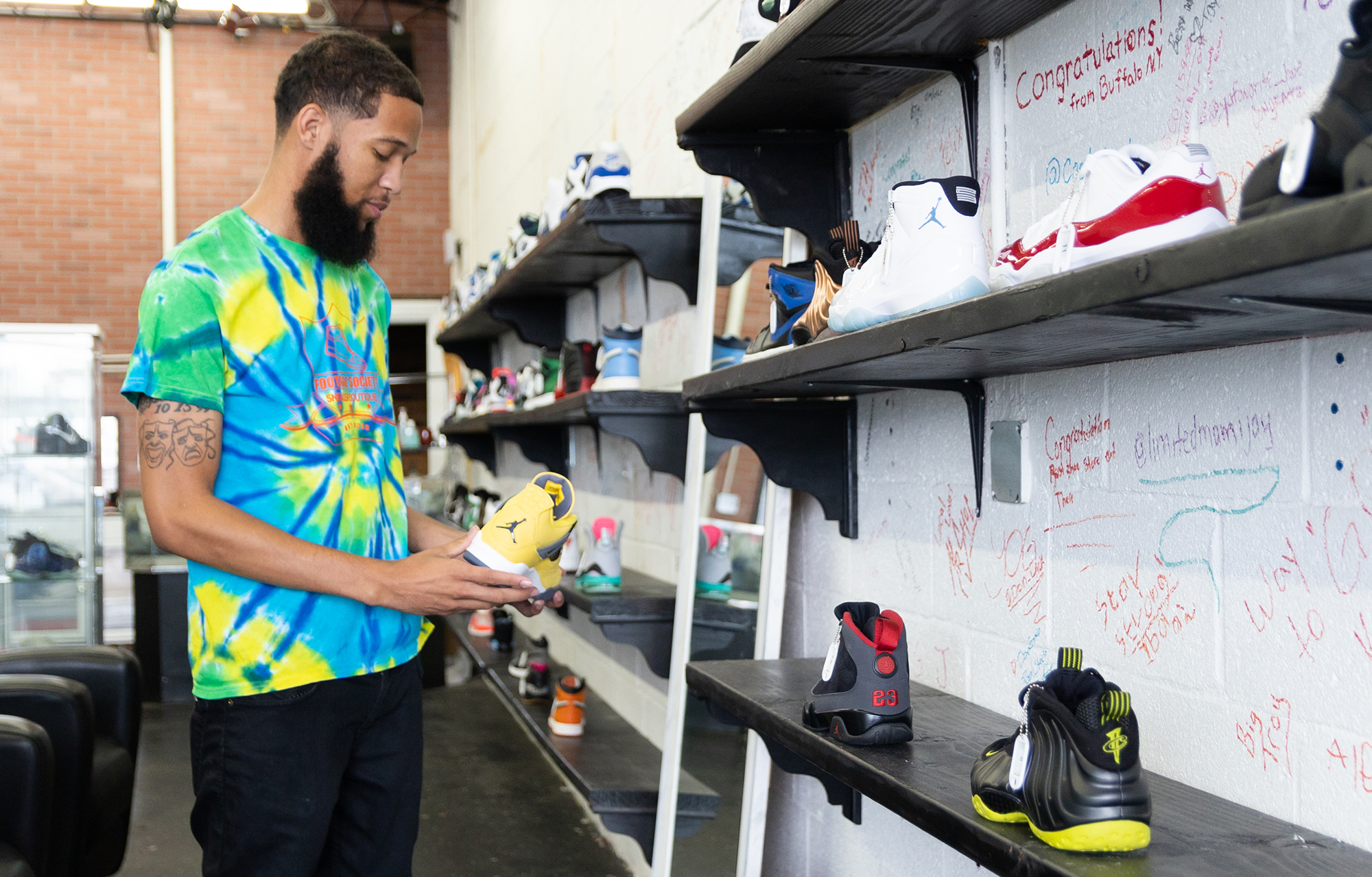 Prices vary depending on the brand and condition of the shoe. Buying a gently used shoe will be cheaper than a brand new shoe. However, Verdejo said at Footage Society, they always clean the shoe before selling it, which a lot of shops don't do. 
Footage Society values cleaning the shoes because they try to have the best presentation, Copeland explained.
"Even if you picked up a used shoe, sometimes or half the time, you won't even notice it's a used shoe because it's so clean," he said. 
Verdejo's second business, Sole Wash, is dedicated to cleaning and restoring sneakers. They also promote foot care in general, Verdejo said.  
Eric Glover, a customer of Sole Wash and a friend of Verdejo, said that of all the sneakers he has dropped off at the store, have all come back, "almost like they came out the box," he said. 
[Ritchie's Colombian Restaurant attracts locals with authentic cuisine]
While out with a friend in the city, Glover recalls running into Verdejo. It was around midnight, but Verdejo even offered to wash his friend's shoes, Glover said. 
"She was willing to stop what she was doing to open the store for me so not only my sneakers, but a friend of mine," Glover said. 
Glover said Verdejo is a great business owner, but also a great friend who cares a lot about the community and giving back to it. 
"It's not only my supporting what is important to me," he said. "Supporting minority and female-owned businesses, but supporting someone who knows and is part of the culture that I embrace."
The strong relationship with the customers was the reason Footage Society was able to stay open during the pandemic, Louie said. The store has remained open throughout the pandemic, except for two weeks while operating at a lower capacity and following protocols of social distancing and masking policies, Louie said.  
Verdejo ensures Footage Society uplifts underrepresented communities as well. 
"We highlight a lot of hip hop and Black culture that really originated and really promoted the sneaker culture," she said. 
Tashia Bagwell, a friend of Verdejo's, is inspired by the hard work she Verdejo put into her businesses. 
"She's very inspiring, especially for a woman of color … in this industry," Bagwell said. "It is very male dominating, and just to have a woman do it, I'm really really proud."
Ever since Bagwell met Verdejo, they have been working together to connect each other with other business owners to navigate the industry together. 
"We tried to stay connected, and connect other women in terms of business or supporting each other or just being there," she said.