More than 200 members of the University of Maryland community gathered in Hornbake Plaza Friday for a labor picnic centered around worker protections on campus. 
At the event, representatives from AFSCME Local 1072 — the union that represents employees at this university — and other campus organizations advocated for worker hazard pay, higher wages and more. 
The picnic was an opportunity for university workers and other members of the community to get to know each other, said Michael Marinelli, a student organizer for United Students Against Sweatshops Local 54 — this campus' chapter of a student organization advocating for labor rights.
"We want students to get to know the people who are vital to the functioning of the university," said Marinelli, who is a senior English major. "We want workers to get to know the people who paid money to this university."
[DOTS still advises shuttle drivers to admit riders without masks. Some drivers are upset.]
Some representatives from labor organizations spoke about their upcoming priorities. 
This year, USAS wants to focus on organizing around student workers' rights, an area that not too many labor organizations have tackled so far, said Michael Katski, a senior communication and English major who is involved in the organization. 
"We're looking for student workers specifically that work on campus and we're trying to organize them, figure out what their demands are," Katski said.
One of AFSCME's priorities is continuing to advocate for a single, consolidated bargaining contract between all institutions in the University System of Maryland and system administration, Todd Holden, the president of AFSCME Local 1072, said at the picnic.
For more than three years, AFSCME members and others have advocated for a state bill to consolidate bargaining contracts across USM institutions.
Earlier this year, the Maryland General Assembly passed the bill, but Gov. Larry Hogan vetoed it. Now, some workers are campaigning for assembly members to override Hogan's veto. 
A single contract, rather than the separate contracts that the institutions operate under now, would "standardize what represents fair working conditions," Holden said. 
At the event, university employees and other community members echoed ongoing calls for higher graduate student stipends, more protections for frontline workers including Shuttle-UM bus drivers and pandemic hazard pay.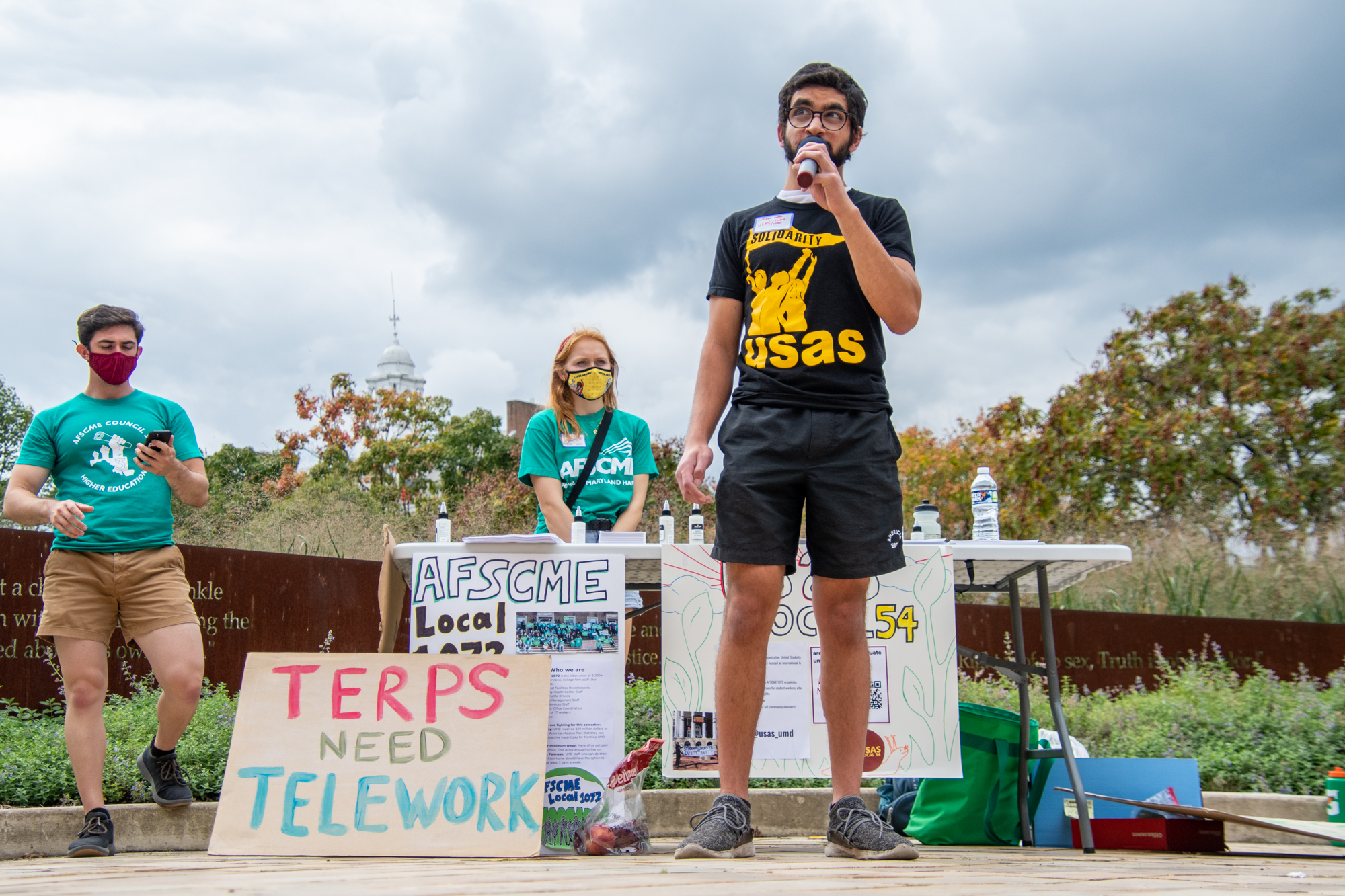 Jakeetah Alston-Ali, a Shuttle-UM bus driver and member of AFSCME Local 1072, said at the picnic that bus drivers' maintenance requests and complaints are often left unheard. The university's Department of Transportation Services also does not have many people to clean the buses, Alston-Ali said as she held up a piece of posterboard displaying dirty paper towels she used to clean her own bus. 
[UMD professors push for passage, expansion of Build Back Better Act in Congress]
Nate Beard, a graduate student at this university who is involved with Fearless Student Employees, an organization advocating for graduate student employees' rights, emphasized graduate students' calls for better treatment.
"We teach classes, design the curriculum, hold office hours, mentor students, we run labs, we publish research," Beard said. "Despite that, most of us spend nearly half of our paychecks a month on rent."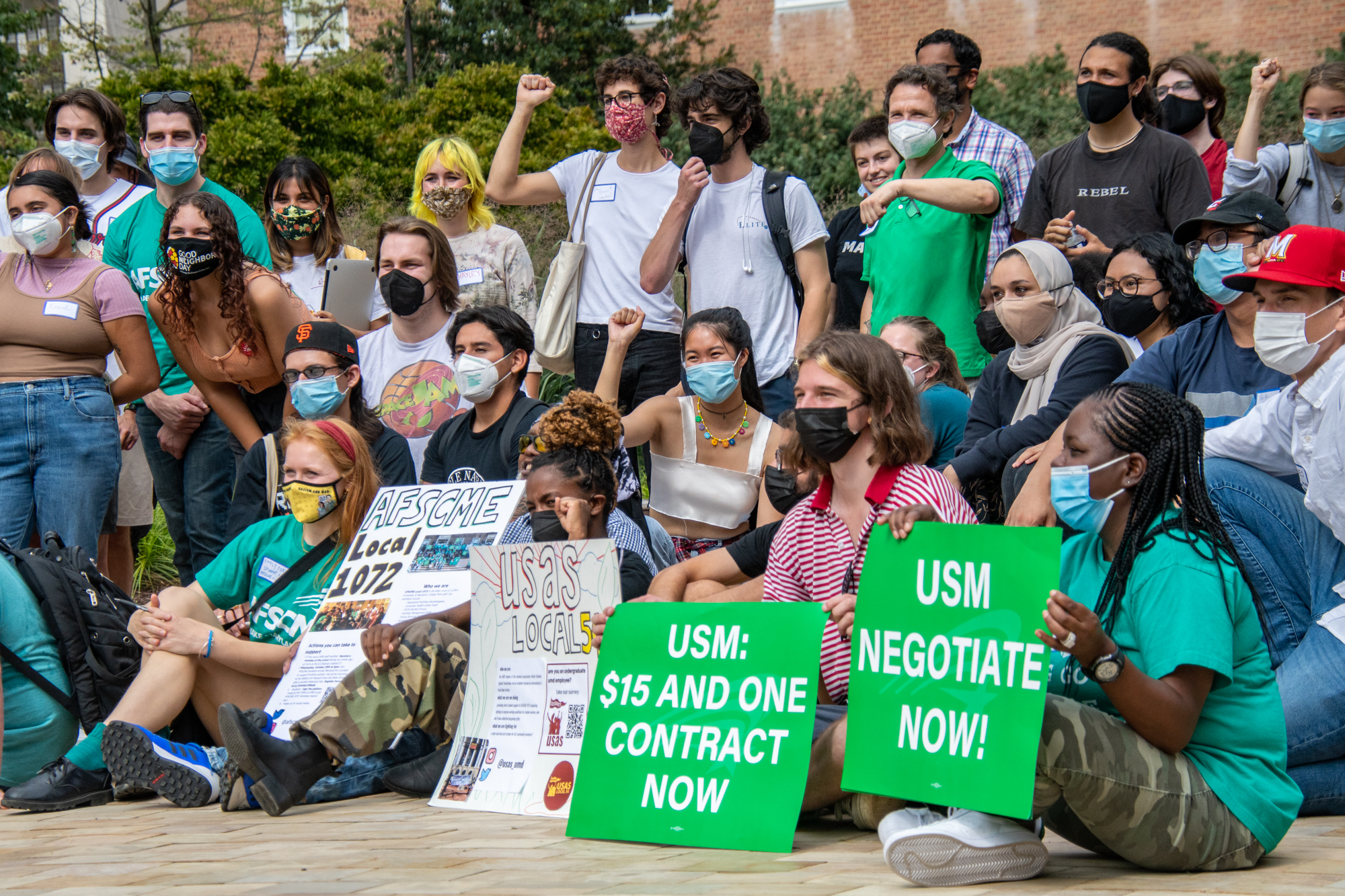 For Saul Walker, a chief shop steward for AFSCME Local 1072 and maintenance worker at the university, granting workers' demands for protection and livable wages is a matter of respect, he said.
"Me and some of my other employee friends, we come into work each and every day … and we go through hazardous conditions," Walker said. "We definitely need to get the respect that we need each and every day." 
More generally, Holden said, AFSCME and other labor organizations want to continue centering workers and advocating for change — and to him, the picnic was a starting point. 
"I am just so incredibly gratified to see everyone here today sharing their knowledge and experience but also raising their voices," Holden said. "This is us getting together and making the first steps towards forming a plan that is really going to reform things for the better."