Para leer este artículo en español, haga clic aquí.
Maria Lara's voice reverberated through the crowd Friday night.
Donning a maroon sweatshirt, Lara spoke to nearly 80 other protesters at Lawyers Mall in Annapolis, urging Maryland Gov. Larry Hogan to reinstate a state-initiated eviction moratorium.
The state's moratorium prohibited Maryland landlords from evicting tenants who could not pay their rent from March 2020 to August 2021. In August, Hogan ended the moratorium since Maryland was no longer in a state of emergency.
"We see many families, a lot of people who are suffering because of the pandemic. And … they can't recover because there aren't enough jobs to work and have money to continue to pay rent," Lara, a Langley Park resident, said in Spanish.
And on Friday, the opposition to the decision was evident. Maryland tenants, local and state politicians and community organizers rallied against the decision near Hogan's home. CASA, the largest immigration advocacy organization in the Mid-Atlantic, spearheaded the rally.
The mood at the demonstration was palpable — protesters felt exasperated at what they feel is the latest policy decision during the pandemic to undervalue and forget underrepresented communities. But attendees also felt invigorated at the possibility for change.
[UMD students march for pathway to citizenship at CASA's 'Welcome Back Congress' in DC]
"We want to be able to boast the most wealthiest and most highly educated, and also the most thoughtful and compassionate state in our union. And we can do that, we have the resources to do that," said Aisha Braveboy, the state's attorney for Prince George's County.
The state eviction moratorium was one of two key protections to prevent evictions during the pandemic. The other, a nationwide moratorium instituted by the Centers for Disease Control and Prevention, also expired recently.
The end of the eviction moratorium disproportionately affects Black and Latino families, and in Montgomery County, 80 percent of those at risk of eviction fall into these groups, said Montgomery County council member Will Jawando. 
"These are the people that need to be protected and that deserve high quality housing, like everyone else, in our state," Jawando said.
Maryland State Del. Wanika Fisher (D-Prince George's County) said that as a daughter of immigrant parents, she sees how the end of the eviction moratorium makes immigrant families feel "forgotten" and "expendable."
"We're not asking for a break, we're asking for the tool," Fisher said. "Just an ability. Just a fair shot."
The federal government has provided Maryland about $1 billion for assistance to help tenants pay their rent. But because Hogan is not enforcing that landlords accept that assistance, families are getting kicked out of their homes, Maryland Del. Vaughn Stewart (D-Montgomery County) said.
"It's … despicable, and it's immoral," Stewart said. "And with the stroke of his pen, this evening, Governor Hogan could put a stop to it."
[UMD students, other activists rally for climate legislation in front of McKeldin Library]
Madison Green, a freshman at the University of Maryland, has been involved in local public policy issues since she was in high school. She said the end of the eviction moratorium shows how undervalued some of the most important members of the community are.
While the short-term goal is to reinstate an eviction moratorium, Green said to get at the root of issues with evictions, the power dynamic between renters and landlords needs to be reassessed.
"We're kind of coming out of the pandemic — or that's the general consensus — and we forget about the invisible communities who are upholding our entire state," the environmental science and technology and public health science major said. "It's really frustrating that … we're having this discussion about whether or not it's OK to kick people out of their house."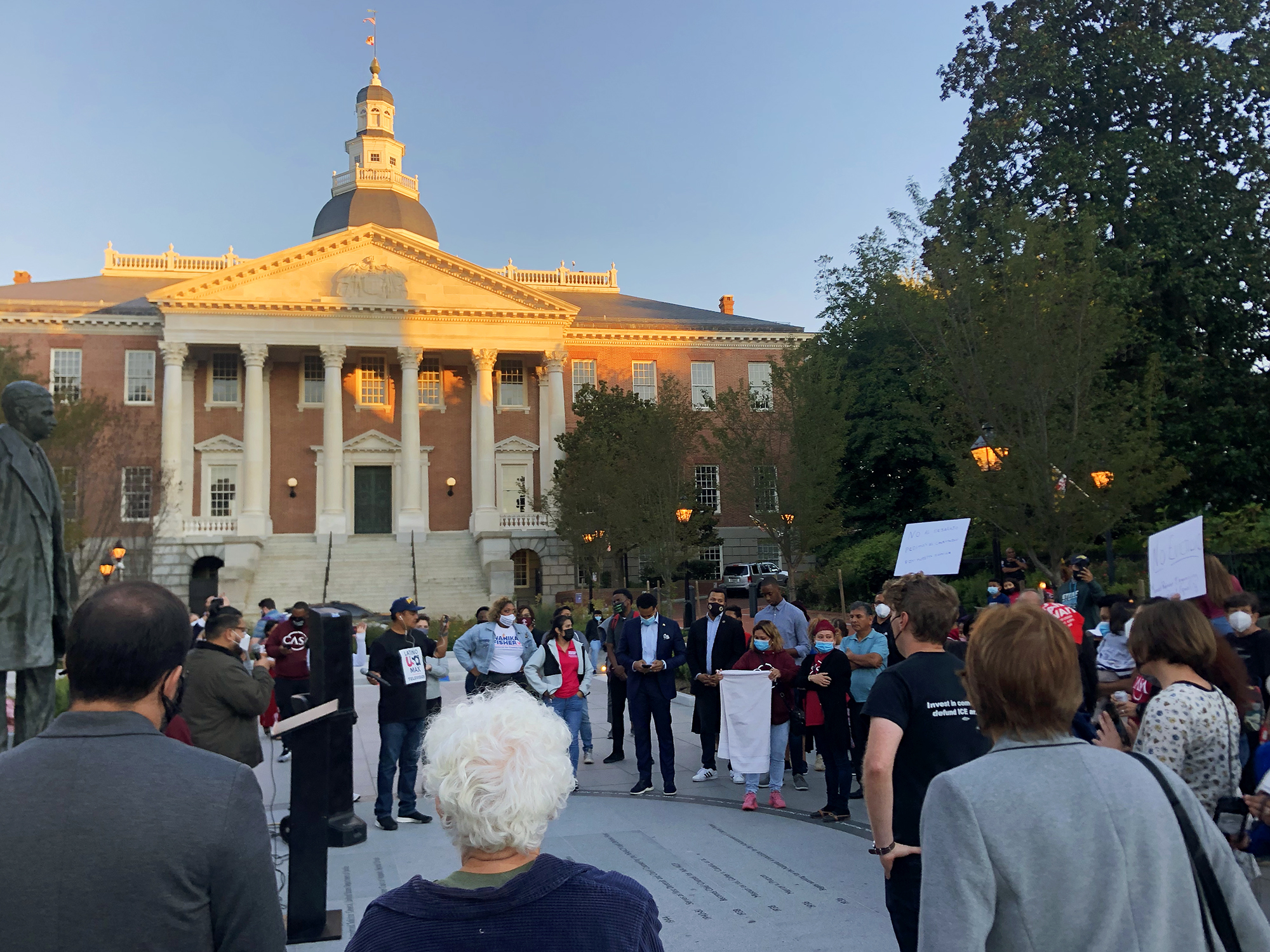 The emcee of the rally, Jorge Benitez-Perez, is the Prince George's County organizer for CASA. He said people whose families aren't at risk of eviction need to be paying attention to what is happening.
"They're gonna wake up one day and see many families in the street, many kids. They're gonna see furniture everywhere," Benitez-Perez said. "We should care about our neighbors. We should care about everyone who lives in our communities, and make sure that they have housing."
Rochelle Williams is a Prince George's County tenant and a member of From The Roots 240, an organization in Prince George's County that focuses on "building the power that poor people can exercise through self-organization in the areas that they live, create community, and thrive." 
For Williams, ending the moratorium and going back to the way things were before the pandemic hit is impossible. They say the pandemic has "forever changed" Maryland.
"We are out here today to demand a change," Williams said. "To demand the reality that the people matter, our livelihoods matter more than any property, any landlord, any kind of development. Together we can work and demand change."