By Shifra Dayak and Victoria Stavish
Staff Writers
About 40 University of Maryland students gathered outside Stamp Student Union Tuesday evening to protest a book talk by conservative activist Will Witt.
This university's chapter of Turning Point USA, a conservative student group, hosted the event, where Witt discussed his new book How to Win Friends and Influence Enemies: Taking On Liberal Arguments with Logic and Humor. The book contains 17 chapters, each focusing on a different political or cultural topic.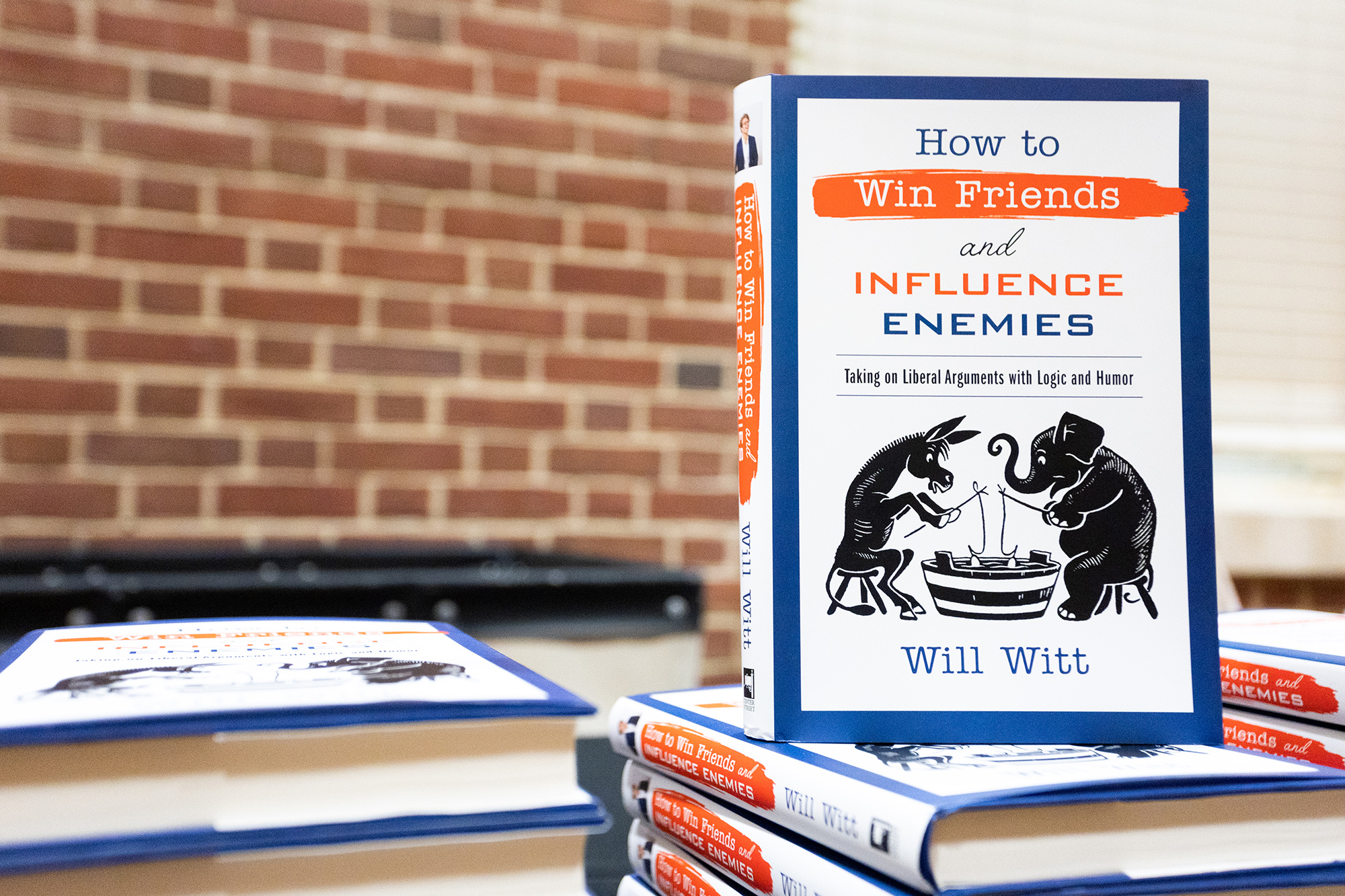 During the event, students assembled on Campus Drive with signs that said "Fascists don't get platforms," "Toilet Paper USA" and "No Hate UMD." Many of them gathered after seeing signs around campus urging a peaceful protest against the Turning Point event and Witt's views.
"We just wanted to come out and make our voices heard that this is not who UMD is as a campus," said protester Katy Clugg, a junior criminology and criminal justice and government and politics major.
Witt, who works for PragerU, has expressed beliefs that challenge LGBTQ+ rights, women's rights and more.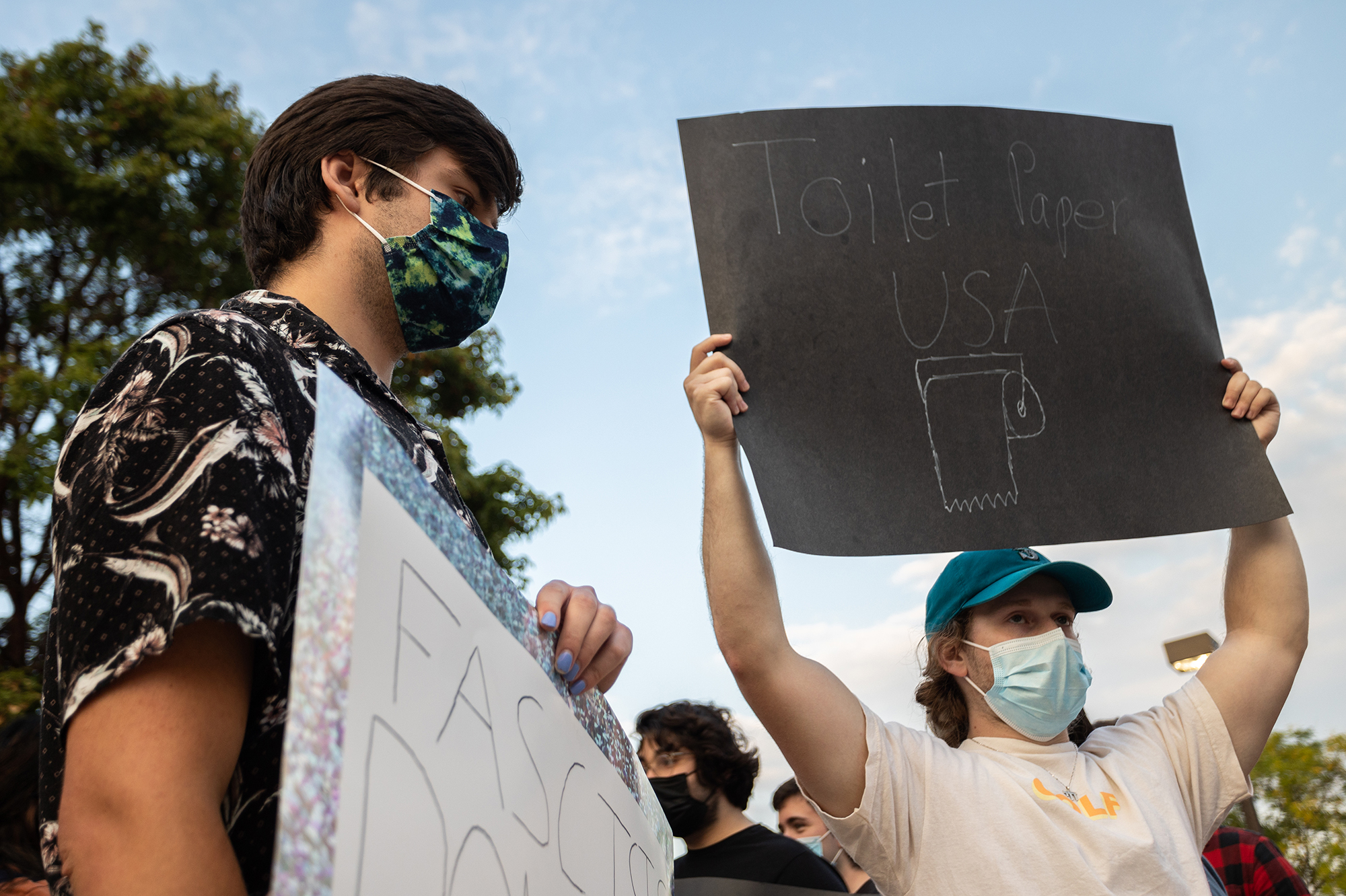 Before his presentation, Witt — along with Debra Schwartzben, the founder and president of this university's chapter of Turning Point USA — interacted with the protestors. They were met with mixed reactions.
While Witt said some protestors did ask good questions, many were unwilling to interact with him respectfully.
"I wish that they would have actually been able to have conversations with me," Witt said. "They yelled things at me and told me I was horrible and all of that when I was trying to have a conversation with them."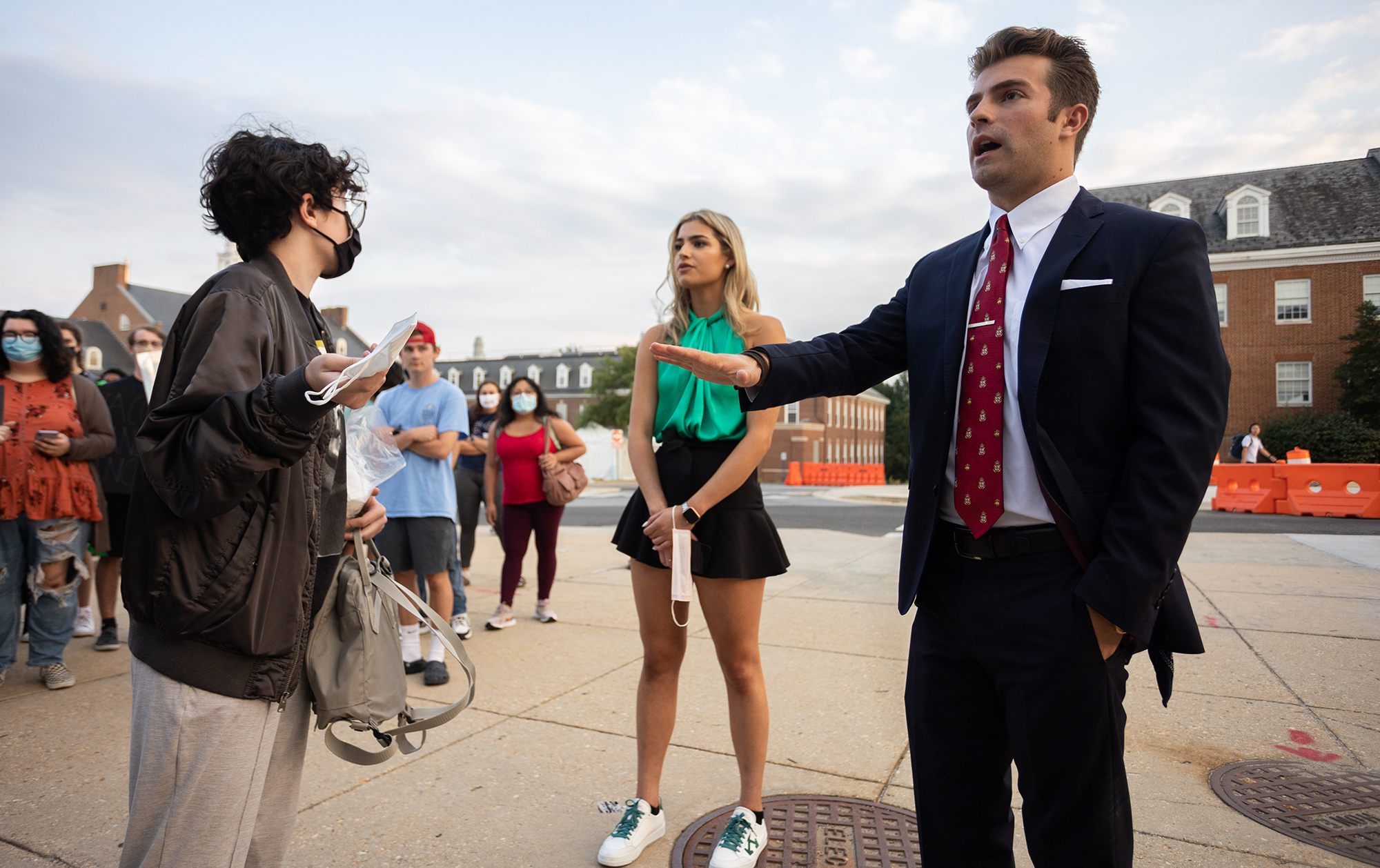 This university's Turning Point USA chapter was originally asked to pay for its own security for the book talk. But Schwartzben said the university provided the group with University of Maryland Police officers after the club was unable to fund its own security.
Shortly after the book talk began, some protestors attempted to move into Stamp but university staff, police officers and security guards told them to leave, saying they were blocking the flow of traffic and creating a fire hazard.
[UMD students, other activists rally for climate legislation in front of McKeldin Library]
One protestor, senior environmental science and policy major William Ginsberg, got into a verbal argument with two police officers who told him to go outside, he said. The rationale for not allowing the protestors inside was unfair and a violation of their first amendment rights, Ginsberg said.
"They've also said, 'You're obstructing the flow of traffic,'" Ginsberg said. "I would say all the people waiting to get inside [the event] are causing much larger obstruction."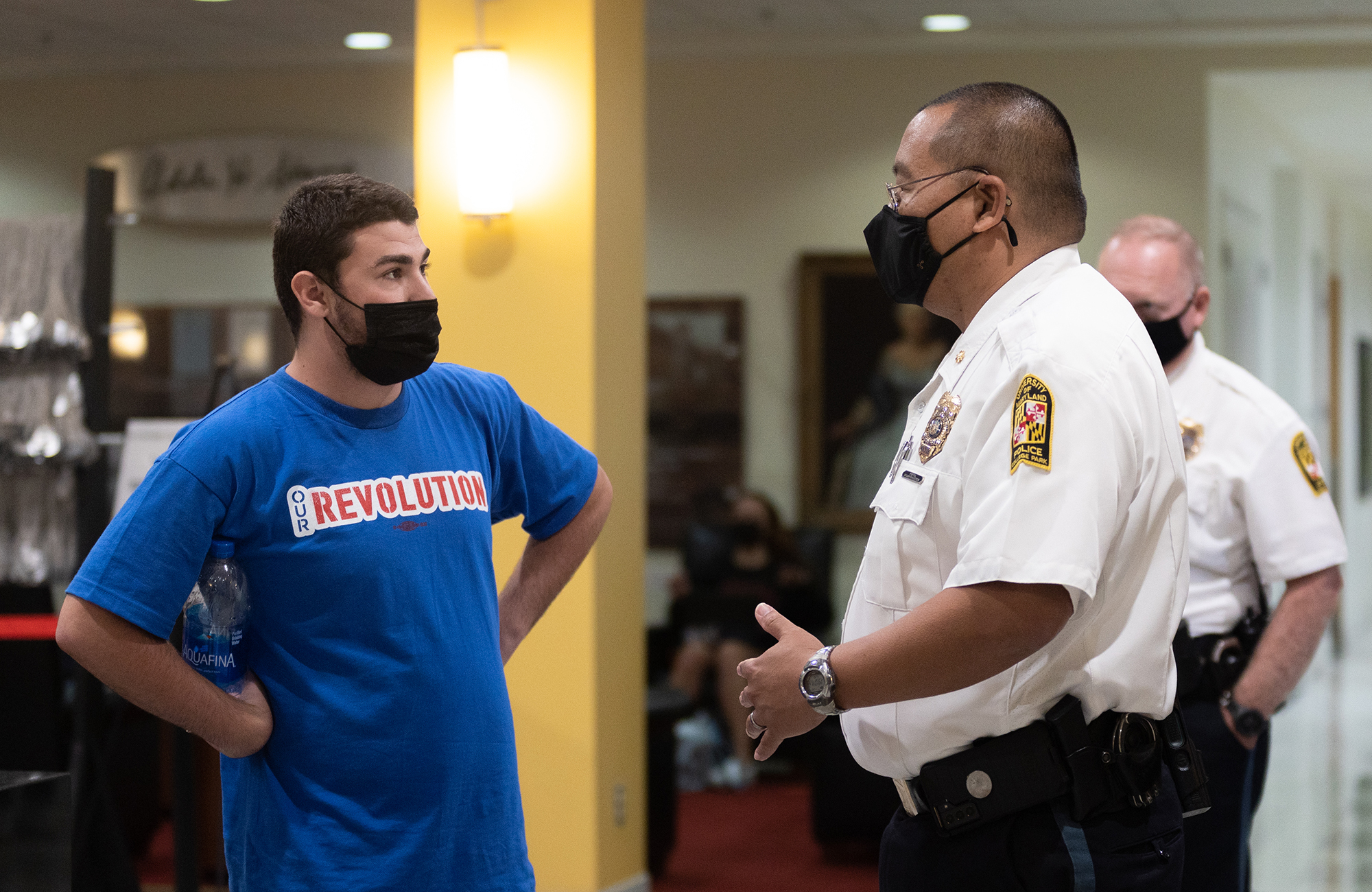 It is unclear who actually organized the protest, said senior English and government and politics major Matt Herskovitz. However, Herskovitz said he appreciated the anonymity because it helped keep individual students safe from potential backlash.
"So if there's no one at the head, we're all at the head and we're all protecting each other," Herskovitz said at the protest. "There's no reason the school should allow something dangerous and harmful on its own campus when the student population becomes vulnerable as a result."
Some individuals who wanted to attend Witt's book signing but did not have tickets waited outside the student union and engaged with the protestors.
One of these individuals, Lisa Ruth, said the Jan. 6 Capitol insurrection was a set-up, claimed masks are not effective against the coronavirus and casted doubt on the 2020 election results, among other topics.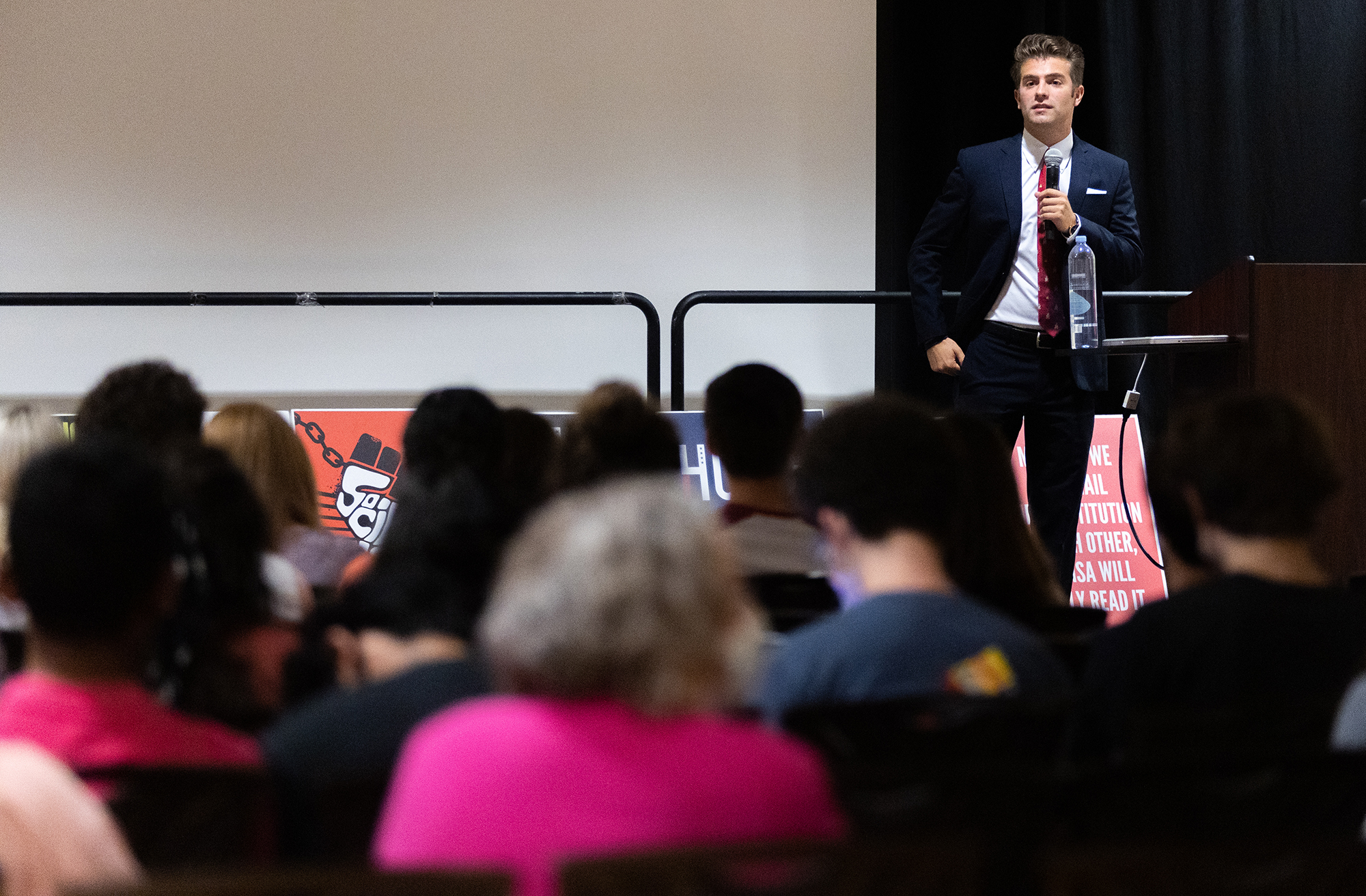 Helen Hutchinson, a sophomore enrolled in letters and sciences, was in a group that debated with Ruth for over 20 minutes. She said the conversation was not as productive as she had hoped after Ruth made "antagonistic attacks" against the demonstrators.
"I appreciate hearing other points of view," Hutchinson said. "I wish it could be more civilized."
[UMD students march for pathway to citizenship at CASA's 'Welcome Back Congress' in DC]
Ming Nelson, a sophomore computer science and mathematics major, was one of over 90 people to attend Witt's talk, which he said he heard of through word of mouth. While Nelson said he enjoyed Witt's talk, his favorite part about the event was how Witt interacted with the protestors.
"I think it's a testament to what he has in his book. He really practices what he preaches," Nelson said. "I think of that as an example for us to remain stoic even when other people are slinging mud at you."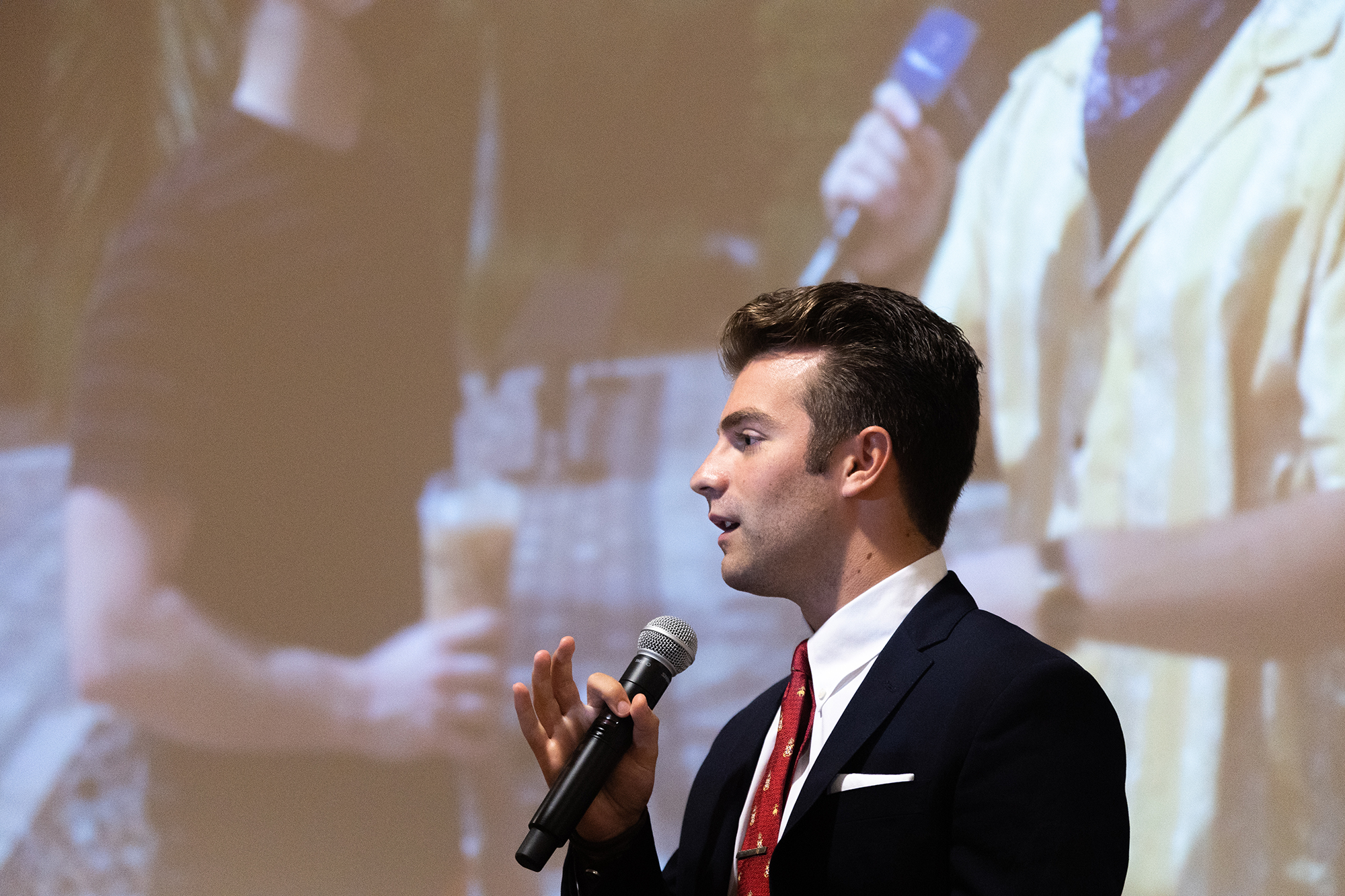 Caleb Bos, a freshman physics major who attended the event, said that he didn't think the protestors had much of an effect, but that he respects their message.
"I didn't actually see them, so as long as there's no violence or whatever. I mean, they're entitled to their opinions or whatever, as long as they're peaceful," Bos said.
Most of the protestors dispersed before Witt finished speaking. They left with the hope that they made their voices heard.
"I'm glad that [this] gives us, as more liberal students the opportunity to counterprotest and engage in these dialogues," Clugg said.