By Vincent Petroni
For The Diamondback
The University of Maryland's percussion ensemble performed a hybrid prerecorded and live concert Monday for an end of the year performance. For some, this is their first and last in-person performance of the semester — for others this is just part of their routine.
The concert consisted of both live performances — held in Dekelboum Concert Hall in The Clarice Smith Performing Arts Center — and prerecorded videos, some of which the ensemble worked on last semester but did not showcase after the fall concert was canceled.
The event started at 8 p.m. with three percussionists in prom dresses playing Nebojša Živković's Trio Per Uno, Movt. I.
The performance continued with two other live pieces, then they transitioned the stream to prerecorded videos. The instruments used in some of the prerecorded pieces were creative, such as using glass cups filled with water or percussive singing to make music.
["O sol só vem depois": A love letter to Brazilian music]
After the prerecorded video intermission ended, the percussion ensemble played three more pieces live.
The performance encapsulated a year of challenges and adjustments for the university percussion ensemble.
Most percussionists rely heavily on the university instruments to practice. Percussion graduate assistant John McGovern said that unlike other performers who may own their specific instrument, percussionists have a variety of large instruments that are too expensive and big to purchase for practicing at home.
Echoing McGovern, percussion ensemble director Lee Hinkle explained how coronavirus restrictions made practicing difficult at times.
"Each percussionist needs to be able to practice, timpani and marimba and snare drum and all these different instruments and they're often very large in size," he said. "The logistics of that, making that happen, for all the students in a way that met with COVID restrictions for the School of Music was tricky."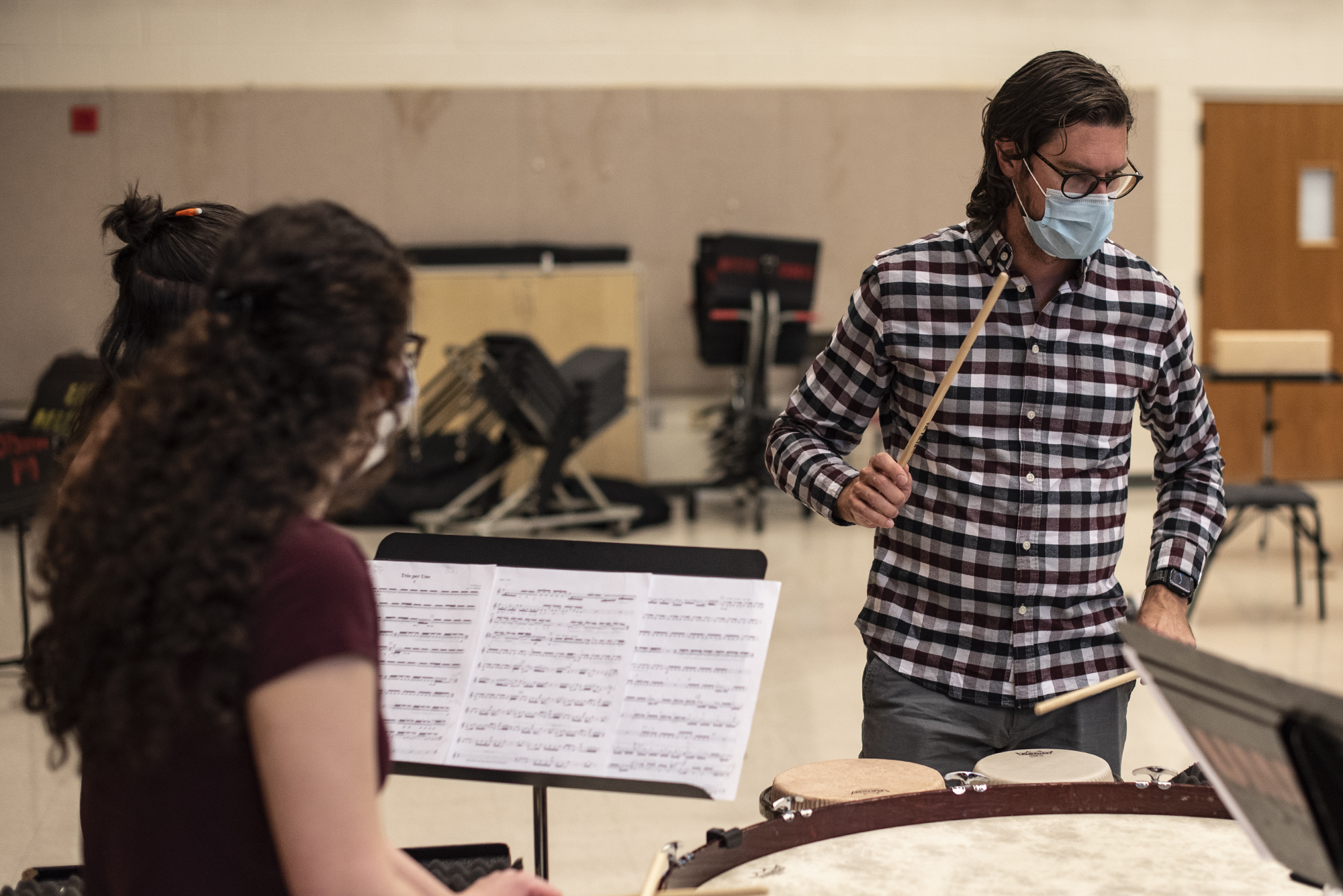 Typically, percussionists can sign up for one of the four percussion practice rooms when needed. Now, with COVID-19 restrictions, these rooms only allow a limited number of hours for practice.
Despite the challenges of practicing through a limited in-person capacity or over Zoom, the performers still managed to make it fun.
Beatriz Fanzeres, one of the three female undergraduate percussion students in the ensemble, was excited to play an all-female opener to the concert while wearing prom dresses—- an unusual attire for concerts, as typically performers wear concert black — as a way to fight the composer, who is not a "feminist ally," according to Fanzeres.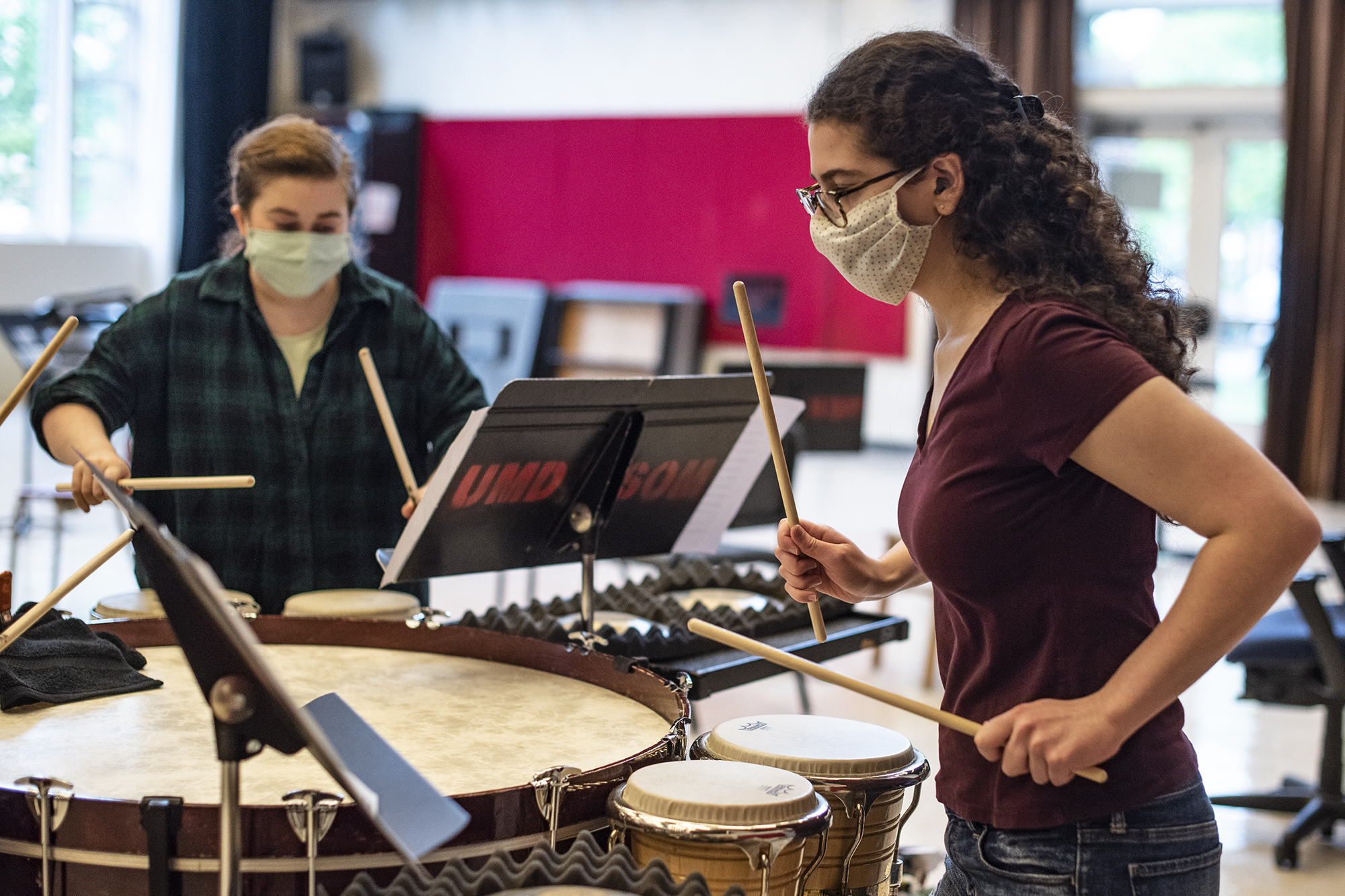 "Their repertoire is still important, regardless of their opinions. So to sort of like fight back… we're gonna make this all girls. We're actually playing the piece in prom dresses which was a decision that me and the other girls made together," Fanzeres said. "So the rest of the concert everyone's going to be wearing concert black, except for this one piece where we're gonna be wearing prom dresses and high heels and having a fun time."
For Fanzeres, being a percussionist during COVID-19 has been difficult since she does not live on the campus, and the commute is about an hour to get to the campus. Fanzeres had the option to do performances with the large ensemble, but the commute made this unfeasible.
"I love percussion ensemble enough to be like, yes, it's worth it and I'll go and I'll take two hours out of my day, twice a week, but other than that it's, it's a little hard," the junior English, music education and music performance major said.
This will be the first and last in-person performance Fanzeres has this semester.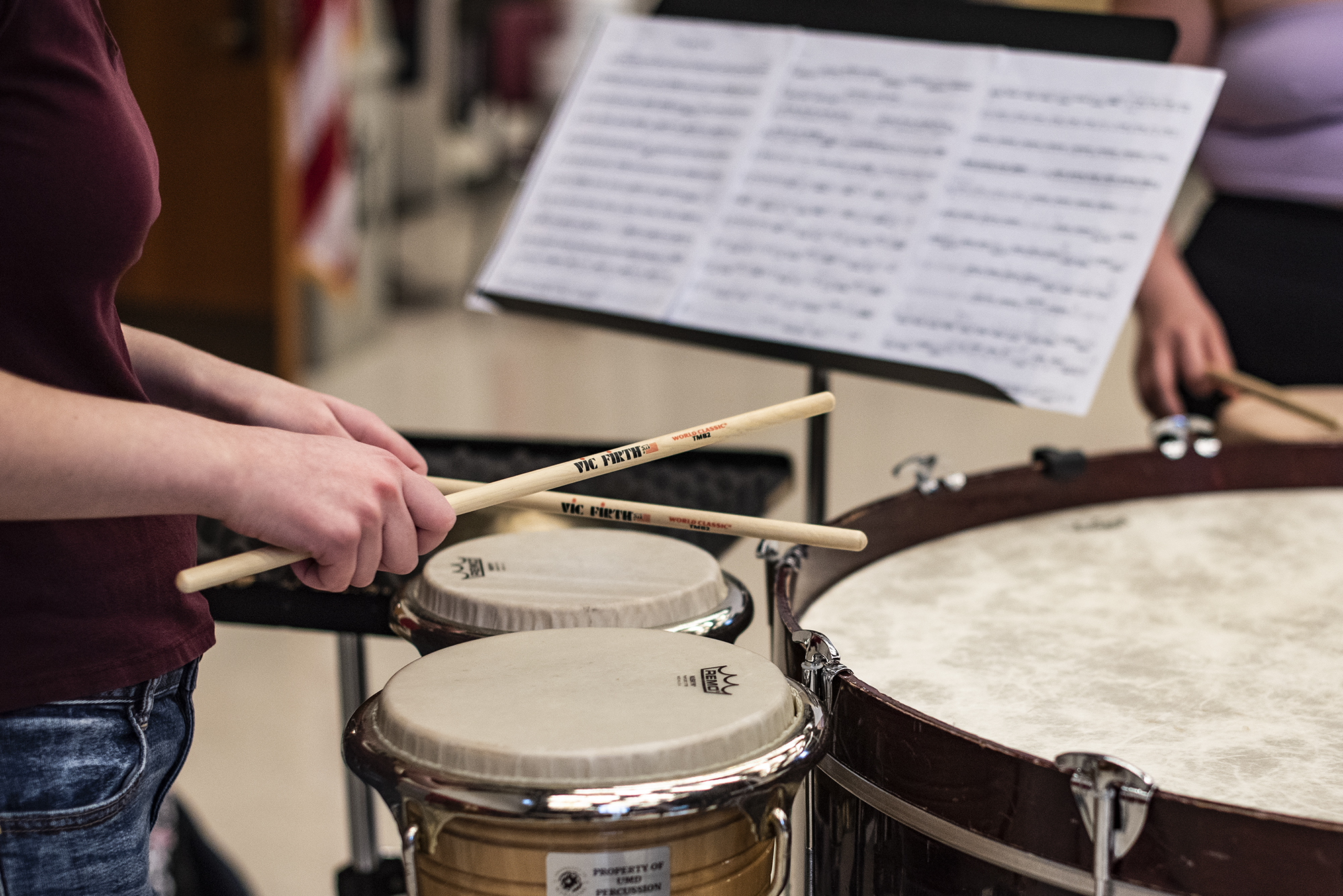 For Hinkle, this was the last performance with the university percussion ensemble before moving on to a new job at Penn State.
"It's a little bittersweet that this is going to be his final performance with us," Fanzeres said. "But it's been a really great time, and I know that he'll succeed everywhere."
[UMD loosens mask mandate, adjusts summer testing requirements]
Hinkle has been working as faculty at this university since 2009 and said leaving is bittersweet, but the job at Penn State is his dream job.
"I'm thankful that we were able to do any in person stuff this year whatsoever and I am very thankful to at least have one last in-person concert with students, so that's definitely very special," Hinkle said.